A
10
min read
The first thing you need to do when you decide to pursue an MBA is to ask yourself – "Why MBA?". There are countless benefits of pursuing a Masters in Business Administration or MBA. An MBA program can provide you with better career opportunities, specialization in diverse fields, and help in developing managerial skills. It can enhance your marketability as a professional and increase the quality and quantity of job opportunities.
This article will help you get more clarity on why you should pursue an MBA and the career benefits that one can derive.
You can also watch this video that will give you reasons why you should pursue MBA and will help you get more clarity about your post-MBA goals:
Why MBA?
AN MBA will offer you a wealth of advantages, especially if you pursue your MBA from top business schools such as Harvard, Stanford, Kellogg, or Wharton. It can lead to better career opportunities and a higher pay package. However, that's not all. Here are the top 20 reasons to pursue an MBA:
Career Growth
Removes the entry barriers
Career Transformation
Better pay package
High demand for an MBA
Subject specilization
Networking opportunities
Entrepreneur abilities
Development of knowledge
Managerial skills
Overall personality developnement
Boosts confidence
Estabilishes credibility
Brand building
The flexibility of the program
No age limit
Global credentials
Opportunity to move to a new place
Long term investment
Many MBA aspirants cannot wrap their heads around "why MBA", as there is hardly any clarity about what to expect from an MBA degree. But it's not entirely their fault.
We live in an era where everyone wants to get an MBA! It has become a trend, and people make this decision without really knowing the purpose behind it. Probably that's the reason why business schools ask their candidates the same question in their MBA applications or interviews. They want to understand if you really know the purpose behind getting an MBA and how it can help you, or you are just jumping on the bandwagon?
Let's discuss the top 20 reasons to pursue an MBA in detail.
Did you know a GMAT score of 730+ yields an incremental $500K in ROI? Start your GMAT Preparation by Signing up for our FREE Trial and get access to FREE online GMAT preparation resources. We are the most reviewed GMAT preparation company on GMATClub with more than 2500+ reviews.
Career growth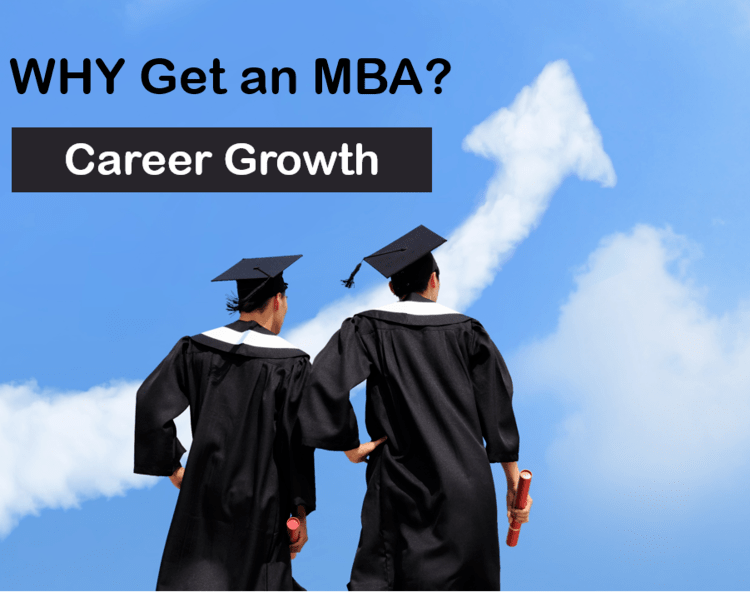 When it comes to career growth, having a management degree opens opportunities for promotions. A company will choose an employee with an MBA degree because it assures them that he/she has the required knowledge about the management role, rather than an employee who does not have an MBA degree.
Thus, getting an MBA helps you open the door to the top hierarchy.
Here are some top MBA Programs for a career in Marketing, Finance, Technology, Operations management, entrepreneurship, consulting, Human Resource Management, Business Analytics, and supply chain management.
Removes Entry Barrier
An MBA degree is often a pre-requisite for advancement in some industries (for example, consulting and finance) and beyond certain positions. Many organizations have made it a policy to hire only candidates with Masters in Business Administration at the entry levels called Management trainees.
Top companies such as Deloitte, Apple, Diageo, and Amazon hire management trainees who then move up the ladder. For example, MBA graduates from business schools like Wharton, NorthWestern Kellogg, Harvard, McGill Desautels, Schulich, and Yale were placed within three months of graduation. Moreover, most of the top business schools have an above 90% employment rate.
Thus, an MBA removes the entry barriers into the corporate world.
Career Transformation
Another benefit of why you get an MBA is that it lets you change career paths. For example, if you are working in sales, you can switch to international business, marketing, or business development or marketing analytics after completing your degree in the specialization you want.
Thus, completing your Masters of Business Administration in a specialty of your choice opens doors to new and better career opportunities.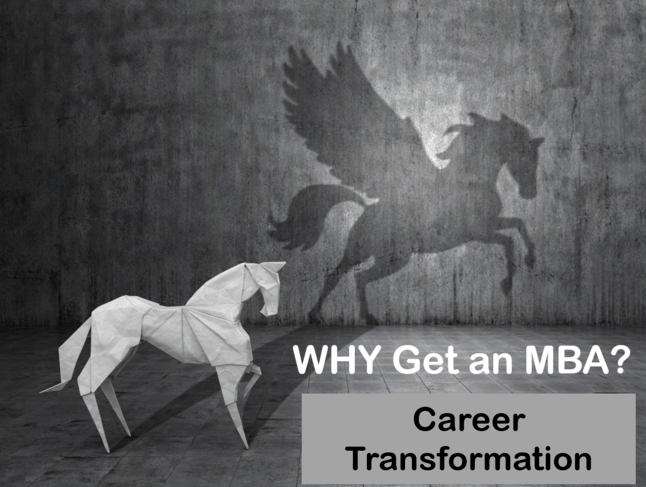 Many individuals come from engineering to management and defense to management – which is all possible because of an MBA. If you look through the pre-MBA industry of students in top business schools and compare it with the placement report, you will see many students switch over to a new career after graduating with higher pay.
Check out the industry of MBA students before they joined business schools like Tuck School of business, Stanford GSB, UW Foster , Michigan Ross, Oxford Business School, NYU Stern, Duke Fuqua, and UNC Kenan-Flagler.
This indicates that an MBA is a great way to change careers and take a different path.
Better Pay Package
Most of the companies do value Masters of Business Administration graduates and tend to offer an increased salary to attract them.
In 2019, newly minted MBA hires commanded annual median starting salaries of $ 115,000 the highest on record. This is considerably more than median salaries offered to experienced hires ($ 75,000) and bachelor's degree hires ($55,000).
Read more about the Average MBA salary to expect and Factors affecting your Salary in 2023-24.
High Demand for an MBA
According to GMAC Hiring trends and projection report for an MBA, the hiring projections remain strong relative to historical trends. 77% of the U.S. employers and 87% of companies in the Asia Pacific plan to hire an MBA graduate. However, large companies are more likely to hire MBA graduates as compared to small companies.
Thus, another reason why you should pursue an MBA is the constant demand for its graduates.
Did you know a GMAT score of 730+ yields an incremental $500K in ROI? Start your GMAT Preparation by Signing up for our FREE Trial and get access to FREE online GMAT preparation resources. We are the most reviewed GMAT preparation company on GMATClub with more than 2500+ reviews.
Subject Specialization
One of the reasons why you should pursue an MBA is that you get to specialize in your area of interest. Business schools offer various concentrations/specializations aimed to gain more in-depth knowledge about a stream of management.
An MBA program will offer similar core subjects, including marketing, leadership, accounting, or finance, to help you choose a specialization. However, most top business schools also ask their students to select one or two specializations within their MBA program.
Learn which MBA specialization is best for you?
Networking Opportunities
Networking and relationship building matters a lot when it comes to the corporate world. This is another reason for "Why MBA" – You get to meet with industry leaders and interact with them.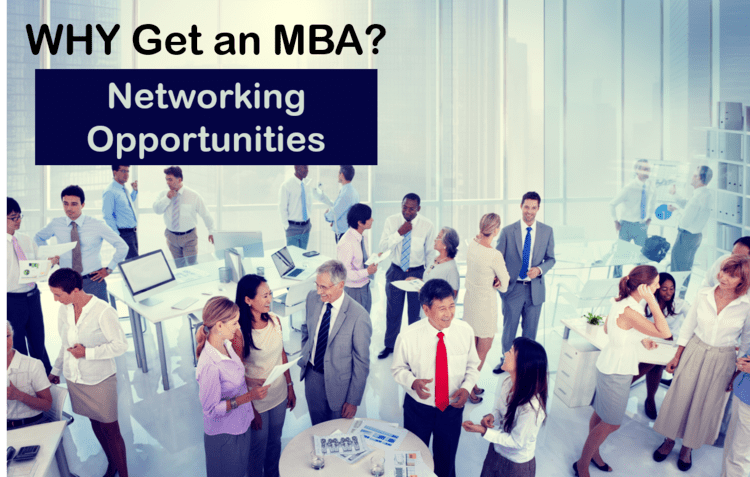 You also go to company visits, which will add to your learning experience. Besides, with the alumni network, you will have access to relevant information and resources about jobs, opportunities, and corporate events.
MBA programs also enable relationships that last lifetimes. Classmates launch companies together and stay friends for life.
Entrepreneur Abilities
Another reason Why you should pursue an MBA is to gain entrepreneurship skills. Many students choose Masters in business administration because they want to become entrepreneurs.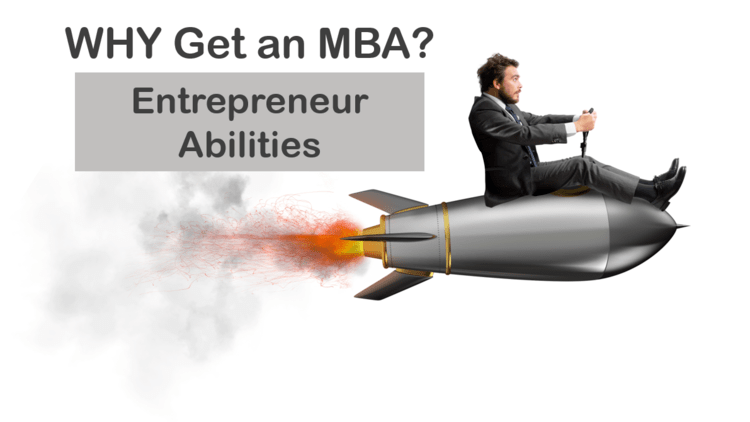 In fact, many top business schools offer specialization in entrepreneurship. Students learn from professors with an-in depth knowledge of the processes and work on entrepreneurship projects that allow them to create a business plan, and then get insights from their classmates and professors.
Besides, entrepreneurship training at business schools doesn't limit you to set up your own business. It also prepares graduates to work across a variety of career paths and in areas that include business development, corporate innovation, venture capital, and more.
Development of Knowledge
The development of knowledge that a Masters in Business Administration program offers is another reason why you should get an MBA.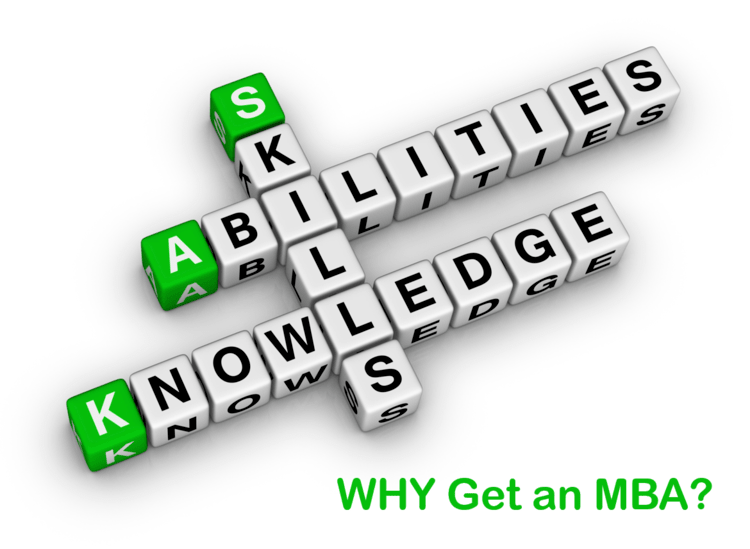 When you start your program, you will study everything there is to know about a career in management and eventually will be allowed to choose specializations and electives.
The programs usually are structured around the core and elective courses. The core courses enable students to develop a holistic foundation in business disciplines such as finance, accounting, marketing, and operations. Whereas elective courses offer students the to gain in-depth knowledge in specific areas they are interested in.
Apart from theoretical knowledge, an MBA degree offers you experiential learnings through internship opportunities.
Why MBA – Managerial Skills
There are several avenues through participation in teams, clubs, exercises, extra-curricular, and community initiatives where an MBA student can gain skills such as teamwork, leadership, and negotiations. Besides, the program helps to have better interpersonal and presentation skills by enhancing communication skills.
Thus, the program not only enables you to gain knowledge but also imparts soft skills.
Overall Personality Development
With the subject knowledge and soft skills, an MBA helps in overall personality development. An MBA graduate almost becomes a new person after their degree and has a new outlook on life and the business world.
Thus, a Masters in Business administration course will give you the appropriate environment for your overall personality development.
Boosts confidence
Pursuing an MBA degree boosts your confidence. Whether it's a job interview or asking your boss for a raise, or a sales pitch – we often avoid such situations that make us uncomfortable. A Master's degree in Business Administration helps to overcome some of these hurdles through knowledge and practice.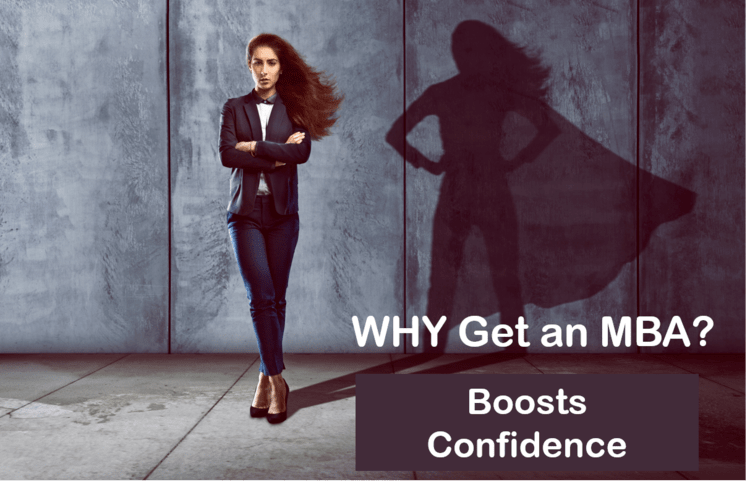 Thus, one of the most significant intangible benefits of why you should get an MBA degree is to boost your confidence. It can improve your confidence through leading team projects, taking strategic risks in a safe environment, and getting real-time feedback on your performance.
Also, the feeling of having completed and accomplished the degree can instill a sense of confidence, which is vital for corporate success. Besides, corporate recruiters want individuals who are confident and can take responsibility.
Establishes credibility
As a lot of people can probably vouch, that an MBA is essential as it can open doors and help build instant professional credibility. It gets you the respect among your corporate circle and peer. It also helps in establishing authority as your expertise and skills have been certified with a degree program.
Brand Building
If you pursue an MBA from Top business schools that have a reliable brand name, association with such schools can pave the way to various opportunities. It can lead to a rewarding and successful career. For example, if you get an MBA from Harvard or Stanford, potential employers know how difficult it is to get an admit to these schools. Also, the brand value that these schools carry is high.
Check out the Top 50 Business schools Ranking in 2023.
Flexible program
Generally, a full-time MBA is for two years, but many business schools offer flexibility in the program. You can opt to pursue your degree part-time or even online. And that not all. Business schools like Schulich provide an option to complete your degree in either 16 or 20 months. Thus, you can work at a pace that is ideal for you, without feeling stressed or hassled.
No age Limit
Business schools do not consider age as an important factor in the admissions process. Thus, no matter what your age is, a management degree is a seminal experience that serves as a toolkit to transition or advance to leadership roles in your career. Here is a success story of Sherzod, who got an MBA at 38 from Kenan- Flagler.
Learn more about the MBA after 30.
Global Credentials
An MBA degree has worldwide credentials and is country-agnostic. It prepares you to work in any environment and country. Thus, its often seen that the top heads of brand names in the U.K., USA, Canada, etc. are from countries like China and India.
Global Experiences
Over the past decade, the focus on global experiences has increased significantly in MBA programs across the world. Every program has its version of a trip abroad where students get to learn more about doing business in another country and the culture itself. It helps in gaining a global perspective on common issues.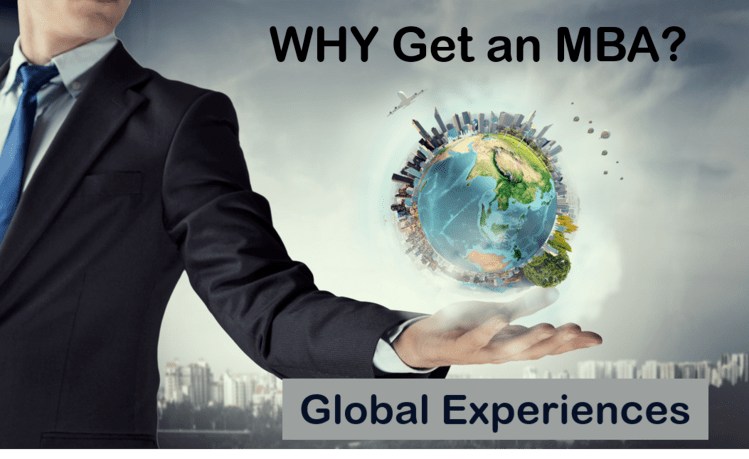 This in addition to the daily exposure that students get through their classmates from countries globally, leads me to the next reason why you should get an MBA.
Read more about the importance of diversity when you pursue a Masters in Business Administration.
Move to new places
Pursuing an MBA degree can be a good way to move to another country or city. Many students choose their program based on location with a long-term view of staying and working after graduation. However, you should be aware of visa regulations if you are planning to stay after your graduation in a different country.
Here is an article on post-MBA visa and immigration
Long-term Investment
At last, getting a master in Business Administration increases your lifetime earning potential. It's a long-term investment, and thus investing in yourself right now will yield benefits in the future. But will the degree offer a good return on investment?
When you look at the degree as an investment, you need to consider the cost and ROI. There are many questions raised regarding the ROI of an MBA, and Is it worth it?
In our next article, we talk about the return on investment, after getting your Masters in Business administration.
Did you know a GMAT score of 730+ yields an incremental $500K in ROI? Start your GMAT Preparation by Signing up for our FREE Trial and get access to FREE online GMAT preparation resources. We are the most reviewed GMAT preparation company on GMATClub with more than 2500+ reviews.
What are the different types of MBA specializations?
There are five different types of specializations in an MBA:
1. Marketing
2. Finance
3. Operations
4. Human Resource
6. Entrepreneurship
What is the duration of an MBA program?
The duration of an MBA program can range from 1 year to 2 years.
What is the MBA course structure?
Generally, an MBA course is structured into core and elective courses. The core subjects are covered in the first couple of semesters whereas students are offered to customize their MBA program by choosing electives after completing the core subjects.
What is the difference between MBA and MS?
A Master of Science or MS is a post-graduate degree that offers advanced studies in a particular area of science whereas an MBA degree is a professional post-graduate degree that teaches students managerial, technical, and leadership skills.
Learn more about how to decide whether to go for MBA or MS.
What are the Top Business schools for an MBA in 2023-24?
Some of the top-ranking business schools for an MBA in 2023-24 are:
1. Wharton Business School
2. Stanford GSB
3. Harvard Business School
4. MIT Sloan
5. Chicago Booth
7. Kellogg School of Management
Check out the Top 50 business schools ranking for 2022.