A
16
min read
While most business schools provide MBA specialization in Business Analytics /Big data, many of them are teaching the concepts of analytics in their MBA programs' core curriculum. For students who want to look deeper, some of the schools offer specialization in Business analytics.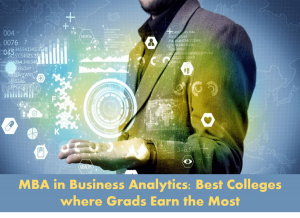 Listed below are the 10 Best MBA programs for business analytics. While ranking the best analytics MBA programs, few factors are taken into consideration, such as Employment data, concentration, existing ranking, international balance, and location.
Learn about Why an MBA Business Analytics?
Best MBA programs for Business Analytics in 2021
Best MBA Programs 
for Business Analytics 
GMAT Score 
Location 
Tuition Fees 
Salary 
NYU Stern School of Business 
723
New York, USA 
$76,780
$140,000
Mendoza College of Business 
671
Notre Dame, Indiana 
$58,030
$144,536 
Wharton School of Business 
722
Philadelphia, Pennsylvania 
$80,432 
$130,000
HEC Paris 
690
Paris 
$84,750
$116,504
Fox School of Business and Management 
642
Philadelphia, Pennsylvania 
$64,740
$49,472 
Tepper School of Business 
690
Pittsburgh 
$70,000
 
Scheller College of Business 
681
Atlanta 
$81,504
$117,492
Goizueta Business School 
690
Georgia 
$134,200
$127,248
NUS Business School 
669
Singapore 
$47,450
$63,000
Imperial College Business School 
600+
London 
$69,000
$100,177
All the above-mentioned Business Schools require a good GMAT score. A 740+ GMAT score will help you to stand out and make your MBA application more competitive as compared to other applicants. We can help you by giving access to quality online content to prepare.  Signup for out Free Trial and get free access to GMAT resources.
NYU STERN School of Business
With 0.9% of the MBA batch 2019 placed in data analytics function, the NYU STERN school of business ranks number #1 for the best analytics MBA programs. It offers an MBA specialization in business analytics and a dual degree with an MBA and a Master of Science in business analytics (MSBA).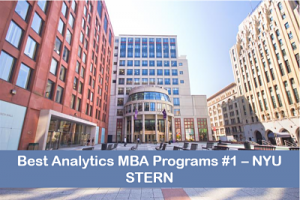 MBA in Business Analytics Curriculum
There are two core curriculums at NYU Stern – Financial accounting & reporting and Statistic & data analysis. Apart from its core, students at NYU Stern can select up to three specializations, including business analytics.
The specialization in business analytics teaches the use of models and data to support decision making in business. Students learn how to model relationships as the impact of advertising on sales, how changes in task characteristics can influence time to completion, and how historical data predict stock returns.
Some of the topics are – Data Mining for business analytics, Decision models, Econometrics, Risk management systems, Research for Customer Insights, and many more.
As business analytics can also be applied to financial functions, NYU Stern offers another specialization called Financial systems and Analytics. It provides knowledge about the processes, systems, and models prevalent in the financial services industry.
The specialization targets students seeking careers in information technology where data plays a crucial role in managing risk, such as sales, trading, analysts, operations, etc.
The Fubon Data Analytics and AI Initiative
The initiative by the Fubon center for technology, business, and innovation brings together managers, scholars, and students to conduct and distribute world-class research on data analytics, data science, and artificial intelligence for business.
The Fubon Centre hosts various events and offers networking opportunities to students in analytics and AI.
NYU STERN Business Analytics Club
With 1094 group members, the goal of the club is to provide training and application of various programming languages and data visualization tools. The club offers opportunities for students to work with data analytics in a real word setting and understand its use across industries.
Besides, it allows the members of the Stern community to interact with faculty and leading researchers in the field of analytics.
At last, the club sends emails and newsletters to its members regarding news and opportunities in business analytics.
Recruiting Partners
The major recruiting partners at NYU STERN are Google, L'Oréal, IBM, Louise Vuitton, PepsiCo, Microsoft, JPMorgan, Facebook, and many more.
Learn more about NYU Stern MBA Program Class Profile and Employment report and GMAT score required.
Mendoza College of Business
The Mendoza College of Business ranks number #2 for the best analytics MBA programs. It offers an MBA concentration in Business analytics and is for students who want to have a strong background in cutting-edge quantitative methods.
Thus, if you wish to pursue a career as a marketing analyst, the school offers a "marketing analytics" course under the "marketing" elective.
The IT, Analytics, and operations elective (ITAO) includes courses such as advanced statistical inference, predictive analytics, ethics of data analytics, spreadsheet decision modeling, data exploration, and visualization, and many more.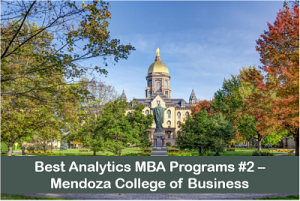 Information Technology, Analytics, and Operations
As per the website, the information technology, analytics, and operations department build upon the inherent synergies between data analytics, data governance, and the optimization of operational systems. At the graduate level, the department coordinates the MS in Business Analytics program offered in Chicago and Notre Dame.
The department also oversees the MBA/MS in Business analytics Dual degree provided by the university.
The dual-degree program provides two-year MBA students with the opportunity to graduate with both an MBA and an MS in Business Analytics degree STEM-designated.
Read about What is the stem designated program?
Business Analytics Clubs
Notre Dame MBA Business Analytics Club's mission is to provide its members with an analytical mindset necessary to excel in strategic decision making. The club works towards its goals by increasing awareness of business analytics, helping students gain hands-on experience, promoting the ethical use of data, and contributing to the Notre Dame MBA program to improve its position as a top program in business analytics education.
It also hosts various events such as training sessions, networking opportunities, community partnerships, and cash-prize contests.
Apart from the business analytics club, students who are interested in the field of information technology, analytics, and operations can join the ITAO club. It provides academic support, internship opportunities, and networking. Besides, the club aims to start a speaker series on the topic of emerging technology.
At last, students who are interested in Sports analytics can join the Notre Dame Sports Analytics Club (NDSAC). The club promotes awareness of and opportunities in the area of sports analytics. It hosts speakers' events that feature industry professionals who discuss career opportunities as well as current trends in sports analytics, sport science, and sports performance.
Recruiting Partners
The hiring companies of recent MBA Grads are Amazon, EY, IBM, Intel, Johnson & Johnson, Cisco, Deloitte, and many more.
Learn more about Notre Dame Mendoza College of Business MBA Program Class Profile | Employment Reports | Notable Alumni
Wharton School of Business
With 1.6% of its MBA batch 2019 placed in the Corporate Finance analysis function, Wharton School of Business ranks #3 for the top MBA Business analytics programs. The mean salary was $130,000.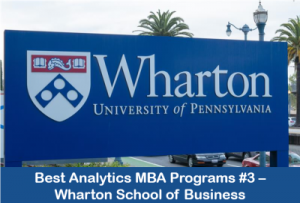 MBA in Business Analytics Curriculum
Wharton has recently launched an MBA major in business analytics that offers students an understanding of how to solve real-world problems by leveraging data.  The business analytics major gives students state-of-the-art techniques and tools for solving business problems with real-world data.
Students explore topics such as visualization, multi-objective decision making, data mining, machine learning, optimization, data acquisition and preparation, decision analysis, text mining, etc.
Wharton Customer Analytics Initiative (WCAI)
The research center focuses on the development and application of customer analytics methods. Through their innovative research opportunity program and R&D "crowdsourcing" approach, WCAI enables academic researchers to help companies understand how to utilize the individual data they collect about customers through the application and development of new predictive models.
They host analytics accelerator challenges annually, where companies submit pressing marketing analytics problems. From those applications, up to three winners are selected, and a team of students led by a faculty member is assigned to the company.
After this, students present implementable solutions to the companies, and then all the applications get an invite to the analytics accelerator summit.
Various students resources offered by WCAI are:
Analytics mentorship program: it provides an opportunity for industry leaders to mentor and engages with students interested in analytics careers.
Student Conference Co-Chairs: three Wharton MBAs are chosen to attend the annual conference as Wharton Student Conference Co-chairs.
Free Technical workshop and online training
Coffee chats with the top industry leaders, where students can engage in discussions about how customer analytics is driving business innovation and insights.
Student Alumni networking opportunities
Analytics Treaks where students visit corporate offices
They sponsor DATATHONS, an intensive data competition
WCAI partners with student clubs to enable analytics-cantered treks, networking events, conference panels, and more.
Wharton People Analytics
Wharton People Analytics (WPA) uses data to advance how organizations make decisions about people, and help leaders operate based on evidence rather than intuition. WPA has partnered with companies to offer internship opportunities to second-year MBA students and work under the guidance of the Wharton people analytics team.
Each year they select students for the conference team that looks after the sponsors, strategic planning and implementation of marketing and communication, competition planning, promotion and management, and program development.
Business Analytics Club
The Penn Data Science group, founded in 2016, focuses on small projects with organizations, education on advanced analytics topics, and career-building. The club also hosts various events and competitions.
Similarly, the Wharton Analytics club's mission is to advance careers, education, and community of Wharton MBAs interested in data and analytics across functions and industries.
The Wharton Analytics club conducts various workshops on SQL, Tableau, and other data and analytics tools. It hosts social events and invites speakers and industry leaders from companies like Facebook, Uber, and Google, who are discovering insights and creating innovations using data.
Recruiting Partners
Few of the recruiting partners of Wharton MBA class of 2019 were Amazon, CITI, DAVITA, Deloitte Consulting, IBM, Procter & Gamble, Uber, and many more.
Learn more about Wharton MBA program Class Profile, Employment Reports, and Notable Alumni, GMAT Score required, Wharton MBA Essay 2020 | Analysis and Tips
HEC Paris
HEC Paris is one of the few European business schools that has added an analytics curriculum for its MBA program. In 2013, HEC Paris partnered with IBM to add business analytics courses to its MBA specialization strategy.
The specialization emphasizes the fundamentals of strategy formulation, focusing on market uncertainty, big data, business analytics, geopolitical change, hyper-competition, and technology development.
HEC Paris Business Analytics Club
The HEC Paris Business analytics club raises awareness of the data analytics role in modern business through its blog posts. It connects students to data science practitioners and gives examples of data analytics across industries at a level appropriate for anyone with interest in the field.
The special issue of Knowlede@HEC highlights various research projects and teaching initiatives at HEC Paris in terms of business analytics and big data.
Additionally, the school also offers summer programs for statistics and business analytics and provides a degree in MSc in Big Data for business.
Recruiting Partners
Some of the recruiting partners for HEC Paris MBA Class 2018 were eBay, Facebook, IAG, Johnson & Johnson, OYO, Nike, Rent-A-Car, PepsiCo, Philips, and many more.
Learn more about the HEC Paris MBA class profile, employment report, notable alumni. Also, read about HEC Paris MiM Class Profile and Employment report.  
Temple University – Fox School of Business
The MBA core curriculum at Fox School of Business touches on many aspects related to big analytics and data. Besides, for students who want to get more insight into the field, the school offers a dedicated concentration in business analytics.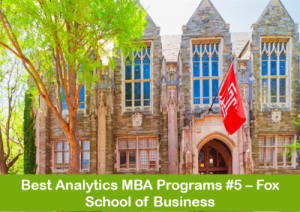 Department of Statistical Science
The department of statistical science offers several degree options for graduates, such as MSc in Business analytics. Students gain work experience and research through numerous internship opportunities.
The faculty at Fox brings together real-world experience to the classroom and engages in various activities, including publishing journals and books, consulting, and conferences.
Fox Global Center for Big Data in Mobile Analytics
The center is an interdisciplinary leader in big data in the mobile analysis. It aims to facilitate research, industry practice, education, and technology transfer in the cross-disciplinary domain of big data.
The center also hosts an annually big data conference where they engage industry and academic experts to discuss the potential of big data and the controversies related to it.
Recruiting Partners
The major recruiting partners at Fox School of business are Amazon, KPMG, Mercer, Wawa, SEI, Deloitte, Marsh, and many more.
Are you aspiring to pursue a career in Business Analytics? To get into the above-mentioned business schools, you need a good GMAT score. Start your GMAT preparation by signing up for our free trial. 
Tepper School of Business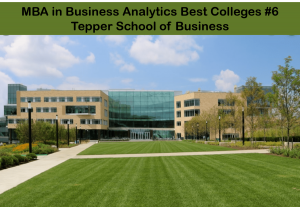 With a strong tradition of research and education in technology, the Tepper School of Business ranks #6 for the MBA in business analytics best colleges. Tepper MBA integrates analytics elements in its program which is STEM-designated. As per its curriculum website, the program focuses on leadership development and strategic analytics. Throughout the curriculum analytics and data-driven decision-making are emphasized.
Learn more about Other Business Schools offering STEM MBA in 2020.
To strengthen students' foundational experience in management science, the Tepper School of Business has made several changes in its curriculum.  Over the past two years, they have included new course offerings that intersect with technology and business. More sophisticated analytical tools and interdisciplinary with experiential learning opportunities are used.
Students master analytical tools like optimization, prescriptive modeling, and predictive modeling.
Business Analytics Track
Tepper's MBA Track consists of 8-10 electives and a related capstone course. Tracks provide MBA students with an opportunity for in-depth study in a career or field. The students are required to take at least five electives in addition to three required courses.
The electives include data visualization, unstructured mining data, forecasting time series data, and many more.
The business analytics capstone course exposes students to a real business problem, which they solve using data mining, visualization, and optimization techniques. Students in the past have worked with financial services, technology companies, retailers, manufacturers, and distribution services to solve problems like:
Optimization of a delivery distribution network
Planning a new distribution channel
Designing a decision support system
Creating a pricing strategy
Data Analytics Club
The goal of the club is to educate students about the latest advances and applications of analytics in different fields such as finance, operations, marketing, etc. It empowers managerial-level analytical knowledge in students by hosting events where students learn about best practices in analytics from industry leaders and experts.
They also have workshops that help students in learning how to leverage data analysis skills in the recruitment process as well as in the professional world by making data-driven decisions.
Recruiting Partners
The major recruiting partners at the Tepper School of Business are Amazon, Johnson & Johnson, Google, AB-InBev, PayPal, and many more.
Learn more about Tepper MBA Program Class Profile and Employment Report
Scheller College of Business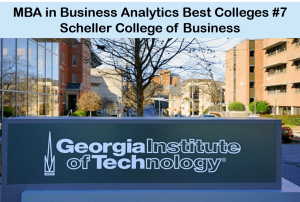 The next on the list for the MBA in business analytics best colleges in the Georgia Institute of Technology – Scheller College of Business.
Business analytics is one of the MBA concentrations at Scheller. It helps the students in developing their creativity and in having a better understanding of analytical tools and techniques.
Students are required to complete three courses from the electives that include project management, business intelligence, data analytics in business, pricing analytics and revenue management, marketing analytics, data science, and many more.
MBA Tracks
For students who want to develop deep expertise in analytics by working on live business projects with world-class companies can opt for a business analytics track. The track combines academic coursework with practical projects with fortune 500 companies, start-ups, and non-profits.
They supplement in-class activities with co-curricular activities such as industry panel, networking events, and guest speakers organized by the Business Analytics Center at Scheller College.
There are two MBA Tracks offered by Scheller – Business Analytics and Computational Finance. Some of the electives in business analytics tracks are business process analysis and design, marketing analytics and pricing, risk analysis, supply chain modeling, and many more.
Computational Finance MBA Track targets students who want to learn cutting-edge tools and techniques through courses in finance and analytics. Students work in cross-functional teams on real projects and interface with the emerging financial technology ecosystem in Atlanta.
Business Analytics Center
Business Analytics Center at Scheller school states three core mission on their website:
Develop and deliver world-class business analytics education: It prepares students to lead a new analytics-enabled workforce and engages with industry partners to provide real-world experiential learning opportunities.
Facilitate leadership through collaboration and applied research: It enables the advancement of leading-edge business analytics techniques and tools with research faculty, industry partners, and students.
Build and support the Business Analytics team: It fosters the development and delivery of innovative programs tailored to the company and team needs such as professional education, executive education, and corporate training programs.
The center also hosts various events such as career fairs and internship expo, industry speakers, competitions, and training workshops.
Business Analytics Club
The goal of the club is to develop a stronger understanding of analytics practice that goes beyond what's taught in the classroom. It encourages and supports the relationship between students and industry leaders through established Georgia Tech programs like the Business analytics center.
The club also promotes the professional advancement of members and coordinates study groups for professional analytics certifications such as CAP certification.
Recruiting Partners
Some of the major recruiting partners at Scheller college of business are Facebook, NCR, Walmart, UPS, Nike, IBM, Dell, Deloitte, Cisco, Amazon, and many more.
Learn more about the Georgia Tech MBA Program – Scheller Class Profile and Employment Report.
Goizueta Business School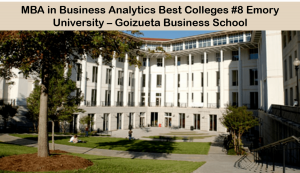 The Goizueta Business School offers several MBA concentrations that are relevant to business analytics, including one in marketing analytics and decision analytics. Some of the electives related to analytics are:
Data and Decision Analytics: is a core MBA course that helps in understanding the role of statistical tools in the decision process. The course provides a framework in decision processes, statistical tools, analysis methods, and models.
Marketing Analytics Consultancy: is one of the marketing management practice electives where teams work with partner companies on data-intensive marketing projects. Students work on central issues in marketing and receive hand-on faculty guidance in creating marketing models, analyzing data, and extracting insights. After which the students give a final presentation to the partnering company.
Advanced-Data Science and Analytics for e-Marketers: Both the courses are taught under information systems and operations management MBA concentration. Data science course focuses on data science and the development of data products whereas analytics for e-marketers covers topics such as pricing strategies, segmentation, analytical models, etc.
Strategic Decision Analytics: course comes under the information systems and operations management MBA concentration. The course begins with the fundamentals of game theory and develops a conceptual framework and analytical tools for strategic action and thinking.
Data analytics and visualization: the goal of the course is to equip students with competencies in analytical skills.
Marketing Analytics Center
The marketing analytics center at Goizueta provides a forum for faculty, students, and industry representatives to share the latest decision-making tools in the field of marketing analytics. They even have a Fellow program where the center provides opportunities for MBA students to be a part of the analytics community at Goizueta. The selected students get a chance to support the annual conference and research projects.
The conference brings together students, marketing professionals, and faculty to learn the latest trends in analytics and provide networking opportunities.
Strategic Initiative in Business Analytics
The goal of a strategic initiative is to prepare market-ready graduates to be business data scientists. Its vision is to apply data-driven scholarships to create knowledge and provide strong leadership in analytics.
The members of the strategic initiative host event where they raise conversation on data analysis, introduce new methods of testing, and partner with companies to gather data for research and experiential learning projects.
Recruiting Partners
3% of the class of 2019 got placed in a marketing analytics function with a median base salary of $110,000. Some of the major recruiters were PWC, IHG, JPMorgan, Google, EY, Coca-Cola, Deloitte, BCG, Citi, and many more.
Learn more about Emory Goizueta Business School MBA: Class Profile and Employment Report
NUS Business School
Apart from having business analytics in its core MBA curriculum, the school also offers a separate specialization in analytics and operations.

Managerial Analytics and Operations
Managerial analytics and operations core module focus on the necessity for every manager, in any role, context, and industry, to be an effective operating manager. Students who take this course can understand the processes of a firm to assess firms' operations by using data while making decisions.
Managerial analytics refers to structured approaches to interpreting data, understanding processes, and making better decisions based on data. The course emphasizes the role of analytics as a tool to support effective operational management.
MBA Specialization in Analytics and Operations
The NUS Business School offers an MBA specialization in analytics and operations. Its course is designed to equip students to become managers who can draw business insights from data, translate them into operational and strategic decisions, and execute the decision efficiently.
Analytics for Manager Module
The analytics for the manager module aims to equip participants with an analytical mindset of informed decision making based on data, modules, and analysis. Students get exposed to topics on the decision and risk analysis, business optimization models, data mining, and statistical tools.
NUS Business Analytics Center
In 2013, NUS collaborated with IBM to establish a Business analytics center (BAC). The goal of the center is to develop the skills and knowledge of professionals in business analytics. BAC offers and hosts the NUS Master of Science in Business Analytics program.
It also hosts various events such as the business analytics technical evening (BATE), where attendees include business analytics professionals from various industries, faculty members, and students.
Recruiting Partners
Some of the companies that have hired at NUS Business School are Nestle, GIC, Apple, Accenture, American Express, Oracle, Panasonic, and many more.
Imperial College Business School
The next business school on our list for the MBA in business analytics best colleges – the Imperial Business School. Even though Imperial's core MBA program does not have a specialization in Business Analytics, it does offer various analytics related to electives.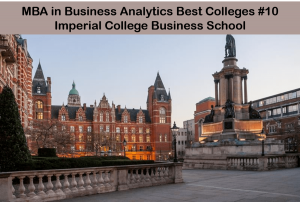 Marketing and Analytics Elective
The marketing and analytics elective includes five modules:
Big Data, AI and Machine Learning
Brand Management
Consumer Behaviour
Marketing Analytics
Pricing Strategy
The marketing analytics module focuses on a hands-on approach with real datasets and cases. Its goal is to equip students with analytical thinking and a set of applied quantitative marketing skills.
Some of the questions addressed analytically in this course include how to allocate marketing budget across online and traditional channels, how to predict future sales, and how to calculate the value of your customers.
Business Analytics Module
One of the modules in the strategic management elective is business analytics. The module explores various mathematical techniques to formulate and solve managerial decision problems. It concentrates on using analytics in diverse disciplines, including production planning, supply chain, revenue management, and finance.
Decision Analytics Module
The decision analytics module explores the basic analytical principals that can guide a manager in making complex decisions. Students will learn to identify the underlying analytical structure, the role of uncertainty, and risk in the decision-making process.
They will also learn to analyze data to understand relationships and predict future outcomes by learning decision trees, building models, and simulations to understand problems with more clarity.
Business Analytics Research Center
In 2015, the imperial college business school opened a business analytics research center with KPMG as a partner. The center focuses on bringing together data science specialists to do cutting-edge research on how business analytics, artificial intelligence, and data will change business and society. It uses one of the world's most advanced data visualization spaces – the KPMG Data Observatory.
The center also hosts various events for students to network and enhance their knowledge in business analytics. They have Data Spark Award, where Imperial college students collaborate with businesses to solve real-life problems.
Recruiting Partners
Some of the major recruiting partners for Imperial college are Amazon, Google, KPMG, Deloitte, IBM, Microsoft, and many more.
All the above-mentioned Business Schools require a good GMAT Score. A 750+ GMAT score can help you to stand out and make your MBA Application more competative as compared to other applicants. Signup for our Free Trial and get access to quality GMAT resources online. 
Here are some related articles for the best business schools in other functions:
FAQs – Best MBA Programs for Business Analytics
What is the duration of an MBA program?
The duration of an MBA program can range from 1 year to 2 years.
What is the difference between MBA and MS?
An MBA degree is a professional post-graduate degree that teaches students managerial, technical, and leadership skills.
Here is an article that can help you decide between an MBA and an MS.
How much does an MBA cost?
The MBA Tuition fee for the Class of 2021 at a top business school can range between $61,487 – $160,864. However, there are some additional costs that you need to look out for such as living costs and pre-MBA costs. Here is an article on various factors to consider while calculating your Total MBA cost.
Is an MBA in Business Analytics Worth it?
Yes. MBA in Business Analytics is worth it as it allows students to understand how to sort, collect, and understand the implications of data and how to leverage it to meet strategic goals.