A
10
min read
Entrepreneurs play a pivotal role in defining the economic order for any country by manufacturing high-on-demand products by providing services that change the way we live, and by offering jobs through their companies. But, are entrepreneurs born or is entrepreneurship a skill that can be learned? Well, some might argue that successful entrepreneurs like Steve Jobs and Bill Gates were no MBAs. However, successful entrepreneurs like Phil Knight and Warren Buffet received business education.
In the modern world, there is immense competition in every industry and innovation has become the key to survive. Therefore, the focus is not just on starting a business but also continuously growing it. This is where business education comes in handy. Entrepreneurship today is among the top 5 majors opted in MBA programs across the globe.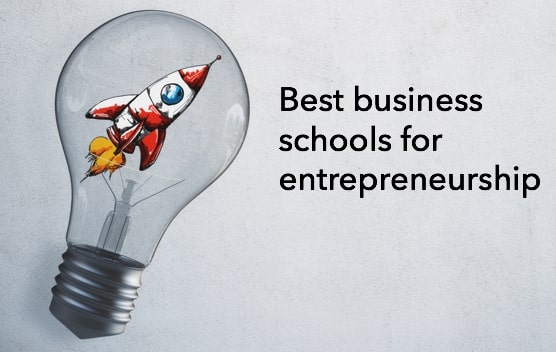 So, if you are interested in starting your company, which business schools will provide the best education on entrepreneurship?
The 7 best business schools for Entrepreneurship
Here are 7 best business schools for entrepreneurship according to US News Report:
Babson College (Olin)
Founded in 1919, Babson is celebrating the 100th year of its existence in 2019.
According to the US News & World Report, Babson has been ranked the number 1 business school for entrepreneurship consecutively for the last 21 years.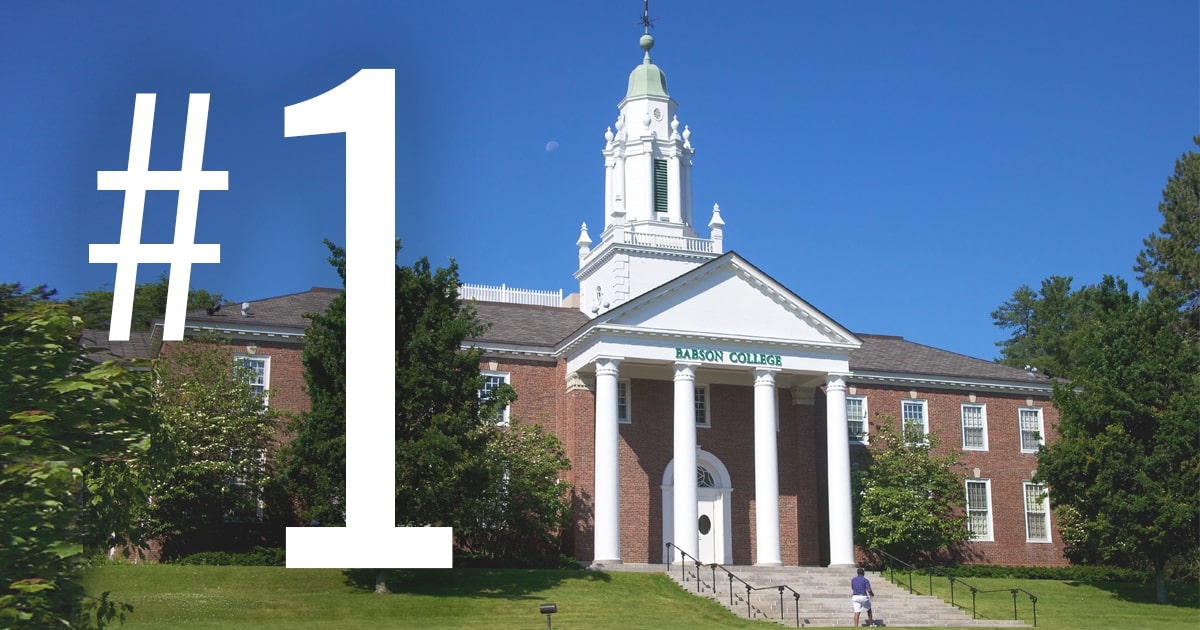 Babson also started teaching entrepreneurship at a graduate level way back in 1967. Today, Babson's entrepreneurship program includes a lot more than just academic courses. The Arthur M. Blank Center for Entrepreneurship imbibes the practice of entrepreneurship by providing its students access to events, workshops, mentoring and competitions that enable them to test and refine their founder skills. The highlights of its entrepreneurship program are:
John E. and Alice L. Butler Launch Pad
Rocket Pitch
E.T.A. Challenge
Summer Venture Program
The John E. and Alice L. Butler Launch Pad provide budding entrepreneurs with mentoring, workspace, seed funding, investor pitch preparation, peer support, and focused workshops.
Rocket Pitch is an annual event which gives its students an opportunity to present their business ideas to investors, entrepreneurs, faculty, and students. Each entrepreneur is allotted three minutes and three powerpoint slides to convey their business idea.
The Blank Center's B.E.T.A. (Babson Entrepreneurial Thought & Action) Challenge gives an opportunity to Babson's undergraduate and graduate students, and alumni to demonstrate success in achieving major milestones. The winners are awarded a prize of $20,000 plus 'services in kind' donations from corporate sponsors.
The Summer Venture Program (SVP) is a 10-week intensive event where 15 teams get an opportunity to build their entrepreneurial skills and grow their venture. The teams receive free housing, workspace, dedicated advisors and mentors. At the end of the SVP, the teams present at the Summer Venture Showcase to an audience of Babson and local startup communities. The Summer Venture Program is recognized regionally as the category winner for education 50 on Fire by BostInno.
Stanford GSB
In 2018, 16% of the Stanford GSB class pursued an entrepreneurial venture. This feat is a result of Stanford GSB's focus on entrepreneurial learning through its Center for Entrepreneurial Studies. This center teams up with other schools of Stanford University to give its students access to their courses and knowledge. The students get access to courses from different Stanford schools such as
GSB – Graduate School of Business
GSE – Graduate School of Education
SoE – School of Engineering
SoM – School of Medicine
SoL – School of Law
SoES – School of Earth Sciences
SoHS – School of Humanities & Sciences
Moreover, Stanford GSB offers 120+ entrepreneurship courses of 6 different categories.
Entrepreneurial experiential courses
Foundations in Entrepreneurship
Functional courses
Social innovation courses
Industry-specific courses
Scaling courses
Two major highlights of Stanford GSB's entrepreneurship courses are
Startup Garage
Stanford Venture Studio
Startup Garage
A team of 2 to 5 Stanford MBA students supply the concept and Stanford provides the 'garage' to develop it, hence the name Startup Garage. The team starts with exploring the market of their choosing to find an unmet need. Then they'll create a product or service to meet that need. Once the product or service is created, the team will develop a business model and launch plan for their venture.

This program teaches students how to develop and launch new products, build ventures and evaluate the viability of early stage ventures.
The teams are supported and taught by a team of Stanford faculty, founders, and VC & angel investors.
If you want to know more about the Stanford Graduate School of Business, its Class profile and Employment Reports, read this article.
Stanford Venture Studio
This program supports startups of Stanford students at any stage of their venture. It helps its students by providing
Offline and online support from 900+ venture studio alumni
Access to co-working space at NGP CoLab
Weekly meeting with founders, VCs, product experts, and faculty
Free resources like AWS credit, subscription discounts, software tools, and legal services
For more details, take a look at Stanford Venture studio's offerings.
MIT Sloan
MIT's guiding principle and motto. "Mens et Manus" which means "Mind and Hand," has always motivated its students to not only create and develop new ideas but also to transform them into practical solutions. MIT boasts its contribution to the world economy through its alumni's startups. According to this report, MIT's alumni-founded companies have created 4.6 million jobs and $2 trillion in annual revenues. So, what kind of facilities does MIT Sloan provides to nurture entrepreneurship? There are three ways MIT Sloan does it:
Entrepreneurial coursework
Entrepreneurship Clubs
Organizations and research centers
Entrepreneurial coursework
This coursework provides action learning which in simple words is learning by doing. Students first learn in a class and then are motivated to collaborate in teams and partner with organizations to solve their real business problems. MBA students interested in entrepreneurship are motivated to pursue the Entrepreneurship & Innovation (E&I) Track, which immerses students in a select set of courses focused on entrepreneurship.
MIT calls it action labs where students immerse themselves in tackling problems in entrepreneurial organizations.
In Entrepreneurship Lab (E-Lab) classes, students develop solutions to early-stage problems at local companies and are advised by an entrepreneur-in-residence, as well as faculty.
The Global Entrepreneurship Lab (G-Lab) allows students to take on problems in developing international markets, while Innovation Teams (I-Teams) give students an opportunity to examine the best ways to bring carefully chosen, MIT-developed technologies to market.
If you want to learn more about MIT Sloan's Class Profile and Employment Reports, read this article.
Entrepreneurship Clubs
MIT Sloan promotes its entrepreneurship ecosystem through clubs like MIT Sloan Entrepreneurship and Innovation Club and the Venture Capital Private Equity Club. The purpose of these clubs is to share ideas and opinions through
IAP Disciplined Entrepreneurship Program
Startup Treks to innovation hubs across the United States
Speakers & workshops
Pitch-a-thons and hackathons
Startup recruiting
Social events
Organizations and research centers
They support in setting up and growing new business ventures of MIT students. Some of these research centers and organizations are:
Harvard Business School
Harvard Business school is another school which focuses heavily on entrepreneurship. This is evident by the fact that 70 students of the 2018 graduating class founded their own companies. HBS tries to inculcate the experience of entrepreneurship in its students both inside and outside the classroom.
Read this article to learn more about the latest class profile and employment reports of Harvard Business School.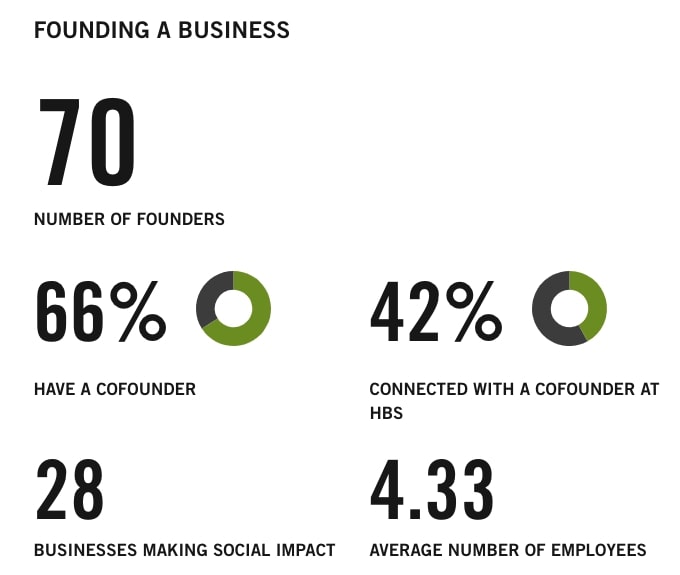 The HBS curriculum introduces entrepreneurship to its students in the first year itself through its required course called 'The Entrepreneurial Manager.' For second-year students, HBS offers more than 20 electives on entrepreneurship.
Moreover, HBS invests a huge amount of resources on students interested in entrepreneurship through its Arthur Rock Center for Entrepreneurship.
You may click on individual links to know more.
UC Berkeley – Haas School of Business
UC Berkeley's Haas School of Business is one of the leading business schools for the study and practice of MBA entrepreneurship. Every year, Haas School of Business awards MBA scholarships to students interested in entrepreneurship. The scholarships available are:
Brian Maxwell Fellowship – A fellowship of $80,000 is awarded to individuals who have demonstrated entrepreneurial spirit and a drive to create and implement innovative projects, products, and ideas.
Mike and Carol Meyer Fellowship – A $20,000 scholarship for students with an undergraduate degree in engineering or science as well as students who intend to pursue an entrepreneurial career.
The Berkeley Haas Entrepreneurship program teaches its students through academic coursework, experiential learning opportunities, mentorship programs, and student-led competitions.
This program offers courses which not only introduces the basics of entrepreneurship to its students but also give them an in-depth knowledge in three phases, i.e., ideation and team formation, customer discovery and validation, and startup acceleration.
Courses by Type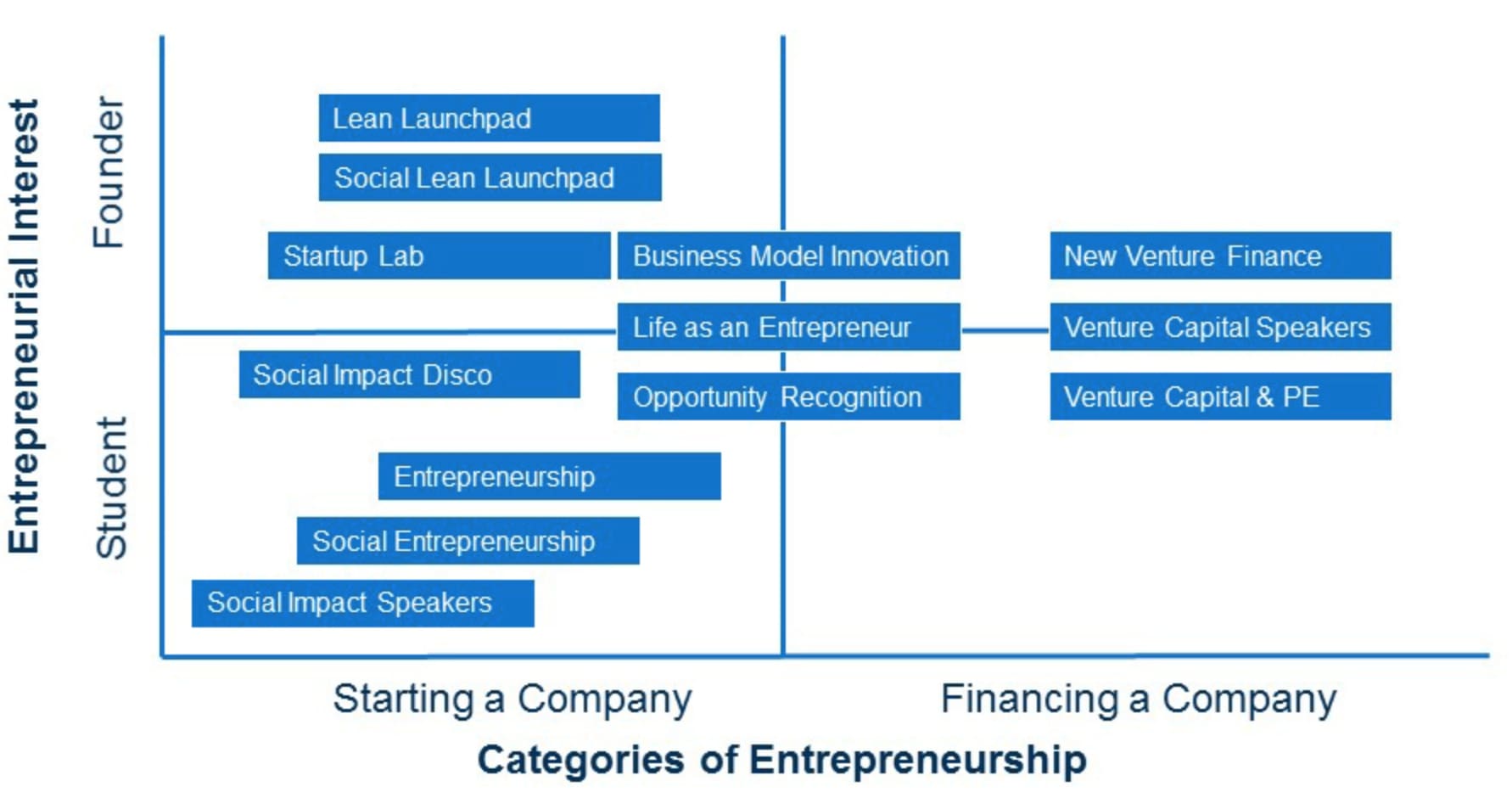 Courses by Subject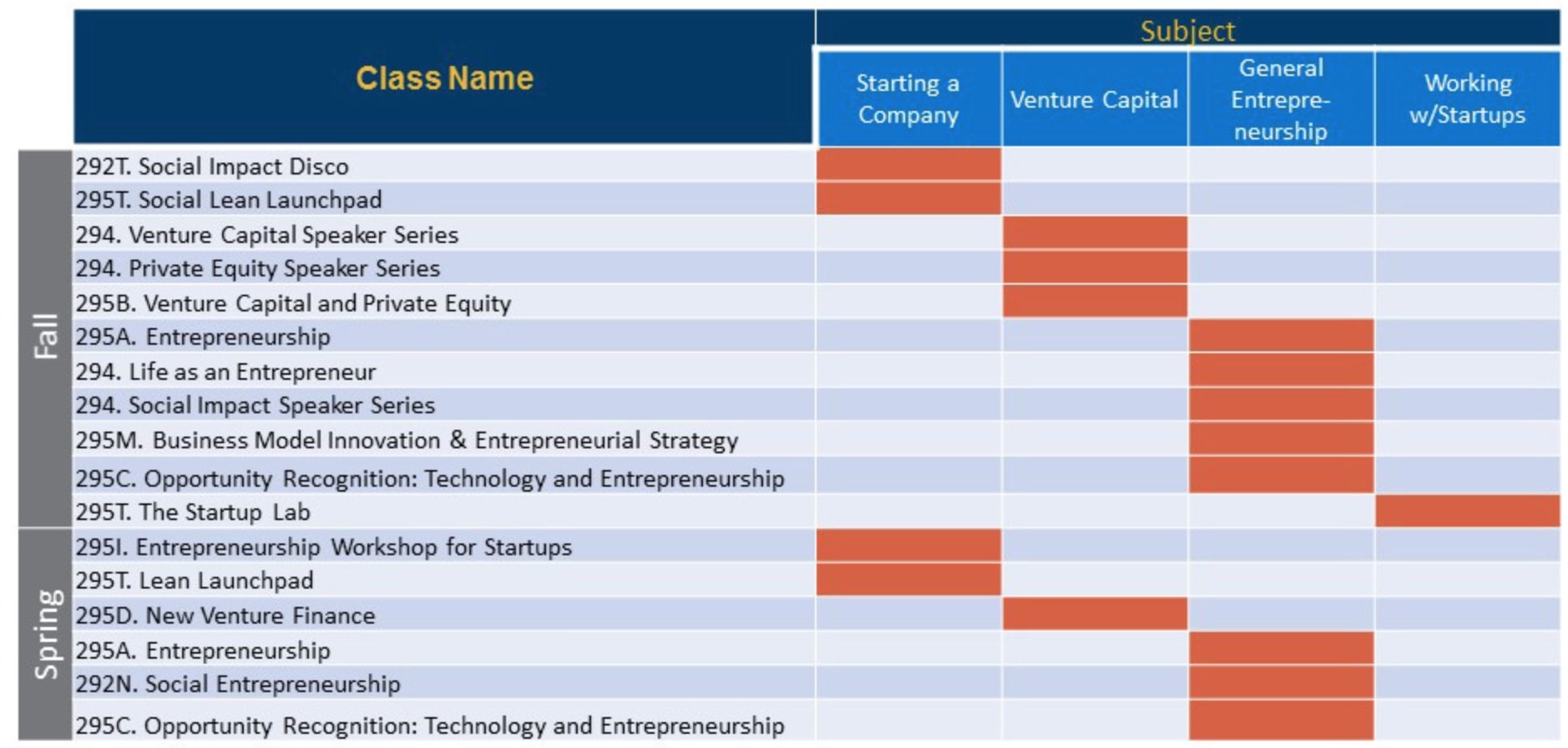 Learn more about the Class Profile and Employment Reports of the Haas School of Business in this article.
The mentorship program of Berkeley Haas Entrepreneurship program gives its students an opportunity to schedule 20-minute sessions with Bay Area's top entrepreneurs and VCs. Few of these mentors are:
Michael Berolzheimer, managing partner, Bee Partners
Soyug Deshpande, curator/experience architect, Salesforce
Carolin Funk, manager of venture technology, Siemens TTB
Brent Locks, senior director of product, POPSUGAR
Rebecca Lynn, partner, Morgenthaler Ventures
Leigh Thompson, senior technology scout, Dow Chemical
Business Accelerator Skydeck and Trione Student Venture fund are some other initiatives of Haas School of Business to promote entrepreneurship. The Berkeley Haas Entrepreneurship Program also supports learning opportunities through the LAUNCH competition and the Venture Capital Investment Competition.
The Wharton School
Wharton School is another top business school which promotes entrepreneurship through a focused program. The Georgen Entrepreneurial Management Program was started in 1997 to promote entrepreneurship among Wharton students.
Even if you had no experience in Entrepreneurship and you wish to learn more, Wharton provides a stepwise method to get started through its 'Start Here Mondays' program. Take a look at 5 ways to get started with entrepreneurship.
Wharton also gives access to an amazing tool called 'Penn Entrepreneurship Ecosystem' which gives information on all the resources Wharton provides divided into 11 categories.

Read more about the Class Profile and Employment Reports of the Wharton School of Business in this article.
Apart from courses, Wharton also conducts competitions and awards prizes to teams doing outstanding work in entrepreneurship. Here are a few competitions:
Penn Wharton Startup Challenge
Startup Challenge winners get $135,000 to help them launch their own ventures. The finalists get an opportunity to pitch in front of a live audience and judges at Wharton's signature event, the Startup Showcase.
President's Engagement Prizes
The President's Engagement Prizes motivates U. Penn's seniors to design and undertake local, national or global engagement projects during the first year after they graduate.
President's Innovation Prize
the President's Innovation Prize was created by Penn President Amy Gutmann to strengthen the University of Pennsylvania's commitment under the Penn Compact 2020 to innovation. It awards a graduating Penn senior, or a team of graduating seniors, $100,000 (plus a $50,000 living stipend per team member) to start an innovative, commercial venture that makes a positive difference in the world.
Summer Venture Award
Instead of a traditional internship, Wharton provides Summer Venture Award which gives its receiver $10,000 to work on a startup over the summer.
Weiss Tech House Innovation Fund
The Weiss Tech House Innovation Fund is a student-run, mini-venture capital fund that offers non-dilutive funding to student-founded Penn startups.
Y-Prize
The Y-Prize is a contest in which members of the Penn community compete to propose the best applications for emerging technologies.
Michigan Ross
Michigan Ross' MBA program focuses immensely on developing the entrepreneurship spirit among its students. The business school boasts the most number of student-run funds than any other MBA program. The student-run funds manage an amount of $10 million.
Moreover, as part of the MBA core curriculum students are expected to work with an organization or startup before the summer internship. These are called MAP projects and students dedicate themselves on solving real business problems of organizations. Here are a few MAP projects at Michigan Ross.
Michigan Ross also offers 18 courses on entrepreneurship to its full-time students. These courses cover everything from setting up a company to investor relations to scaling up operations.
Apart from academic immersion, Michigan Ross gives access to the world of entrepreneurship through clubs and business challenges. Few of these are
Click on individual links to know more.
Learn more about the class profile of the Michigan Ross School of Business and its employment reports in this article.
While many MBA graduates grab jobs immediately after graduation, few go to business schools to be future entrepreneurs. This is where best business schools for entrepreneurship provide the best support to these students.
FAQ – MBA in Entrepreneurship
What is Entrepreneurship?
Entrepreneurship is the act of owning and managing a business enterprise with the aim of creating a profit.
Do business schools offer MBA in Entrepreneurship?
Yes, business schools offer numerous MBA programs in entrepreneurship. The top 7 MBA programs are mentioned in this article.
What are the other MBA specializations?
Other MBA specializations include but not limited to:
Marketing
Finance
Operations
Human Resources
Business Analytics
Here is a detailed article on everything you need to know about MBA
What is the duration of an MBA program?
A typical MBA program lasts about 2 years. However, business schools also offer 1 year MBA programs. INSEAD is one such business school.