A
6
min read
MBA courses come in a wide variety of formats. If you have set your sights on pursuing an MBA, you can choose from the different types of MBA programs. Choosing the right MBA program would depend on your career goals, your current profile, and the amount of time you're willing to invest in your MBA.
5 different types of MBA courses include:
1-Year Full-Time MBA Program
2-Year Full-Time MBA Program
Executive MBA Program
Part-Time MBA Program
Online MBA Program
The options may seem overwhelming on the surface, and sometimes there may not be a clear answer as to which one is better for you.
However, in this article, we present the facts and the rationale behind the different types of MBA programs to help you decide which type of MBA program is best for you.
What are the different types of MBA Programs?
Before we take a look at the different types of MBA Programs, let us understand what an MBA is?
The Master of Business Administration (MBA) is an internationally recognized degree designed to develop the skills required for careers in business and management.
Begin your GMAT preparation with the only prep company that has delivered more 700+ scores than any other GMAT club partner. Achieve GMAT 740+ with our AI driven tools that you personilzed feedback at every step of your GMAT journey. Take our free trial today!
Most MBA programs include subjects such as:
Finance
Marketing
Operations Management
Economics
Human Resources Management
Global Management
Strategy
Leadership
Technology Management
Accounting
Business Management
Entrepreneurship
However, there are specialized MBA programs that focus on one subject area and offer a faster path to a job in your desired industry.
Specialized MBA programs include:
In this article we will focus on the following different types of MBA programs:
2-Year Full-Time MBA Program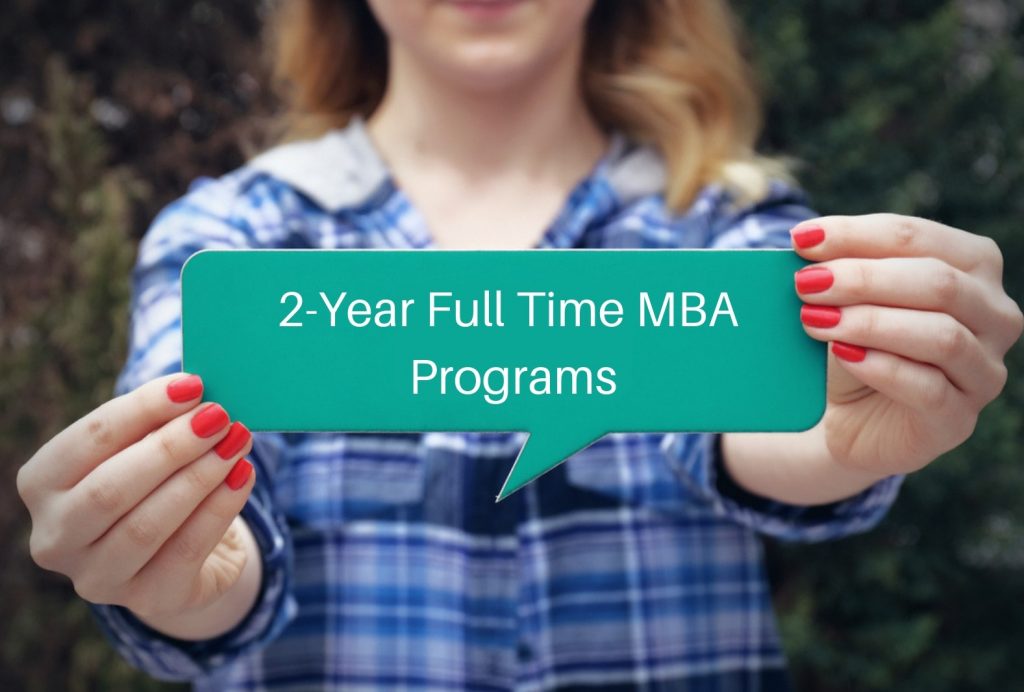 These programs usually last 4 semesters which are spread out over 2 academic years. During your first year, you will complete general course requirements while developing your core skills. Then during your second year, you'll have the flexibility to take a deeper dive into the discipline of your choice.
Globally 60% of applicants to 2-year MBA programs have 3 or more years of work experience. Such programs offer the most opportunities for experiential learning in the form of internships and other projects. They also require the most commitment in terms of time. However, they also provide an unparalleled business school experience. As a full-time student, you'll have access to career services, social and professional clubs, speaker series, counseling, and other activities.
Did you know a GMAT score of 730+ yields incremental $500K in ROI? Start your GMAT Preparation by Signing up for our FREE Trial and get access to FREE online GMAT preparation resources. We are the most reviewed GMAT preparation company on GMATClub with more than 2500 reviews.
Here are the statistics for the top 2-year MBA programs in the world:
Note: The rankings have been taken from the QS Global MBA rankings for 2023
Considering the 2-year Harvard Business School MBA or the 2-Year Stanford GSB MBA Program? Read the respective articles to learn more about what these schools are looking for in candidates.
1-Year Full-Time MBA Program
These programs are usually completed in an 11– 16-month time-frame. Many programs have strict prerequisites for work and academic experience to complete the MBA curriculum in this compressed time frame.
Candidates in 1-year full-time MBA programs are experienced professionals seeking to advance their career in their industry or job function and want to earn their degree in a short time period. The accelerated nature of the 1-year MBA offers an intense and immersive business school experience. Since there usually aren't extended semester breaks in most one-year programs, internship opportunities may be limited. With the majority of candidates coming to these programs with work experience, the focus is on the end goal – your MBA.
Here are the statistics for the top 1-Year MBA programs:
Planning for an MBA? To get an admission into an MBA program you need to take the GMAT and ace it. We can help you with a personalized study plan and give you access to quality online content to prepare.

Write to us at acethegmat@e-gmat.com. We are the most reviewed GMAT prep company on gmatclub with more than 2100 reviews.

Why don't you take a free trial and judge for yourself?
Executive MBA Programs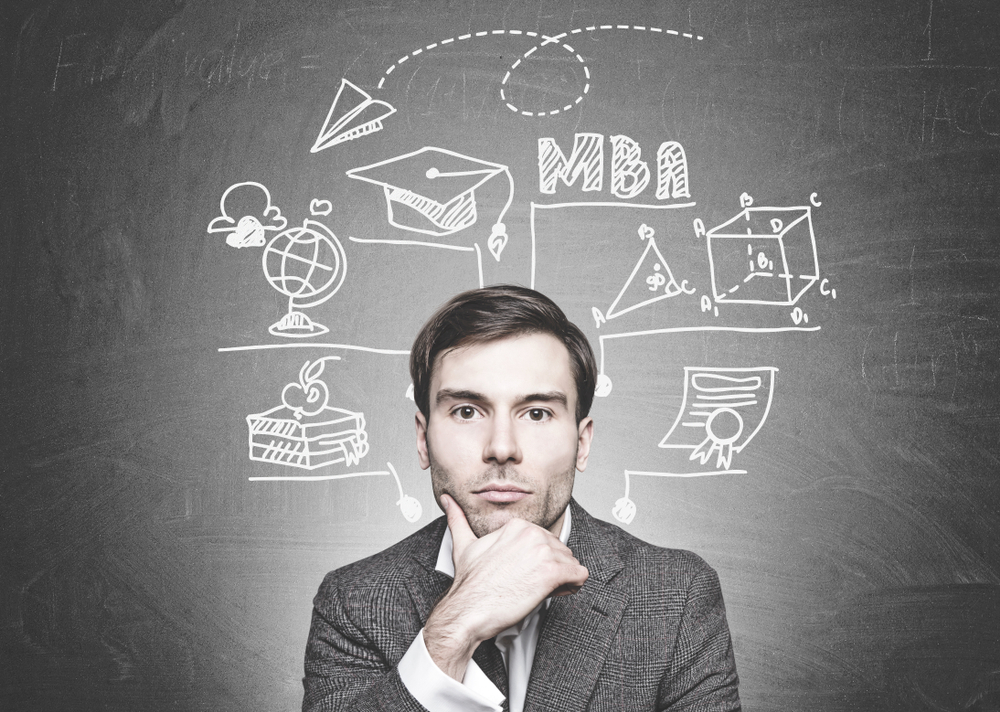 Most Executive MBA programs can be completed in two years or less, significantly faster than traditional part-time MBA programs. Classes generally meet on Fridays and Saturdays, and often on alternate weekends. Thus, it is tailored for professionals who are taking the next step in leadership.
The program curriculum focuses on several courses in each of the major business disciplines – leadership, strategy, communication, and management skills. With a focus on career-broadening management and leadership training for executives, an executive MBA provides you with strong management skills to help your organization.
An Executive MBA offers an immersive experience with learning taking place both inside and outside the classroom. The experience is further enhanced by extensive contact with faculty and peers. Many companies also provide financial assistance if you chose an executive MBA program, so check with your employer.
Some of the top Executive MBA programs are:
| | | | | | |
| --- | --- | --- | --- | --- | --- |
| Ranking | Top MBA Colleges for Executive MBA programs: | Location | Average GMAT Score | Tuition Cost (per year) | Median Base Salary |
| 1 | IESE Executive MBA | Spain | 580 – 750 | €126,735 | NA |
| 2 | HEC Paris Executive MBA | France | 690 | € 99,000 | NA |
| 3 | Wharton Executive MBA Program | USA | 710 | $223,500 | $220,500 |
Part-time MBA Program
Part-time MBA programs offer flexibility and balance to help you reach your goals. They do so without putting your career on hold, with lock-step and self-paced options. These programs generally run year-round, with classes scheduled outside of normal business hours. You have the flexibility of choosing how many classes you take each semester. Most candidates opt for one or two classes and generally complete the program in four or five years.
There are generally 2 types of part-time MBA programs:
Lock Step Programs
Self-Paced Programs
In lockstep programs you enroll with a cohort, helping you begin your experience with a community and network, who will move through the program with you. Self-paced programs offer more flexibility and, in some cases, accelerated coursework.
Following are some Part-Time MBA Programs:
Online MBA Programs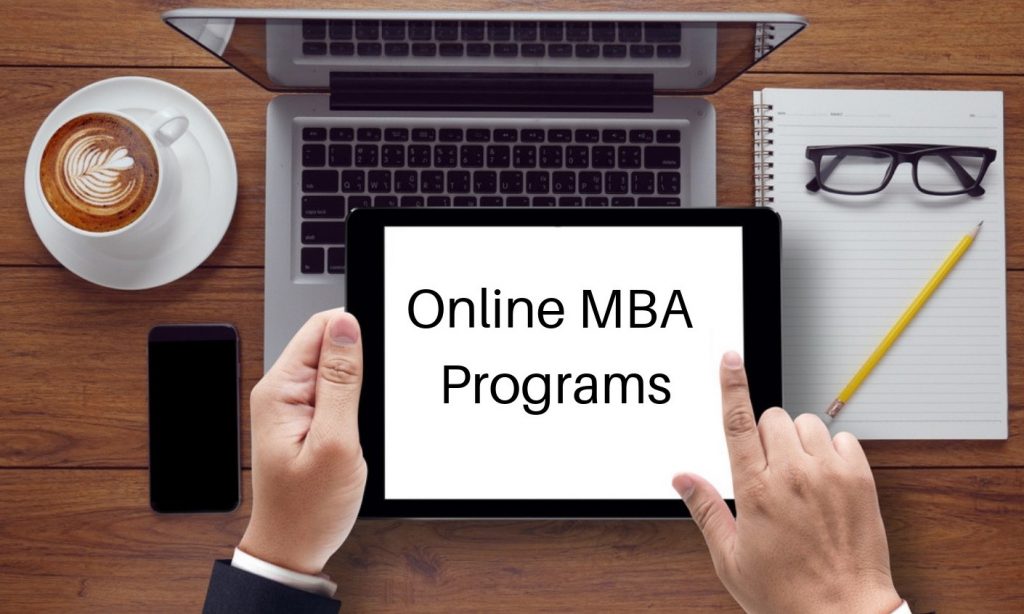 Online MBA Programs offer flexible options that allow you to fulfill the demands of your busy schedule while taking the next steps in your career. Most online MBA programs allow you to spread your cost and time over longer periods. Thus, allowing you to take classes at your own pace along with a schedule that works with your personal and professional commitments.
A high GMAT score can set you apart from the competition and help you get an admit at your dream business school. Start your GMAT Preparation with the most reviewed online GMAT prep company. Try out our FREE Trial Today!
With a variety of course formats, including recorded lectures and live web conference courses conducted in virtual classrooms, online-MBA programs provide a flexible combination that suits both your learning style and lifestyle.
Following are some online MBA programs:
Key differences between different types of MBA Programs
In the following table, we have summarized the key differences between different types of MBA programs:
| | | | |
| --- | --- | --- | --- |
| Type | Duration | Average Professional Experience | Schedule |
| 2 Year Full-Time MBA | 2 Years | 3+ Years | Full-Time Course Load |
| 1-Year Full Time MBA | 11 – 16 Months | 3+ Years | Full-time course load with less time in between semesters |
| Executive MBA | 2 Years | 8+ years | Classes typically meet on the weekends or evenings to accommodate a full-time work schedule |
| Part-Time MBA | 3+ Years | 0-3 Years | Often consists of evening classes, allowing students to earn a degree with a full-time career |
| Online MBA | 2+ Years | 0-3 Years | Curriculum to be followed from home or remote location |
We hope this article provides you the information you need to make an informed decision about the type of MBA program fit for you. In case of any other questions, please write to us at acethegmat@e-gmat.com
FAQ – Different types of MBA programs