From 620 (Q47, V28) in mock tests to GMAT 760 (Q51, V41) in his second attempt, Rohit's GMAT journey is inspirational. Coming from a science background Rohit had a strong grip on Quant but was struggling to improve his verbal.  After multiple mock tests and a GMAT attempt, Rohit was able to achieve the desired score.
In this video debrief Rohit shares his experience of preparing for the GMAT and his journey to a 760 GMAT score.
7:00 – GMAT journey starts with giving Official Mock Test
11:23 – GMAT Verbal Strategy
13:20 – Time Management
15:00 – GMAT Resources and Mock Tests
18:10 – Meaning Based Approach for Verbal
22:00 – First GMAT Attempt
23: 27 – Scholaranium Practice Questions
24:45 – Second GMAT Attempt
25:56 – Learning
27:42 – Power of Scholaranium
41:18 – e-GMAT Learning Architecture
Rajat: Congratulations on scoring a GMAT 760 (Q51, V41). Let's start with your academic background and your GMAT Journey.
Rohit: After graduating as a Medical Doctor (MD) in 2013 from the University of Delhi, I joined civil services to become an IAS or IPS officer. I cleared the exam in 2014 and joined as an assistant director-general in the ministry of defense from 2015 – 2019. After which I got transferred to Jhansi cantonment in 2019 as a chief executive officer. It was during this point that I realized I must upgrade my skills.
In civil services, the initial 60% of your career, you are expected to execute policies, after which you are required to formulate policies. Coming from a medical background, I did not have a proper framework in management, and I wanted to learn how to formulate policies rather than only executing them.
GMAT Journey Starts by Giving Official Mock Test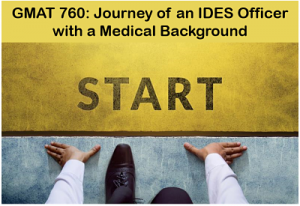 I started my GMAT journey by giving an official Mock test where I scored 620 (Q47, V28). Keeping the mock test scores in mind, I started preparing for GMAT verbal first. For Quant, I took the Target Test Prep course, and for verbal, I was advised to go for Manhattan Prep (mainly for sentence correction and critical reasoning).
While preparing, I use to juggle between quant and verbal and gave an equal amount of time to both the sections.  I used to pick a topic, learn the concepts and then attempt a few practice questions.
After studying for 3 hours per day for 45 days (Mid-June 2019), I gave my second mock test and scored only 660 (Q48, V32).
I was disappointed, and after going through other resources available online, I was recommended to go for e-GMAT verbal.
Here is an article that highlights 3 reasons why you may not achieve your targeted GMAT verbal score. 
GMAT Verbal Preparation Strategy
I followed the same strategy as before, where I concentrate on one topic of the verbal section, got acquainted with the concepts, practiced questions, and then move to the next topic. For example, I would start with sentence correction, after which I use to concentrate on critical reasoning and then reading comprehension.
e-GMAT Verbal course
I did not try to break the sequence in which the e-GMAT verbal section was presented to me. I would go to the sentence correction section in the e-GMAT portal and click on the topmost unstudied lesson. After taking the lesson, I would give a pre-quiz before attempting practice questions.
Once done with the practice questions, I would start the comprehensive reading (CR) section where I would follow the course sequence, i.e. concept files, application file, and practice file.
I gave myself time to think about each mistake I made as the e-GMAT course was about learning the concepts, internalizing them and then applying.
I came across rules, concepts, and analogies that I was unaware of until now. It had an elaborated section on modifiers, tenses, and idioms. The course helped in providing a framework.
Rajat: How was the e-GMAT learning experience different, and how did it impact your GMAT scores?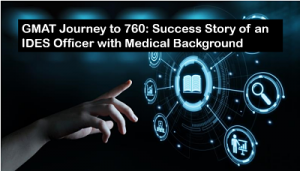 Rohit: There is no comparison when it comes to the e-GMAT learning experience. After I took the e-GMAT verbal course, I realized that I had no idea about the concepts and how important it is to understand the theory. The course had a methodological pattern that helped me to get a hang on things.
While preparing through the e-GMAT course, I learned new concepts each day and tried to internalize it as my second nature.
Meaning Based Approach for GMAT Verbal
When I was using Manhattan resources, I found out that the approaches and framework towards the GMAT verbal section were incomplete. But after going through the theory and practice questions of e-GMAT, I was at ease. In the SC section, the meaning-based approach helped me in seeing the genesis of the sentence.
I was able to understand the structure of the sentence, which helped me in knowing – the core of the sentence, the secondary components around it, and the tertiary components which I should probably let go while attempting the SC section.
Time Management
After giving two mock tests, I realized that in both my attempts, I couldn't finish my exam on time. I could only attempt 27 questions out of 36 in verbal. The main reason behind it was the lack of clarity as to what framework I need to use while solving the questions.
The e-GMAT verbal course helped in internalizing the theory and make it a part of my nature. With the help of a meaning-based approach followed by e-GMAT, the frequency of me getting lost in a question decreased significantly.
Do you also want to try out the e-GMAT course that helped Rohit achieve his desired GMAT score? Sign up for our Free Trial today. We can also provide you with a personalized study plan and give you access to quality online content to prepare from.
GMAT Official Mock Tests
I had planned on giving my GMAT on 28th August 2019 a day before my official work-related training program. Before the exam, I gave four official mock tests. I gradually saw my score increasing after completing the theory of e-GMAT verbal. The first mock test I scored V40 followed by V42 and the only additional resource that I used was e-GMAT verbal course.
By this time, I had completed preparing from the official guide and review by GMAC. I had completed the e-GMAT theory course on the CR section and was halfway through the e-GMAT RC section. But I did not touch Scholaranium.
Try out e-GMAT SIGma-X mock tests for free.
First Attempt towards GMAT 760
For my first attempt, I focused too much on the questions. I was able to understand things and was connecting to the paper, but I scored only 700 (Q48, V37). After which I started my training in Delhi for five weeks. I was on training from 9:30 AM to 6:00 PM. During my free time, I gave Scholaranium (Practice questions) by e-GMAT which was untouched and practiced e-GMAT verbal problems that were unattended by me earlier.
If I had 20 minutes of free time during my training, I use to make a question bank of five questions from a section in Scholaranium and solve it through my smartphone or laptop.
Second Attempt towards GMAT 760
This became a routine, and after 16 days from my first attempt, I booked the GMAT exam slot for 13th September 8:00 AM. I attempted the verbal section first followed by quant, and finally, my score was 760 (Q51, V41)
Learn more about  Scholaranium?
Rajat: What did you learn from your GMAT 700 to 760 attempt?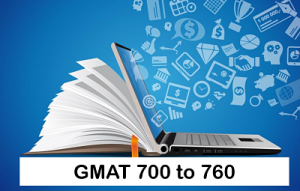 Rohit: For my second GMAT attempt, I kept two things in mind:
I tried not to take myself so seriously. For my first attempt, I completely cut myself from the world to focus on my preparation. But, the second time around I gave myself time and tried not to get tensed about the exam. The night before my exam, I talked to a few people on the phone and treated myself with desserts.
Rajat: As they say, "Happiness enhances performance."
Scholaranium was helpful. It helped me to utilize my time between training sessions. I used to solve as many questions as I could religiously. No matter if my answers were correct or wrong, I would go to the solution to know if I was thinking right, and what is the reason behind other options been wrong?
Just practicing the questions on Scholaranium enhanced my learning and I was able to score V41.
One of the key things is to know why the other options are wrong while solving GMAT verbal.
Power of Scholaranium
Rajat: The difference between a V38 and a V41 in many ways is about two to three questions. But that refinement of score from V38to V41 comes from practicing. Thus, by practicing questions on Scholaranium helped in enhancing your thought process and gave that extra push that you needed.
Rohit: Yes, that's true. Whenever I use to get time, be it day or night, I use to use Scholaranium. The only resource that I used between my two attempts was Scholaranium.
Rajat: Also, Scholaranium can point-out and analyze your weak areas. Before your first attempt, you gave four mock tests. How would you figure out the mistakes that you made?
Rohit: Before my first attempt, I took four mock tests, and if I made a mistake, it would get flagged in my performance. After this, I would try to figure out my mistakes by talking to my mentor.
Rajat: But there was no official solution. Scholaranium tracks your improvement in real-time and analyze your mistakes.
Rohit: Definitely. It provided data related to my performance and pinpointed my mistakes.
Data Analysis on e-GMAT Platform
Rohit: The data presented on the e-GMAT platform helps a lot in knowing your strengths and weaknesses. It's like a SWAT analysis of yourself. It tracks your performance and tells you which questions you are comfortable working with, which questions are taking more time, what should you be practicing next, and so on.
For Instance,
If you look at my data in Scholaranium, my accuracy is not very high. After knowing my weakness, I started focusing on my accuracy level.
Rajat: Data analysis is something that Payal, and I continuously work on. We analysis the data presented on the e-GMAT platform and give feedback to our students on their performance. To extend this facility, we have even hired and trained people towards the same.
We are also implementing the first generation of AI to give people feedback. It's just amazing what data can tell you.
We found out one interesting information by comparing data from Scholaranium (performance of the students) and actual GMAT test performance.  From 600 odd cases, 96% of the students' performance in Scholaranium matched the actual GMAT test they gave. We had only 4% of students who did well in Scholaranium but did not score well in the actual GMAT test.
Rajat talks about how e- GMAT Learning Architecture helps in achieving the desired GMAT Score

E-GMAT learning architecture consists of three things:
Learn concepts and Methods
Cement the Methods:
Refine to perfection
In your case, you are someone who has given the mock tests and have done the e-GMAT courses very well. You were past what we call the test readiness stage. In short, you were in the final polishing stage were by taking an e-GMAT verbal course helped you to bridge the gap of V32 to V41.
For other people who take the e-GMAT course, there is a sequence where they must go back to the first stage of learning if there accuracy is low in the second stage of learning. The threshold is 70% accuracy in medium questions and 55% accuracy in hard questions. Once you cross that level, only then you move on to refine stage where it's advised to give practice questions from Scholaranium.
The most common mistake students make when they skip the theory and start solving questions. For instance, 50% of the students say, "I have studied sentence correction for one-week and put in about 15 hours, let me go an take a mock test."
Rohit: I completely agree with you. You need to have a strong foundation when it comes to theory. You need to be patient, regular, and adequately rest your mind.
Rajat's advice on MBA Scholarships
Two things determine a scholarship – your GMAT Score and how much do they like you in an interview (personality traits). One of the things that you will learn in business school is – "The best way to compete is not to compete on a standard method."
If you are running a race, you and the other guy are on the same track and who wins is purely based on your stamina. But if you know a short-cut, then your probability of winning goes up.
When you are applying to business schools, a very standardized format is used, such as writing your essay within the word count, providing employment details, etc. Once you get the admission, there is no defined way in which you can justify your scholarship. But if you share something unique, it increases your chances.
For Instance, one of our students got admitted with a 50% scholarship. He wrote back to the admissions committee for an increase in scholarship, along with the link to his debrief on GMATClub. One day after, he got an email stating that his scholarship is now 100%.
Here's the List of MBA Scholarships for Indian and International Students
Rohit: Overall, how is my profile when it comes to business school admissions?
Rajat: Your GMAT score is a strength for you. When you apply to any business school, they evaluate your application holistically. Apart from GMAT, they look at traits such as leadership, your past achievements, excellence, etc.
You have a strong background in leadership, and despite not being an engineer, you have a stronghold on quant. Overall your profile is great.
Rajat's advice on after GMAT 760
You are at an amazing place right now. Take a week to decide where you want to go from here. Also, with your background in medical and then combining it with technology opens certain avenues for you.
For Instance, if you want to become a better CEO, I would suggest going for Harvard and NCAT, but if you want to focus on technology and entrepreneurship, then go for MIT and Stanford. Frankly, all the four schools are in reach with your background.
At last, it is your decision towards where you want to go from here. As stated, you have an option to return to your service with the study leave, which can be availed only in 2021. Your GMAT scores will be valid till then, and the impact that the score has will be the same.
Do you also want to try out the e-GMAT course that helped Rohit achieve his desired GMAT score? Sign up for our Free Trial today. We can also provide you with a personalized study plan and give you access to quality online content to prepare from.