A
12
min read
Management consulting is one of the most sought-after post-MBA careers by MBA aspirants. In fact, 29% of the students surveyed by the GMAC in the 2019 annual prospective students survey conducted by the GMAC were targeting consulting as a post MBA career.
McKinsey, Bain, and BCG, also known as the "MBB firms" reported base salaries of over $165,000 with signing bonuses of $35,000 and above. This brings total compensation up to a staggering $200,000.
Thus, it's a combination of lucrative pay, challenging and high powered work environment and a fast pace of learning that attracts the best and brightest MBA graduates to a career in consulting.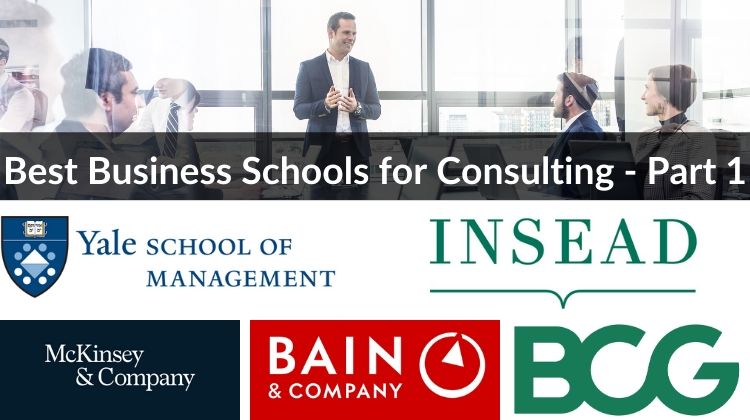 In this article, we explore the 5 top business schools for consulting. Here is a brief outline of this article:
Why is consulting a popular post-MBA career?
Besides the prestige and high salaries that accompany a career in consulting, following are a few other reasons why consulting is a popular post-MBA career:
Learning
Networking
Subsequent Opportunities
Learning Opportunities
An essential skill of every successful consultant is to learn, and specifically to learn fast. Consultants work with a variety of industries to solve different types of business challenges and this variety of casework enhances their overall business judgment.
Another upside of this variety is an opportunity to experience different kinds of work, this is in addition to the real intellectual stimulation that these business challenges provide. In solving these problems, consultants can call upon the firm's collective knowledge through well-organized online knowledge management platforms that cover a host of business topics.
Consultants also learn a lot because of the apprenticeship model adopted by consulting firms. Consultants often work alongside some of the brightest minds in business. Thus, they pick up a lot of tips, tricks and thought processes from some of the best business thinkers available.
Consulting Firms Invest Heavily in Training and Development
The top consulting firms also invest heavily in the training and development of their employees. New MBA hires at McKinsey are put through the McKinsey 'mini-MBA' program to supplement their existing business knowledge.
Similarly, at Bain & Co., new hires from all around the world are put into groups of 4-6 people and trained by a partner or manager who has taken a week off to get them up to speed.
Brian Rolfes, a McKinsey partner and director of global recruiting says, "McKinsey spends more than a $100 million on learning and training every year".
Networking Opportunities
Consulting firms provide a stellar network, a byproduct of working with brilliant colleagues in case teams for extended periods of time. Colleagues who know you well are often happy to provide you introductions to other opportunities.
Established consulting firms also have dedicated alumni relations departments. which provide useful resources and networking opportunities for consultants after they have left the firm. Firms invest in this knowing that new clients and additional business can come from former consultants.
Subsequent opportunities
Consulting is a great springboard to many other opportunities. Strategy departments of large corporations often love to hire former strategy consultants. Private equity firms also enjoy recruiting former consultants. Finally, clients who love working with a particular consultant may want them to come work for them directly.
Consulting also provides a stamp of pedigree on your resume. Partly because of the fact that firms hire the best and brightest talent and also because of the accelerated pace of learning that consultants are accustomed to.
Skills that top Consulting firms look for in hires
Now that we know the reasons why consulting is a popular post-MBA career, let us take a look at the skills that top consulting firms look for in candidates. The top 3 skills that consulting firms look for in candidates are:
Problem-solving and analytical skills
People skills
Team-based collaboration skills
Problem Solving and Analytical Skills
Consulting firms look for candidates who are comfortable with numbers and have a problem solving and analytical mindset.
According to Kieth Bevans, the global head of recruiting at Bain, "The idea there, is that consultants work with senior executives at the top companies to solve some of their most difficult challenges. Thus, we need people who have the analytical capabilities to tackle those challenges."
People Skills
Since consulting is a client services business, consulting firms look for candidates who have the skills to connect with other people.
According to Kieth Bevans, "We are looking for people who will be successful in a client services environment, where clients can trust their advice, where they can connect and listen to clients and learn from them."
Team-based collaboration skills
Consulting firms serve clients using a team-based and collaborative problem-solving approach.
According to Brian Rolfes, a McKinsey partner and head of global recruiting, "McKinsey's client service is based on working in teams and using the power of collaboration to solve problems no one else can."

According to Kieth Bevans, head of global recruiting at Bain & Co., "We don't go off and work on our own to come back and deliver the answers, we work and collaborate in teams, to solve our client's problems."
Next, let us take a look at the top business schools which provide the best opportunity to start a career in consulting.
Top 10 Best Business Schools for Consulting – Top 10 MBA programs for a career in Consulting
For the purpose of ranking these business schools and their MBA Programs, we have taken into consideration business schools that send the greatest percentage of their class into Consulting. This statistic indicates that a significant amount of the school's resources would be allocated to preparing students for success in these fields.
These resources include the school and MBA programs faculty, coursework and career services. Including building relationships with employers and bringing them in to hire students in school facilitated events.
Here are the Top 10 Business Schools for Consulting careers:
INSEAD
London Business School
Yale School of Management
Columbia Business School
Duke Fuqua School of Business
University of Virginia – Darden School of Business
MIT Sloan School of Management
Chicago Booth School of Business
Michigan Ross School of Business
Northwestern University's Kellogg School of Management
| | | | | | | | |
| --- | --- | --- | --- | --- | --- | --- | --- |
| Sr. No | Business Schools | Class Size | Incoming Percentage (By Industry) | Outgoing Percentage (By Industry/Function) | Median/Mean Salary (in US $) | Mean/Median Sign-On Bonus (in US $) | Salary Range |
| 1 | INSEAD | 500 | 16% | 52% | 113,400/113,800 | 27,000 | 46,000 – 180,000 |
| 2 | London Business School | 415 | 26% | 37% | 113,329 | 47,407 | 74,438 – 168,000 |
| 3 | Yale School of Management | 347 | 20.20% | 34.9%/46.3% | 145,000 | 25,000 | 125,000 – 152,000 |
| 4 | Columbia | 756 | 23% | 33.60% | 147,000 | 30,000 | 80,000 – 233,500 |
| 5 | Duke Fuqua | 440 | 24% | 32%/35% | 140,000/140,300 | N/A | 93,000 – 170,000 |
| 6 | Virginia Darden | 345 | N/A | 32% | 140,189 | 31,940 | N/A |
| 7 | MIT Sloan | 409 | 21% | 31.6%/38.5% | 147,000/142,988 | 30,000 | 73,677 – 185,000 |
| 8 | Chicago Booth | 591 | 24% | 31%/32.3% | 150,000 | 25,000 | 53,000 – 170,000 |
| 9 | Michigan Ross | 423 | 16% | 30.1%/33.1% | 147,000/136,667 | 25,000 | 70,000 – 170,000 |
| 10 | Northwestern Kellogg | 478 | 24% | 30.1%/32.4% | 147,000/140,830 | 28,130/25,000 | 82,800 – 170,000 |
In this article, we take a look at the top 5 business schools for a career in consulting and what makes the MBA programs at these business schools great for a consulting career.
Best Business School for Consulting #1: INSEAD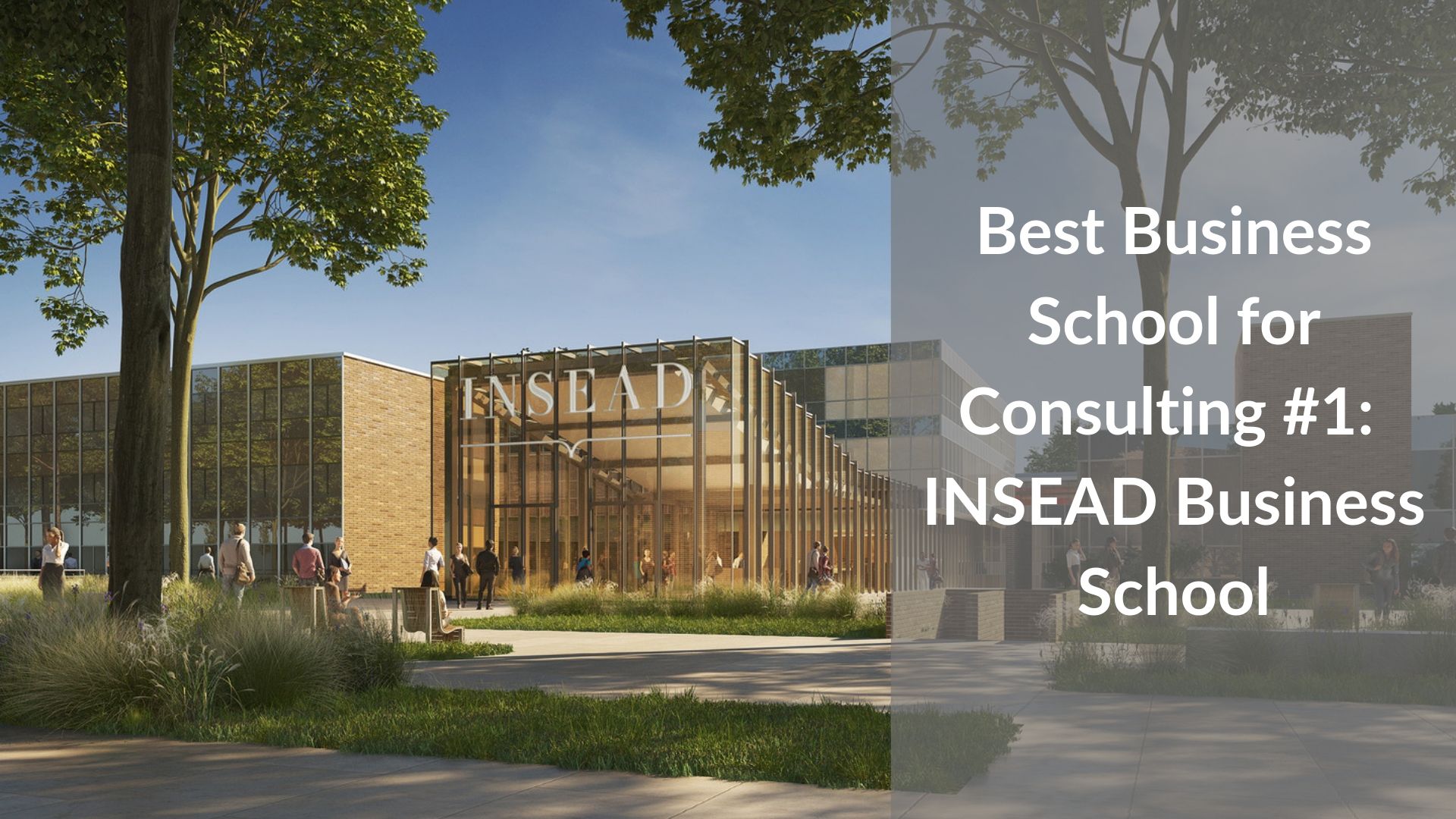 INSEAD with its multiple campuses in Fontainebleau, Singapore, and Abu Dhabi is a powerhouse for students looking to recruit for management consulting. From the class of 2018, 52% (16% returning to consulting) landed a job in consulting with an average salary of US $ 113,800 and average sign-on bonus of US $ 27,000. This along with a guaranteed performance bonus of US $ 24,000 brings up the total compensation to a handsome US $ 164,800.
McKinsey, Bain, and BCG hired a total of 274 students in total of which 103 were former employees returning to the organization after graduation. 8 out of the top 10 employers of 2018 graduates were consulting firms including firms such as Strategy&, A.T. Kearney, Accenture, L.E.K Consulting and Roland Berger.
Short but intense 10-month course duration
The short 10-month duration of the INSEAD MBA program is preferred by those already working in consulting and looking to move up the ladder at consulting firms.
INSEAD Strategy Group
INSEAD boasts of a strategy group comprising of 29 members of the faculty and 12 visiting faculty members. The strategy group at INSEAD works across all 3 campuses and contains notable professors such as:
Andrew Shipilov, Akzo Nobel Fellow of Strategic Management and academic director of the INSEAD Blue Ocean Strategy Program
Renee Mauborgne, INSEAD Distinguished Fellow of Strategy and International Management, co-director of the INSEAD Blue Ocean Strategy Institute and former advisor to President Barack Obama
Chan Kim, recipient of the 2008 Nobel Colloquia Prize for Leadership on Business and Economic Thinking and co-director of the INSEAD Blue Ocean Strategy Institute
Electives, Curriculum, and Team-Based Learning Culture
INSEAD offers a wide variety of electives in strategy which encompass broad theory as well as targeted geographic and sector approaches. Some of the electives offered are:
Global Strategy
Industry & Competitive Analysis
Media and Internet: The New Rules of Game in the Digital World
Strategy, Structure, and Incentives
Strategy for the Asia Pacific
Art of Communication
Besides these elective courses, the core curriculum of period P1 includes courses such as:
Uncertainty, Data, and Judgement
Principles of Strategy Analysis (also known as Introduction to Strategy)
Organizational Behavior
These core courses introduce students to interpreting analytical data, completing strategy assessments, and applying behavioral science.
Besides the curriculum, the team-based learning approach applied through sections and study groups prepares students to work in diverse teams and solve problems while navigating differences in communication and culture.
INSEAD Consulting Club and Case Competitions
INSEAD students have access to several case competitions. A.T. Kearney's Global Prize Annual Strategy Case Competition pits close to 100 teams from business schools in Europe and North America against one another in simulated client challenges.
Participating teams are asked to develop strategic, innovative and actionable solutions to real-world business problems. Teams from INSEAD compete internally within its Fontainebleau and Singapore campuses for a chance to represent the school's Europe and Asia campuses in the European battle. Successful teams go on to compete against the North American Champions.
INSEAD also boasts of an active Consulting Club, which helps students to explore a career in consulting and help them prepare for the recruiting process. The consulting club hosts a number of events both on & off campus including career treks (visits to firm offices), guest lectures, consulting workshops, peer panels, and case discussions.
Past speakers at events include the global leader of the McKinsey Women's Initiative and the Chairman and CEO of Accenture.
Best Business School for Consulting #2: London Business School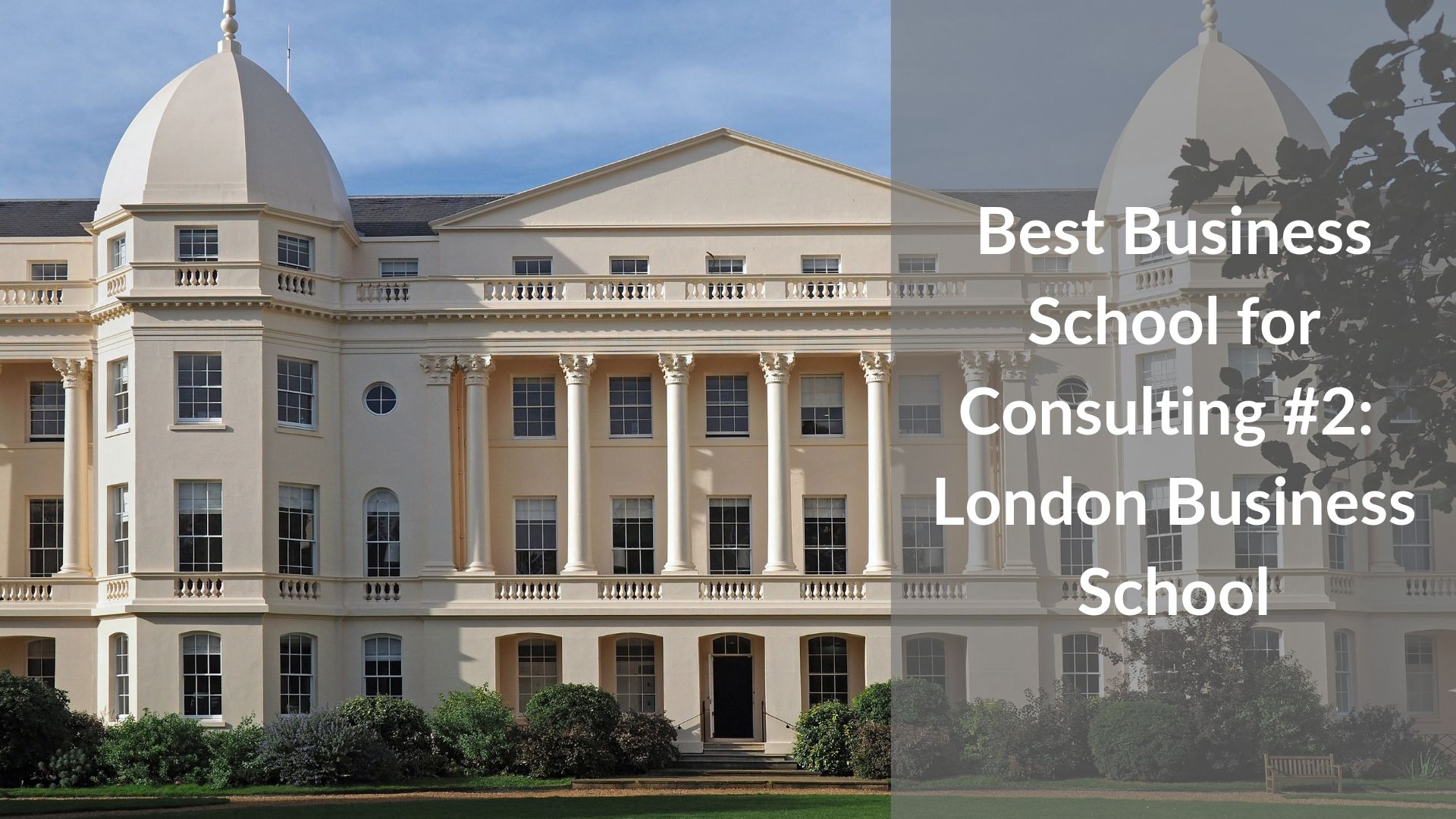 37% of the London Business Schools class of 2018 chose careers in the consulting industry. Graduates choosing careers in consulting received average salaries and sign-on bonuses of US $ 113,329 and 47,407 respectively. Graduates also received an average other guaranteed compensation of US$ 49,677.
The flexible curriculum at London Business School offers more than 20+ electives in Strategy. Several top consulting firms have dedicated teams to help and recruit students from LBS such as McKinsey & Company and Bain & Company.
LBS Consulting Club
The LBS Consulting Club is one of the largest professional clubs on campus with over 4,800 students and alumni members. Its focus is to help students who are looking to pursue a career in consulting.
Activities conducted by the LBS Consulting Club include:
Informational events with consulting firms
Training and Development
Case Competitions
The consulting club hosts presentations, coffee chats, and networking drinks with many of the leading consulting firms that recruit from LBS including strategy, boutique, and full-service firms.
To help prepare students for interviews with consulting firms, the LBS consulting club offers a variety of training and development initiatives including a unique Crack-a-Case program. LBS peers with previous consulting experience case interview practice sessions on a weekly basis during the main recruiting periods. The consulting club also hosts fit training and industry info sessions to help students prepare better.
The LBS consulting club also coordinates and/or supports several high-profile case competitions each year to give students a chance to develop their consulting skills and to challenge themselves by competing against teams from LBS and other leading international business schools.
LBS Strategy Summit
The LBS Consulting club also hosts an annual Strategy Summit. The theme of the 2017 summit was, "How the World's Leading Companies Are Adapting to Disruption." The mission of the event was to bring together the leading thinkers and practitioners in business strategy to generate actionable insights, foster debates and connect attendees."
Speakers at the event included managing director of consumer goods and services at Accenture Strategy, the head of corporate strategy at British American Tobacco and the president of watches division at LVMH group. Previous summits have included keynote addresses by a partner at Bain & Company and the London head of IDEO.
The event's panel discussion explored the topic "Digital Disruption." Summit attendees also took part in a concluding networking reception.
Best Business School for Consulting #3: Yale School of Management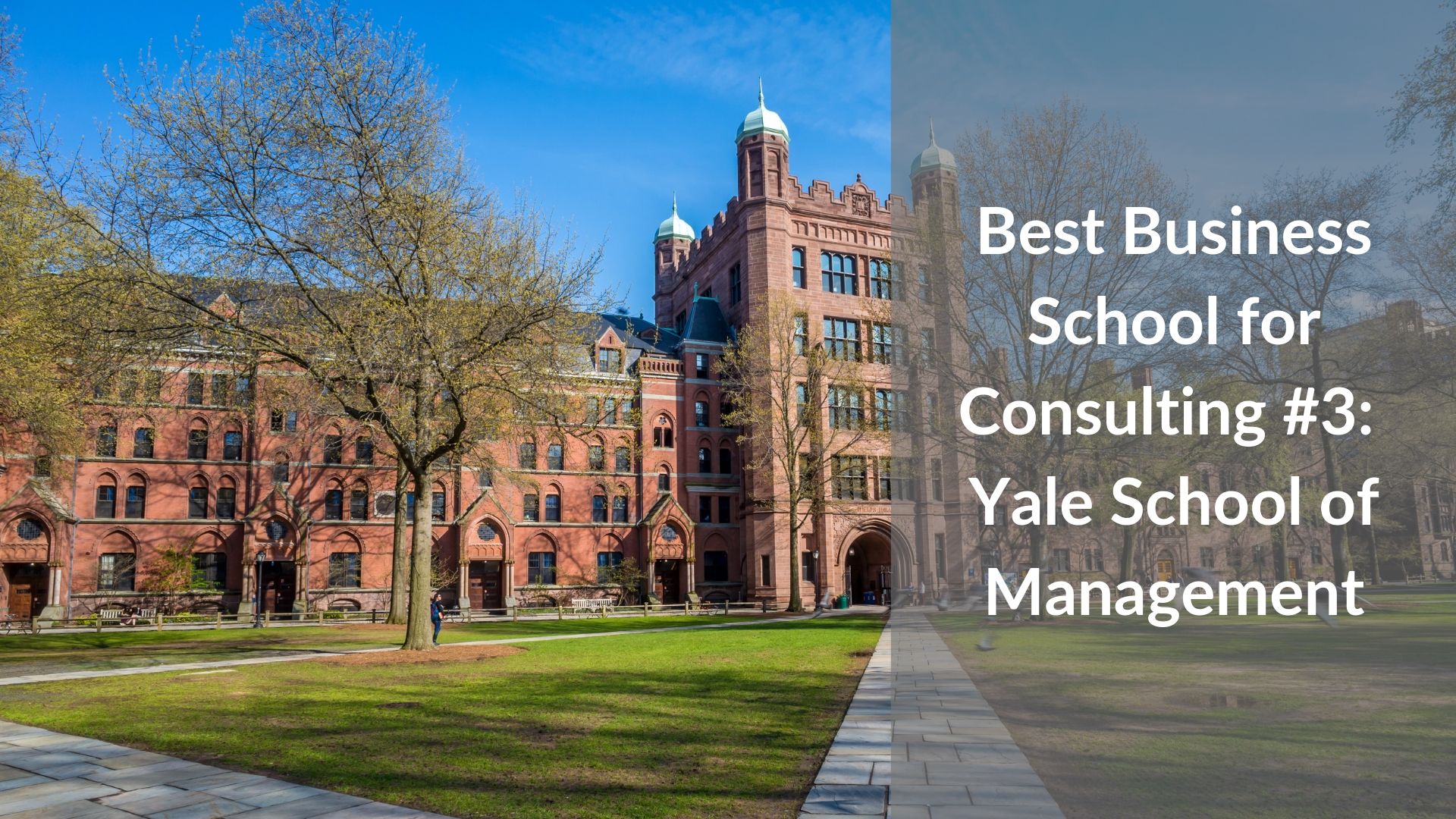 34.9% of the 2018 class at Yale School of Management chose careers in consulting. The percentage of students who chose consulting careers by function climbs up to 46.3% with median starting salaries of US $ 145,000 and sign-on bonuses of US $ 25,000. In addition to this student also received US $ 33,500 as other guaranteed compensation. Base salaries ranged from US $ 125,000 to US $ 152,000
Yale Consulting Club
The Yale Consulting Club organizes several events throughout the year to help students who are interested in a career in consulting.
Yale SoM Net Impact Case Competition
The highlight for first-year students is the Yale SoM Net Impact case competition. It is jointly organized by the Consulting Club, the Human Capital Club and the school's Net Impact chapter.
The event is an opportunity for first-year students to gain experience in a consulting case competition and solve business problems related to social responsibility.
In recent years Deloitte Human Capital Consulting and the Boston Consulting Group have sponsored case competition events. Teams compete in a case concerning human capital and social impact where Deloitte representatives acted as judges and winners received cash prizes.
Participating teams are given a case on which they work for a set period of time and then present a PowerPoint in which they present their initial recommendations to a panel of Judges. The cases used in the competition always have a social component. The first prize is awarded based on both the content and quality of the team's presentation.
Integrated Leadership Case Competition
Inspired by its Integrated curriculum and integrated leadership development program, Yale SoM in 2013 launched its first annual Integrated Leadership Case Competition. It requires student teams which have members from different disciplines and backgrounds to collaborate on an interactive "raw" case. The case for the inaugural event involved business ethics.
The 5th annual event held in April 2017 included 12-finalist teams that hailed from 10 countries. Hong Kong University of Science and Technology was chosen as the winner of the 2017 competition and won a US $3,000 cash prize. In 2016, 15 schools from around the world competed with the Asian Institute of Management winning the first prize.
Best Business School for Consulting #4: Columbia Business School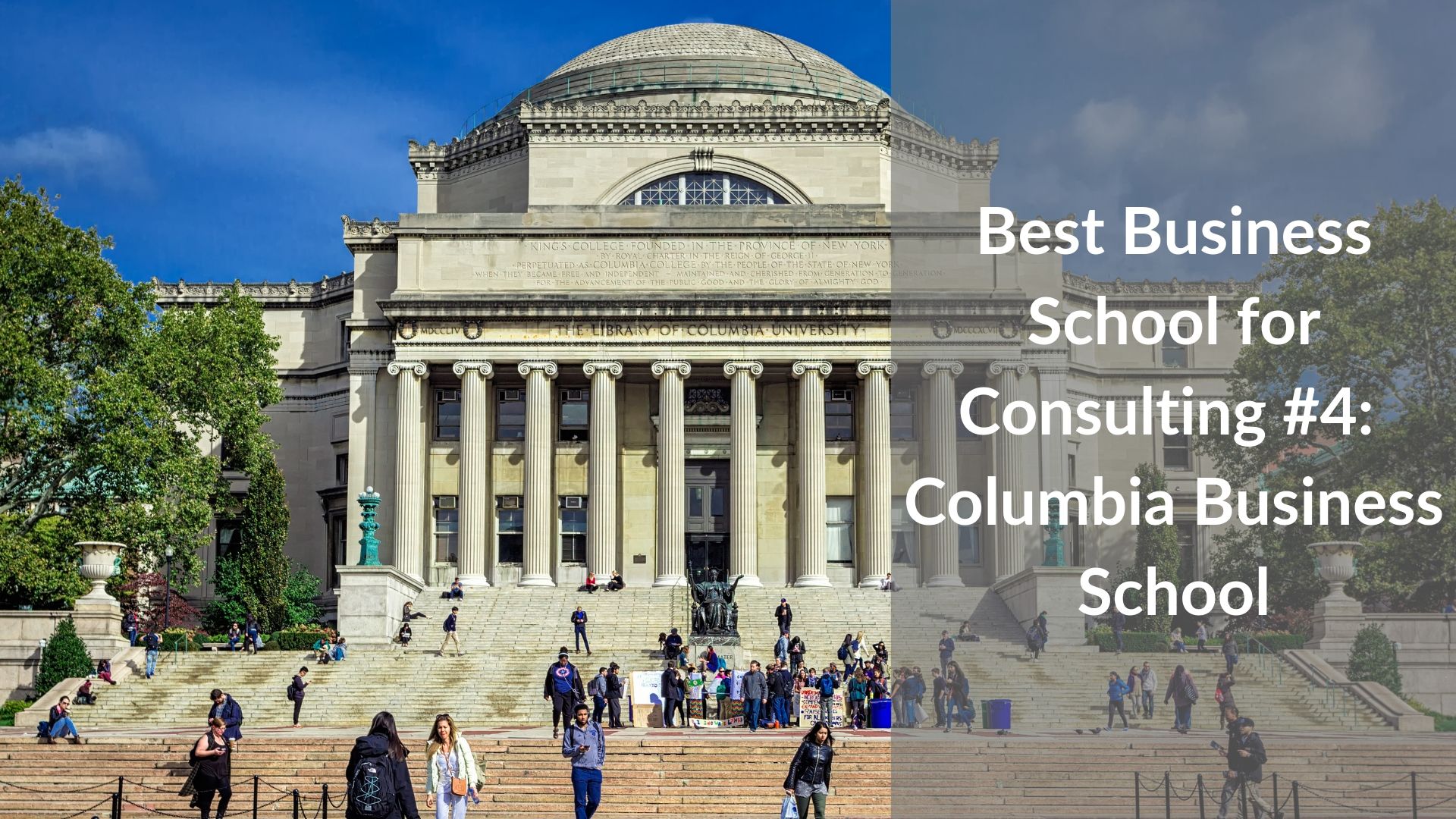 In 2016, 33.6% of the class of 2018 at Columbia Business School chose jobs in Consulting. In fact, consulting was the top employer beating out Wall Street firms which have traditionally been the biggest hirer of Columbia graduates.
Median starting salaries and bonuses offered to graduates in the consulting industry were US $ 147,000 and US $ 30,000 respectively. Salaries offered to graduates going into consulting were in the range of US $ 80,000 – 233,500. McKinsey, Bain, and BCG were the top 3 recruiters of Columbia MBA graduates, hiring a total of 98 graduates.
Management Consulting Association
The Management Consulting Association is one of the most active student clubs on campus. In addition to sponsoring speakers and conducting student panels on industry-related topics, the MCA helps students prepare for the consulting field by conducting mock interviews, resume reviews, and educational workshops.
ODYSSEY
Students interested in testing their consulting skills with students from other top business schools can participate in ODYSSEY. It is a joint symposium and competition launched in 2009 by 6 Columbia graduates. Participants compete both individually and in teams (of 4 to 6) in a game consisting of 3 phases. The 3 phases are:
Entrepreneurial Pitch
Negotiations
Sales and Marketing Pitch
A panel of judges consisting of business school professors and industry professionals award points and the top team wins more than $2,500 of cash and prizes
Deloitte National MBA Case Competition
Another event of major importance to students interested in consulting is the Deloitte National MBA Case Competition. Held on Deloitte University's Westlake, Texas campus, the event is an "Opportunity to build personal and professional relationships with Deloitte Consulting Partners." – as stated on the competition's website.
The website further explains, that in the event, "Teams are pitted against each other, to test their critical thinking, business knowledge, and strategic problem-solving skills through case simulation."
The school's team won first place in 2014, winning 20,000 thousand dollars in prizes and offers of summer associate positions at Deloitte.
Best Business School for Consulting #5: Duke Fuqua School of Business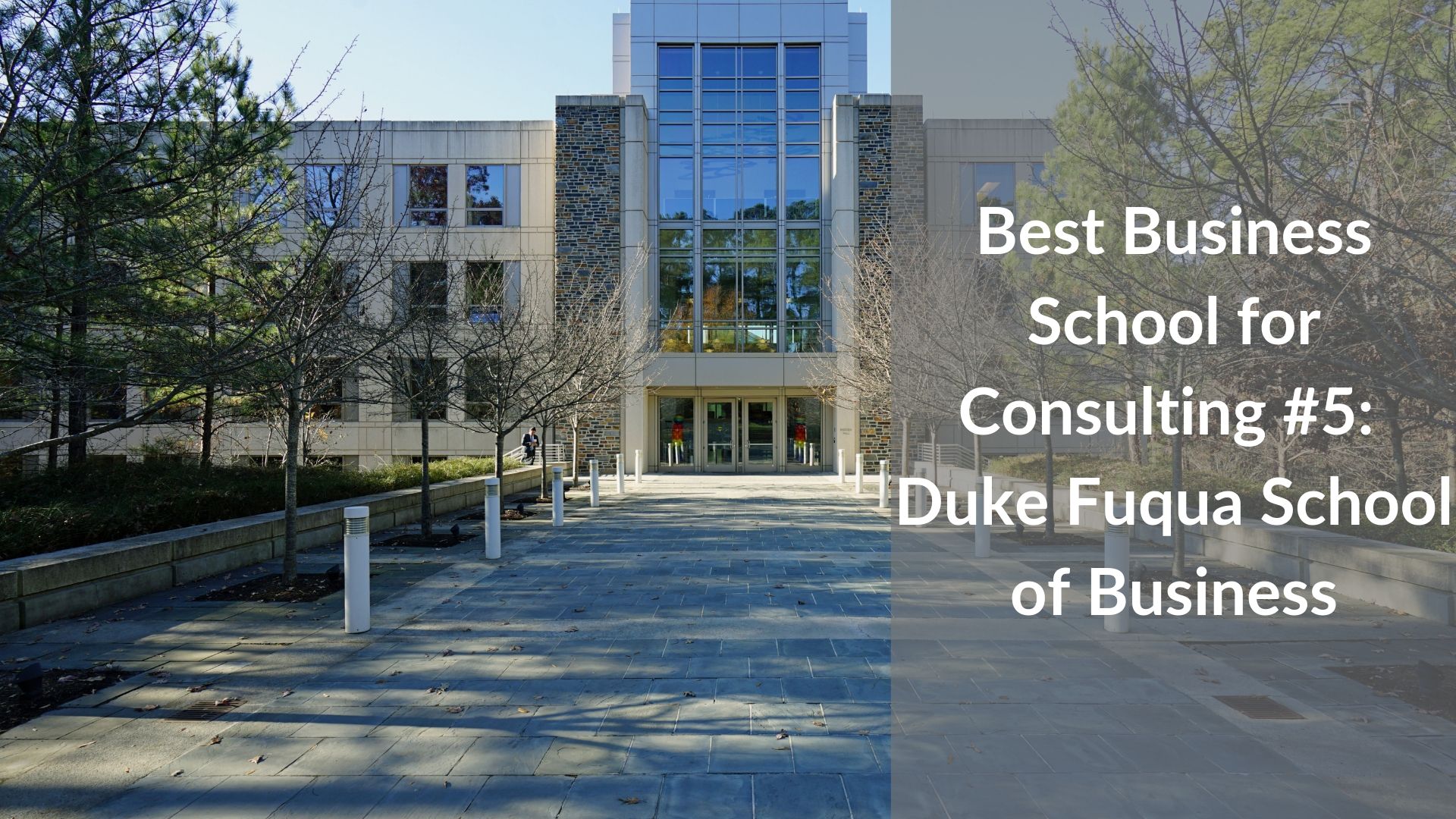 32% and 35% of the class of 2018 at Duke Fuqua School of Business chose careers in Consulting by industry and function respectively. Median salaries offered to Fuqua graduates going into consulting was US $140,000. Range of consulting salaries offered was 93,000 – 170,000.
McKinsey, Deloitte, and Bain & Company were the top recruiters of Fuqua MBA graduates, hiring a total of 75 graduates from the class of 2018.
Collaborative culture and team-oriented approach of the Fuqua MBA program makes consulting firms a top recruiter at Fuqua. The school helps students prepare for careers in consulting by offering "Roadmap" training sessions led by the consulting clubs and through experiential learning opportunities such as the Fuqua Client Consulting Practicum.
The strategy concentration offered at the Duke Fuqua School of business consists of taking a total of 6 electives from a list of 47 available electives from different areas such as advanced strategy and advance analytical skills. Fuqua's strategy faculty includes 18 professors.
The schools also conduct a mock interview week to help students prepare for consulting interviews. Students get to meet with practicing consultants in advance of their actual interviews for summer internships and learn more about the interview process.
The Duke MBA Consulting Club (DMCC) offers weekly Roadmap workshops from September through November for first-year students and a Roadmap boot camp in September for second-year students. Numerous Fuqua alumni and students claim that the DMCC's Roadmap was critical to their success in recruiting for positions at consulting firms.
Interested in a career in Consulting? The top business schools can give you a great boost in achieving your consulting aspirations. And a great GMAT score can help you in strengthening your application to these top business schools. We are the most reviewed GMAT prep company on GMATClub with more than 1850+ reviews (as on November 8, 2019). Sign up for our Free Trial. We can also help you with a personalized study plan and give you access to quality online content to prepare. Write to us at acethegmat@e-gmat.com with your questions.
Here are a few more articles you may like: