Your MBA resume is generally the first component of your application that is read by the admission committee in evaluating your candidature for their MBA program. Your MBA resume provides context to your professional achievements and in effect serves as a unifying thread in the tapestry that is your MBA application. Thus, your MBA resume must reflect both the quality of your professional experience as well as your leadership skills. In this article, we share the 10 tips that will help you improve MBA resume.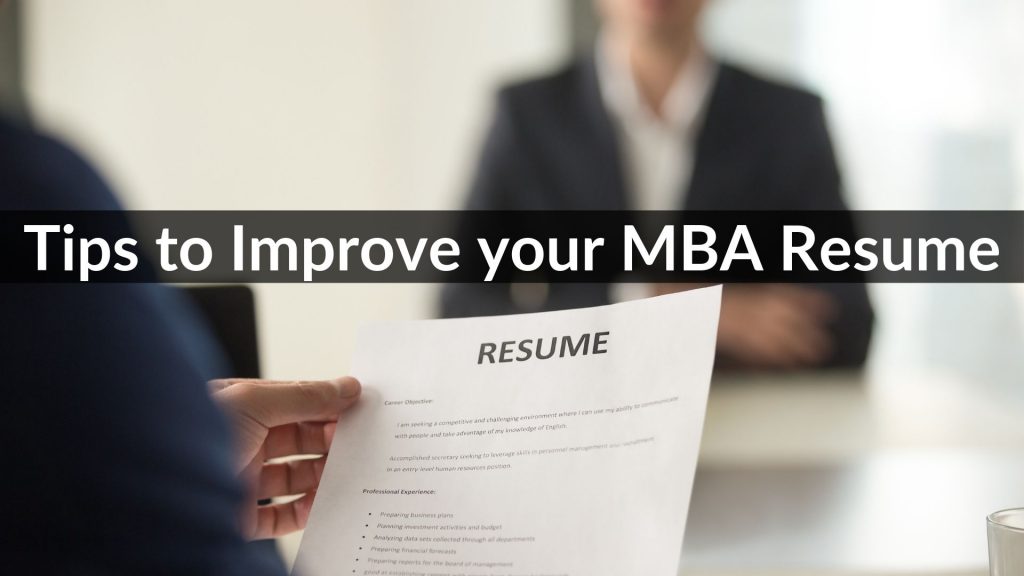 Here is a brief outline of the article:
Importance of your MBA resume
According to a survey conducted by the GMAC, your resume is given 15% weightage as an admission criterion in the decision-making process for full-time MBA programs. The weightage and importance of the resume increase to 24% for executive MBA programs. Thus, it suffices to say that your resume is an essential part of your MBA application.
The importance of your MBA resume is not only limited to the application process but is also beneficial during research & outreach. E.g. to reach out to admission officials and alumni of your target MBA programs. Having a strong, crisp and easy to read resume is very beneficial for this purpose as well.
Purpose of the MBA resume in the application process
MBA Application Components
Following are the different MBA application components required during the application process:
Standardized Test Score (GMAT/GRE)
Resume (Showcase Leadership and other Soft-Skills)
Undergraduate Degree Transcripts (Academic Background)
Application Essays (Why MBA?)
Letters of Recommendation (Third Person Perspective)
Application Form (may contain short answer questions)
Video Essays (increasingly used by business schools)
Each component serves a distinct purpose in the MBA application process. E.g. your standardized test scores and undergraduate transcripts provide the admission committee evidence of your ability to get through the rigorous MBA program curriculum.
Learn more about the MBA Application components and their weightage in the admissions process in this article.
Similarly, your answers to the questions in the application form and essay prompts are a showcase for your motivation of pursuing an MBA and the influences that have shaped you as a business leader.
Purpose of the MBA Resume
The purpose of the MBA resume for the admission committee in the application process is to evaluate your business leadership potential 20-30 years after you graduate from the MBA program. Thus, the admission committee is looking to assess your leadership potential and interpersonal skills through your resume.
Showcase your greatest professional hits
Remember an MBA is an investment in your future career and its trajectory. And the admission committee is looking for evidence of your leadership potential in your current professional role through your resume. E.g. the number of direct reports, the size of the budgets that you manage, etc.
Thus, to summarise, the MBA resume is a way to showcase your greatest hits and achievements in your professional career. It should emphasize your leadership potential and interpersonal skills over your technical skills. Your MBA resume should also help you in distinguishing yourself from the other candidates if you belong to an overrepresented applicant pool.
Here are some common MBA application mistakes to avoid.
Provide Evidence and Quantify your Professional Impact
Your MBA resume is perhaps the best place to provide evidence of your professional impact on the organizations in which you have worked. Thus, wherever possible, provide quantifiable metrics that you have positively affected. Some examples of impactful metrics that you should include are:
Increased revenue by 'X%' or '$Y' thousands/millions
Pitched a new product that increased revenue
Led a team of 'X' professionals to develop and release a product that increased revenue by 'Y%' and expanded the customer base by 'Z%.'
10 Tips to improve your MBA resume
MBA Resume Tip #1 – Avoid Technical Jargon
MBA candidates come from all walks of life such as engineering, medicine, and finance, etc. However, the AdCom members may not have experience in your field or understand industry-specific acronyms or jargon. Thus, it is important to avoid such jargon and convert any it into easily understandable business language.
E.g.
Convert this: Built a data import API for the Rich Media Database Module (RMDM)
To this: Created a new product to automate and scale rich media importing, reducing the processing time by 40%
The best way to impress the admissions committee is to think like one. Learn more in this article.
MBA Resume Tip #2 – Make your MBA resume Skimmable
Typically, business school applications are initially read by 2 independent readers, and on average, they take 15-20 minutes to go through each application. Once they are done with the initial read-through, the readers provide a recommendation about an applicant's candidacy. Put yourself in the shoes of such a reader and take a look at the two resumes below.

Which one would you prefer to read?
Thus, you must make your resume easy to read. Following are some tips to make your resume skimmable:

Use proper margins and spacing between bullet points to make reading easy on the eye.
Consolidate repetitive information into concise bullet points wherever possible.
If you've held multiple roles or have been promoted at the organizations you work in, make sure you stack your job titles. This clearly illustrates your career progression and saves valuable resume real estate.
MBA Resume tip #3 – Quantify your Business and Professional Impact
It is important to quantify and illustrate your business and professional impact through your MBA resume. It shows what role your work played in the organization, and why was it important?
Offering specific numbers and figures such as an increase in revenue or successfully managing a large team to execute projects demonstrate an understanding of the bigger picture. It also shows that you can transition into a management role post-MBA.
Here is an article that will help you improve your MBA application profile
MBA Resume Tip #4 – Emphasize your leadership skills and achievements rather than roles and responsibilities
Business schools are looking for candidates that have demonstrated leadership skills in their professional or extracurricular activities. Thus, rather than emphasizing your responsibilities in your professional role provide evidence of how you united people behind a common goal, identified and solved a problem in the organization, etc.
If you formally manage people within the organization, make sure to provide figures such as the size of the team or size of the budget you manage. In general, emphasize those instances that show how you identified an opportunity and took the initiative.
MBA Resume tip #5 – Invest some time in the personal interest's section and distinguish yourself
Your MBA resume should highlight your personal, volunteer work and extra-curricular activities more than a traditional resume. The personal interest section is one place where you can set yourself apart and distinguish yourself in the eyes of the reader. Even one outstanding achievement is better than a generic list of hobbies.
You can also highlight your leadership positions based on selectivity and any academic honors or awards.
10 MBA Resume Tips | Summary & Key Takeaways
Understand the purpose of each MBA application component and plan your application strategy.
The purpose of your MBA resume is to highlight your leadership and other soft skills rather than your technical skills.
Consider the resume as valuable real estate. Accordingly, allocate space on your resume to highlight the most important points that you want to get across to the admission committee.
Provide evidence in terms of quantifiable numbers that demonstrate your professional and business impact.
Consolidate bullet points to avoid repetition and make judicious use of white space to make the MBA resume more readable.
List your most recent experiences and achievements first. Thus, your MBA resume should preferably be in reverse chronological order.
Keep your MBA resume to one page: Your resume is usually one of the first things that is reviewed by the AdCom which reviews thousands of MBA applications every year.
Thus, keeping your MBA resume to one page ensures that it provides all the relevant details about your professional achievements and qualities in a crisp and concise manner. Another advantage of having a one-page resume is that it forces you to eliminate all the extra fluff and showcase only your best hits to the admission committee to create a lasting positive impression.
Emphasize your achievements not your responsibilities: The MBA admission committee pours through thousands of resumes every year and is well aware of different roles in different industries. Thus, focus on the impact you have had in your role at the organizations you've worked in rather than plainly listing your responsibilities.
Use verbs to start bullet points: Verbs are action-oriented. Using verbs such as led, managed, developed, etc. put focus on your leadership and teamwork skills. Both of these are highly desired by business schools.
Include a qualifications summary: This is one of the first things that the admission officer will read and thus, it makes sense to highlight your most remarkable experiences and achievements. Use an easy to read format like bullet points or short paragraphs for this section. A few things that you should include in your summary are:

Brief personal and career record: For e.g. Highlight receiving more than expected promotions in a given time frame.
Highlights of your accomplishments: Details of a project you successfully initiated and led to completion.
Personal experiences and qualities: Things that highlight your fit for a particular MBA program.
Here are a few more articles on other MBA application components that you may find useful: