A
14
min read
When Chevy decided to market their new launch, "Nova" in Latin America, they didn't expect it to fail. And yet, they did. Wonder, why?
In Spanish, "no va" means "does not go,". Chevy's decision to market the Nova in Latin America could have been avoided if they had involved diverse business leaders in their decision-making process.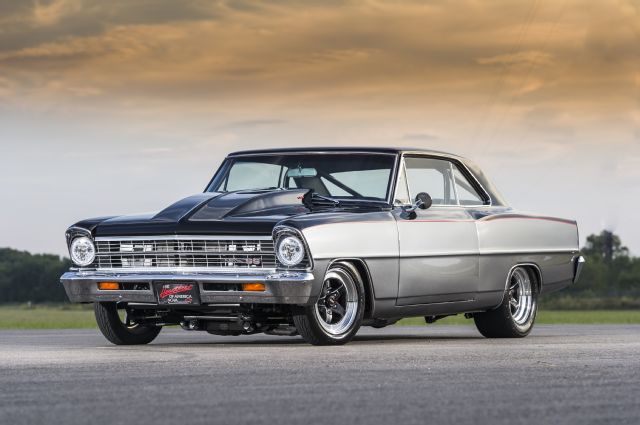 The process of how an MBA class is formed has changed over time. With the everchanging and evolving landscape of global business, top business schools while recruiting for an MBA class focus on in-class diversity. Diversity in the workforce fosters innovation and competitiveness in business. Top employers rank a candidate's ability to fit within an organization's culture as the most important trait.
However, the questions remain, what are the different aspects of diversity, how do business schools evaluate diversity in applicants, and what is the importance of diversity in MBA?
Here's a brief overview of the topics we will cover in this article:
Let us begin!
How do business schools put together an MBA class?
The ultimate aim of the Admission Committee is to create a diverse class of accomplished individuals. The top business schools are in a fortunate position of having an abundance of candidates with incredible credentials. If they wanted to, these schools could fill their class with applicants who have perfect 4.0 GPA's and 800 GMAT score along with outstanding work experience.
However, they look to build and shape a multifaceted and balanced incoming class. In this pursuit, business schools look at candidates who have not only excelled academically and professionally but also made a significant contribution to their communities. This diversity helps students to get exposed to the perspectives and values of other cultures and helps in preparing yourself for working in businesses across different geographies.
Which qualities do business schools look for in their candidates?
An understanding of how other people make decisions translates to success in a professional environment by eliminating any biases, judgment, or criticisms you may currently hold. Appreciation for those who are not like us, allows a leader to constructively work with people from diverse backgrounds. The type of collaboration and innovation that occurs when people approach a problem in different ways is astounding. Taking the best ideas and formulating solutions that have been thought through many minds with varying perspectives is powerful. Business schools with diverse student bodies help foster this type of learning, understanding, and personal development.
Here's what the MBA admissions page of HBS says:

While it's important to us that our students' lives and experiences vary greatly, they all share the following common characteristics:

Habit of Leadership
Analytical Aptitude and Appetite
Engaged Community Citizenship
While the exact words used by the top business schools may differ, there are some common traits desired by them. These are:
Intellectual Ability
Leadership Qualities
Contribution to Community
Social Awareness
1. Intellectual Ability:
Business schools have a demanding, fast-paced and a highly verbal environment. Often classes will involve active participation from students, which requires you to assess, analyze and act upon complex information within often ambiguous contexts. To analyze intellectual ability, business schools not only look at GMAT scores and GPA (which are good to have) but also, qualitative evidence of intellectual ability in your essays, interview, and your recommenders.
Qualities such as creative problem solving and thinking out of the box, as well as a demonstrated ability to analyze and break down complex problems and issues, serve a significant role in showing your intellectual ability.
Your attitude towards learning is given equal importance as compared to aptitude. It includes the willingness to learn and explore new things including those that may not be relevant to your immediate career goals.
2. Leadership Qualities: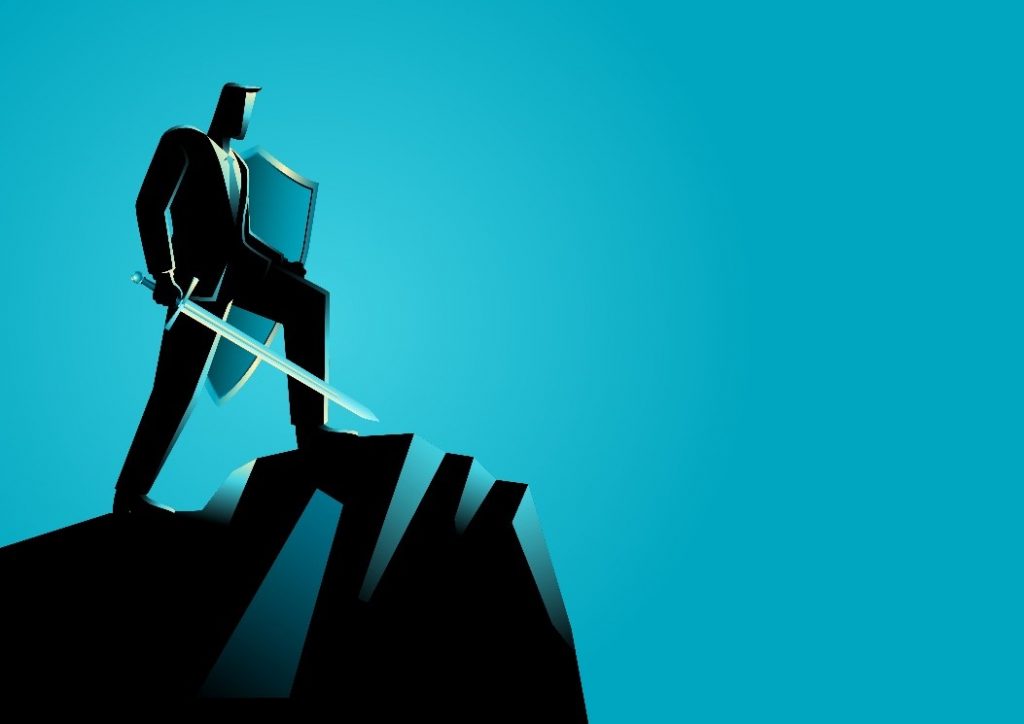 Leadership according to HBS, "may be expressed in many forms, from college extracurricular activities to academic or business achievements, from personal accomplishments to community commitments."
These elite institutions want to make sure that you are driven to make a difference. Be it in your pursuit of academics, an organization, or elsewhere. The top 2 reasons that companies hire MBAs are to build a leadership pipeline (62 percent) and to support company growth (53 percent), according to a survey of corporate recruiters by the Graduate Management Admission Council (GMAC).
Employers across industries rank the ability to work with and build strong teams as one of the top 5 performance traits for recruiting and hiring business school talent.
We look for those who have taken up new responsibilities and opportunities in whatever way they can. Maybe this means you've led an initiative within your company, or it could mean that you've secured promotions quickly, or that you were deeply involved with a volunteer commitment. Your roles don't have to be formal, just indicative of your drive. The better you can help us see how these activities fit in with your overall career narrative, the more clearly we can think about how you might fit in with the Kellogg community. – Beth Tidmarsh (Director of full-time admissions at Northwestern – Kellogg)
Leadership also encompasses communication skills. In our age of digital communication, the ability to communicate clearly, concisely and compellingly is critical. Employers surveyed by Bloomberg Businessweek ranked strong communication skills as the most frequently mentioned attribute for an MBA graduate.
Thus, in assessing leadership, business schools not only consider your accomplishments but also your potential.
3. Contribution to the Community:
At business school, much of the experience requires the active collaboration and engagement of students, which is why business schools look for students who can make positive contributions to the program. Students are required to exhibit high ethical standards and respect for others.
'Finding time to do community service can demonstrate your devotion to making your community better, she writes. The hours required for a Wharton MBA are comparable to your current job, so you have to prove the ability to manage your time and energy and put it toward a good cause.' – Stacy Blackman (Admission Consultant)
The right candidates must be eager to share their experiences, support their colleagues and communities they care about and teach as well as learn from their peers.
4. Social Awareness:
Top tier business schools are particularly known for their diverse and international student bodies. Being socially and globally aware goes beyond having an awareness that it's a great big world out there. It also includes the candidate's ability to understand, adapt to, and accept people from other cultures or with different opinions and views.
A healthy sense of positive curiosity about others and their perspectives goes a long way to show that you're the type of person who will survive and thrive in a diverse and globally focused business school environment. If you can show how you've found common ground and built relationships with co-workers, team members, or even friends around the world, you'll have a leg up; if your career goals include working with a multinational company or working abroad, you might be just the kind of global citizen that the business world of the future is looking for.
How do business schools evaluate and ensure diversity in MBA class?
Diversity during the business school's admission process is evaluated on the following different parameters:
Gender Diversity
International student diversity
Race/Ethnic Diversity
Socio-economic diversity
Sexual Diversity
Age/Industrial background
| | | | | | | | |
| --- | --- | --- | --- | --- | --- | --- | --- |
| Stats | Harvard | Wharton | Columbia | Booth | Kellogg | Stanford | MIT |
| Class Size | 941 (934) | 864 (851) | 753 (776) | 582 (585) | 478 (474) | 418 (417) | 404 (409) |
| Acceptance Rate | 11% (10.7%) | 19.2% (19.6%) | 14.0% (14.1%) | 23.5% (23.6%) | 20.1% (20.1%) | 5.7% (6.0%) | 11.6% (11.7%) |
| Yield | 91.0% (90.7%) | 67.1% (65.7%) | 69.8% (72.7%) | 52.9% (55.9%) | 51.6% (55.5%) | 89.1% (83.9%) | 60.3% (64.2%) |
| Average GMAT | 730 (729) | 730 (730) | 724 (720) | 730 (726) | 732 (728) | 737 (737) | 722 (724) |
| Average GPA | 3.71 (3.67) | 3.60 (3.60) | 3.50 (3.50) | 3.60 (3.60) | 3.60 (3.60) | 3.73 (3.73) | 3.49 (3.58) |
| Female | 42% (43%) | 44% (44%) | 41% (37%) | 40% (42%) | 42% (41%) | 40% (41%) | 42% (40%) |
| International | 35% (35%) | 33% (32%) | 43% (48%) | 36% (36%) | 35% (35%) | 41% (40%) | 33% (39%) |
| Minority | 26% (25%) | 33% (32%) | 34% (31%) | 27% (29%) | 25% (26%) | 29% (29%) | 18% (18%) |
| Average Age | 27 (27) | 28 (28) | 28 (28) | 28 (27) | 28 (28) | 26 (28) | 28 (27) |
Above is the data for the class of 2019 with data for the class of 2018 in parentheses for the M7 business schools
1. Gender Diversity:
It has become one of the top priorities at business school and due to their relentless focus, remarkable progress has been made on this front. Northwestern's Kellogg school reported a record 46% of female MBA students in their class.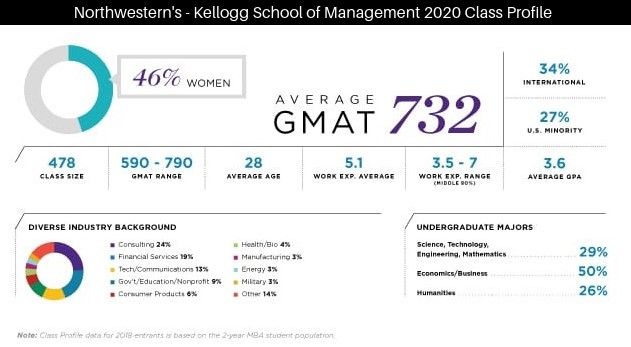 The GMAC application trends survey reports that 64% of full-time 2-year MBA programs have recorded an increase in the number of women applicants in 2017. The top business schools have made several efforts to increase gender diversity in the classroom.
In one sign of progress, this year 17 top schools had 40% or more women enrolled, up from only two schools that reached this milestone in 2013. Two schools — Wharton School and George Washington University School of Business — reached 45% or more women enrolled.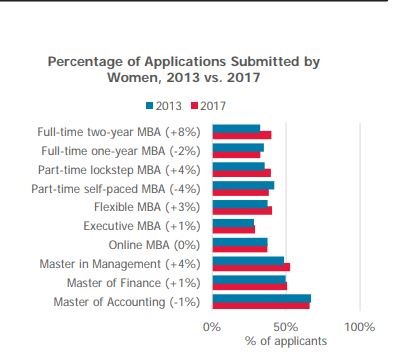 But is it enough?
Despite this progress, there is still a lot more to be achieved on this front. There are still a few challenges that affect women who aspire to the highest levels of management and leadership within organizations.
To tackle these challenges, business schools have launched several initiatives and have partnered with various organizations. From business associations that connect and champion women's talent through professional development and career programming, to creating and delivering research-based, actionable programs that address the unique challenges women face in advancing to top-level executive and board positions. These programs seek to help women throughout their careers from launch to support them in advancing to leadership roles in organizations.
Here's your guide to MBA events for women.
Other schools, such as Chicago Booth School of Business attract women students by expanding the traditional set of MBA degrees offered to include technology, marketing, analytics and consulting. Female students benefit by participating in networking events, mentoring sessions and get-togethers.
2. International Student Diversity:
Since business has become a truly global enterprise, no longer confined by the boundaries of nations, most programs have tried to mirror the same in their classrooms. The diversity of thought and experience that the program brings helps shape the candidates to become global leaders of tomorrow.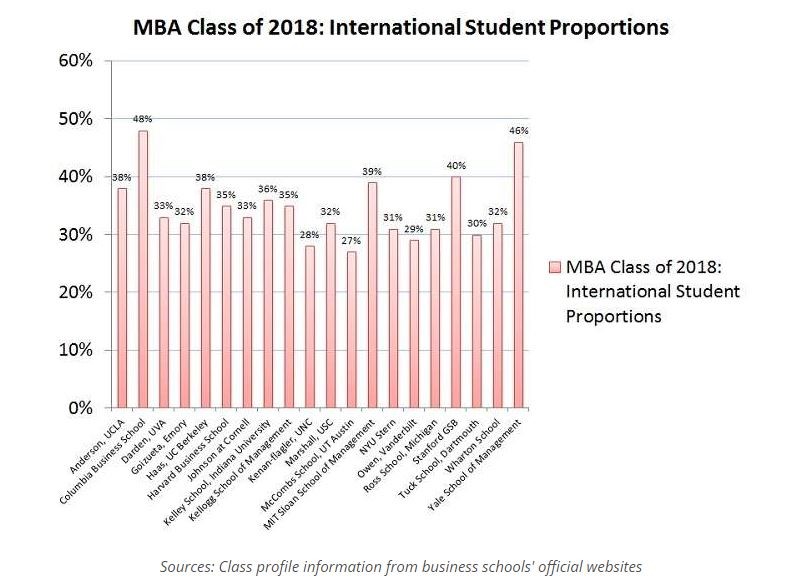 An important thing to remember is that international diversity in business schools can go both ways since there are certain regions of the world that are over-represented and others that are under-represented. With the holistic nature of the admissions process, diversity can play a huge role in shaping the student community for the incoming class. The diversity of thought, perspective and experience is a hallmark of the MBA experience.
| | | | | |
| --- | --- | --- | --- | --- |
| Diversity Ranking | Overall Ranking | School Name | Country | International Students (%) |
| 1 | 24 | IMD | Switzerland | 99 |
| 2 | 70 | Lancaster University Management School | UK | 98 |
| 3 | 88 | ESMT Berlin | Germany | 97 |
| 4 | 20 | ESADE | Spain | 97 |
| 5 | 2 | INSEAD | France/Singapore | 97 |
| 6 | 27 | Oxford Said Business School | UK | 95 |
| 7 | 13 | Cambridge Judge Business School | UK | 94 |
| 8 | 37 | Rotterdam School of Management | Netherlands | 94 |
| 9 | 36 | Alliance Manchester Business School | UK | 93 |
| 10 | 64 | Durham University Business School | UK | 93 |
The above table shows the most diverse business schools according to FT rankings
INSEAD which was ranked by FT as the top business school in the world has a 94% international student body. 90% of its faculty are international as well as 85% of the school's board. While it main campus is in France, it has campuses located in Abu Dhabi and Singapore as well.
To encourage international student diversity, schools offer a variety of opportunities to make an additional impact. From leading country focused business and management clubs to leading global initiatives in management trips in their home countries. After graduation, the large alumni networks of these business schools spread all across the world virtually guarantee a connection, no matter where your career path may take you.
3. Racial Diversity/Ethnic Diversity:
Business schools strongly believe that a truly diverse student body is the foundation for a truly global MBA experience. The classroom experiences and interactions are enriched by having classmates who come from diverse ethnic backgrounds and races.
The top 5 schools (according to US News 2019 MBA rankings) released the following information regarding racial and ethnic diversity according to their latest class profiles:
While schools have made great strides in encouraging racial and ethnic diversity in the classroom, there is still a lot of progress to be made. According to the U.S. Census Bureau, people of Hispanic or Latino, Black or African American, American Indian, Alaska Native, and Native Hawaiian or Pacific Islander origin comprise over 30 percent of the U.S. population. So underrepresented minorities remain underrepresented at B-schools.
According to the GMAC, only 16 percent of GMAT test takers from the US are from under represented populations.
Furthermore, according to the GMAC, only 16 percent of GMAT test takers from the US are from underrepresented populations. The data also indicates a substantial geographic variation. e.g., 26% of GMAT test takers are in the south as compared to only 9% from underrepresented backgrounds.
To increase racial and ethnic diversity in the classroom, GMAC's data indicates that offering scholarships is an effective way business schools can encourage, and support students from underrepresented backgrounds. These students tend to rely on the following sources to fund their MBA degree (Under represented% vs non-under represented%)
Scholarships – 70% vs 49%
Loans – 67% vs 53%
Parents – 30% vs 20%
Personal savings – 41% vs 30%
Employer sponsorships – 31% vs 24%
4. Socio-Economic Diversity:
Business schools also consider diversity in terms of social and economic backgrounds. To encourage students from weaker economic and social backgrounds to attend and enroll in a business education, schools offer a variety of financial assistance opportunities. Schools also provide more information about organizations that can come to their rescue.
E.g., the Columbia Business School partners with Sponsors for Educational Opportunity, which paves educational and career paths for underprivileged communities.
Young individuals from other countries who aspire to study in the top US business schools but are concerned by the economic burdens on their families back home now have schools reaching out to them with scholarships, tuition discounts and information on other resources.
Read more about different ways to afford the cost of an MBA
Following is the data on scholarships offered by the M7 schools:
| | | | | | | | |
| --- | --- | --- | --- | --- | --- | --- | --- |
| Stats | Harvard | Wharton | Columbia | Chicago | Kellogg | Stanford | MIT |
| Total Scholarship Money | $34.0 million | $16.9 million | $10.1 million | $16.3 million | $11.8 million | $15.7 million | $8.1 million |
| % of Gross Tuition | 58.0% | 14.8% | 12.5% | 22.6% | 27.9% | 31.0% | 15.6% |
| Average Annual Grant | $35,571 | $32,000 | $20,500 | $30,000 | $22,800 | $35,830 | $28,220 |
| % of MBAs On Scholarship | 50% | 33% | 46% | 60% | 35% | 52% | 35% |
We can see from the data above, that the M7 business schools offer scholarships to greater than 30% of the incoming class with average annual grants in the range of $20000 – $35000. Chicago – Booth school of business offers scholarships to almost 60% of its incoming class
5. Sexual Diversity:
The LGBTQ community has been historically underrepresented in MBA programs and business, but with each passing year, gay, lesbian, bisexual and transgender individuals continue to increase their presence in business schools and leadership positions in companies and other organizations.
Campus Pride, the leading national not-for-profit organization, working to create a safer environment for LGBT students, has created a Campus Climate Index that takes an in-depth look at LGBT-friendly policies, programs, and practices. Five-star ratings went to several schools noted for their elite MBA programs, including Stanford University, University of Michigan, University of California — Berkeley, University of Pennsylvania, Dartmouth College, Emory University, Massachusetts Institute of Technology, University of Southern California, and University of California — Los Angeles.
MIT Sloan School of Management offers one or more students a $10,000 fellowship each year from 2017 onwards. The fellowship is funded in partnerships with Reaching Out MBA. Reaching Out MBA also supports a network of LGBTQ employees in various businesses. MIT Sloan is one such school out of 40+ other business schools offering this fellowship, including Wharton, Stanford GSB and many others.
Besides ensuring that no one, regardless of sexuality, is barred from a career, another benefit is that it allows a wider range of candidates to filter through into big companies. The different viewpoints and life experience these students hold could provide a fresh new stance that benefits large corporations.
Learning with—and appreciating the lifestyles of—students of all sexualities and genders helps develop the soft skills that come in useful upon graduation. As employees who are unhappily closeted are more likely to leave a firm, thus costing both money and time, there is a practical benefit to being LGBTQ friendly.
6. Age/Industrial Background Diversity:
Having students that are from different age groups and varied work experiences and industrial backgrounds enriches the classroom experience. The life experience and maturity of people belonging to an older age group is seen by business schools as a resource rather than a liability. Schools work to create an environment where they can thrive along with their twenty-something classmates.
Worrying about whether it is the right time to do an MBA after 30? Read this article to learn more.
E.g., the work experience of students at Stanford GSB in the class of 2017 ranges from 0-13 years.
Besides diversity in length and range of work experience, schools aim for diversity in the industrial background as well.
E.g. The University of Michigan's Ross School of Business includes people from many industries – 16% from financial services, 16% consulting, 8% education and non-profit, 10% technology.
Importance of Diversity – How does diversity in MBA impact your business school experience?
Now that we know more about diversity and how schools use it to create a class, it's time to understand how it affects your business school experience:
Fostering Innovation
Creating an inclusive environment
Forging a global mindset
Understanding the nuances of business
1. Fostering Innovation:
A diverse classroom environment where spirited debate, differing opinions, and viewpoints exist encourages innovation. People from different backgrounds have different thought processes and think about problems differently. The result is a better product or a management style. If every class member belongs to a similar background and thinks the same way, they tend to arrive at the same conclusions. Debates result in better ideas as people think from different areas and frames of references.
Thus, innovation is sparked as a result of having a diverse class.
2. Creating an inclusive environment:
A diverse classroom creates an environment which is representative of the world that we inhabit. As the global economies and various communities continue to grow, market opportunities emerge. This brings to the fore an opportunity to develop products and market these products and services to these growing communities.
Thus, diversity in the classroom is representative of the global business environment. It leads to more culturally sensitive managers, who can take better and more nuanced business decisions.
A great example is the Tata Nano. Tagging the Nano as "The Cheapest Car" was a failure in positioning the brand, and thus, it gained the wrong customer perception. An understanding of the self-esteem and prestige associated with buying a car in India would have avoided this preventable misstep. A better understanding of cultural nuances and identities is critical in business schools, after all, they prepare future business leaders.
3. Forging a global mindset:
With a more interconnected global economy, the effects of economic downturns in one country's economy can magnify into a global one. We no longer live in an era of domination, where one country's economy governs the global market. Increasingly companies are international or global.
The ability to work in multicultural environments is critical to being successful in the global economic business environments. Thus, business schools seek to forge a global mindset which equips their students to succeed in multicultural environments in their own country as well as globally. A diverse class affords business schools this opportunity to train, enhance and develop a truly global mindset.
4. Understanding the nuances of business:
With globalization and the increased pace of innovation, an unprecedented number of choices are available both to modern consumers and corporations. This results in market fluctuations and thus organizations must consider the shifting expectations of a diverse pool of customers. These customers themselves belong to a different age, ethnic, linguistic and cultural groups.
To meet their expectations, an organization must have a workforce made up of people who can place themselves in the customer's shoes. The only way to do this is to ensure that the diversity of the customer pool is matched within the company. Employees from diverse backgrounds bring diverse experiences and individual talents which can help the organization broaden its product and service.
"Just belonging to one of these pools is not enough, you need to convey how it has added to your overall experience."
In conclusion, diversity in MBA programs, that is the business schools, helps shape truly global leaders. It fosters collaboration and innovation in the workplace. And creates transformational leaders who are aware of their own behaviors as well as the nuanced understanding of business rooted in cultural values. Without the opportunity to experience working with a diverse group of people, one may only rely on their own ethnocentric viewpoint which would yield poor results in a multi-cultural environment. A diverse classroom with accomplished individuals allows students to develop awareness, knowledge, and skills which help to avoid an ethnocentric approach to management and thus allowing them to become effective leaders in a diverse workplace.
If you are planning to take the GMAT, we can help you with a personalized study plan and give you access to quality online content to prepare. Write to us at acethegmat@e-gmat.com. We are the most reviewed GMAT prep company on GMAT club with more than 2400 reviews and are the only prep company that has delivered more than 700+ scores than any other GMAT club partner. Why don't you take a free trial and judge for yourself?