A
7
min read
The McGill MBA program has a student-centric approach where it allows the students to complete their degree in 12, 16, 20, or 28 months. The typical full-time MBA program at Desautels faculty of management has a 65-85 cohort with an average GMAT score of 675.
Have a low GMAT Score? We can help you achieve your targeted score. Try out our FREE Trial and get access to Free online GMAT resources. We are the most reviewed GMAT online Prep company on GMATClub.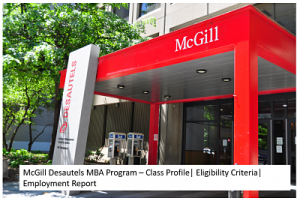 In this article, we explore the McGill MBA class profile, employment reports, and salaries. Here is an outline of this article:
McGill MBA program – General information
Address
Desautels Faculty of Management McGill University
Bronfman Building, 1001 Sherbrooke Street West
Montreal, Quebec, H3A1G5
Contact
Phone: 514-398-4000
Email: mba@mcgill.ca
Working hours: Monday to Friday – 7:00 to 22:00
Social Media: Facebook, Instagram, Twitter, YouTube, LinkedIn
McGill MBA – Desautels Faculty of Management
The MBA program offers its students the flexibility to customize their MBA program and complete their degree at their own pace
The Soutar Career Centre at McGill University provides one on one career coaching through personalized career preparation and planning. Apart from helping students in their interviews and planning recruiting events, the Soutar career center also plays a critical role in the admissions process by providing feedback to the non-typical candidates.
McGill MBA students must apply and participate in the selection process for the internship and exchange program.
To ensure that all the candidates that enter the MBA program are at the same level of competency in basic quantitative skills, McGill University offers a compulsory two weeks Base Camp class, which starts few weeks before the orientation.
McGill MBA Class Profile
The McGill MBA program has a close-knit class of 65 to 85 students from a diverse background.
Over 60% of MBA students at McGill are international students representing more than 30 countries. The image and table represent the typical class profile of the program.
McGill MBA Program: Class Profile

Class Size
65- 85
% of Female
31%
Average GMAT Score
675
International Students
60%
Average work experience
5.5 Years
Average Age
29
Countries Represented
21
A higher GMAT Score can help you in strengthening your application for the McGill Desautels MBA program. Sign up for our Free Trial and get access to our GMAT resources today!
McGill Desautels MBA Admissions 2022
McGill University is looking for talented candidates that have strong academics, managerial potential, and leadership skills. With the ultimate flexibility in MBA program length and specialization, McGill provides a global perspective to shape the world's future leaders.
McGill considers various components while evaluating an applicant, such as the academic credentials, GMAT /GRE scores, IELTS/TOEFL, work experience, essays, letters of recommendation, and extracurricular activities.
If you are planning to apply to the McGill Desautels MBA program, then you should be aware of the various aspects of the program, such as the eligibility criteria, the application process, deadline, and cost of attendance.
Application Deadline 2022-2023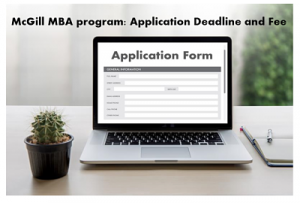 The application deadline for Fall 2022 admissions are:
| | |
| --- | --- |
| McGill MBA Application deadline | Dates |
| Round 1 | 1st November 2022 |
| Round 2 | 15th January 2023 |
| Round 3 | 15th March 2023 |
| Round 4 | 1st May 2023 |
NOTE: The final deadline for international students is March 15th 2023 and for Canadian citizens/permanent residents is 1st May 2023.
Eligibility criteria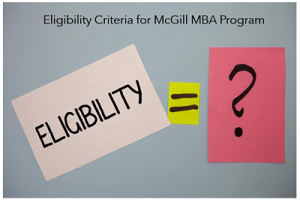 As discussed previously, there are various components that McGill evaluates during the admissions of its MBA program. McGill looks at the overall profile of a candidate; thus, each element of the McGill online application form is essential. To apply for the McGill MBA class of 2024, you should fulfill the following eligibility criteria:
You should have an undergraduate degree or any equivalent degree in other disciplines
Minimum 2 years of work experience after your undergraduate degree
TOEFL or IETLS score
GMAT or GRE score
Apart from the above documents to prove your eligibility for the McGill MBA program, you also need to submit the below documents:
Two letters of recommendations
Updated CV
Three Essay questions
Learn how to overcome a low GMAT Score? and How to compensate for a low GPA?
Admissions Process
The admissions process for the McGill MBA consists of three steps:
Download the MBA online Application(uApply): For the first step, you need to download the online application and make an account. After making an account, you need to mention your details with your education history.
Before applying, a non-refundable fee of $5,000 is payable, and once the application is received, McGill sents an email with your ID number.
Below is a screenshot of what McGill Univerity MBA online application looks like: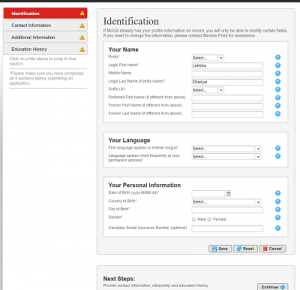 Uploading supporting documents: All the supporting documents need to be uploaded directly to uApply, in a PDF format which includes:
Essay Questions: The McGill MBA application requires 3 essays
Reference letters: Two recommendation letters with the names and email addresses of professionals who were directly responsible for your evaluation needs to be submitted. McGill will automatically contact them and ask them to upload the references.
Transcripts: All the transcripts related to your education should be uploaded.
GMAT and TOEFL results: You can directly send the results of your GMAT exams to McGill University by putting the institution code: 0935. Similarly, for TOEFL results, the department code is "02," and the code is: "0935."
MBA Applicant Survey: An online survey regarding the McGill Admissions process also needs to be submitted.
Once the university receives the application, shortlisted candidates are invited for an interview, after which it takes up to four weeks for the final decision.
Learn more about How to improve your MBA profile and boost your application
McGill MBA Fees Fall 2022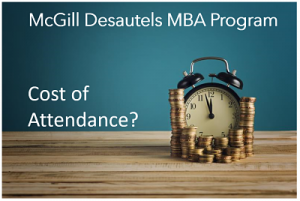 The fee for the McGill MBA class 2024 for domestic students is CAD $ 99,500. Similarly, the cost for an international student is CAD $82,500.
Below table represents an approximate cost of attendance for the McGill MBA Program:
McGill MBA Fees – Cost of Attendance

Tuition
$99,500
Tuition Waiver for Canadians and Permanent residents
$17,000

Expenses per year

CAD

Incidental Fees
$2,000
Books and supplies
$2,000
Accommodations (Rent and Food) *
$13,800
Health and dental insurance: Canadian and permanent residents
$575
Health and dental for international students**
$1,247
Public transportation
$648
Personal expenses
$1,500
Total Estimated expenses for Canadian and permanent residents
$20,822
Total Estimated Expenses for International Students
$21,720
*based on a single student, studying full-time **Based on Single international student.
McGill MBA Employment Report & Salaries
The McGill University MBA batch 2022 had 94% placement based on 100% reporting. With an excellent career development center that provides students with essential tools, networks, and resources, McGill offers students unique career opportunities.
The majority of the 2022 MBA graduates are in Canada, with 70% of them in Montreal, 27% in Toronto, 3% internationally.
With the support of career services, the MBA Mentoring Program at McGill University allows students to engage with mid-high-level executives to lessen the gap between academic learning.
The program helps in preparing for job interviews and provides an opportunity for networking and learning information about a new field, which can come in handy if you are looking for a career change.
Employment By Function
Following is the McGill MBA Employment statistics and salary 2022 by function: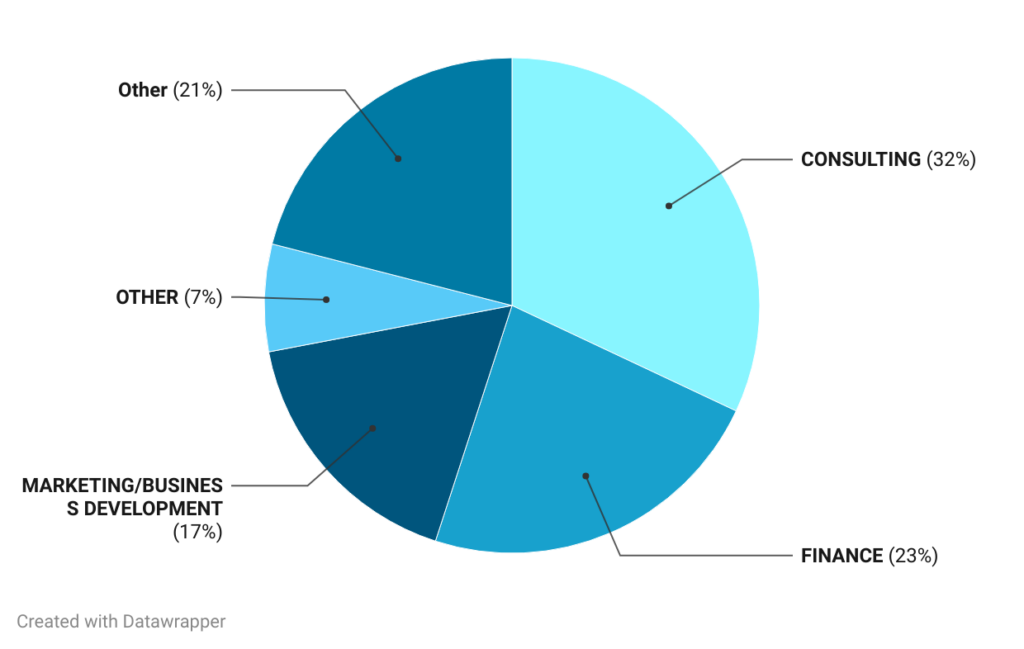 | | | |
| --- | --- | --- |
| McGill MBA Employment by Function | Mean Base Salary (CAD) | Base Salary Range (CAD) |
| Consulting | $117,100 | $75,000 – $199,500 |
| Finance | $90,500 | $80,000 – $105,000 |
| General Management | N/A | N/A |
| Marketing/Business Development | $103,000 | $75,000 – $140,000 |
| Operations/Production | NA | NA |
| Others | NA | NA |
Getting into McGill requires a good GMAT score. We can help you with a personalized study plan and give you access to quality online content to prepare. Write to us at acethegmat@e-gmat.com. We are the most reviewed GMAT prep company on gmatclub with more than 1950 reviews. Why don't you take a free trial and judge for yourself?
Top Recruiting Partners
Career services at McGill have partnered with organizations to understand their needs and develop a strategy that will allow them to gain visibility on campus to hire the best candidate. McGill has an online portal called myFuture, where recruiters can post job vacancies and manage student's applications.
Below is the list of recent recruiters for the McGill Desautels MBA program:
CANADA
INTERNATIONAL
Aldo
McKinsey & Company
Amazon
Beiersdorf
Morgan Stanley
AIG Japan
Bioconnect
Novartis
Brain & Company
Bombardier
Paladin Labs, Inc.
BCG
Caisse de depot
Pfizer Inc.
DHL Supply Chain
Capital One
PSP Investments
KPMG
CIBC
RBC
McKinsey & Company
Cirque de Soleil
Sanofi Pasteur
PwC
David Tea
Scotiabank
Syngenta Crop Protection
Desjardins
TD Bank
United Nations
Ernst & Young
Aimia
Yoma Bank
GlaxoSmithKline
Axium Infrastructure
A.T. Kearney
IBM
Bell Canada
CAE
KPMG
BMO Financial Group
Christian Dior
Kraft Foods Groups Inc.
CAE
Credit Suisse Group
L'Oréal
CGI
Deloitte
Chappuis Halder & Co.
Ericsson Inc.
Facebook
Cidel Wealth Management
H&M
Google
Cox Automotive
Janssen Inc.
Mercer
Deloitte
Letko, Brousseau & Associates
Navigant Consulting
Mars Discovery District
Oliver Wyman
Merrill Lynch
PepsiCo Inc.
National Bank of Canada
Procter & Gamble
PwC
Sephora Canada
Rio Tinto/Iron Ore of Canada
Saputo Inc.
Notable Alumni
McGill University Alumni span the globe, with a network of over 275,000, each Alumni has a unique set of experiences. Below mentioned are a few of the notable Alumni of McGill University's MBA program:
Here are a few more article on Canadian Business Schools and their MBA Programs:
Getting into McGill requires a good GMAT score. We can help you with a personalized study plan and give you access to quality online content to prepare. Write to us at acethegmat@e-gmat.com. We are the most reviewed GMAT prep company on gmatclub with more than 1950 reviews. Why don't you take a free trial and judge for yourself?
FAQs- McGill MBA Program
What GMAT score do I need for McGill MBA?
You need at least 700+ GMAT Scores for top business schools like McGill to stand out. The average GMAT score for the McGill incoming class of 2022 is 675.
Which are the other top Canadian Schools for MBA?
Some of the top MBA Programs in Canada are:
1. Rotman School of Management
2. Schulich School of Business
3. Ivey Business School
4. HEC Montreal
5. Queen's Smith School of Business
Check out the top 10 business schools in Canada.