A
6
min read
Students who aspire to a graduate education abroad often face a dilemma about pursuing an MBA vs MS degree. Both offer the opportunity to move between geographies, gain valuable skills and to move into a high paying and rewarding career. However, their areas of focus are quite different. In this article we explore this topic to answer the burning question, should you go for an MBA or an MS after graduation?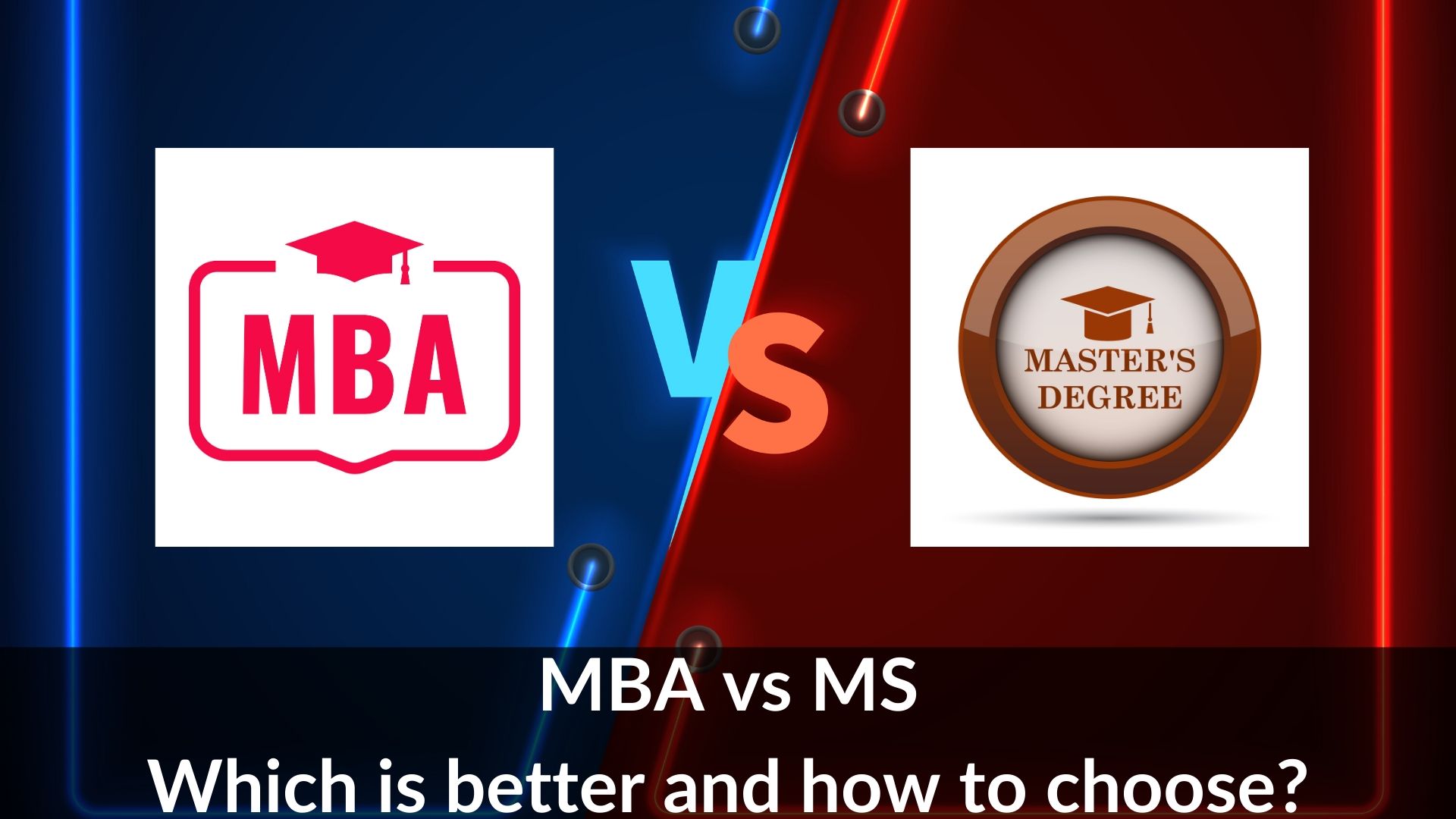 Here is a brief outline of the article:
What is an M.S degree?
An M.S stands for a Master of Science degree. It is typically a full-time 2-year degree awarded by universities to students who complete their studies in the fields of science, engineering, and medicine. However, different universities have different conventions and may also offer the degree for fields typically considered within the humanities and social sciences.
An M.S degree program offers advanced studies in a particular subject or discipline. And generally, it includes writing a thesis or a research component. Nowadays, universities allow a thesis to be substituted with a research project. Generally, work experience is not a pre-requisite for enrolling in an M.S degree program.
To summarize, an M.S degree offers the opportunity to advance your study of a subject in depth. It requires a time investment of 2-years. On the other hand, an MBA is a professional postgraduate degree awarded for studies in the areas of business and management.
What is an MBA degree?
MBA stands for Master of Business Administration. It is a post-graduate professional degree awarded for studies in the areas of business and management. Students of MBA programs study the theory and application of business and management principles.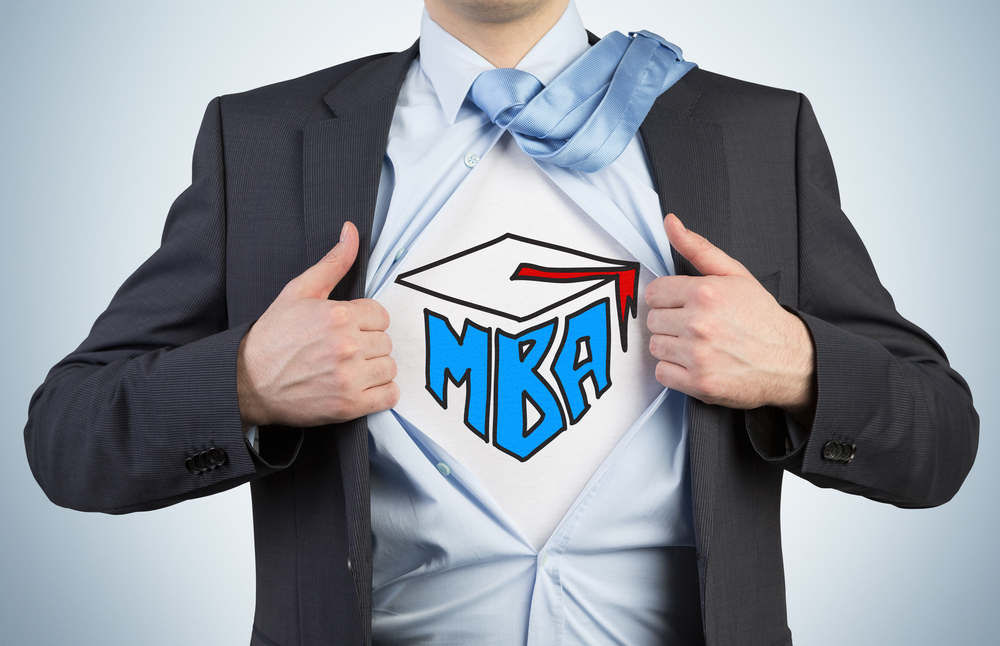 The MBA degree originated in the United States during the era of industrialization when companies sought scientific approaches to the management of enterprises.
Core courses in an MBA program cover areas of business such as accounting, applied statistics, business communication, business ethics, ethics, business law, finance, entrepreneurship, marketing, and operations.
Several accreditation bodies exist for MBA programs to ensure consistency and quality of education. Business schools also offer different types of MBA programs including Full-Time 1 and 2-year, part-time and executive programs.
Each of these is aimed at professionals at different stages in their careers. And thus, they have different requirements with respect to the length of work experience, standardized tests for admission, etc.
What kind of opportunities are available after an MS Degree?
Depending on your field of study and the country you're studying in there are many opportunities available in terms of jobs after an M.S degree. The most popular M.S degrees abroad include:
M.S in Computer Science
M.S in Information Systems
M.S in Engineering
Since an M.S is quite a technical and academic degree, popular career options include research. Master's degree students can sometimes enroll for Ph.D. programs which may be the start of a rewarding teaching or research career.
Salary offered to graduates after an M.S Degree
According to the 2019 survey conducted by the National Association of Colleges and Employers following are the salaries by discipline for M.S graduates:
| | |
| --- | --- |
| BROAD CATEGORY | 2019 SALARY PROJECTION |
| Engineering | $82,589 |
| Computer Science | $81,466 |
| Math & Sciences | $75,737 |
According to the United States Department for Labor and Bureau of Labor Statistics, median annual wages for those with a master's degree was $68,000 compared to $56,000 for those with a bachelor's degree.
What kind of opportunities are available after an MBA Degree?
An MBA degree serves as a feeder to various business professions in industries such as finance, consulting, investment banking, private equity, and technology. The roles and occupations that MBA graduates are recruited to include traditional business functions such as sales, marketing, business development, operations, etc.
If you are wondering about the career options after an MBA, read this article on post MBA careers and salaries.
Salary offered to MBA Graduates
According to the QS Top MBA Salary report following are the MBA salaries for different industries.
| | |
| --- | --- |
| Industry | Salary |
| Technology | $89,633 |
| Finance | $97,100 |
| Consulting | $90,900 |
| Other | $89,675 |
It is important to note that these figures only include the base salary offered to graduates. Sign-on bonuses and other guaranteed forms of compensation can add anywhere up to $10,000 – $40,000 to MBA graduates yearly compensation.
What are the differences between MBA and MS?
Thus, a Master of Science or MS is a postgraduate degree that offers advanced studies in a particular area of science. On the other hand, an MBA degree is a professional post-graduate degree that teaches students technical, managerial and leadership skills.
In the following table we summarize the differences between an MBA and MS Degree:
Sr. No
Criteria
MBA
MS
1
Focus
To gain business and management skills
To acquire technical skills in a chosen area of study
2
Time Required
1 – 2 years depending on the program, Executive MBA options also available
Generally, it requires 2 Years of full-time study
3
Work Experience
2-5 years of work experience preferred
Work experience generally not required
4
Employment opportunities
Finance, Consulting, Operations, Investment Banking, Private Equity, etc.
Engineering, Math and Sciences, Computer Science
5
Salary
Base Salary $89,000 – $97,000

Sign-on Bonus and other guaranteed compensation $10,000 – $40,000

Base Salary $75,000 – $82,000
How do you decide between an MBA vs MS?
You should consider the following factors while deciding between pursuing an MBA vs. MS
Career goals
Return on Investment
Career Goals
An MBA degree provides a solid foundation of business and management concepts. At most MBA programs you can further tailor your program to specialize in a particular industry or function such as finance, operations, or human resources.
If you have the patience to gain relevant work experience in your industry of choice and build a profile worthy of getting an admit into a top business school, then an MBA is the way to go. However, if you want to gain further technical skills in an area before stepping into the industry, then an M.S is the right degree for you.
Which has a better Return on Investment (MBA vs MS)?
Both MBA and MS degrees offer a path to a higher salary, better career prospects and the opportunity to move geographies. You should also account for the opportunity cost for pursuing either if you're already employed. The opportunity cost includes loss of salary while you are studying and the cost of going back to school. MBA programs have shown to have a significantly high return on investment 3-5 years after graduation.
1-year MBA programs such as INSEAD and LBS have a significantly lower opportunity cost as compared to traditional 2-year MBA programs.
Business schools also offer need-based and merit-based scholarships that significantly reduce the financial burden of studying abroad. The top 25 business schools in the US cumulatively offered $230+ million in scholarships to students.
Learn more about MBA scholarships and their benefits in this article

We hope this article helps you decide between pursuing an MBA vs. MS. If you are looking to pursue an MBA, the GMAT is the best first step to a rewarding post-MBA career.

Sign up for a free trial now. We can help you with creating a personalised study plan to achieve your target GMAT score, please write to us at acethegmat@e-gmat.com.

We are the most reviewed GMAT Prep company on GMATClub with 1960 reviews.
Here are a few more articles that you may like: