When is an MBA worth it? What if you already make a good salary without an MBA!
Getting a master's in business administration can open the door to the top hierarchy and new career opportunities. It can offer you the knowledge and help in developing skills such as leadership, teamwork, and negotiation. There are many reasons why you should pursue an MBA.
But, the average tuition fee of an MBA from the top business schools can range between $85,000 – $160,000.Thus, the question arises – Is an MBA worth it?
In this article, we try to answer this question by doing a cost-benefit analysis based on a few factors that you can keep in mind when you determine the value of your MBA investment.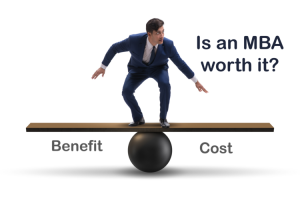 Here is the outline of the article:
Worth of an MBA degree: Cost Involved
As stated earlier, the average tuition fee of an MBA from Top business school can range between $85,000 – $160,000. But there are other additional costs that you need to look out for – post-MBA costs and Living costs during MBA.
The post-MBA cost includes your GMAT fee, TOEFL/IELTS cost, and application fee to apply to business schools. If you add up all these costs, you will get a minimum of $3000.
Besides, you also need to include your cost of living while you pursue your MBA. If you aspire to pursue your MBA at top business schools like Stanford GSB or NYU Stern, your living expenses come out to be $90,414 and $82,980, respectively.
Thus, apart from your tuition fee, you need to take into consideration the post-MBA cost and the living cost while pursuing your MBA. Check out how you can make your MBA cost Affordable.
The table below represents the Top 20 business schools with their MBA cost:
| | |
| --- | --- |
| Top Business School  | Total MBA Cost ($) |
| Stanford GSB  | 2,37,288 |
| NYU Stern  | 2,24,508 |
| Wharton (Penn) | 2,23,390 |
| MIT Sloan  | 2,37,636 |
| Columbia Business School  | 2,28,438 |
| Harvard Business School  | 2,25,204 |
| Chicago (Booth) | 2,20,576 |
| Darthmouth (Tuck) | 2,24,000 |
| Northwestern (Kellogg) | 2,11,220 |
| UCLA (Anderson) | 2,21,876 |
| Yale SoM  | 2,11,600 |
| UC-Berkeley (Haas) | 2,03,068 |
| Virginia (Darden) | 2,00,412 |
| Duke (Fuqua) | 1,94,660 |
| Georgetown (McDonough) | 1,90,094 |
| Michigan Ross | 1,92,064 |
| Cornell (Johnson) | 1,99,980 |
| CMU (Tepper) | 93,768 |
| UNC (Kenan-Flagler) | 1,35,042 |
| Emory (Goizueta) | 1,92,862 |
Did you know a GMAT score of 730+ yields incremental $500K in ROI? Start your GMAT Preparation by Signing up for our FREE Trial and get access to FREE online GMAT preparation resources. We are the most reviewed online GMAT preparation company on GMATClub with 1870+ reviews (as on 24th April 2020).
Worth of an MBA degree: The Benefits
Apart from an attractive pay package (average salary of top b-schools range from $120,000 – $167,000), there are other non-financial benefits of an MBA degree.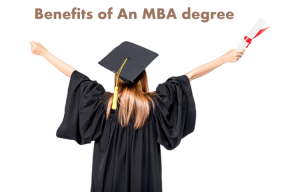 An MBA offers you an education in management and leadership. It helps you built your network, which matters a lot when it comes to the corporate world. It develops your overall personality, and an MBA graduate almost becomes a new person and have a new outlook on life and business world.
Check out the top 20 reasons why you should get an MBA?
While there are many advantages of an MBA, it is essential to understand that an MBA is not a magic pill. There are certain factors you need to keep in mind while you calculate ROI on your MBA investment.
Is an MBA worth it? Cost-Benefit Analysis
One of the significant factors when considering whether to get an MBA is calculating the cost. An MBA is only worth the time, effort, and expense you put into it.
Many MBA aspirants take student loans or scholarships to meet the cost of attending top business schools. Thus, how long it might take to repay student loans or recoup the cost of an MBA program depends on individual circumstances.
Here are some tips for making your MBA pocket-friendly.
Although the cost of an MBA program may be high, so are the starting salaries and bonuses for most MBA graduates. For example, if your salary is $70,000 and the total cost of your MBA is about $175,000, it will take you more time to see a positive return on investment than an MBA graduate who got placed with a $30,000 signing bonus.
And not to forget the non-financial benefits of getting an MBA.
The average signing bonus for MBA graduates at top U.S business schools is over $30,000, and for other business schools, it's almost $16,000.
Here is the data on the average MBA salary at top business schools industry-wise.
According to a report, one way to know the financial benefits of an MBA is to research the average salary among top business schools and compare that figure with the average student loan debt. A survey done by U.S. News points out the average starting salary of 2018 MBA grads was $87,688, with an average debt of $51,671.
Another report by QS Quacquarelli Symonds suggests that within ten years of earning an MBA degree, the average MBA graduate has an estimated decade-long return on investment of $390,751, after subtracting the opportunity and tuition cost of attending an MBA program.
However, all MBA degrees are not treated equally. Thus, you need to earn an MBA degree from a reputed business school that can add value to your MBA investment. For example, Corporates are not likely to view an MBA received from an unknown educator to hold the same weightage as from the top business schools.
Did you know that the average GMAT score required by Top business schools is 700+? Start your GMAT preparation online by signing up for our FREE Trial today! We are the most reviewed online GMAT prep company on the GMATClub.
Worth of an MBA degree: Alumni Perspective
GMAC Survey on Alumni perspective 2018 points out that 93% of alumni in full-time two-year MBA programs say their degree was professionally rewarding, and 83% sates that their degree was financially beneficial.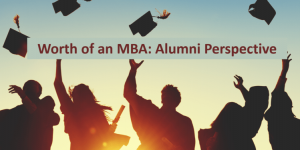 The most common statement made by the Alumni for a full-time MBA program was that it increased their earning power. 4 out of 5 business school Alumni rate the value of their graduate management education as Excellent or Outstanding. And that's not all.
94% of them agree that their management education was personally rewarding—89 % and 73% for professionally and financially rewarding.
Thus, the answer to when an MBA is worth it depends on the average salary, signing bonus, individual circumstances, and non-financial benefits that you can expect after MBA.
Worth of an MBA: Which MBA program had a high ROI?
One of the ways to calculate the income potential of an MBA graduate is to look at the school's salary-to-debt ratio. Thus, by dividing the average salary and signing bonus of recent graduates by the average student debt can give you your return on investment.
Another way is to look at the F.T. rankings where you can set the search parameter as value for money and get top MBA programs. The ranks are calculated based on the salary earned by alumni today, course length, fees, and other costs.
The table below represents the top 10 MBA programs with high value for money:
 Business Schools with High Value for Money
Value for Money Rank
Business School
Salary
Employment
1.
University of Florida: Warrington
$121,000
96%
2.
Durham University business school
$120,556
94%
3.
Cambridge University
$164,636
86%
4.
Melbourne Business School
$119,098
95%
5.
Oxford University
$161,646
91%
6.
INSEAD
$180,527
81%
7.
Brigham Young University: Marriott
$128,213
91%
8.
Smeal Pennsylvania State University
$124,220
91%
9.
Warwick Business School
$118,406
95%
10.
Smurfit College Dublin
$116,872
89%
Here are some other top MBA programs with their class profile and Employment report: Harvard business school, Stanford GSB, MIT Sloan, Schulich Toronto/India, Wharton, Michigan Ross, Kellogg, Columbia, Dartmouth Tuck, UC Berkeley Haas, Yale SoM MBA, Duke Fuqua,  UNC-Kenan Flagler, and Rice – Jones MBA program.
Check out the Top MBA programs in:
FAQs on MBA
Why should I get an MBA?
There are many reasons why you should get an MBA degree such as Career growth, career transformation, better pay package, managerial skills, brand building, and overall personality development.
How do I get into top business school?
To get into top business schools you need to first know the expectations of MBA admissions committees. What skills are they looking for? You also need to know about the GMAT score trend at the top business schools to have an idea about your targeted score.

Here is an article that discusses in detail how you can get an admit from Top business schools.
What are the requirements for an MBA?
The basic requirement at most of the top business schools is:
1. An undergraduate degree in any discipline
2. GMAT/GRE Score
3. IELTS/TOEFL (English proficiency test)
4. Resume
5. Letter of recommendations
6. Essays
7. Interview
What is the MBA course structure?
Generally, an MBA course is structured into core and elective courses. The core subjects are in the first couple of semesters whereas students are offered to customize their MBA program by choosing electives after completing the core subjects.