A
6
min read
With the boom of e-commerce and advancements in manufacturing and production technology and processes, businesses require a new and improved form of operations management. This has led to the creation of an MBA in Operations management program.
Some business schools offer MBA specializations in operations, while others offer related programs in fields such as logistics and supply chain management.
An MBA in Operations Management can prepare students to handle different aspects of a business, such as planning, manufacturing, production, or providing services, with an attractive salary package. The average salary range for the best business schools in operations management 2022 is between $60,000 – $135,000.
In this article, we take a look at what is an MBA in operations management and discuss the career scope, salary, and job profile post-MBA in operations. Here is the outline of the article: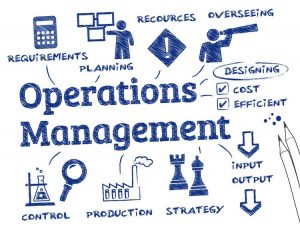 Are you looking to pursue MBA in Operations Management? e-GMAT can offer you a structured course and give you access to quality online content to prepare. Write to us at acethegmat@e-gmat.com. We are the most reviewed GMAT prep company on GMAT club with more than 2500+ reviews and are the only prep company that has delivered more than 700+ scores than any other GMAT club partner. Why don't you take a free trial and judge for yourself?
What is MBA in Operations Management?
One of the most common specialization among the majority of business schools is an MBA in operations management. Pursuing an MBA in operations management offers a global perspective on industry trends to meet client demand. Also, with a boom in technology, agile innovation has led to solving the age-old problem of integrating operations and innovation. For instance, Amazon mastering the rapid delivery of the products at a standard time that all companies need to meet.
Some of the best business schools understand this change and offer specialization in operations or any other related field such as logistics. A Master of Business Administration in operations management is generally for 2-year.
The primary function of operations is to deliver reliable, predictable services and products. This means you are trying to minimize the variations in what you are producing so that the customers know they can rely on the consistency of your product. Here is where Lean Six Sigma comes to play.
Scope of MBA in Operations Management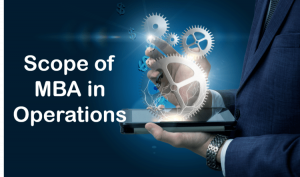 An MBA in operations management personnel is responsible for overseeing the company's operations by ensuring they're efficient and effective. They are the backbone of the company's day-to-day operations and help in delivering quality products/services at the right cost and on schedule.
If we must describe it in one sentence, then operation management is all about executing the corporate strategy on the ground.
A graduate with an MBA in operations management is primarily concerned with planning, organizing, and supervising in the context of production, manufacturing, or providing services. It is a delivery focussed discipline that requires analytical as well as organizational skills.
In the present scenario, operations excellence is the key to survival. Besides, LinkedIn has nearly 40,000 job listings with the words "operational manager," which indicated the need for them. Companies like Airbnb, Lyft, Amazon, etc. are already operating with well-defined operational excellence to win the market share.
Take a free trial to get unlimited access to concept files, live sessions, and practice questions. For any strategic advice for GMAT or MBA Admissions, write to us at acethegmat@e-gmat.com. We are the most reviewed GMAT prep company on GMATClub with more than 2500 reviews
Operations management has grown in scope and increased in importance. Besides, efficient organization operations are a vital tool in achieving competitive advantage.
Salary and Employment statistics
According to the 2019 GMAC Corporate Recruiters Survey, 26% of employers surveyed plan to hire MBA graduates for operations roles in 2019. Organizations in the energy/utility industry and manufacturing industries plan to place 38% and 47% of new hires into operations roles.
Other major industries hiring MBA graduates for operations roles include non-profit/government (26%), product and services (29%), and healthcare (30%).
According to the U.S. Bureau of Labour and Statistics, the mean annual wage for an operations manager for last year was $123,880. The 75th percentile pay figure is 157,120.
Learn about factors affecting your Post-MBA Salary in 2023.
Job Profile
It's a common misconception that MBA in Operations management leads to working in the only manufacturing industry, which is not valid.
An MBA in operations is suitable for roles in diverse sectors such as wholesale trade, e-commerce companies, pharmaceuticals, and many more. Common job titles offered to MBA graduates in operations include:
Purchasing manager
Inventory coordinator
Warehouse operations manager
Logistics/supply chain manager
Operations consultant
Sales or marketing operational manager
And many more
Skills Required to pursue a career in Operations
Some of the most common skills required in operations are Data processing skills, conflict management skills, people management skills, project management skills, and many more. Besides, with the increasing importance of innovation in business, skills in production-oriented operations management are highly marketable.
According to Inc.com, an organization needs to design a system that is capable of producing quality services and goods within a time frame.
Thus, if you are planning to pursue your career in operations management, you should be able to:
Design the system
Implement it
Plan and Forecast demand
Manage the system
Best Business Schools for MBA in Operations in 2023

A high GMAT score can set you apart from the competition and help you get an admit at your dream business school. Start your GMAT Preparation with the most reviewed online GMAT prep company. Try out our FREE Trial Today!
Listed below are the top 10 best business schools for operations management, according to the U.S. News report. The ranking is based upon various indicators such as placement success, quality of the program, class profile, and many more.
Note: A business school with MBA graduates employed in operations are only taken into consideration.
Here are the best business schools for MBA in Operations Management:
Eligibility for MBA in Operations management
A specialized MBA in operations management program is like a regular MBA program and states the following as eligibility criteria:
A bachelor's degree or equivalent
More than two years of work experience
GPA
Letter of recommendations
GMAT or GRE score
Resume
Essays
It is recommended that you do thorough research on the entry requirement for your targeted business school.
MBA in operations management – Admission process
The majority of the business schools ask for standardized entrance tests such as GMAT or GRE or CAT. If you are planning to pursue your degree outside India, the GMAT/GRE holds more relevance. In India, apart from CAT, there are other regional entrance exams that you can take like MAT, NMAT, SNAP, etc.
Generally, the admissions process to get into MBA Operations is like any other MBA program. In the MBA application process, you need to provide information on your academic background, submit LOR, resume, GMAT/GRE scores, etc. Each business school has its own process. However, the evaluation criteria are somewhat similar. Check out the MBA Application evaluation factors here.
Learn how to improve your MBA profile and boost your MBA Application.
Here is a list of related articles that can help you get into your dream business school:
Companies that Hire Operations Management graduates
Some of the companies that hire Operations Management MBA graduates are:
Amazon
Adecco
KPMG
HSBC
JP Morgan Chase
Accenture
L&T
Wipro
Nissan Motor Company
McKinsey & Company
Interested in a career in Operations? The top business schools can give you a great boost in achieving your aspirations. And a great GMAT score can help you in strengthening your application to these top business schools. Sign up for our FREE Trial. We can also help you with a personalized study plan and give you access to quality online content to prepare.
MBA in Operations Management FAQs
What are the career options after MBA in Operations?
Some of the job titles pursuing an MBA in Operations are:
1. Project Manager
2. Logistic Manager
3. Operations Analyst
4. Production Manager
5. Purchasing Manager
What is the course structure for an MBA in Operations Management?
Some business schools offer MBA specialization in operations, while others offer related programs in the field such as supply chain management and logistics.
What are the different types of MBA Specialization?
There are five types of MBA specialization:
1. MBA in Finance
2. MBA in Marketing
3. MBA in HR
4. MBA in Operations
5. MBA Entrepreneurship
Why should I pursue an MBA?
There are countless benefits to pursuing an MBA. Here are some of the reasons why you should get an MBA degree:
1. High demand for MBA graduates
2. More salary
3. Career growth and Transformation
4. Networking opportunities
Is an MBA worth it?
An MBA degree is only worth the time, effort, and expense you put into it. Thus, while asking yourself is an MBA worth it, you need to take into consideration the various cost involved while pursuing your MBA.
Read this article to know the various cost involved and the ROI of an MBA degree.