No matter your age, an MBA is a seminal experience that serves as a toolkit to reinvigorate, transition or advance to leadership roles in your career. Investing in an MBA degree returns a handsome yield over your working lifetime. But MBA aspirants over 30 years of age face a different set of questions than someone applying in their early 20's, often left wondering whether doing an MBA after 30 is a viable option or is it too late.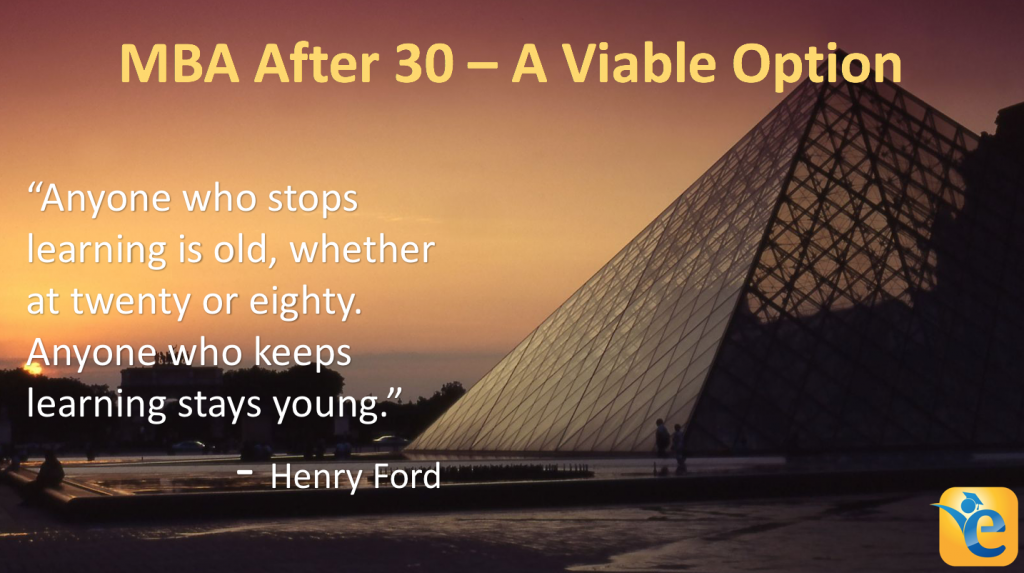 In this article, we discuss the following:
And lastly, we will discuss the alternatives available to full-time MBA Programs for MBA aspirants above 30 years of age.
1. Is 30 too late to start an MBA?
Coming back to the main question, the rule, in general, is that schools do not consider age as a major factor in the admission decision process.
Most B-Schools do not usually quote age limits for MBA programs, rather they set requirements for the number of years of full-time, relevant work experience. The requirements may be either be in the form of minimum, maximum or a combination of both.
As per www.forbes.com, "the average age of incoming students at Harvard last year was 27, but more than 10% had 7 or more years of experience, with a maximum of 17. Columbia and UCLA Anderson both welcomed students in their 40s, and though 28 seems to be the sweet spot across the top 20 US schools, all of them have students with more than 10 years' experience, with over 15 years at Wharton and MIT Sloan.
1.1) Evaluating your career goals and how they align with an MBA
It is safe to assume that program fit (according to goals) and pre-MBA work profile and accomplishments are factors that are given a higher weightage than just age while assessing an applicant for an MBA program.
It follows from above that your goals and aspirations after an MBA should be aligned and achievable. Admission committees expect greater clarity on your goals and how will an MBA help in achieving these goals. Articulating these clearly in your essays and interviews is important.
A 730+ GMAT score can make your candidacy stand out at top business schools even if you are an older MBA aspirant. To help you, we provide access to quality online content and a personalized study plan to prepare for the GMAT.

Sign up for a free trial write to us at acethegmat@e-gmat.com with your concerns.

We are the most reviewed GMAT prep company on gmatclub with more than 1950 reviews.
1.2) Other factors to keep in mind while applying to a top MBA program after 30
Another important factor that AdComs assess is what you bring to the program and how you will contribute to class discussions and group projects where many of your peers will be younger to you. This is where your leadership, community and volunteer experiences would matter – as these show adaptability, learning and leadership while working towards a common cause.
Top reasons for doing an MBA:

Looking for a change in career
Getting into entrepreneurship
Feeling stagnated with the current role and looking for bigger/better opportunities
Well, now that you have assessed your need for an MBA, let us understand how you can evaluate your readiness to go through the rigorous curriculum of an MBA.
2. Will I be able to get through a full-time MBA program?
A simple indicator that serves as a reflection of your performance in an MBA program is your GMAT Score. The GMAC has consistently stated that an individual's performance in the GMAT serves as a reliable indicator of the ability to get through a rigorous B-School curriculum.
Besides, an MBA program builds and relies heavily upon the skills and abilities tested by the GMAT, such as:
Problem-solving and analytical skills
Strategic thinking and planning abilities
Quantitative abilities
Critical reasoning
Thus, if you score well in the GMAT, be rest assured that with the same amount of diligence and hard work, you should be able to get through a full-time MBA.
3. Cost vs Opportunities – MBA after 30 viability
An MBA is quite an investment with the total cost of attending the top-50 programs starting from $80K going all the way up to $200K. Besides the cost of going to B-School, older candidates must factor in the opportunity cost of an MBA, which includes foregone salary. However, it is important to consider the value that an MBA would add over the course of your career and not over the course of a short timeframe.
The GMAC has concluded that MBA graduates on an average earn $500k – $1 Million more than their peers who chose not to attend business school over a twenty-year period.
3.1) How much improvement can I expect in terms of salary after an MBA?
Depending on your career goals, the intended industry of work and the management level at which you get hired into you can expect to mint $20K – $70K – on an average – more after finishing your MBA.
3.2) Factors to consider while being an older applicant
Some of the additional factors that need to be considered are:
Career Goals
Pre and Post MBA Industry
These factors can have quite an impact on your starting salary post-MBA and are discussed in detail in our article Post MBA – Factors affecting salary
3.3) What profiles can I get into post MBA?
The profiles according to industries you can get into after graduating can be broadly categorized into:
Consulting: Or management consulting is the practice of helping organizations to improve their performance, operating primarily through the analysis of existing organizational problems and the development of plans for improvements. Bill Bain of Bain & Co. is a famous consultant.
General management: These are senior-level management roles responsible for managing revenue and cost elements of a company's income statements also known as Profit and Loss responsibility.
Finance: From industries such as banking, financial services, investment banking, asset management and more, all fall under the umbrella of Finance. Profiles available generally range from analysts all the way up to Chief Financial officer (CFO).
Marketing: Profiles available are marketing managers, brand managers, media planners etc.
Operations: With profiles such as supply chain management, logistics management, inventory control, and project management, operations is one of the fastest-growing industries.
Here are the best business schools for a career in Finance and Technology.
3.4) Leadership roles in the current profile
Besides the opportunity to change careers, industry and the opportunity to demand a higher salary, an MBA also plays a pivotal role in advancing your career to leadership roles. An MBA helps you develop a framework and the skillset required for business leadership, these include but are not limited to:
Effective Communication
Collaboration
Strategic thinking
Entrepreneurial skills
With group projects, internship opportunities and engaging class discussions an MBA serves as a fertile ground for developing and nurturing these skills which are required for effective leadership at higher management levels.
4. Managing financial and family commitments while studying full-time
Unlike younger applicants, enrolling in a full-time MBA at a later stage generally involves more nuanced management of finances and family-related
commitments. The factors include but are not limited to:
Opportunity Cost (Foregone Salary)
Cost of relocation for the duration of the program
Living costs (If relocating)
However, with financial aid available and rapid advancement in salaries post-MBA, it is possible to offset and manage financial and related family commitments while studying full time. Most students report a healthy 80%-120% increase over pre-MBA enrollment salaries.
The following table shows the average Post MBA salaries by Industry:

It is important to note that these figures do not include other components of compensation like signing bonus, performance-based bonus or stock options. These can add another $10K – 30K to your salary.
The key takeaway from here is that even though an MBA may seem like an expensive proposition at the outset, the returns far outweigh the costs over your working lifetime.
5. Alternatives to a full-time MBA
Besides traditional full-time MBA programs, quite a few other options are available for working professionals in different stages of their careers. These range from Executive MBAs to specialized Masters Programs. We summarize the key differences between these alternatives in the table below:
| | | | | |
| --- | --- | --- | --- | --- |
| Sr No. | Parameter | Full-Time MBA | Executive MBA | Specialized Masters programs in Business |
| 1 | Immersion | Complete (Full-time, Classroom-based, On-Campus) | Partial (Part-time (weekends only, Classroom-based, can be conducted on or off-campus) | Complete |
| 2 | Networking opportunities | Best | Limited | Good |
| 3 | Previous work experience required | Having 2-5 years of work experience | Having Greater than 5 years of experience. | Generally intended for fresh graduates with 1-2 years of work experience. |
| 4 | Alignment with goals | Career switch oriented | Career progression oriented | Developing business and management skills |
| 5 | Average Cost | $80K – 120K | Generally greater than comparable MBA programs | Lesser than full-time MBA programs. |
If you want to know more about the different types of MBA program, read this article.
Apart from a few caveats of doing an MBA after 30, an MBA from a good business school serves as a transformational experience that would give a considerable return on investment over the time frame of your career. Besides developing your leadership and business skills, it opens the door to career transitions as well as opportunities to progress to senior management positions in your current organization. We hope this article helps you in your decision-making process. If you have further questions, please write to us at acethegmat@e-gmat.com
Here are a few more articles you may like to read: