A
14
min read
An MBA in HR or Human resource management is a two-year degree program. It focuses on the recruitment, management, and providing direction and guidance for the people who work in an organization. An MBA in HR program offers training and knowledge in managing the workforce of the organization.
Master's in human resource management courses are in the form of a specialized MSc or MBA degree. However, some business schools offer HR courses as a part of their general management degree. The median base salary for the top 5 business schools for MBA in HR is between $82,500 – $109,000, with graduates working for companies like Amazon, Accenture, KPMG, PwC, and Deloitte.
Moreover, the advancement in information technology coupled with the predictive analytics in HR processes is boosting growth in the HR function. The global Human Resource Management market size is expected to grow at a CAGR of 12.8% from 2022 to 2030.
Thus, if you are planning to pursue your MBA in HR, here is an article that highlights top business schools in human resource management. The article also covers what is Human resource management (HRM) and why to pursue an MBA in HR, with career options and salary in HR functions.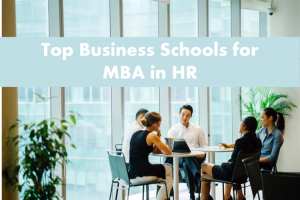 Here is the outline of the article:
For any strategic advice for GMAT or MBA Admissions, write to us at acethegmat@e-gmat.com.  Let us help you conquer the first step of getting into top business schools i.e., taking the GMAT. Take a free GMAT mock to understand your baseline score and start your GMAT prep with our free trial. We are the most reviewed online GMAT Prep company with 2443+ reviews on GMATClub
MBA in HR Scope
An MBA in HR program offers knowledge and training in managing the workforce of the organization. Some of the common specialization offered are employment law, talent and diversity management, etc.
Masters in human resource management courses are in the form of a specialized MBA or an MSc degree. Some business schools offer HR management courses as a part of their general master's degree, combining HR with business studies.
The HR department provides the necessary tools, training, administrative services, talent management, legal, and management advice that an organization needs for successful operations.
Today the HR team is not just responsible for recruiting and training new employees or managing compensations and employee relations. The HR function jobs now involve strategic decision-making or handling special situations related to mergers or layoffs.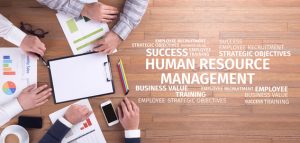 They are responsible for creating the culture of the organization and ensuring that the organization has an overall vision, mission, and values that are shared with all the employees.
Key Skills
Some of the basic skills gained from an MBA in HR include – Understanding of business operations, organizational and project management skills, ability to understand complex regulations, general IT skills, leadership, teamwork, decision-making, communication skills, ability to compile and interpret data.
Top 5 Business Schools for MBA in HR
Aspiring academics students who pursue MSc or an MA in Human resource management or organizational behavior, which covers how human functions in an organization continue to study for a Ph.D.
Whereas students with an interest in behavioral science may pursue a degree in Industrial and organizational psychology.
But if you are interested in learning the business principles, you should consider an MBA with a concentration in HR management.
In this article, we are going to look at the top business schools for MBA in HR. The ranking is based upon the percentage of graduates going into human resources and their starting salary. It also takes into consideration the students' assessments of how well their business school is preparing them for a human resource career.
Here is the list of top business schools for MBA in HR:
Click on the business school link above or scroll down to check out their MBA in HR program in detail.
The table below represents the top 5 business schools for MBA in Human resource management with the average GMAT score, the percentage of students placed in HR, and Median base salary:
*The data is taken from the school's employment report 2020 and 2021 and Official Website.
Learn about other top business schools to pursue MBA in Finance, Marketing, Consulting, Business Analytics, Operations, Supply Chain Management, and Energy for 2021.
Top Business Schools #1 – Marriott School of Business (Brigham Young University)
With 18% of the MBA graduates placed in the HR function, the Marriott School of Business ranks number 1. The average median base salary of an MBA in HR graduates (Class 2021) is $98,682.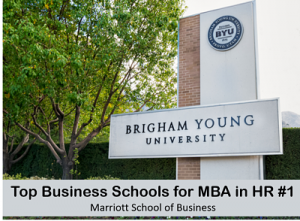 The class size at BYU Marriot is small, offering a considerable advantage in the MBA program that takes a team-oriented approach to solve business problems. New students learn about each other and the program through participation in a series of outdoor activities.
The department of management at BYU Marriot comprises three primary research and teaching groups – Entrepreneurship, human resource, and strategy. As per the school's website, the human resource group's mission is to develop outstanding leaders with the knowledge and skills to efficiently manage human capital.
MBA Curriculum with an HR Concentration and Electives
The full-time MBA program is a two-year program where students prepare to recognize problems and ask the right questions to get to the correct solution quickly.
The curriculum provides a comprehensive management education that prepares students for leadership and managerial positions. It exposes students to the fundamental management disciplines and then reinforces those principles with practical field-study projects.
The first year includes core classes such as leadership, operations management, strategic HR management, business finance, strategy, and analytics. There is a strict lockstep format wherein first-year students enter the program in the fall, then take all their classes together during the first year. Thus, students cannot work during the first year of the program. However, the students are encouraged to spend summer doing independent work or internship to gain professional experience.
The majority of the second year consists of electives/track, and students interested in HR management can opt for Strategic Human resource electives. The curriculum for the strategic human resource track includes organizational design, theory, teamwork, strategic HR, international career management, corporate cultures, and many more.
Also, there are special projects and student research to provide opportunities for practical experience.
Human Resources Student Association (HRSA) and Sherpa Program
Members of the MBA strategic HR track looks after the HRSA, where students develop meaningful relationships and help foster a close-knit community. They host seminars each week during the fall semester, where leaders and alumni speak to current students about their latest findings and best practices in HR. They also organize outdoor teamwork river-rafting trip following orientation week where first year and some second-year students attend along with recruiters, faculty, and staff.
The Sherpa program consists of second-year students in a mentor role under the direction of the BYU MBA Career management team. The mentors work on internship search for first-year MBA students and are responsible for holding weekly meetings on sharing strategic content, analyzing key recruitment metrics, and addressing individual challenges. Sherpa program has assisted many students in securing a quality internship with Fortune 100 companies and Startups.
Recruiting Partners
Some of the top recruiters at BYU were Ford, Amazon, Adobe, PwC, Microsoft, HP, Procter & Gamble, Honeywell, and LinkedIn.
A high GMAT score can set you apart from the competition and help you get an admit at your dream business school. Start your GMAT Preparation with the most reviewed online GMAT prep company. Try out our FREE Trial Today!
Top Business Schools #2 – Owen Graduate School of Management (Vanderbilt University)
With 5% of the MBA graduates placed in the HR function, the Owen Graduate School of Management ranks number 2 for the top MBA in HR list. The average base salary for MBA class 2022 is $135,000, with a salary range of $80,000 – $1,80,000.
The MBA Class of 2024 has an average GMAT score of 690 and the class size is 147.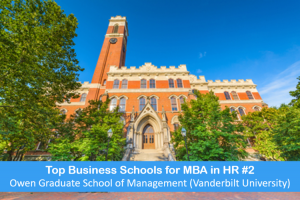 MBA Curriculum with an HR concentration
The MBA program at Owen features a Core Foundation of General Management courses and Specializations/Concentrations.
The classes include both practical learning and real-world projects. The school follows a Mod System where rather than using fall and spring semesters, they separate the academic year into four quarters, known as Mods. Each mod has seven weeks of classes followed by an exam with at least a week break between the Mods.
Mod 1 and 2 include core foundational courses with opportunity for an internship or optional short courses, whereas Mod 3 and 4 contain more electives. As per the school's website, approximately 50% of the students came back from their internship with a full-time job offer.
Owen MBA gives you the flexibility to shape your curriculum where you can choose at least one concentration as a focus of your study and may further customize your program by adding second concentration or specialization.
Human & Organizational Performance (HOP) Concentration
The program is built by award-winning professors and scholars who are experts in organizational motivation, design, leadership, compensation, negotiation, business ethics, and more. The HOP concentration prepares students to implement business strategies and enhance organizational and individual performance.
There are two required courses under HOP concentration – Strategic alignment of Human capital and Managerial/Organizational Effectiveness or Leading Change. Some of the electives are negotiation, innovation strategy, training system management, leading global, diverse organizations, and executive coaching.
Students are required to choose eight credit hours from the electives.
Human and Organizational Performance Association (HOPA)
The association's mission is to foster and support the professional development of current, prospective, and alumni members of the HOP concentration. They offer various tools and knowledge to succeed in the HR function.
Recruiting Partners
Some of the top recruiters for the MBA class 2020 were Deloitte, Amazon, PwC, EY, Infosys, and KPMG.
Top Business Schools #3 – Michigan Ross Ann Arbor (University of Michigan)
With 1.8% of the MBA graduates placed in the HR function, Michigan Ross ranks number #3 for the top MBA in HR list. The average median base salary of an MBA in HR graduates (Class 2019) is $108,000, with a median signing bonus of $30,000.
The class size is relatively larger than BYU and Vanderbilt with an average GMAT score of 710 for the Class of 2024.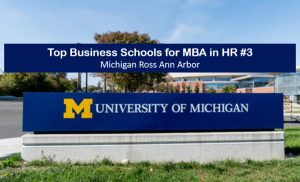 MBA Curriculum with Core HR courses and Electives
The Ross MBA experience helps students to stand out and get recognized for the most desirable jobs. The curriculum at Ross is flexible and allows students who are interested in human resource management to take up courses and electives that are related to HR.
MBA curriculum at Ross is a mixture of core courses, electives, and MAP. Some of the core courses include business statistics, microeconomics, corporate strategy, marketing, and leading people and organizations. Moreover, if a student can demonstrate proficiency in any core courses, he/she can get them waived.
Also, the students at Ross can choose their path by picking their entire second year and building a schedule with electives that interest them. Some of the HR-related electives include Strategic Human capital management, leading & leveraging difference, Incentives & productivity, Employment law for managers, and bargaining and influence skills.
Did you know Michigan Ross is launching a STEM Track for its Full-Time MBA Program? Read here
Leading People and Organizations: Core Course
One of the core courses includes leading people and organizations. This course prepares students to lead successful, high-performing groups and organizations and seeks an understanding of human behavior to enhance management practice.
Students learn to develop skills that enable them to manage organizational boundaries, align people and organization processes, and initiate and drive organizational change for the organization to thrive in today's competitive, global, and dynamic marketplace.
Apart from core and electives, the Michigan Ross MBA program incorporates Multidisciplinary Action Projects (MAP). In this field program, students apply structured problem-solving techniques to analyze multidisciplinary opportunities or business problems and make recommendations. Students will learn how businesses use and integrate multiple functions with a hands-on project at a sponsoring company.
Some of the recent MAP projects in human capital were with organizations such as Amazon, Experian, Principal, and PagerDuty.
HR-related Extracurricular Activities
At Ross, students can add an organizational strategy perspective to their extracurricular activities as well. Many clubs can interest students wanting to pursue a career in HR management.
The Human Capital club focuses on preparing its members for careers through networking and educational events with current Ross faculty and HR professionals. The club provides support in the form of educational development, recruitment, and social opportunities. They also organize workshops, informal educational gatherings, alumni meetups, and more.
Students interested in HR can also join Consulting clubs to help them successfully navigate the consulting recruiting process and Center for positive organizations, where the students immerse in the theory and practice of positive organizational scholarship.
Recruiting Partners
Michigan Ross has FACT Group that helps students to navigate the recruiting process, networking, and keeps them on track to meet their goals. Some of the significant human capital employers of Michigan Ross MBA graduates are Amazon, Cisco, Deloitte, Microsoft, and Citi.
Applying for Ross MBA application? Here are a few tips for writing the MBA Essay for 2022 intake.
Top Business Schools #4 – Gies College of Business (The University of Illinois at Urbana)
With 20% of the MBA graduates placed in the HR function, Gies College of Business ranks number #4, for top MBA in HR list. The average mean base salary of an MBA in HR graduates (Class 2020) is $82,500. However, the class size is relatively smaller than the other business schools listed.
The class size for Gies MBA is 49, with a median GMAT score of 670. The GMAT score is not required, however, it is highly recommended by the college to boost your application.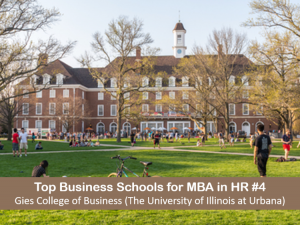 The MBA program at the University of Illinois is for two-year with built-in flexibility. Students can choose from a variety of specializations and concentrations. The first year focuses on foundational business topics that provide a solid foundation to tackle complex business challenges. In contrast, the second-year course is based on the student's interests and career goals. Thus, students who are interested in human resource management can apply for HR concentration or a joint degree.
For students interested in HR with an MBA degree, can opt for a joint degree program that offers graduate work leading to both a master's and a doctoral degree. The University of Illinois also provides Master programs and a Ph.D. in Human resource management.
HR Joint Degree Program and Experiential Learning
The school offers a joint degree program in Human resources and industrial relations (MHRIR) and Business Administration (MBA), which is usually completed in two-and-one-half-years. The School of Labor offers a joint degree in Labor and employment relations(LER), and students are required to spend three semesters in MBA and two-semester in LER.
The HRIR course has a multidisciplinary approach to human resources/industrial relations problems. Thus, the school has joint faculty appointments with the department of business administration, history, finance, economics, and psychology.
The MBA program integrates a learning-by-doing culture where students get hands-on experience in the real world. There are client-based projects every semester that requires students to solve business problems and provide a valuable connection to support their career.
Gies MBA also encourages its students to participate in National case competitions allowing MBA students to bridge the corporate and academic worlds, apply their theoretical knowledge and collaborate and take leadership roles in a competitive setting.
Recruiting Partners
Some of the major employers of Gies MBA graduates are Accenture, Adobe, Deloitte, KPMG, IBM, Wendy's, Lenovo, and PepsiCo.
Top Business Schools #5 – Jones Graduate School of Business (Rice University)
The average mean base salary of an MBA graduate is $124,798. The average class size for Rice MBA class 2024 is 160, with a median GMAT score of 702.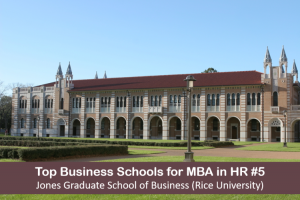 MBA Curriculum with HR Core Course
The Rice MBA is a two-year program that follows a similar structure to other business schools. The first-year students study the core curriculum and then choose electives in their second year. There are 100+ electives to choose from, which include accounting, entrepreneurship, strategy, healthcare, and more.
Rice University has organizational behavior as a core academic course. Thus, students who are interested in pursuing a career in HR can opt for this course. Besides, Rice university also offers an online Human resource management certificate program in partnership with SHRM.
Organizational Behaviour Department
The organizational behavior faculty have advanced theory and have published research on several critical topics, including ethics, personality, emotions, and many more. They use innovative exercises, assignments, and cases to demonstrate the importance and application of organizational behavior in today's dynamic world.
The concepts and courses covered within the organizational behavior curriculum include leadership, creativity and innovation, decision making, and negotiations.
Career Development
The career development office at Rice offers tailored resources for students and alumni. They offer group workshops and works individually with students to ensure they develop job skills, strategy, and networking opportunities.
Did you know a GMAT score of 730+ yields incremental $500K in ROI? Start your GMAT Preparation by Signing up for our FREE Trial and get access to FREE online GMAT preparation resources. We are the most reviewed GMAT preparation company on GMATClub with more than 1950 reviews as on Novemebr 2020.
Career Option and Salary after MBA in HR
Many individuals with MBA in HR go to work for consulting firms in the area of organization design and development, leadership, strategy, and coaching. And that's not all. There are many areas to choose from when it comes to career options after MBA in HR. Some of them are HR Manager, Non-profit HR Expert, HR consultant, Training and development manager, talent acquisition manager, and compliance manager.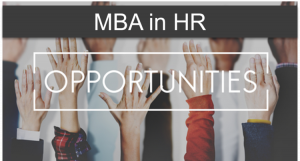 The HR team is a crucial link between the employees and the organization. As stated earlier, they are responsible for developing a workplace culture that would boost productivity and motivate employees towards achieving organizational goals.
Some of the world's top companies for HR are Goldman Sachs, Southwest, EY, Hilton, Microsoft, Accenture, SalesForce, Bain & Company, and Facebook Inc.
According to Princeton Review, new graduates in human resources management can expect a starting salary of at least $50,000-$70,000, depending on the type of degree, location, work experience, and field of expertise. Similarly, U.S. News 2021 Best Business School ranking states that an average salary for MBA grads in HR is $71,049.
The table below represents the average salary based on the HR roles, by PayScale:
| | |
| --- | --- |
| Human Resource Role | Average Salary 2021 |
| HR Manager | $70,245 |
| Human Resource Generalist Salary | $57,059 |
| Talent Acquisition Specialist | $58,649 |
| Compensation Analyst | $66,279 |
| Director of HR | $90,521 |
| Senior Recruiter | $77,020 |
| Training Coordinator | $52,095 |
| Recruiting Coordinator | $51,379 |
Learn more about the post-MBA salary and factors affecting your MBA Salary 2022.
Why MBA in HR?
Advancement in information technology coupled with the predictive analytics in HR processes is leading to boost the growth in the HR function. The global HR management market size will grow at a CAGR of 12.8% from 2022 to 2030.
However, when we look at the six-years trend in candidate-job functions of interest by GMAC, human resource management function remains stable at 7%. Also, amongst the candidates applying for a full-time MBA, 8% were interested in the HR function. Thus, the demand to pursue an MBA in HR is constant.
According to corporate recruiters survey , 18% of companies plan to hire recent business school graduates from human resource specialization. Also, with new HR solutions available in the market, HR professionals are performing traditional HR activities in a reduced period. Now they are focusing on attracting the right candidate, aligning organizational strategy with individual goals, managing and retaining human capital in a manner that results in corporate growth.
Thus, if you are planning to take up a senior role in HR, an MBA with an HR concentration would give you an in-depth knowledge of trends and industry. It will prepare you for HR-related leadership roles that require involvement in key decision-making within the organization and will equip you with the current developments in HR functions.
Want to pursue an MBA in Human resource management? A good GMAT score can help you get an admit to the top business schools. Start your GMAT preparation with our Free Trial today.
Learn about other top business schools: Harvard, Stanford, Wharton, Oxford, MIT, Kellogg, INSEAD, HEC Paris, and Duke Fuqua.
Here is a list of Top business schools 2022 for an MBA in:
Important FAQs related to MBA in HR
What jobs can you get with an MBA in HR?
With an MBA in HR, you can opt for roles such as:
1. Talent Acquisition Director
2. HR Manager
3. Consultant, Learning, and Development
4. Director of HR
5. Training Coordinator
6. Recruitment Coordinator
What is the average salary of an MBA graduate in HR?
The average salary of an MBA graduate is at least $50,000-$70,000, depending on the work experience, location, and filed of expertise. The average salary of an HR MBA grad in 2019 was $81,381.
Check out the factors affecting the post-MBA salary in 2022.
What is the duration of MBA in HR course?
The duration of a full-time MBA program in HR is two-years.
Why should I get an MBA?
Here are the top 10 reasons why you should get an MBA:
1. Career Growth
2. Career Transformation
3. Networking Opportunities
4. High Demand with more salary
5. Entrepreneur Abilities
6. Development of Knowledge and Skills
7. Boosts confidence
8. Establishes Credibility and has Global Credentials
9. Global Experience
10. Long term Investment
Learn more about if pursuing an MBA is worth it, after adding the cost of an MBA.
Which companies hire graduates with MBA in HR?
Some of the companies that hired MBA graduates in HR function are Honeywell, LinkedIn, PwC, Microsoft, HP, P&G, KPMG, Deloitte, Amazon, PepsiCo, Accenture, and many more.