A
6
min read
Do you want to get into a top Business School? Ever wondered how Harvard MBA Admission Committee or Wharton MBA admission committee evaluates all the applications they receive? Top B-Schools often tell applicants that they follow a holistic approach to evaluate applications, but the question is, what can MBA aspirants do to strengthen their chances of getting admitted in MBA Programs of the Top Business Schools? Which factors are considered by the MBA admission committees?
We've tried to cover all important aspects of getting an admit into your dream B-School and answer the critical question – How to get into a top MBA Program?
Did you know that Indian students account for almost 30% of all the MBA Applicants, yet only 9% of the class at Harvard, Stanford, Wharton, or other top business schools comprises Indian nationals? So, how do you increase your chances of getting an admit to top business schools?
After analyzing MBA admissions success stories of numerous such students, we have come up with 5 best practices for Indian applicants to get into M7 schools:
How to get into a top Business School – MBA Admission Committees on their expectations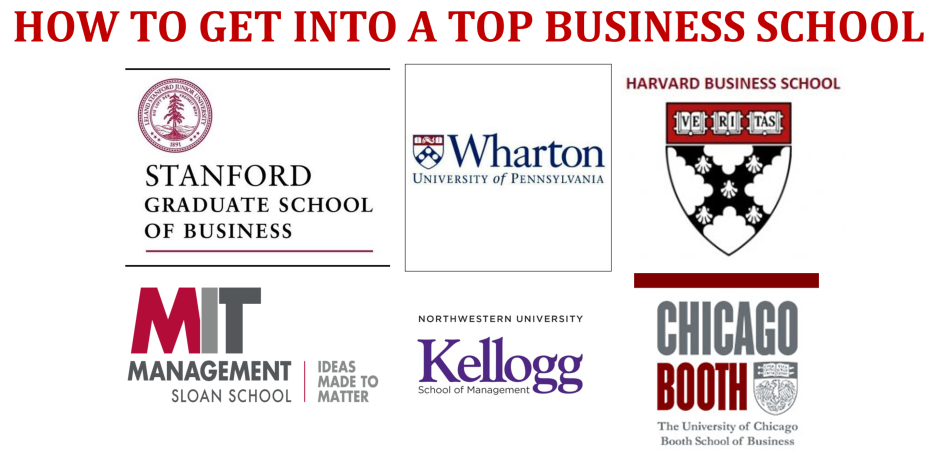 Wharton School's Dean Geoffrey Garrett in an interview with Poets&Quants said, "The GMAT score is one part of an applicant that we're looking at in the construct of so many things. If I look at an individual who has a liberal arts background and delves into their curriculum as an undergrad, I get a better feel for the work they've done. Very often, we'll see students, even as humanities majors, who have taken courses in statistics and economics or disciplines along those lines. Those are attractive to us. Certainly, their work experience is a consideration. So we're trying to develop a really holistic picture of the individual when we're trying to make our class"
Was your b-school application rejected? Redefine Your MBA Application: Discover reapplicant strategies by reading our comprehensive article. – Reapplicant Strategies to Business Schools.
Niki Da Silva, Director of Admissions and Recruitment at the University of Toronto's Rotman School of Management says that MBA admissions is more art than science. Decisions are based on a mix of quick judgments, gut instincts, and raw numbers. She and her colleagues consider an applicant's undergraduate grades, GMAT scores, work history, and recommendations. They also judge candidates by their responses to two essay questions.
Further reading MBA admissions 2020-2021: Deadlines and important dates
MBA admission committees look for these skills
Now that you have a fair idea about what AdComs look for, let us understand the skills that map with their expectations and how they evaluate them. They look for: –
Intellectual aptitude
Interpersonal skills
Leadership qualities
Personality fit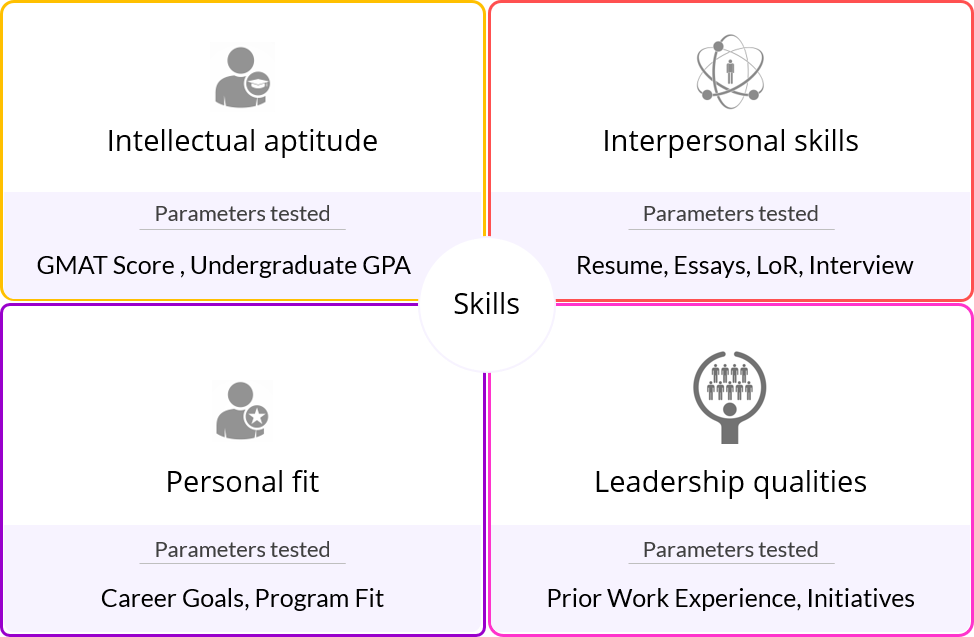 Business School Admission Committees evaluate each of these qualities based on specific parameters.
1. Intellectual aptitude
Skill – An MBA program is very rigorous. You would be juggling through case studies, project work, assignments, quizzes, extracurriculars, and social life at the same time.
Parameter – GMAT score is one parameter that gives an idea about your academic readiness. It also shows your industriousness- a trait valued at B-schools. Your undergraduate GPA also gives an idea about your academic capabilities.
2. Interpersonal skills
Skill – Teamwork is an essential part of any B-school curriculum. Most assignments are handled in teams. Moreover, B-schools expect you to take part in social activities. Therefore, good interpersonal skills are a must.
Parameter – Your resume and essay stories will come in handy to assess you on working in pressure situations while managing and working with a team. Your letters of recommendation and the interview questions are great tools to understand and gauge your interpersonal skills and ability to work in teams.
3. Leadership qualities
Skill – B-schools look for a leader in you to carry forward the school's brand and legacy. Your resume and essay questions give them an insight into your leadership potential.
Parameter – The initiatives you took in your last job, effective team management skills you developed, and conflict resolutions you managed are some of the important markers of leadership potential. It boils down to the fact that a team efficiently works under an effective leader.
4. Personality fit
Skill – Even if you have been a high achiever, your personality has a lot to say about your likes and dislikes, the causes you believe in and what motivates you. B-schools normally ask essay questions on your personal traits, ethics, and ambitions to gauge your maturity.
Parameter – The attention to detail about the program and your career goals are important parameters. Your GMAT score also shows that you can put in hard work to achieve your goals.
Are you planning to enroll in a US business school? Let us help you conquer the first step of the process i.e., taking the GMAT. Take a free GMAT mock to understand your baseline score and start your GMAT prep with our free trial. We are the most reviewed online GMAT Prep company with 2060+ reviews on GMATClub.
5-year trend of GMAT scores of best business schools
The school's prestige and its rank are directly related to the GMAT score they expect. Since every college wants the best students, GMAT score becomes a tool for them to filter out the best students. Below is the list of the top business schools in terms of their incoming class's average GMAT score.
It is evident from the table that the GMAT score is directly proportional to the B-school's prestige. Moreover, the average GMAT score of the incoming classes has increased over a period of five years. The last two years have seen the most elite schools reach what might be a plateau, with three of the top six schools reporting identical or slightly lower average GMATs from 2018 to 2019. A solid GMAT score is the first step towards a bulletproof MBA application. Sign up for a free trial to start your preparation to ace the GMAT.
Harvard and Stanford are the most sought after business schools. Learn more about what qualities they are looking for in applicants to their MBA programs.
Is GMAT the most important factor for business school admissions?
While a good GMAT score can boost your chances of getting accepted into a top business school, it alone cannot do the trick. There are other pre-requisites as well. However, from a relative point of view, GMAT score has the highest weight-age among all the factors. Moreover, the average GMAT scores of the incoming batches of top business schools have been increasing, signifying that the importance of GMAT score in the applications has been growing year on year.
Therefore, out of all the parameters, your GMAT exam score has a big role to play in getting you a place in your dream B-school.
GMAT score accounts for 22% weight-age in your application
GMAT score offers the proof that you can 'get through' the MBA program
Your intellectual aptitude is gauged by your GMAT score
Your ambition level is gauged by your GMAT score and every B-school wants ambitious applicants
To help you achieve your ambition of getting into a top business school we have created several study plans to reach your Target GMAT Scores:
1-month study plan to score 700+ on the GMAT

3-month study plan to score 750+ on the GMAT
Wharton MBA Program – GMAT Score and Acceptance Rate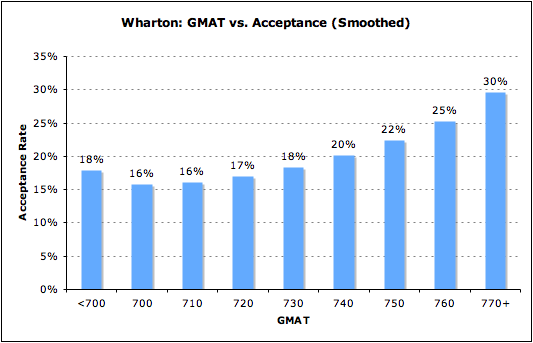 Sign up for a free trial to get access to amazing concept lessons and 400+ Practice questions to ace the GMAT.
As you can see, the acceptance rate increases as the GMAT score increases. Therefore, if your target is getting into one of the best business schools, make sure you know the incoming class' average GMAT score and keep your target GMAT score at least 20 points above it. If you succeed in doing so, your candidacy for the program will become stronger.
If you are targeting Wharton's MBA Program, scoring 750+ in the GMAT exam will definitely increase your chances of getting accepted.
Read more about the importance of GMAT for MBA admission and beyond.
Think like an AdCom of top B Schools
If you were a member of the Admissions committee of one of the best business schools, what would you look for in your applicants? You would keep an eye on their –
GMAT Score
Academic readiness
Leadership Attributes
Ambition
Dedication
Career Goals
The holistic approach of Adcoms in the MBA Admissions is further strengthened by the following statement – Stanford Graduate School of Business' MBA Admission Committee seeks the most promising students in terms of intellectual vitality, demonstrated leadership potential, personal qualities, and contributions. It goes on to say, "We consider each application holistically, and take into account factors such as your background, experiences, perspectives, fit with Stanford MBA Program, aspirations, values, and accomplishments."
In short, you would look at applications holistically. Best business schools want a candidate who will 'get through' their MBA program successfully. So, think like an adcom and start with your application accordingly.
Don't know where to start? – Read here for 5 steps to creating a strong MBA Application
References
How to get into a top business school? Were you wondering about this question too? We've answered this question for you in the article above. For any further queries, feel free to write to us at acethegmat@e-gmat.com.