Pravin, a Branch Manager at the State Bank of India, in a remote village in Tamilnadu, India, had applied to few good MBA programs in the US. He worked with MER on his application for 3 schools. His greatest challenge was his non-competitive GMAT score (660). Learn how he overcame this challenge and received admit offers from multiple B-schools with generous scholarships. (Terry, Smith, and Babson and waitlisted by Vanderbilt Owen). Parvin is heading to Smith – Maryland, in Fall, 2020.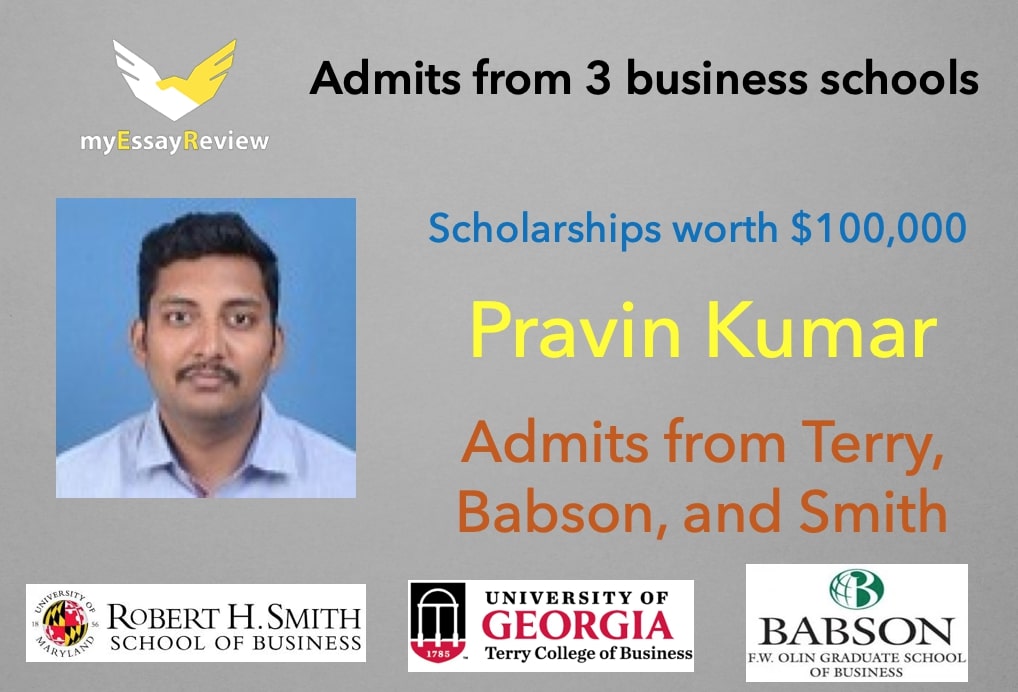 In this video interview with Poonam, Pravin talks about:
His background
Planning for MBA
Planning for GMAT/GRE
Career Goals
Why Smith is the best 'fit' for him
Challenges during the application process
Voluntary Work
Anticipated challenges because of COVID-19
Pravin's Profile
Name: Pravin Kumar
Country: India
Undergraduate degree: Bachelors in Technology
Institution: Madras Institute of Technology – Anna University
Industries: Manufacturing and Banking
Work experience: 8 years
GMAT: 660
Poonam: Hello Pravin! How are you doing? Thanks for taking the time for the meeting at this critical time. I know your work responsibilities have increased as the country is under lockdown.
Pravin: You are welcome. And yes, the entire country is under lockdown, and as you know, I am working with SBI as Branch Manager. Banks, like hospitals and police stations, are some of the few essential services that are not under lockdown. At the same time, it is my duty as a branch head to take care of the safety of both my staff and customers, and I am taking all the preventive and precautionary measures that I can do to ensure safety.
Poonam: I understand. Congratulations on receiving admit offers from 3 business schools. How does it feel?
Pravin: Thank you, Poonam. I have received offers from three schools, namely the University of Georgia Terry, University of Maryland Smith, and Babson Olin. Terry has offered me a scholarship of $5000 with assistantship for two years- Assistantship and the stipend amount covers the entire tuition fee. Smith has offered me a scholarship of $50000 and assistantship for the first year. Babson Olin has offered me a scholarship of $50000 as well.
Pravin's Background
Poonam: Wonderful, it is a great achievement. Pravin, can you tell us a little about yourself? Where are you from? Where and what did you study as an undergrad? What you do now?
Pravin: I am from Chennai, Tamilnadu, India. I grew up here, did my under graduation from Anna University- Madras Institute of Technology, majoring in Electronics and Communication Engineering. After my graduation, I started working with Creative Switchgears. Parallelly, I was preparing for Indian Civil Services and various other competitive exams. In 2015, I joined SBI as a Probationary Officer, was promoted twice, and presently I am working as a Branch Manager in a branch located in the rural part of Tamilnadu.
Planning for MBA
Poonam: When did you start thinking about MBA? Why now?
Pravin: Exactly a year ago, I guess. Last year I was trying to apply to a few other schools and the deadline was very close. I was not aware of the procedure to apply for MBA, how to articulate my essays, how to project myself, and how to prepare my resume. So basically right now why I want to do MBA, I am working in a bank; with growing technology, the mobile banking, and internet banking application, I believe that the role of a retail banker will be very limited in the future, so, to progress in my career , I want to push myself to management side of the company. To make a change from Finance to Consulting and see myself in Management side, MBA degree will be helpful in this transition.
GMAT preparation
Poonam: Sounds good. Can you tell us your GMAT prep? Given your super demanding job, I understand it was pretty challenging for you.  You finally decided to apply with your 660 score.
Pravin: Actually, I started my GMAT preparation in July 2019. I was looking for various online courses since most of the classes are simulated under online practice tests. I was using two or three websites to find out which one suits better. Most of the online courses had a pre-planned schedule. If I give my GMAT exam date, they have a particular timetable, and I wasn't sure which course should I cover, and when should I take my practice tests.
Because of my demanding job, I could not stick to the schedule, so I had to skip a few classes and practice tests.
Last year, when I was applying, my GMAT was just 590; I retook the GMAT exam and improved my score to 640, retook in November, and improved my score to 660.  I decided to apply in Round 1 and Round 2 with a 660 score. I thought that with this score and my leadership experiences and extracurricular activities, I might be able to get a few offers, and gladly, I received three offers.
Career Goals
Poonam:  Yes, you had strong leadership stories. What are your career goals, Pravin?
Pravin: My immediate career objective is to switch from Finance to Consulting. An MBA will help me make this transition. My immediate goal is to work as a Senior Consultant in a consulting firm.
During my academic course and my initial tenure in a consulting firm, I should be able to learn the basics of consulting and understand the work culture and market situation.
My long-term goal is to become a Senior Consultant in a consulting firm. Being a senior consultant means bringing in new projects and negotiating deals with clients, that is where my present experience of dealing with customers will be useful and will enable me to bring in more sales for my Consulting company.
Why Smith?
Poonam: You received admit offers from 3 schools with generous scholarships? But you accepted Smith. How is Maryland Smith the best school for you?
Pravin: I am glad that all three schools have offered me generous scholarships. I was not expecting it. At the same time, it is not just about the scholarships or numbers. I have to look into which program is the right fit for me.
Smith is the right program for me for more than one reason. First, since I am looking for a transition from Finance to Consulting, and a high percentage of Smith MBAs are getting placed in Consulting firms. Also, there are excellent leadership opportunities at Smith. Apart from this, I know quite a few friends who are alumni of Smith. Based on the positive feedback and their experience, I decided to go ahead with Smith. Though other schools have offered me more financial aid, I think Smith is more aligned with my career objectives.  Also, it is located in the city of College Park near Washington DC, so I think this location will offer me great exposure and opportunities in terms of networking and placement.
MBA Application strategy
Poonam:  Can you share your application strategy, planning, and preparation with our audience/ readers?
Pravin: My application strategy was pretty simple. My GMAT score was 660, so I was looking for schools with an acceptable range of GMAT score from 640 to 700.
My second filter was the schools that had more placements and job opportunities in the field of Consulting.
With these two filters, I could limit my search to four to five schools. The third filter was deadlines. When I started in November, I made sure that the application deadlines were in December or the first week of January so that I get at least four to six weeks for the application.
Since every school has at least two to three essays, I thought a month, or a month and a half would be sufficient to prepare well for each of these schools. Followed this simple strategy, worked out well.
MBA application challenges
Poonam: Looking back, what was the most challenging aspect of the school admission process? How did you approach that challenge and overcome it?
Pravin: There were two challenging aspects of my application. One was my GMAT score. It is not in the expected range, especially for a student coming from India. US Business Schools expect Indian applicants to have a 700 + score.
I overcame this challenge by organizing my thoughts in essays. Based on whether it was behavioral question, or leadership story in essay, I was trying to put in the best possible story in the best possible manner.
I applied to only those schools where the GMAT score range was 640 to 700. My firm belief was that if they are shortlisting the student with a score of 640, they are looking at other factors of the application as well. I made sure that my essays were presented in the best possible way with best possible stories. That strategy did work out.
Pravin's advice on getting Letters of Recommendation
Poonam: What would you advise other MBA applicants who are facing similar challenges? Would you like to give some pointers to the prospective applicants? (for example, you may share insights on your GMAT)
Pravin: The second biggest challenge that I faced was getting my recommenders to submit the recommendations on time. I have a demanding job with minimal time for myself.
My recommenders are top-level management with very little time to submit the recommendations, and I can only request them. So what I did was if the deadline is 15th, I would call them around 5th or 6th and tell them that the deadline is 10th. Thus, I made sure that I give them a one-week time before the deadline so they would submit the recommendation at least one week before the deadline. It paid out. Last year, when I applied to a school, I was looking only at my part of the application, my resume, my essays, and I completely forgot about my recommenders.
Poonam: This time, I was there to remind you all the time to keep following up with your recommenders.
Pravin: Yes. It became challenging for me to catch hold of them during the deadline. This time when I applied, I told them that the deadline is at least one week before the actual deadline date. They submitted the recommendation letter well before that
Essay strategy
Poonam: How did you overcome your challenge with the essays? We collaborated on three schools.
Pravin: First, I simply followed every approach you had recommended. For every essay, my understanding of the question was very different from your understanding of the same question. You gave me an outline- how to approach what the school is looking for in that question.
One thing I understood right from the start of my application process was that I had all the stories and achievements, but I did not know how to present them in an organized manner. That was the first thing I learned from you. You were there to guide me and help me organize my essays. You gave me a structure as to how to present my story.
To be very honest, I merely followed those steps you suggested; I did not go any far or any less. When I looked at the final versions, I could not believe that I wrote such good essays. Though those were my stories, even my best shot would not have been even closer. The corrections and the suggestions that you made would have never occurred to me. I think that the best possible way to narrate my stories was based on your inputs, support, and suggestions. Once again, I want to thank you for all the help and support.
His advice to other applicants
Poonam: You are most welcome. It was my pleasure to work with you. What would you advise to other applicants who are facing similar challenges? Would you like to give some pointers to prospective applicants?
Pravin: As I said, my GMAT score was comparatively low. Though I got into good programs with the low GMAT, I will suggest working for a good GMAT score because it not only decides about the admission but also helps in getting scholarships and other funding after getting admitted.
There are so many online GMAT prep companies. Most of the companies offer a one-week free trial, and the minimum purchase is one month. Whichever companies appeal to you, you can go for it and prepare for your GMAT. You can decide about this by taking the free trial, and if it seems to be working, go for it. Each company provides different strategies, and you need to pick the one that appears to be right for you.
All the companies prepare a calendar for you; once you plan for a date for GMAT, they give you a timetable and schedule when you should be reading a particular topic when you should be taking a mock test. You should simply follow the program. I was not able to do that because of my work schedule. Please do not make the same mistake that I did.
I strongly advise that you stick to the plan, keep at least 6-months for GMAT, and crack the GMAT. Another major mistake I did was that I devoted more time on the Verbal part since I was strong in Quant.
As a result, I improved my Verbal but didn't improve Quant. Concentrate on both the parts equally. If you are strong in Quant, prepare Verbal, and in the end, concentrate on Quant as well so you improve both Verbal and Quant.
Every single point scored counts both for admission and scholarship. If you are dedicated, a six-month time period is useful for achieving a strong GMAT score. The benefit of online classes is that you can take it anywhere and at any time, at your convenience.
Poonam: Absolutely. It is a valuable suggestion. Do you have any advice on the application prep?
Pravin: Every applicant should look into two things. First, you should pick the schools that match your GMAT score; secondly, make sure that your career goals align with the curriculum of the specific schools.
Once you figure these out, even though you may have decent essays, resume, and recommendation letters, it is crucial to have advice from an expert in the field. In my case, that expert was Poonam of MER.
It is valuable to be coached by an expert who understands your profile and the application process. Your essay and resume may be the best as per your expertise, but there is always room for further improvement and refinement, which can come only when an expert is engaged in your application process.
Voluntary work
Poonam: This is very true. Even accomplished writers go through multiple edits. Pravin, we have talked about the strong leadership stories that got you admits to so many schools of your choice with scholarship despite your low GMAT. You had impressive leadership stories both at work and outside of work. I was particularly impressed by your involvement with the IAS Association Club that you founded with some of your friends. Could you please throw some light on your engagement with this organization?
Pravin:  After college, I started preparing for the Indian Civil Services examination. Typically, coaching for such exams in cities like Chennai and Delhi is very costly.
So, to support myself financially, I joined a company called Creative Switchgears.  I used to prepare for the exams in the evenings and on weekends. I was taking IAS coaching with a group of five people.
Unfortunately, I couldn't qualify in the interview stage. So, in 2014, I, along with five classmates, started this IAS Association Club- Coaching Center with the help of a local church.
The primary objective was to impart free coaching to IAS/ Civil Service aspirants. We provide free coaching and study material to underprivileged people who can not afford it. We teach classes, give mock tests, and provide interview support. I have been doing it for five years now. Apart from Banking and helping people by providing loans to needy people, this is something that I dearly value because it changes the lives of so many young aspirants. I find it very satisfying when some of our students pass the exams and get placed in various banks and departments across the State. I think this is my most memorable achievement.
Covid-19 challenges
Poonam: Definitely. It must have been the most fulfilling experience. Finally, given the turmoil and uncertainty created by Covid-19, what challenges you are anticipating in your MBA experience as an international student in the US?
Pravin: To begin with, I think, there will be Visa restrictions since most of the Embassies are closed. Usually, the visa process takes about two to three weeks, but under the prevailing circumstances, it may take two to three months. My classes are to begin in August, and if the situation gets normal by May or June, I will be able to make it to the USA on time for my classes.
Poonam: Yes. Definitely, and the schools are also working tirelessly to make things comfortable for the current students and the incoming students. Have you heard received any updates from Maryland Smith so far?
Pravin: Only yesterday I attended a webinar with Smith and was informed that the classes are going to begin on August 24, as scheduled. They have planned some welcome weekend and other events for admitted students in April and May. These have been converted to virtual events. Apart from this, they are not postponing or changing any other event. At the same time, they are also processing our I-20. They are not halting or stopping the I-20 process. They are doing their best not to delay our Visa process.
Poonam:  Good to know that. The show must go on. Currently, what we need the most is patience, perseverance, and resilience. We all will emerge stronger after this.
Poonam:  Pravin, it was nice chatting with you. Thank you for sharing your story with us.  I wish you success in your MBA career and continued success in your future career.
Pravin: Thank you, Poonam. Once again, I want to thank you for your patience and your guidance throughout the application process. Even though some of the times I could not stick to the schedule, you were patient and generous enough to return my essays on time.
Poonam: Thank you, Pravin. It was a pleasure working with you. If you were sometimes late in submitting your essays, it was only due to extreme work pressure. I understand that, and I enjoyed working with you. Good Luck with all your future endeavors. Bye.
You can connect with Pravin via linkedin https://www.linkedin.com/in/pravin-kumar-aaa52947/
Since 2011, MER (myEssayReview) has helped hundreds of applicants get accepted into the top 20 MBA programs (Poonam is one of the top 5 most reviewed consultants on the GMAT Club.)
You may email Poonam at poonam@myessayreview.com with questions about your application for the 2020-21 admission cycle.
Related Resources
Free Resources:
About the Author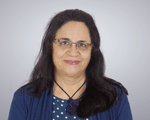 Poonam, one of the top 5 most reviewed consultants on the GMAT Club, is a master storyteller with more than three decades of experience in successfully helping students craft compelling stories for undergraduate and graduate school programs.
A Ph.D. in English, with three decades of teaching experience in India and the US, Poonam launched myEssayReview (MER) in 2011 to provide highly personalized and dedicated consulting services to Business School applicants. Since then, she has helped hundreds of students around the world get into top MBA, EMBA, part-time MBA, and specialized graduate programs. A full-time consultant, Poonam is passionate about her work and is highly committed to each of her students' success.