We know how complex it is to approach your MBA Application, and that is why we have come up with the MBA Application Journey series. In this Webinar series, we talk to MBA candidates from top business schools to learn about their journey and understand how they created their MBA application.
We had a chat with Ariba Iqbal, an INSEAD admit (France campus) to know her MBA Application journey. She did her undergraduate from St. Stephen's College Delhi in Mathematics, after which she got placed with Monitor strategy group Deloitte for three years. She worked as a business analyst, after which she joined FSG as a strategy consultant for 2.4 years before getting accepted in INSEAD.
Below is her video interview with Aayush – a first-year student at Columbia Business School, and e-GMAT student who scored 750 on the GMAT. You can also read this article to get an overall picture of her MBA Journey, where she also highlights the factors she took into consideration before deciding on a one-year MBA from Europe over a two-year MBA from the U.S.
This article is based on our Q&A Webinar with Ariba. We have divided the interview into five sections. You can click on the link below to jump to the relevant section. Here is the outline of the article:
Did you know that the average GMAT score at INSEAD is 709? We can help you achieve that. Why don't you start your GMAT Preparation by trying out our FREE Trial? We are the most reviewed online GMAT Prep company on the GMATClub with more than 1870 reviews.
Why INSEAD?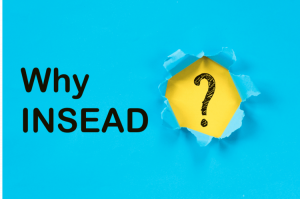 Aayush – How to decide between a One-year vs. Two-year MBA?
Ariba – For me, there were three driving factors to choose a one-year MBA over a two-year MBA. Firstly, I asked myself if I was willing to invest my two-years. I was not sure if an MBA was my end goal. Thus, investing my two-years did not make sense.
Secondly, I took into consideration the amount of money I want to invest in an MBA. A one-year MBA is not half the cost of a two-year MBA. However, it is significantly cheaper. Thus, after evaluating my financial situation, I decided to go for a one-year MBA.
Lastly, you should also keep in mind the amount of change that you are expecting after your MBA. For example, if you are going to change your geography and sector and want to experience different types of job profiles before you make a decision, then a one year MBA is short for giving you that experience and exposing.
Learn more about the difference between a one-year vs. two-year MBA.
Thus, while deciding between a One-year vs. Two-year MBA, I took into consideration the kind of change I am looking for and the amount of time and money I am willing to invest in an MBA.
Know more about When an MBA is worth it?
Aayush – Why Europe School over U.S. or Singapore Schools?
Ariba – When it comes to geography, I would suggest that if you are very sure about a place, then you should go for that. For example, if you are keen on working in the U.S., then you should apply there because the recruitment opportunities will be better and you will get more exposure to the local culture, society, etc.
On the other hand, if you want to move back to India, then pursuing your MBA from a more evolved economy or a school that is better renowned would be a better choice.
For me, I did not have any specific geography in mind and was happy to explore U.S. or Europe or south-east Asia. I was willing to work anywhere outside India, and INSEAD made more sense as it offered me the flexibility to choose between campuses.
INSEAD has three campuses – France, Singapore, and Abu Dhabi. Throughout the year, you can choose to study at different campuses.
Another advantage at INSEAD was the recruiters that came to hire. As INSEAD had a diverse class set, you have recruiters from Canada, America, Europe, the Middle East, and South-east Asia. Thus, you can explore more.
Check out the Class profile and Latest employment report of INSEAD.
Aayush – What attracted you to INSEAD, and how did you gather information about the school?
Ariba – Two factors attracted me the most to INSEAD – Brand and Business school fit
In my opinion, the brand does add credibility and makes a difference. Many people pursue an MBA to get a job after, so the business school that you choose will affect those opportunities. Besides, getting an MBA from a renowned school does add value. Having said that brand is not the only factor that you should take into consideration.
Apart from the brand, other criteria that I took into account was the business school fit.
For example, INSEAD has a collaborative environment and focuses on teamwork, and that is the kind of environment where I see myself flourish. So, if you are looking for a business school with a competitive environment, INSEAD is not the right place for you.
Thus, when you choose a business school, make sure that it fits your criteria.
Learn how to choose a business school that is the right fit for you.
Apart from these two factors, other factors that I took into consideration was the amount of time and money I wanted to spend towards getting an MBA. Also, the diversity that INSEAD offers attracted me. I had a talk with current and past students, and everyone praised the diversity the business school offers. I do not think that any other school matches that, and thus, I chose INSEAD MBA.
The best way to gather information is to talk to people. Prioritize your school first and then talk to at least three people from each business school that you choose. This is the best way to understand if a business school is a good fit for you or not. Remember, your MBA application process is just not for the schools to access you, but it's also an opportunity for you to access if it is a good fit for you.
How to approach the INSEAD MBA Application?

Aayush – Did you hire an MBA consultant? If not, why?
Ariba – No. I did not hire an MBA consultant. I think it is a personal choice. For me, I had a decent sense of what I wanted to showcase in my application. Besides, I had a reliable support system for my family and friends. I got insights from them, and when I made my MBA application, the story that I wanted to put across had a good flow. So, for me, I did not feel the need to hire a consultant.
If you do not have your story sorted or are lacking that support system, then hiring a consultant is a good idea. Moreover, if you do decide to go for a consultant, make sure that you do your research and pick someone who is a good fit for you. You should be able to brainstorm your ideas and have an honest conversation about your MBA application with the consultant you pick.
Aayush – How did you think about your short-term and long-term goals?
Ariba – Again, how you go about defining your short-term, and long-term goals is a personal approach. I started with setting my long-term goals based on the past experiences that I have. Once I had my answer, I started tracing back steps and thought about my Post-MBA constraints.
For example, after my MBA, I would have limitations like paying back the loan, for which I would require a decent paying job, which should be related to what I want to achieve in the future. Thus, based on those constraints, I thought about my logical short-term goal.
Based on my long-term goals and current constraint, I stated the short-term goals that will help me link my current context with my future goals. The main idea is about how you connect your MBA degree with your short-term and long-term goals.
Here is an article that can help you to define your short and long term career goals.
Aayush – How did you tackle the "Failure" question in your INSEAD MBA essay?
Ariba – INSEAD MBA application had quite a few short questions that are direct and specific, such as:
What is your biggest challenge?
What are your failures?
What are the instances where you showed leadership?
Once I read the question, I knew exactly the instances that I wanted to highlight, after which I started digging deeper to answer that question.
For example, for the failure question type, once I knew what instance I wanted to highlight, I started thinking about why it happened, how did I react to it, what was my learning curve, etc.
For these types of specific questions, go through your story and make sure that it is connected and authentic.
Aayush – How did you tackle the "strengths and weaknesses" question in your essay?
Ariba – For this essay type question, the best thing is to approach your friends, family, and colleagues. You can get a lot of insight into what are your strengths and weaknesses from them.
Many people have a yearly or quarterly performance review, which can be an excellent source to refer too when you get such essay questions. Thus, talk to people who know you to answer this question.
Here are some tips from e-GMAT to approach your INSEAD MBA Essay.
INSEAD Video Question Tips
INSEAD MBA Application has few video questions, where you are given a prompt, and you need to answer live for 30 seconds.
Ariba – I know it sounds intimidating, but they do allow you to practice, and you can do two-three rounds. Besides, you also get mock questions to answer, so that you can have an idea about it. Also, in terms of content, the admissions committee is not judging you on how accurate or factual you are.
They just want to know how you react to a situation when you are pushed out of your comfort zone or how authentic you look in your interaction.
For the INSEAD Video questions, just try to be yourself. The admissions committee already has your essay answers. They are looking to connect your personality with your application.
How to prepare for INSEAD Interview?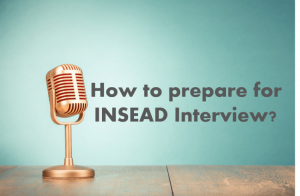 Aayush – How did you practice for your interview, and how was the experience?
Ariba – I started by searching the most common questions asked and then started preparing for that first. The questions might not be the same, but it will give you an idea about what to expect. Once that is done, do mock interviews.
You should do mock interviews with people who know you personally and professionally. One thing that a lot of people tend to do is talk to people who have done MBA. In my opinion, you should also do a mock interview with a person who is not an MBA. The reason behind it is simple. It will give you a slightly different perspective, and the kind of answers you get will have a non-business type of view.
For me, doing a mock interview with a non-MBA person worked out great as I realized that I do not have to talk about work always. I can talk about other things which helps you stand out during the interview.
My Interview process was excellent. It was much more organic, and it is like having a conversation with your manager. The interviewees just want to have a normal conversation and know if you are genuinely portraying yourself. It's ok if you end up arguing, or your views are different from theirs. They just want to know you, your goals, and how you are as a person. Thus, be authentic.
Did you know that the average GMAT score at INSEAD is 709? We can help you achieve that. Why don't you start your GMAT Preparation by trying out our FREE Trial? We are the most reviewed online GMAT Prep company on the GMATClub with more than 1870 reviews.
Aayush – If you were to apply all over again, what would be the three things you would do differently?
Ariba – Firstly, I would have spent a little more time thinking Why I want to do an MBA. For me, I was happy with my job and life. But as my parents were very keen for me to do a masters, I went on with it. Luckily, I enjoyed it. But I cannot imagine how it will be if I was not enjoying my MBA experience.
An MBA is a lot of investment in the form of money and time. So, make sure you are doing it for the right reasons.
Secondly, I see a lot of people not accustomed to non-traditional options such as taking a sabbatical, traveling, or doing anything that helps you take a break and think about what to do next. So, that's one more thing I would do differently. Talk to as many people as I can and take insights on "Why MBA."
Thirdly, one thing that I did not do was to focus on financial aid that is offered. I was so committed to getting an admission that I did not focus on getting scholarships. There is a lot of financial assistance available, thus do your research on the same to make the most of it.
Aayush – How do you think the current COVID-19 pandemic will affect admissions for 2021 intake? What advice do you have for applicants?
Ariba – I do not think that the application process will change. But there are few things you can take into consideration when you decide whether you should apply now or postponed.
Due to the coronavirus pandemic, classes have been made virtual, which is a disadvantage as you do not get the complete experience of an MBA degree. Having said that, if you are planning to go for 2021 intake, probably by then, classes should be resumed. Thus, it should not act as a hindrance.
Another aspect would be recruitment. There is a lot of confusion around it, as firms are not sure if they want to hire or offer internships. But again, if you are a 2021 intake, maybe your first internship program will be affected, but after that, when its time for your second internship and the recruitment process, things should have stabilized.
You should be fine if you are applying for 2021 intake. The admission process will remain the same and might have a few changes here and there. Just keep going with your Prep and keep moving forward.
Questions asked by Webinar Attendees
Question 1: What is the Age limit of being admitted into the INSEAD MBA Program?
Ariba – One of the best things about INSEAD is that it's just not diverse in terms of nationality of students. It also has a diverse class profile with students from different paths of life. The average age at INSEAD for my batch was 29, and the highest age limit was around 34-35. If you have a genuine reason for Why you want to pursue an MBA, your age should not matter.
Here is an article on is an MBA viable after 30.
Question 2: How do you tackle a weak undergrad score?
Ariba – Your undergraduate score is just one number that you put in your application form. Apart from that, there are other components that you can focus on, such as highlight your work experience and what you did in your essay stories. Also, if there is a way you can justify your low undergrad score, do that.
For example, you can state that you did not like a few subjects or had some personal issues. In fact, it would help your story when you highlight your failures and how you are overcoming it.
Thus, make sure that you can explain your low undergrad score.
Question 3: How important is the GMAT score for admissions?
Ariba – It is essential. You do need a decent GMAT score. One of the things that you start realizing that a lot of business schools have an international quota. INSEAD also has a percentage of students that it will offer admission to from a country. Thus, if you have a lot of applicants from India with a fantastic story and application, then one way to filter out is the GMAT score. So, you do lose out there. You should aim for a 700+ GMAT score or even above, just to be safe.
Question 4: Considering your MBA course was 10-months, how demanding or exhausting it was? Would you recommend doing a 2-year MBA, especially to a person from a unique background like Defence?
Ariba – It is exhausting and hectic. When you talk to people who are in a two-year MBA program, they would tell you that their program is hectic. So, you can imagine how a one-year MBA will be.
If you come from a unique background and want to experience which industry is a better fit for you, then you should go for a two-year MBA.
Question 5: Which is better GRE or GMAT?
Ariba – Personally, in my batch, I did not see many people who had got an admit based on a GRE score. However, if the business school you are applying to says that GRE is an option and you have confidence that GRE is something that you will do good in, then go for it.
Here is an article that can help you decide between GRE vs. GMAT.
Did you know that the average GMAT score at INSEAD is 709? We can help you achieve that. Why don't you start your GMAT Preparation by trying out our FREE Trial? We are the most reviewed online GMAT Prep company on the GMATClub with more than 1870+ reviews.