A
8
min read
Often referred to as a shortcut to an MBA, one year MBA programs have piqued the interest of candidates who want to complete their MBA as quickly as possible. And with European MBA programs such as INSEAD and LBS (which are traditionally of 1-year duration) surging ahead in business school rankings, top U.S. business schools such as Duke Fuqua School of Business have started offering accelerated 1-year MBA programs to attract more students.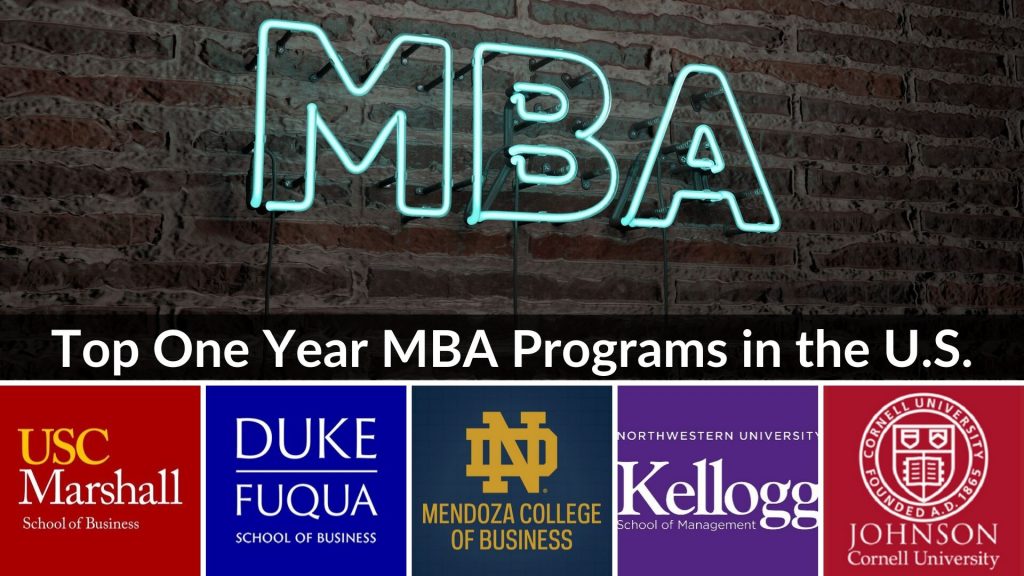 In this article we explore the 5 of the top 10 1-year MBA programs in the U.S. Here is a brief outline of this article:
Did you know that Indian students account for almost 30% of all the MBA Applicants, yet only 9% of the class at Harvard, Stanford, Wharton, or other top business schools comprises Indian nationals? So, how do you increase your chances of getting an admit to top business schools?
After analyzing MBA admissions success stories of numerous such students, we have come up with 5 best practices for Indian applicants to get into M7 schools:
Advantages of 1-Year MBA Programs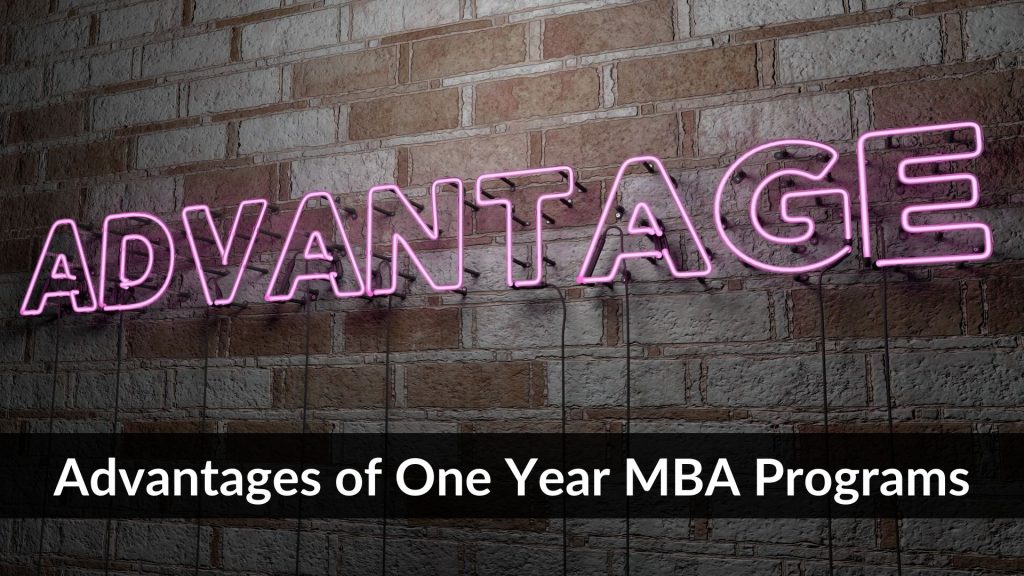 Following are some of the advantages of 1-Year MBA programs over traditional 2-Year MBA programs:
1-Year MBA programs provide the same MBA credentials in half the time and at a significantly lower cost
The opportunity costs due to leaving a job are much lower in the case of 1-Year MBA programs
The starting salaries offered to 1-year graduates are often similar or even slightly more than graduates of 2-year programs, largely due to the result of the difference in the work experience of candidates.
While there are a lot of advantages of 1-year MBA programs, graduates miss out on the opportunity to do a summer internship. Internships often are considered as a barometer for recruitment and can be very helpful in securing offers for full-time employment.
Another distinction between European 1-year MBA programs and their U.S. counterparts is that American business schools generally require an undergraduate business background or the completion of certain core prerequisites.
For e.g. the Kellogg 1-Year MBA program requires courses in the following areas to be completed by enrollment in June:
Statistics
Economics
Marketing
Operations
Now that we know the advantages, let us understand the factors to consider in evaluating if a 1-year program is the right fit.
A 700+ GMAT score can add immense value to your profile for a top MBA program. Get started with your GMAT preparation by signing up for a free trial. We are the most reviewed GMAT preparation company on GMAT Club with 2450+ reviews. In case of any questions please write to us at acethegmat@e-gmat.com.
How to decide if a 1-Year MBA program in the U.S is the right fit for you?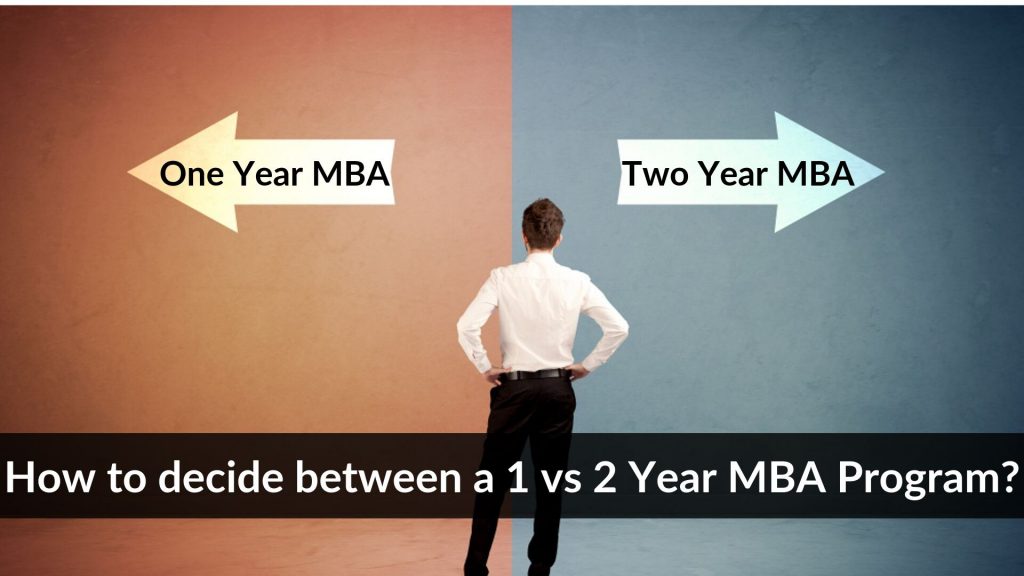 Following are the two most important factors to consider in evaluating if a 1-Year MBA program is a right fit for you:
Career Goals
Previous Undergraduate Experience
Since graduates miss out on the opportunity to do a summer internship, a 1-Year MBA program may not be suitable for students that are looking to make an industry or career change.
However, if you're looking to advance to a leadership role, build upon your undergraduate business background and take advantage of the various electives that business school has to offer then a 1-Year MBA program is the right fit.
According to Matthew Merrick, the associate dean of MBA operations at Kellogg, "If you are not using the MBA as a tool to make a career change and are interested in staying in a similar or the same industry, then the 1-year option becomes much more interesting.
Similarly, Elizabeth Resker, assistant director of graduate admissions at Babson says, "The 1-year MBA program is structured for those who have an undergraduate business background, to leverage their existing academic foundation to complete the MBA in an accelerated format."
1-Year MBA Programs: 2022-2023 Application Deadlines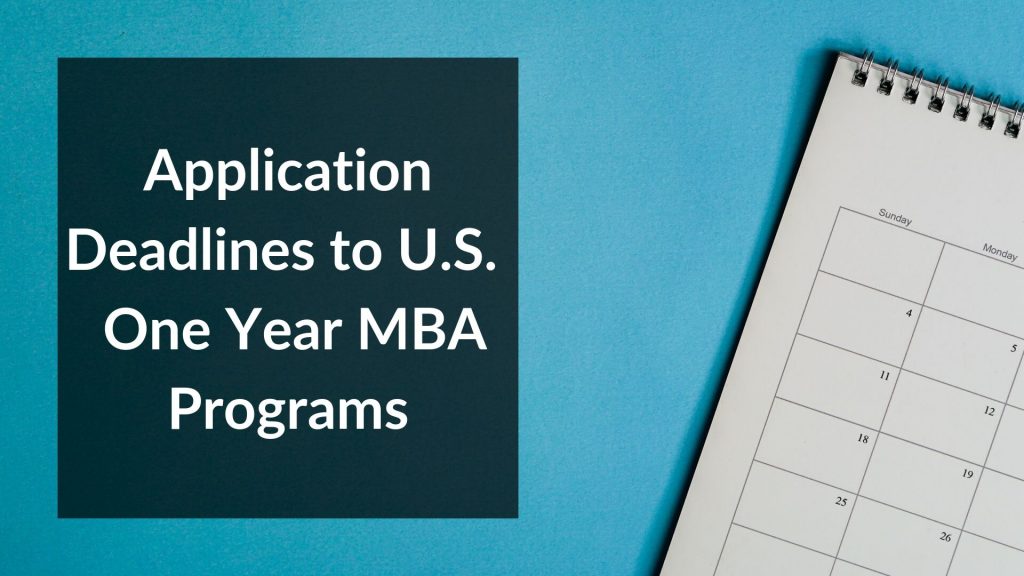 Following are the application deadlines to the leading 1-year U.S. MBA programs:
Application Deadlines
Early Action
Round 1
Round 2
Round 3
Rolling Admissions
Cornell 1-Year Tech MBA*
N/A
11th October 2022
5th January 2023
7th March 2023
N/A
Kellogg 1-Year MBA
N/A
14th September 2022
10th January 2023
5th April 2023
N/A
Duke Fuqua Accelerated MBA
N/A
26th September 2022
5th January 2023
28th March 2023
N/A
Emory (Goizueta)
N/A
5th October 2022
9th January 2023
8th March 2023
N/A
Notre Dame (Mendoza)
13th September 2022
1st November 2022
10th January 2023
14th March 2023
2nd May
2023
If you're looking for the application deadlines to traditional 2-year MBA program, read this article
*Cornell Johnson will no longer continue its one-year accelerated MBA program after the graduation of this year's class. It has merged its MBA program with the Cornell Tech program and thus created a new program namely "Cornell Tech 1-Year MBA" alongside its flagship 2-Year MBA program.
Source : "Cornell's Johnson College of Business will shutter its one-year Accelerated MBA after the graduation of this year's class in order to double down on the school's other May-to-May program".
Class Profiles of the Top 1-Year MBA Programs in the US
Following is the class profile data of some of the top 1-year MBA programs offered by business schools in the U.S:
| | | | | | | |
| --- | --- | --- | --- | --- | --- | --- |
| Program Name | Cornell Johnson Tech MBA | Duke Fuqua Accelerated MBA | Kellogg Accelerated MBA | USC Marshall (I-Bear) | Notre Dame (Mendoza) | Emory (Goizueta) |
| Class Size | 81 | 399 | 137* | 55 | 50 | 30-50 |
| %age of International Students | 60% | 48% | 38% | 65% | N/A | 35% |
| %age of Women | 31% | 39% | 48% | N/A | N/A | 32% |
| Average GMAT Score | 696 | N/A | 729 | 630 | N/A | 646 |
| GMAT Score Range (Middle 80%) | 680 – 720 | 680 – 760 | 620 – 780 | N/A | 540 – 710 | 580 – 740** |
| Average GPA/Range | 3.5 | 3.1 – 3.9 | 3.7 | | 3.3 | 3.36 |
| Average Age (in years) | 29 | 29 | 24-42* | 35 | N/A | N/A |
| Average Work Experience (In years) | 5.5 | 6 | 5 | 12 | 5 | 7.7 |
| Tuition Cost (In US $) | 118,758 | 91,600 | 108,016 | 115,380 | 78,874 | 105,300 |
*Kellogg Class Size and Age Data is from the class of 2018
**Emory GMAT Score Range data is from 2018
Kellogg One Year MBA Program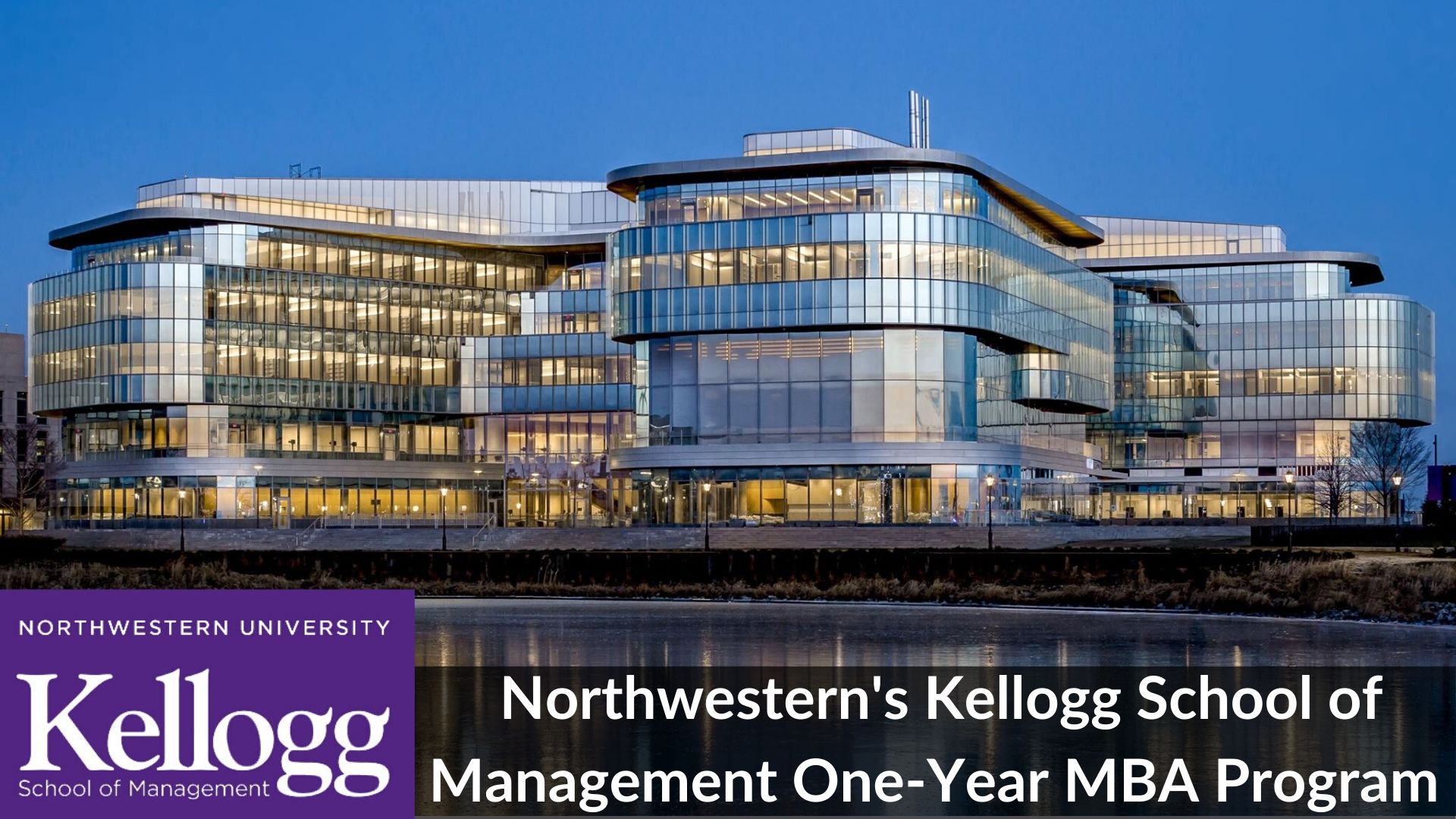 Lasting 1 year from June to June the Kellogg 1-year MBA is one of the highest-ranked accelerated MBA options offered by a U.S. Business School. The program starts in the summer so that candidates can get used to the rigorous academics before they join the second year of the 2-year full-time MBA program in September.
Curriculum and Flexibility
Due to its pre-enrollment course requirements, the Kellogg 1-year MBA program allows you to bypass core classes and take graduate electives personalized to your career goals. Students can choose from over 200 electives to tailor their MBA experience.
Majors and Pathways at Kellogg
Kellogg 1-year MBA students can choose between 7 different majors and 6 different pathways. While a major provides the opportunity to build deep expertise in a particular business function, pathways are an integrated, cross-functional sequence of courses that target a particular skill set or industry. The different pathways offered at Kellogg include:
Data Analytics
Entrepreneurship
Growth and Scaling
Healthcare at Kellogg
Real Estate
Social Impact
Venture Capital & Private Equity
Cornell 1-Year Tech MBA Program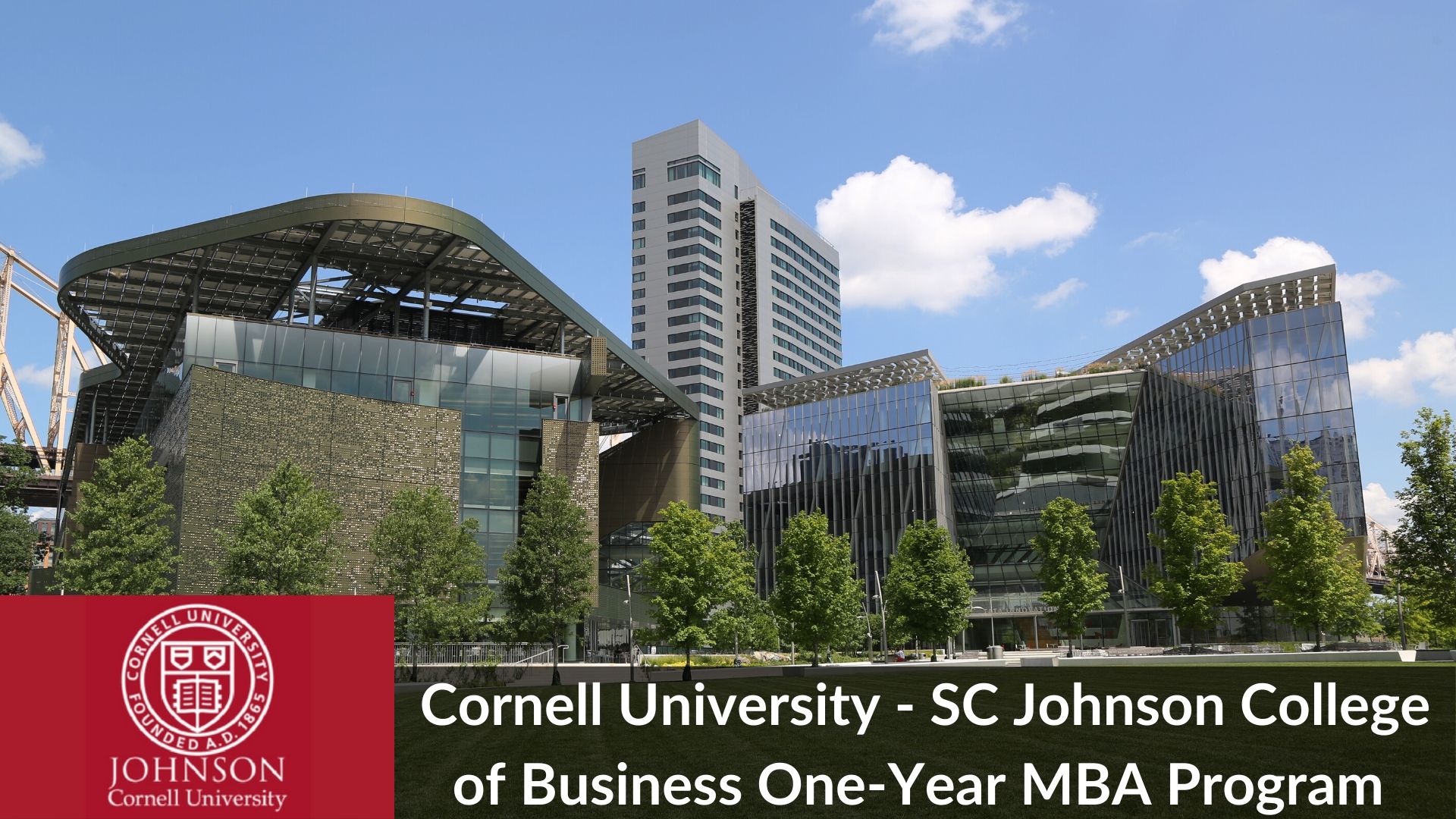 The Johnson Cornell Tech MBA curriculum starts during the summer semester at Cornell University's Ithaca, New York, campus with its core courses within a duration of 14 weeks which includes financial accounting to marketing and leadership development.
The remainder of the program which is for two semesters, is delivered at Cornell Tech's Roosevelt Island, New York City, campus. It will be focused on the tech industry and have access to state-of-the-art facilities in and around the campus.
Admission Requirements for the Cornell One Year Tech MBA Program
A background in science, engineering, technology, or coding languages is not required for admission in Cornell 1-Year Tech MBA Program. As they say, "If you have a passion for technology, an entrepreneurial spirit, and a collaborative attitude, this could be the program for you".
You can check your eligibility here
Duke Fuqua Accelerated MBA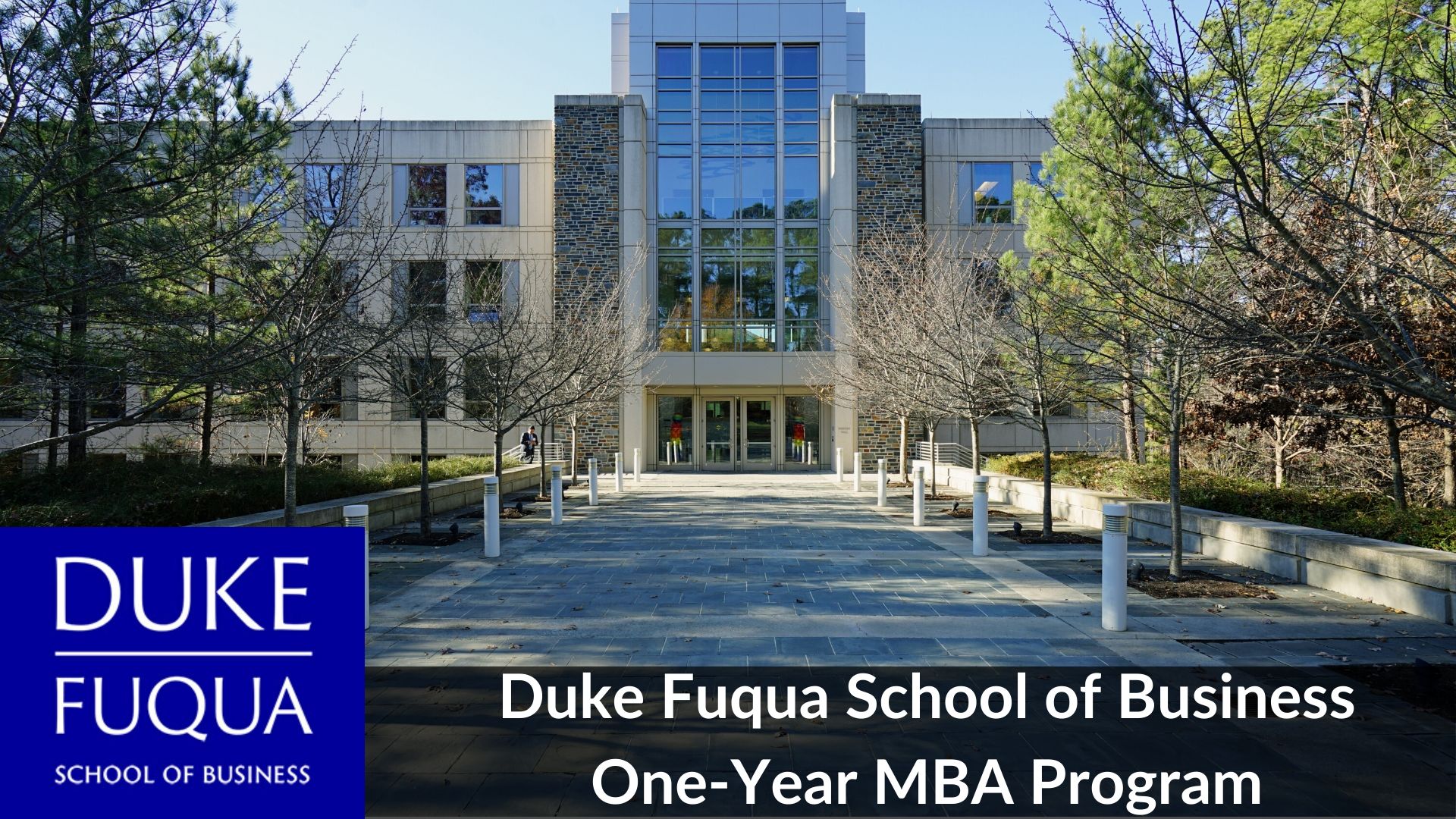 Duke Fuqua is one of the latest U.S. business schools to offer an accelerated 1-year MBA program. It boasts of one of the largest class sizes of any U.S. business school with 395 students in the class of 2021.
The following degrees are considered a prerequisite for the Duke Fuqua accelerated MBA program:
Master of Management Studies (MMS) degree from Duke's Fuqua School of Business
Master's in Management Degree or equivalent from an accredited business school
1-year Master of Business Administration degree from an accredited graduate business school.
Curriculum, Concentrations, and Certificates
The Duke Fuqua accelerated MBA calendar is divided into 5 major terms starting with a 4-week summer term in which students are required to take courses in entrepreneurship, leadership, and technology-driven transformation of business.
The Fall and Spring semesters are divided into two equal 6-week halves. Students can choose up to 3 elective courses in each half of the fall semesters with the required management communication courses.
Students can also choose from up to 13 concentration areas such as strategy, marketing, FinTech, and finance. A full list of concentrations is available here. Besides concentrations, students can choose to pursue a certificate of excellence in a particular area. The following certificates are available:
Certificate in Finance
Certificate in Health Sector Management (HSM)
Notre Dame (Mendoza) 1-year MBA Program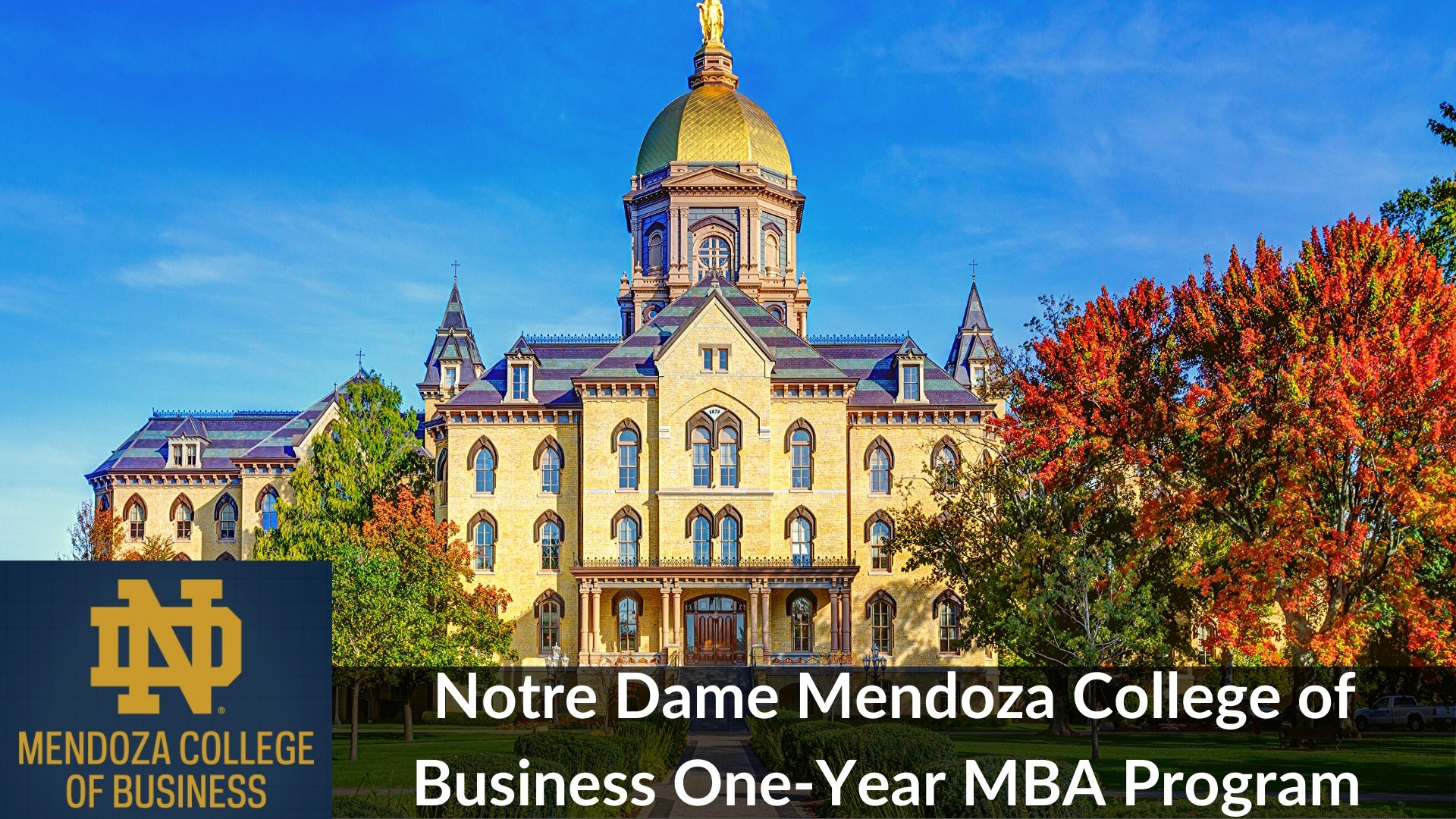 Similar to the other 1-year MBA programs featured in this article, the Notre Dame (Mendoza) accelerated program is geared towards those who already have a business undergraduate background.
Students enrolling in the accelerated Notre Dame MBA programs bring an average of 5 years of work experience to the classroom. The program starts with a 9-week intensive summer term after which students join the second year of the 2-year MBA program.
Curriculum and Signature Experiences
The curriculum spans courses ranging from business analytics to marketing management, and financial accounting and aims to develop the skills to solve complex problems with integrity and team-based best practices.
A few signature experiences that are a part of the Notre Dame One-Year MBA Program are:
Business on the Front lines
Applied Investment Management
Global Opportunities
USC Marshall I-BEAR MBA Program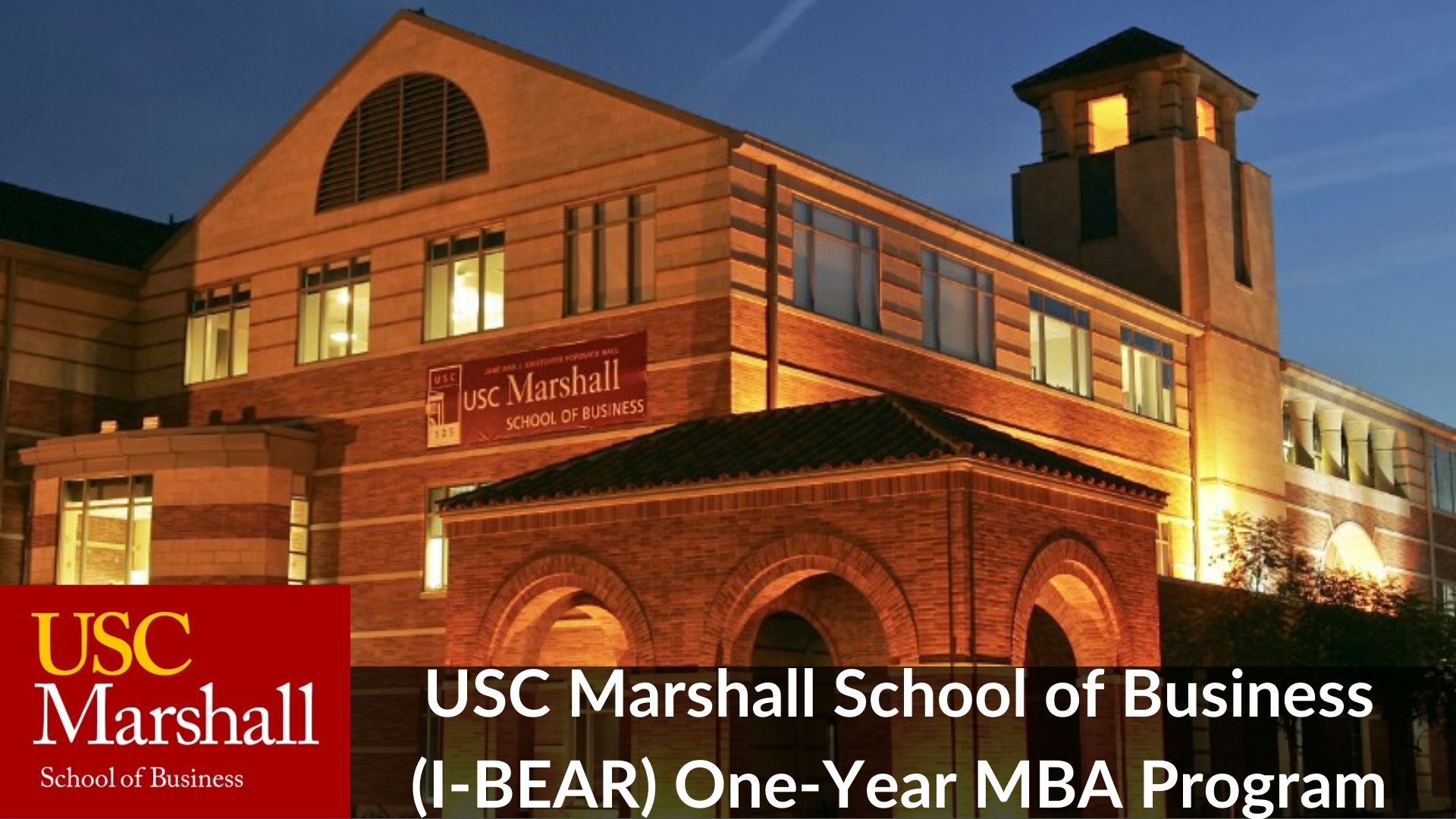 Termed by USC Marshall as a 1-year international MBA for mid-career professionals, the I-BEAR program is an outlier as compared to the other programs that we have explored in this article.
A Program for Mid-Career Professionals
Students bring an average of 11-12 years of work experience and an average age of 34-36 into the I-BEAR MBA program classroom. Candidates with science and engineering backgrounds form a majority (41%) of the I-Bear MBA classroom. Candidates with consumer services/CPG Industry experience account for 35% of the pre-MBA career industries.
Focus on Global Business Education
The program aims to provide candidates with an immersive and experiential learning-based framework to develop knowledge, tools and business networks. Thus, the I-BEAR MBA program incorporates global business consulting projects (called IBCP) as a key part of the MBA experience.
To date, program participants have successfully completed hundreds of projects in various parts of the world. And thus have developed deep experience as well as a wide network of contacts in most countries that help deliver outstanding results for both participants and sponsoring organizations. More information about the I-BEAR MBA Program can be found here.
Top International 1-Year MBA Programs
If location is not a constraint and you're dead set on pursuing a 1-Year MBA Program due to all its advantages, then, you should take a look at the following international 1-Year MBA programs. We have compiled all the relevant class profile, employment and salary-related data in one single place for your easy reference.
A 700+ GMAT score can add immense value to your profile for a top MBA program. Get started with your GMAT preparation by signing up for a free trial. We are the most reviewed GMAT preparation company on GMAT Club with 2450+ reviews. In case of any questions please write to us at acethegmat@e-gmat.com.
Here are a few more articles that you may find useful: