Taking cues from other top business schools, Michigan Ross will be offering a Science, Technology, Engineering, and Math (STEM) track within its full-time MBA program. Starting in fall 2020, the new STEM track will meet the needs of students who are interested in pursuing business analytics and quantitative management roles across industries.

In 2016, the federal government created the STEM-designated degree program to address the shortage of qualified workers in the STEM field, which is estimated to grow more than a million jobs by 2028.
The STEM-designated degree program makes it possible for international graduates to remain in the US for an additional 24 months (36 months in total) after graduation and receive training through work experience.
Learn about What is a STEM Program?
Thus, STEM fields are essential to U.S. economic growth and competitiveness, for which the government grants 36 month OPT (optional practical training) for a STEM graduate as compared to 12 months OPT.
Advantages for International and Domestic students
This is a huge advantage for an international student and will increase the number of international students coming to Michigan Ross. But embracing stem-designated track is not only about attracting more international applications.
According to Dean Scott DeRue, Ross wants to offer students a pathway to success. He states, "Business analytics has become essential in helping organizations make strategic business decisions, and we are happy to announce a new pathway for full-time MBA students who are interested in pursuing STEM-related careers in business."
Did you know a GMAT score of 730+ yields incremental $500K in ROI? Start your GMAT Preparation by Signing up for our FREE Trial and get access to FREE online GMAT preparation resources. We are the most reviewed GMAT preparation company on GMATClub with more than 1870 reviews.
He also emphasizes how the new STEM track will leverage the world-renowned general management curriculum at Ross and prepare its students from a variety of backgrounds to be leaders in the business world of today and tomorrow.
Soojin Kwon, managing director of the full-time MBA program at Ross, states that "They are constantly looking for new ways to provide our students with opportunities and educational experiences that will enable them to thrive in their future careers."
Michigan Ross STEM Track: Full-Time MBA Program
Along with the required full-time MBA core courses, the STEM track will require students to complete an additional 18 credit hours from a specific set of electives across many business disciplines, including finance, accounting, marketing, management and organizations, and technology and operations.
Some of the electives covered for the new track will include:
Marketing Engineering and analytics
FinTech: Blockchain, Cryptocurrencies, and other Technology Innovations
Big Data Management Tools and Techniques
The current first-year Ross MBA students will be able to express their interest in pursuing the STEM track for their next semester, and all incoming Full-time MBA students will be able to participate.
Full details on the approved set of electives for the Michigan Ross STEM track will be made available in February.
Other Innovative Developments at Ross Over the Years
Michigan Ross has implemented a series of innovation within its full-time MBA program and curriculum over the past few years. It started offering a +Impact Studio course, in which MBA and graduate students from across the University of Michigan are translating insights from faculty research into solutions for pressing societal challenges.
Apart from this, the Michigan Ross FinTech Initiative, which aims at preparing students for successful careers in the fintech sector.
And that's not all.
Three years ago, Ross created business analytics and data concentration, which has seen strong student interest and has expanded its Action-Based Learning (REAL) portfolio.
Why should you opt for a STEM MBA Program?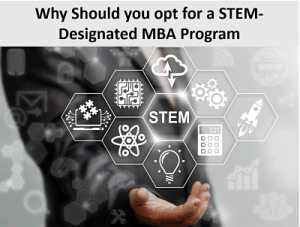 Pursuing an MBA program with STEM designation is a chance to gain expertise in the technical areas of business and could help you extend your stay in the US.
At present, businesses are incorporating tech into their operations, which is evident from various online banking and fintech companies that are emerging. Even in marketing, artificial intelligence technology has become a tool for customer interaction.
Therefore, pursuing an MBA program with STEM designation ensures that you have the skills and knowledge to work in a Tech-savvy environment and increases your employment chances. According to the GMAC Corporate Recruiters Survey 2019, US companies in the tech sector are most likely (67%) to hire international candidates.
Apart from Technology industries, you can expect to work in the following industries:
Environmental energy
Data Science
Cybersecurity
Digital
Marketing
And many more
Planning to work after MBA in the US. Here are three ways of extending your visa.
At last, a STEM-designated MBA program allows you to stay and work in the US for a total of 36 months after graduation. International graduate students who want to continue to work can extend their stay and can apply for the H1-B visa after completing their 36-months OPT period.
Learn the visa process to study in the US

CMU Tepper, Kellogg, and UC Berkeley have recently received STEM designations.