A
14
min read
The energy sector, one of the world's most vital industries, is a perennially popular career choice for MBA graduates. Ever demanding sector from traditional fossil fuels to renewable energy sources, energy drives the global economy. Energy companies, due to their intricating nature involving business verticals like accounting, supply chains, and more, progressively demand MBA talent.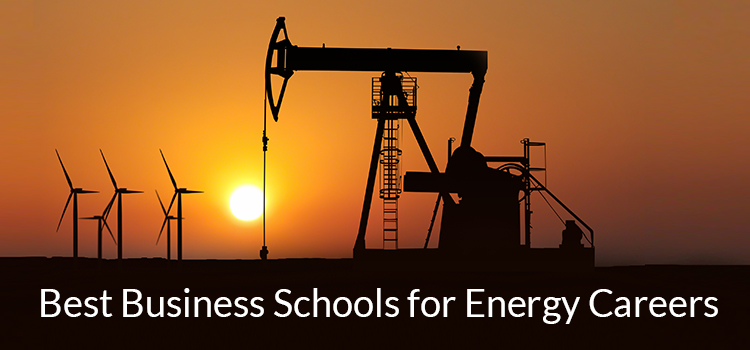 The top 4 business schools for a career in energy are in the hot region for the sector — Texas. Unambiguously, the state's oil industry, which generates billions of dollars of revenues every year, help students to be in close to the action. In this article, we explore the top 5 business school for a career in Energy for MBA graduates.
Energy companies hiring the highest number of MBA graduates?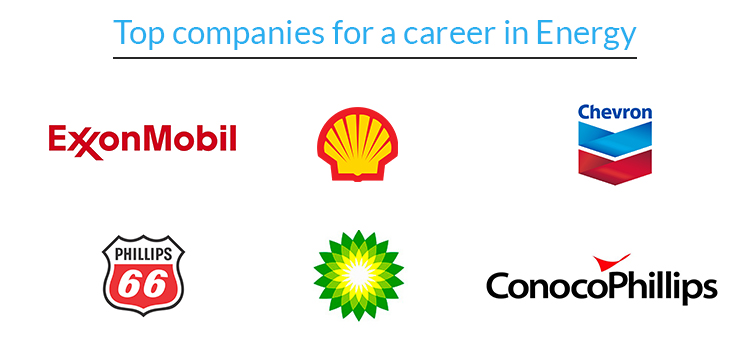 Energy companies which hire the highest number of MBA graduates
ExxonMobil
Royal Dutch Shell
Chevron Corporation
BP
Phillips 66
ConocoPhillips
Top Business Schools for a career in Energy industry
Below are the top full-time MBA programs for a career in the Energy sector:
Ranking Methodology
For ranking top Business Schools for a career in Energy, we use weighted indicators. We have given weights for three unique data points collected by Bloomberg. Data points considered are:
Number of hires to the energy sector
The total percentage share of energy industry hires
The median salary offered by the company
Weighted Score
Total hires
15+
3
10-15
2
5-10
1
Percentage hire
30%+
3
20% to 29.9%
2
5% to 19.9%
1
Median Salary
$100,000+
3
$75,000 to $99,999
2
$50,000 to $74,999
1
The below image also summarizes the ranking methodology: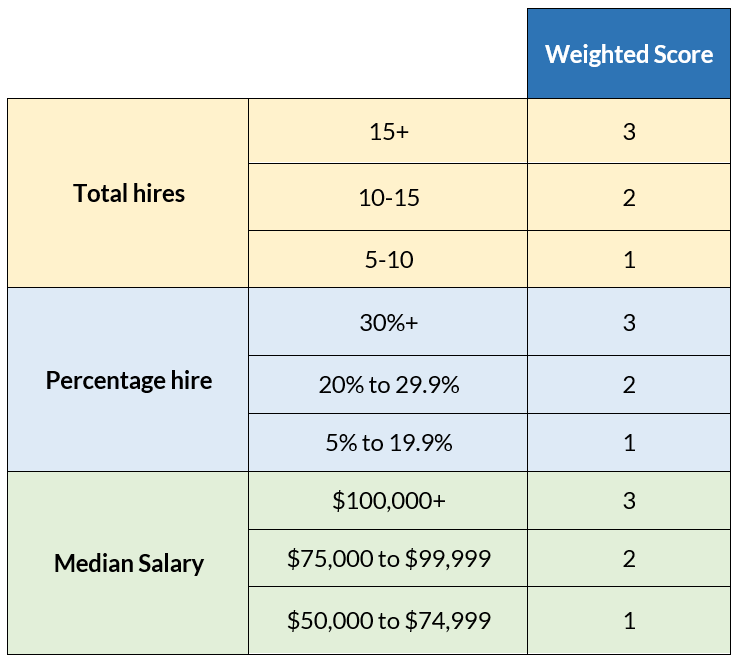 Business schools are ranked based on their total weighted score. If two business schools have the same overall weighted score, the one with higher median salary will rank higher.
| | | | | | |
| --- | --- | --- | --- | --- | --- |
| Rank | School | Location | # hires | Share of hires | Median Salary |
| 1 | Rice University, Jones Graduate School of Business) | Houston, Texas | 19 | 20% | $103,500 |
| 2 | The University of Texas at Austin, McCombs School of Business | Austin, Texas | 16 | 7% | $110,000 |
| 3 | Texas Tech, Rawls College of Business | Lubbock, Texas | 14 | 38% | $76,000 |
| 4 | Texas A&M University, Mays Business School (Mays) | College Station, Texas | 6 | 13% | $116,000 |
| 5 | University of Oklahoma – Michael F. Price College of Business | Norman, Oklahoma | 9 | 45% | $68,500 |
Here are the top business schools for a career in
Rice University, Jones Graduate School of Business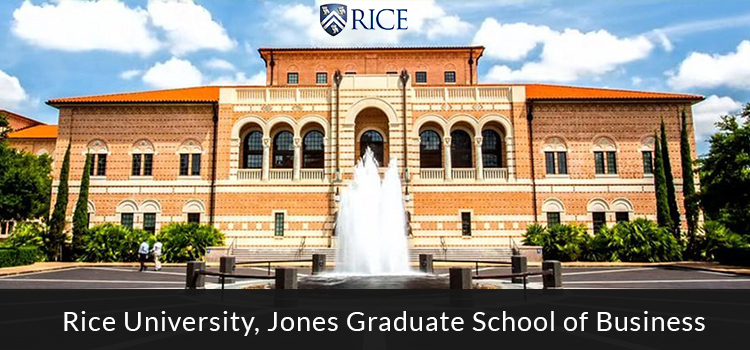 Houston is often referred to as "Oil Capital of the World" is home to thousands of energy firms. With excellent location advantage, Rice Business places a large number of its students in the energy industry, —20% of the MBA class of 2018 have found jobs in the petroleum/energy sector. Best energy curriculum, strong recruitment ties with energy leaders like ExxonMobil, Chevron & ConocoPhillips, and an active Energy club make Jones Graduate School of Business MBA the best MBA program for Energy in the world.
Degree concentration on Energy
Energy is one of the nine specializations included in Rice Business MBA second-year curriculum.  "Meet the global challenges of the future of energy, from geopolitical, fiscal, and environmental perspectives" is what school claim about their Energy concentration. Rice Energy specialization helps students who have a technical background to develop their capability to take added responsibilities and higher-level management roles at corporations in the energy sector. Courses in finance, operations, and product/customer focus are widely regarded as channels to leadership positions in midstream and upstream energy organizations. Rice Business covers different aspects of the Energy sector through its courses and simulations to Energy Courses in Rice:
Managing in a Carbon-Constrained World
Geopolitics of Energy
Fundamentals of the Energy Industry
Competition, Carbon, and Electricity Policy
Pricing Strategies for the Oil & Gas Industry
Project Management in Energy
Business Strategy in the Energy Industry
Marketing in the Energy Industry
International Energy Development
Energy Derivatives
Entrepreneurship in the Energy Industry
International Study Trip to Petrobras Research facility and Repsol YPF headquarters in South America.
International Energy Simulation as a fictitious government instigates to open opportunities for exploration and production of natural gas or oil. Students will form teams to represent energy corporations, government, and various stakeholders like public policy institutions, NGOs, media, and communities.
RICE Energy Club
Rice business has an active Energy Club for students who aim for a career in the energy sector. Energy Club connects Rice MBA students with professionals in the energy industry to foster relationships that lead to long-term networks. Rice Energy Club provides excellent support to a student who plans to switch his/her career to the energy sector. Energy Club members obtain industry knowledge through industry guest speakers, alumni, and even through their clubmates.
Energy Industry Trek and Energy Summit
Rice Business MBA students get first-hand exposure to trading floors, drilling rigs and manufacturing facilities in Houston through Energy trek. Alumni facilitate the Energy Trek, and it is coordinated by the Career Development Office to support students explore what business area in Energy or roles are available for post-MBA job opportunities and internships.
Rice Business conducts REFS, Rice Energy Finance Summit, a yearly conference organized by MBA students. REFS was curated to promote quality discussions on the most pertinent energy topics and enable valuable relationships through knowledge and idea exchange. The conference offers a substantial opportunity for companies and industry leaders to directly contribute to the growth of thought and leadership in the community.
Rice business plan competition
The Rice Business Plan Competition (RBPC) is one of the oldest and largest graduate-level student start-up competition in the world. Energy/Cleantech is one of the four sectors in which the start-up idea should fall in. The start-up can be from any of the following but not limited to:
Sustainability
Water
Battery Technologies
Control Systems
Smart Metering
PV Technology
Natural Gas
Transportation/Mobility
Oil & Gas Technologies
Algae or Fuel Cells
Hybrid Vehicles
RBPC is a magnificent opportunity for Rice Business students to receive mentoring from investors and experienced entrepreneurs in the Energy industry. Students also get a chance to network with industry leaders from organizations like ExxonMobil, Chevron, BP, Total, ConocoPhillips, and Royal Dutch Shell.
Employment of Class of 2018 in the Energy sector
20% of Rice business MBA class of 2018 (17 students) found employment in the Energy Sector. The average base salary for Rice Business graduate who got hired in the Energy sector is $106,186. Refer to the below table for a detailed Energy sector employment report.
Energy Sector
Graduates accepted the job offer
Median Base Salary
Mean base Salary
Low base Salary
High base Salary
17
$111,000
$106,186
$70,000
$150,000
Corporate Members of Rice from Energy sectors
Rice Business has many energy corporations as their Rice Business Partners and Corporate Members. Corporate members support Rice Business school's initiatives and take part in recruitment. Below Energy organizations are the corporate members of Rice business:
ExxonMobil
Royal Dutch Shell
BP
Chevron
Phillips 66
ConocoPhillips
Aramco
Frank's International NV
Diamondback Energy
Bestway Oilfield, Inc
DCP Midstream
Dril-Quip
DrillingInfo
EOG resources
Halliburton
Laredo Energy
NRG Energy, Inc.
NOV
TechnipFMC
University of Texas at Austin, McCombs School of Business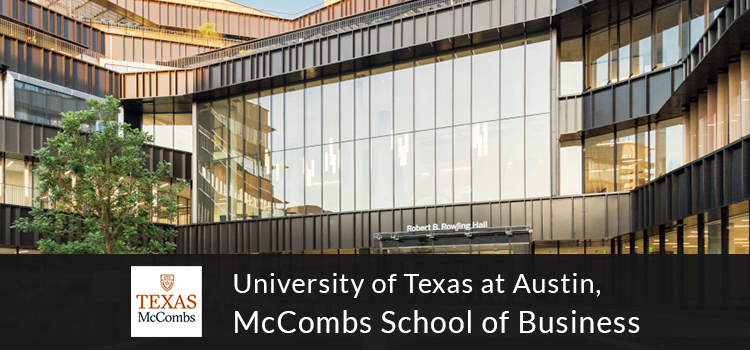 Unlike other Texas B-Schools in our ranking, the McCombs MBA program emphases more on cleantech than oil and gas. MBA students can specialize in sustainability through the CleanTech concentration and work on projects through the Clean Energy Incubator. If we take the mix of the class of 2020, around 12% of students are from the Energy industry background. Concentration on Energy finance, Energy Initiative, active student-led clubs McCombs attracts oil and gas giants like ExxonMobil, Chevron and ConocoPhillips.
Degree Concentrations on Energy
Two energy specializations McCombs offers to MBA students are Energy Finance and CleanTech. Energy Finance prepares the students to comprehend, measure, monitor, and manage the financial risks formed by unstable energy prices and to participate in the assessment of energy projects and energy derivatives. Below are the different courses covered in Energy finance concentration.
McCombs Energy Finance Courses
Accounting courses
· Petroleum Accounting: Principles, Procedures, and Issues

· Financial Statement Analysis

· Advanced Topics in Financial Reporting

Finance
· Financial Strategies (Energy)

· Financial Risk Management (Energy)

Electives
· Energy Law

· Energy Finance Practicum

· Oil and Gas Taxation
McCombs's CleanTech specialization is one of the best course concentrations for students who plan a career in emissions reduction, renewable energy, and energy efficiency. Below are the different courses covered in CleanTech concentration.
Energy Technology and Policy
Management Sustainability Practicum
Energy Law
Climate Change Law & Policy
Wind Energy
Environmental Law & Policy
Analysis of Markets
Enterprise of Technology
Political Economy of Global Energy
Research in Energy/Earth Resources Practice
Dual Degree
McCombs School of Business offers a dual degree in energy – MBA/Master of Arts in Energy and Earth Resources. The dual degree is a combination of progressive studies of Management and studies of Natural resources and Geosciences. 3-year dual degree program imparts students to apply business policy and science knowledge to energy issues in the government, private industry, and non-profit sectors.
Energy Certificate
Energy certificate of McCombs allows students to gain new perspectives and skillsets associated with the energy industry with course explicitly tailored to the opportunities and the challenges of the sector.  To improve student's business understanding directly related to the intricacies of the energy sector, the classes focus on the business valuation, strategy, finance, and economics specific to the energy business. Following are the classes of Energy Certificate:
Business Valuation
Decision & Risk Analysis in Hydrocarbon Exploration & Production
Global Oil and Gas Accounting
Energy, Technology, and Policy
Economics and Technology of the Crude Oil, Natural Gas and LNG Value Chains
Managing External Stakeholder Relationships
Economics and Technology of the Electric Power Value Chain
Energy Finance
Energy Certificate gives an in-depth understanding of strategy, finance, business valuation, and economics that is precise to the energy sector. Energy Certificate offers executives and managers a unique opportunity to expand their business acumen in an environment focused on the intricacies of the energy sector.
Energy Initiative
Energy Initiative by McCombs School of business is the center for business research center which works toward a brighter, improved, and more efficient future for energy consumers around the globe. Energy Initiate encourages professional association, promote healthy discussion, and offer educational resources to the energy sector leaders of tomorrow.
In tandem with Energy Initiative, Kay Bailey Hutchison Center for Energy, Law & Business (KBH Energy Center) is a joint initiative of the McCombs School of Business and the University of Texas School of Law.  KBH Energy Center goals to provide premium educational opportunities to students who wish to pursue careers in energy and to aid as a nexus for insightful, impartial, and pertinent research and analyses for policymakers. KBH Center organizes different networking events, panel discussions, lecture series, and annual symposium as platforms for McCombs MBA students to widen their horizon in the energy sector.
Student Organizations
Below are the different student groups for Energy sector enthusiast in McCombs School of Business:
CleanTech Group is a student-run organization which provides MBA students with resources to learn, network, and succeed in future sustainability and renewable energy careers.
CleanTech group conducts speaker sessions in which industry leader from companies SunPower, Waste Management, Exxon, Chevron, and Conoco Phillips discusses different aspects of the CleanTech industry.
CleanTech Group conducts CleanTech Treks and Field Trips in which students visit different company facilities and energy infrastructure of companies in San Francisco and Austin.
CleanTech group members actively participate in all events conducted by different professional organization around Austin and national conferences in the CleanTech industry. This provides a great networking opportunity for the group members to meet and network with various companies in the CleanTech industry.
Energy Finance Group has three primary support roles for the concentration in energy finance:
Smoothen interaction between the faculty, students, and industry leaders through academic, professional, and social events.
Provide program support for industry, practicum and independent research
Endorse the Energy Finance concentration to current and prospective MBA students as well as industry recruiters.
Coordinate site visits to energy firms, host on-campus industry topic panels and organize the yearly National Energy Finance Challenge.
McCombs students conduct a two-day conference, UT Energy Forum, with a panel made up of government, industry, and academic experts in the sector. It provides networking opportunities with all kinds of people from the energy industry. CleanTech group and Energy Finance Group are the pillars of the organizing committee.
Energy Management Program
McCombs has an undergraduate program of study in Energy Management for students across all disciplines – University of Texas Energy Management Program (EMP). Students get multiple empirical learning opportunities and a chance to network with energy sector professionals from global energy companies. MBA students with energy as their concentrations have numerous opportunities to participate in different events conducted by the EMP center.
Employment report of Class of 2018
6% of students of the McCombs MBA class of 2018 found employment in the Energy sector with a mean salary of $106,927.  Major recruiters from the energy sector were:
ExxonMobil
Chevron
ConocoPhillips
CenterPoint Energy
Hess Corporation
Alumni Network
McCombs has a very active alumni network connected to more than 20,000 McCombs MBA alumni and closely 100,000 McCombs graduates. McCombs's alumni network is the most potent ways to enhancement your career in the energy sector across 100 countries across the globe.
Texas Tech, Rawls College of Business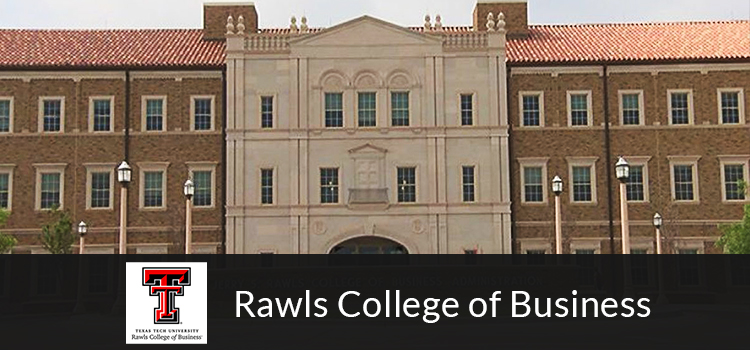 Rawls College of Business MBA will be a good choice for professionals. Rawls executive mentorship program and active student club help students learn more about the sector through experiential learning. Energy is one of the two concentrations offered by Rawls College of Business. Around 40% of MBA graduates get employment in the Energy sector.
Degree and Concentration
Rawls offers two concentration courses, and one of them is Energy. Energy Course includes:
Geopolitics of Energy
Energy Markets
Energy Project Evaluation and Finance
Structure & Function of the Modern Energy Industry
Rawls Executive Mentorship program
Rawls's Mentorship program forge meaningful relationships between Rawls business school students and business professionals, to share knowledge and experiences to create long-term connections between Rawls students and alumni of the college. As Rawls business School has a vast number of alumni who work in the energy sector, it is an excellent opportunity for students to gain more knowledge about the industry and get advice on how to frame their career path based on their ambition.
Student Club
Energy Commerce Association is a student-led organization of students. Energy Commerce Association conducts numerous events like lecture series of professionals from different Energy companies.
Employment of Rawls College of business graduates
According to the data collected by Bloomberg, 14 MBA graduates found employment in the energy sector.  That is 38% of the total MBA students. Below are the salary details of students who got hired in the energy sector.
Employment of Rawls College of business graduates
Energy Sector
Percentage Hires
Median Salary
38%
$76,000
Faculty
Rawls Business School has six full-time faculties and one part-time faculty on Energy concentration. Rawls energy faculty regularly publish pioneering research about Energy Economics, Energy policies, etc.
Texas A&M University, Mays Business School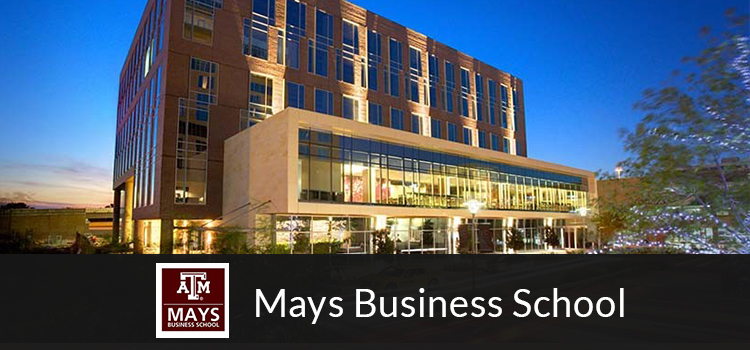 Energy-related courses are not included in the Mays MBA core curriculum. But, the opportunities for networking, energy certificates, and employment in the energy sector compensate for that. 13% of the MBA class of 2018 found a job in the energy sector, with an average base salary of $109,000. Texas A&M Energy Institute situated in the same campus is a priceless resource for MBA students who are interested in interdisciplinary learning.
Energy Institute and Events
A&M has an Energy institute on the same campus. A&M Energy institute focus on an interdisciplinary research program on the purview of
Materials, Catalysis, and Separations for Energy
Fossil and Non-Fossil based Technologies for Energy
Energy Economics, Law, Policy, and Societal Impact
Multi-scale Energy Systems Engineering.
Mays MBA students gets an opportunity to be a part of all events conducted by Energy Institute  like Texas A&M Conference on Energy,  The Energy Workforce of the Future Summit, Multifunctional Energy and Power Workshop, Professor Christodoulos A. Floudas Memorial Symposium, Energy Institute Lecture Series, Distinguished Seminars and Workshops in collaboration with energy sector giants.
Mays Business School hosts an energy panel each semester. Industry professionals from different job functions and various companies, like Phillips 66, step up to share their knowledge and experience with students.
Energy certificates
Mays MBA students can opt for Certificate in Energy offered by Energy Institute. Energy Certificate allows students who aspire to have a career in the energy sector to get valuable and essential needed to be competitive in accounting for the industry. The certificate program familiarizes students to the several interdisciplinary facets of energy sector ranging from an outline of energy technologies (renewable, fossil-based, and non-fossil based) to multi-scale energy systems engineering approaches, to energy law, economics, security, policy, and impact on the society.
To complete the certificate, a student must take ten modules of the Master of Science in Energy degree. Students who receive the certificate have the opportunity to collaborate with Halliburton for case competitions, networking, and career opportunities.
Mays Business school also provide Executive Certificate in energy for professionals with 3-5 years of experience in the energy industry.
Employment report for Energy sector
Around 10% of Mays Business School MBA class of 2018 got hired by energy companies. The average base salary offered by energy sector companies is $109,000. ExxonMobil attracted the highest number of students who wanted to pursue a career in the energy industry. Below are the salary details of students who found a job in the energy sector.
Energy Sector
Percentage Hires
Total Hires
Low Salary
Mean Salary
Median Salary
Highest Salary
13%
6
$75,000
$109,000
$119,000
$123,000
Alumni Network
Aggie Network, the alumni group of Texas A&M University, is one of the largest alumni groups in the world. Aggie network comprises more than 240 chapters around the globe and has over 400,000 members. Aggie network helps Mays MBA students to network with other A&M energy graduate alumni and find career opportunities in various energy corporations.
University of Oklahoma – Michael F. Price College of Business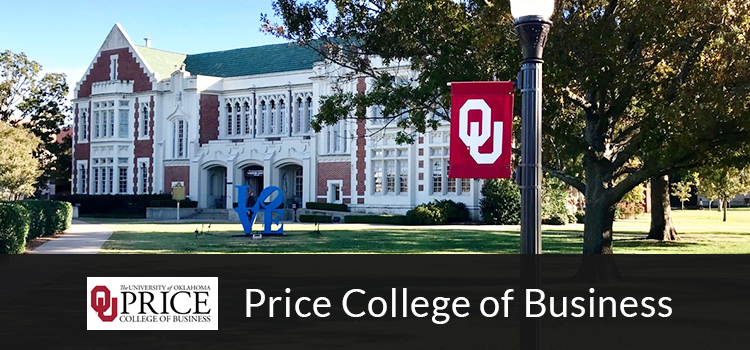 Price College of Business is the only college in our list outside Texas. Even though Price College doesn't have the location advantage, the strong curriculum of specialization in energy and distinguished energy sector leaders in the MBA Advisory Board, helps MBA graduates to get placed into firms like ConocoPhillips, ExxonMobil, and Devon Energy.
Degree Concentration
After 1st year of core courses, a Price MBA student can choose energy electives as per their career interest. Energy is one of the seven elective topics offered by Price college of business. Following are the courses covered in Energy electives:
Energy Upstream/Downstream
Introduction to Energy
Energy Accounting and Regulations
Energy Corporate Finance
Energy Assets & Commodities
Valuation, Mergers, Acquisitions & Divestures
Dual MBA degree Program in Energy
Price College of Business offers a dual degree program for aspirants who want to focus on a career in the Energy sector. B.S. in PE/MBA is a five-year program which provides a fast-track for undergraduate Petroleum Engineering students who want to pursue a Master's in Business Administration. Students can apply for the dual program in their junior year of Petroleum Engineering undergraduate.
Energy Certificate
The Energy certificate in the MBA program consists mainly of high-end finance courses which are conducted by eminent faculty and industry professionals. As a part of the certificate, the students will visit gas processing plants & oil rigs, and simulated trading.  Certificate focus on energy accounting and regulation, derivative securities and markets, energy assets and commodities, and energy corporate finance
Summer Scholar Program
Price College of Business provides a summer internship with stipend, Heatly Energy Scholars Program, an opportunity for MBA students who pursue an energy concentration. During the internship, students will be gain professional first-hand experience in an energy company combined with collaboration with a cluster of Oklahoma University alumni and corporate partners of the school. Summer scholar program is an invaluable opportunity for the Price students to get networking opportunities in the industry, personal mentoring, guidance on career focus, and professional development opportunities.
MBA Advisory Members from the Energy sector
The Price College MBA Advisory Board consist of distinguished energy industry leaders. Advisory board provides an external perspective of the energy industry and input to the many facets of the Price MBA program. Major focus on successful career search in the energy industry, board members also provide one-on-one mentoring to students and counsels the school on broadening energy curriculum and strategic initiative based on the ever-evolving energy industry. Below are some of the advisory members from the Energy sector:
Tristan Adler, Founding Member – Sparq Natural Gas
Jeff Agosta, Chief Financial Officer – Tug Hill, Inc.
Danny Broadfoot, Corporate Finance Manager – Sandridge Energy
Catherine Oster, VP of Strategic Planning – Devon Energy
Brett Sinclair, VP Operations – Kimmeridge Energy
John Westerheide, Technology Leader and Program Manager – Baker Hughes
Student Club
Price College has an active student-led energy club, Energy Management Student Association (EMSA). EMSA aims to work for the betterment of students who want to pursue their career in the Energy sector. EMSA conducts numerous events like Energy Industry Programs, Internship drives, Scholarship interviews to prep the students before they enter into the industry.
Employment Report
According to Bloomberg, the majority of their MBA graduates (45% of the total students) found employment in the energy sector. Below are the salary details of students who got hired in the energy sector
Employment of Price College Business MBA graduates in the Energy sector
Energy Sector
Total Hire
Percentage Hires
Median Salary
9
45%
$68,000
Following are the Energy companies which hire graduates from Price college of business:
ExxonMobil
ConocoPhillips
Schlumberger
Devon Energy
OG&E – Enogex