A
7
min read
GMAT aspirants often come across questions like – "What is the importance of GMAT?, How important is GMAT for my career growth?" and so on… Well, the importance of GMAT goes far beyond MBA Admissions. GMAC rightly puts it, "The GMAT exam is your best first step toward a career with impact." More than 7000 business and management programs worldwide accept the GMAT Exam Score. This has been the test of choice of the world's business leaders for admissions into leading business schools. This is because the GMAT Exam lets you showcase the skills that matter the most in the business school classroom and in your career. Let's explore the scope of GMAT further!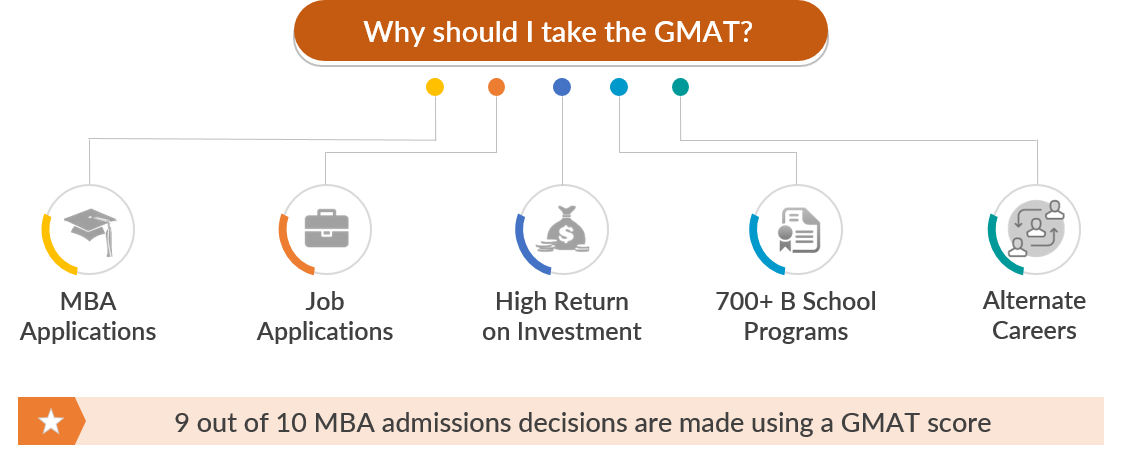 If you're wondering how important is GMAT for your MBA Admissions, look no more! This article covers one of the most important questions in the minds of most aspirants – "What is the importance of GMAT?". Here's a brief outline of the sections covered:
Importance of GMAT Exam for MBA Admissions
The GMAT is one of those exams that will influence your career trajectory for a considerable amount of time. It gives you an opportunity to start your career at a better remuneration level, gives you an alternate career to fall back on and inculcates knowledge, confidence and good habits in you. There are only things to gain from the GMAT. Let's see how.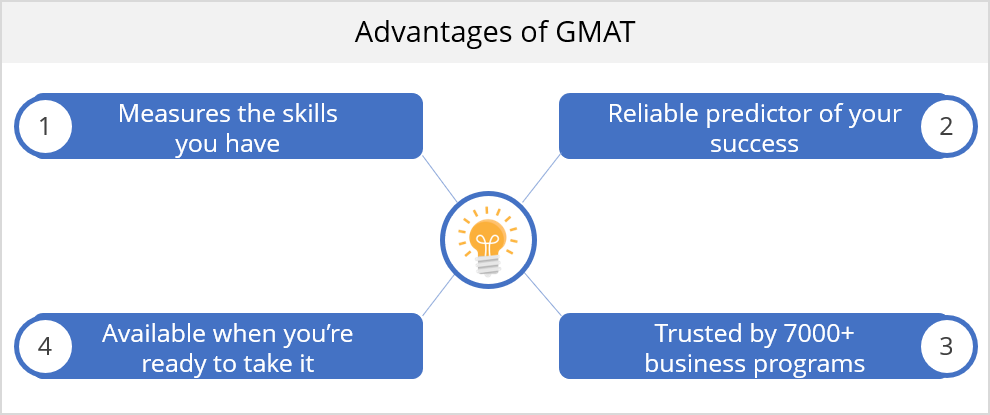 Business schools use and trust the GMAT exam to make admissions decisions. The GMAT exam will help you stand out during the admissions process. It is the most widely used and trusted indicator of academic success in MBA and other graduate business degree programs. In fact, 9 out of 10 MBA admission decisions are made using a GMAT score.
Looking for other Factors that Admission Committees use for evaluating your MBA Application?
The GMAT exam sets the standard for its ability to predict success in the classroom. Here are the additional advantages:
It measures the skills you have and the skills schools need.
GMAT is a proven measure of your success. Decades of research confirm that the GMAT is a valid and reliable predictor of your academic performance in today's graduate management programs.
The GMAT exam is relied on more by graduate business schools worldwide.
Available when you're ready to take it. Testing is available around the world in state-of-the-art facilities designed to provide an unparalleled test-taking experience so that you can perform your best. GMAC ensures that the test takers are able to put their best foot forward, and therefore, keeps updating the exam format and structure to benefit the test-takers.
Refer to this article to read about the latest update in the GMAT exam format, effective from April 2018. If you want to know the basics of the format of the GMAT Exam, read the other article.
A 740+ GMAT score increases your chance of studying at a US business school. We can help you with quality online content to prepare. We are the most reviewed GMAT prep company on gmatclub with more than 1960 reviews. Why don't you take a free trial and judge it for yourself? Write to us at acethegmat@e-gmat.com in case of any query.
Now that we have explained how and why the GMAT is important for your MBA admission, we must state that it is not just a means to an end, the end being a business school admission. But instead, the value that GMAT score adds is far more than just an admission. It positively affects your life at various levels. The value addition that a GMAT score brings is both quantitative and qualitative. Let's first look at the quantitative aspects.
How to get into a Top Business School? – Read here and get the best tips for MBA Admission 2018-19!
Return on Investment: Take a brief look at 2019 US News business school rankings:
Now, let's compare two potential test-takers as per the information above.
Candidate 1 – GMAT Score 740 – Admitted into Stanford
Candidate 2 – GMAT Score 720 – Admitted into Michigan Ross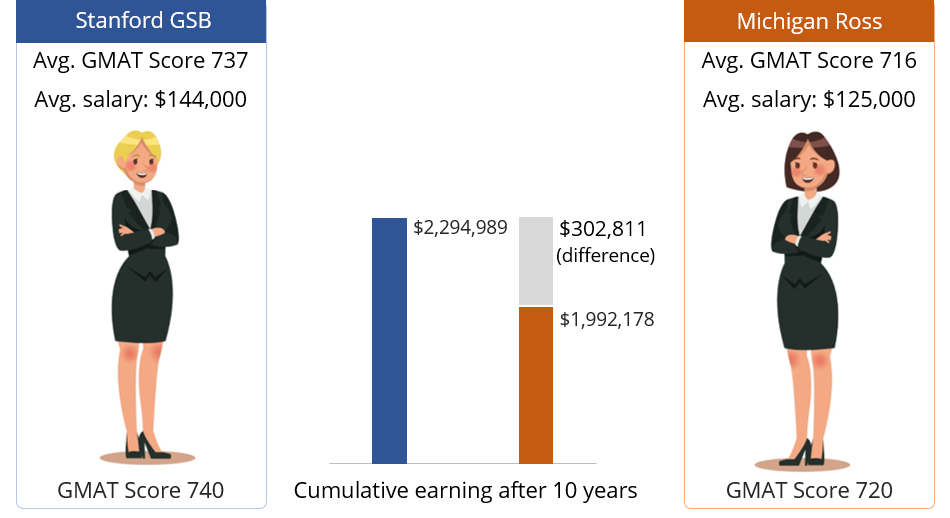 After 10 years, candidate 1, the Stanford graduate, would have earned a little more than $300,000 as compared to candidate 2, the Michigan Ross graduate. It's noteworthy that the difference in average GMAT scores was only about 20 points. And graduates of both the colleges made the same investment of $250 to appear for GMAT exam. This should give you an idea about the level of Return on Investment that the GMAT score can give you.
Average GMAT score

737
716

Average salary

$144,000
$125,000

Cumulative earnings after 10 years (10% growth)

$2,294,989

$1,992,178

Difference

$302,811
Here are some qualitative value additions of the GMAT:
Increased knowledge – The knowledge you gained while preparing for GMAT is something that no one can take away from you. It will remain with you for life.
Confidence – It gives you confidence when applying for a business school or interviewing for a job.
Good habits – GMAT is not just a test of knowledge and logic but also of perseverance and diligence. The habits you developed while preparing for GMAT will go a long way toward ensuring your professional success. These habits will help you succeed in the rigorous MBA program and in your career.
Role of the GMAT Score in MBA Applications
We've established above that the GMAT plays a vital role in your MBA Applications. While a good GMAT Score definitely favors your application and improves your chances of getting admission into your dream B-School, it is not the sole criteria to ensure the same. This article throws light on the various factors considered for admission decisions at B-schools and the role of the GMAT Score in MBA Applications.
Note – On an average, GMAT accounts for 22% weight-age in the overall MBA Applications.
Write to us at acethegmat@e-gmat.com if you need help in crafting your GMAT study plan. Our team of GMAT Strategy Consultants and I would love to help you!
What role does GMAT play beyond getting admission to a B-school?
A good GMAT score will not only help you get into your dream B-school but also benefit you even after you have enrolled in your program. GMAT is not just a score, it is a test of your ability and reflects your intellectual aptitude, diligence, focus, and hard work. All these traits are priceless and valued immensely not just by B-schools but also by employers. In the words of GMAC, "When it comes to your success, there is no comparison".
Value of GMAT – Corporate Recruiters | Scope of GMAT
The scope and importance of the GMAT Exam are not just limited to the Admissions Process. They extend to the stage of job applications too.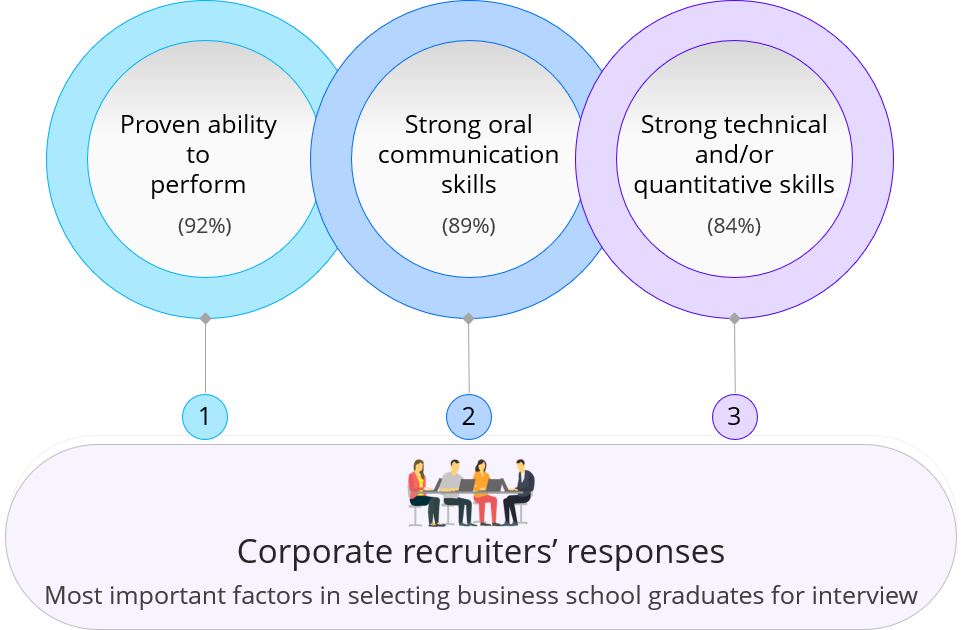 When asked what factors were most important in selecting business school graduates for the interview, corporate recruiters' most frequently cited responses were:
'proven ability to perform' (92%), followed by
strong oral communication skills (89%), and
strong technical and/or quantitative skills (84%)
A GMAT score is a testament to your ability to perform and your quantitative skills.
Challenges in life keep on increasing. Getting internships and jobs at highly successful consulting firms can be even more difficult than getting admission in a B-school. Many consulting companies such as McKinsey and Accenture, ask applicants to report their GMAT scores on their job applications.
Source – Gmatclub.com. (Gmatclub is a portal where successful GMAT test takers share their experiences about GMAT Exam, MBA, and Job Applications). Many students have claimed that interviewers specifically asked them about their GMAT scores. In fact, some of the students even reported that competitive consulting companies won't look twice at applicants who didn't report their standardized test scores.
These firms use GMAT scores as a way of assessing applicants. Therefore, GMAT score plays an important role when you are applying for consulting jobs and internships.
If you are stressed out about paying for your MBA and are wondering what is a good GMAT Score to get an MBA Scholarship, or what all Business School Scholarships are available for GMAT, read this article!
Scope & Importance of GMAT Exam – Alternate Careers |
Scope of GMAT
A good GMAT preparation experience also opens your way towards an opportunity to become a GMAT instructor. But how would you define a "good GMAT preparation experience"? It's something based on one of the most fundamental truths of knowledge: The best way to learn something is to teach it. If you did that while preparing for GMAT, you already have an idea about being an instructor. The difference here would be that you will be teaching a class full of people. A good GMAT instructor can earn $100,000 annually, so you can leverage your GMAT knowledge to venture into an alternate career.
GMAT vs GRE – the GMAT Advantage
With an increasing number of schools accepting GRE General Test scores as an alternative to GMAT scores, a lot of potential candidates get confused whether they should take the GMAT or the GRE.

Refer to this article to read about the advantage of GMAT over GRE and why the GMAT is an important admissions requirement for Executive MBA Programs.
Here's a list of all the universities, fellowships, and scholarships that either accept or require GMAT scores for admission to their programs
We can now conclude that the scope and importance of GMAT Exam are not limited to the MBA Admissions process. Rather it goes far beyond. This is the age of information and if you have the right information and knowledge, you can certainly leverage it to your advantage. Therefore, a good GMAT learning experience can open avenues for you during and after finishing your MBA program. It can also give you an alternate career, which will be something very useful, especially in uncertain times.
If you are planning to take the GMAT, we can help you with a personalized study plan and give you access to quality online content to prepare. Write to us at acethegmat@e-gmat.com.

We are the most reviewed GMAT prep company on gmatclub with more than 1960 reviews.

Why don't you take a free trial and judge for yourself? Write to us at acethegmat@e-gmat.com in case of any query.