A
6
min read
HEC Paris Grande école Master in Management is the most sought-after MiM program for recent graduates because of its educational experience. HEC Paris MiM program has been consistently ranked #2 since 2014. No wonder getting admit for HEC Paris MiM is very competitive and demands a high GMAT score apart from a stellar profile.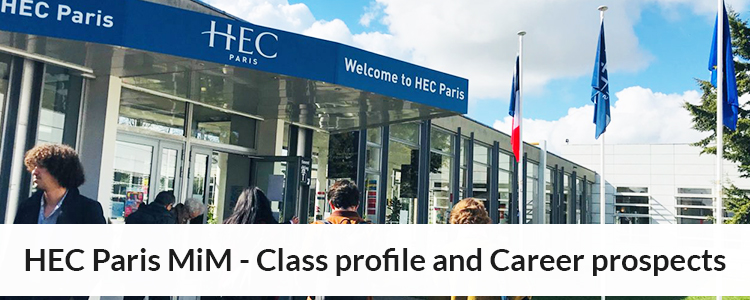 Here is a brief outline of this article:
General information on HEC Paris Master in Management
Location: 1 Rue de la Libération, 78350 Jouy-en-Josas, France
Telephone: +33 (0) 1 39 67 70 88
Fax: +33 (0) 1 39 67 73 04
Email: hecprograms@hec.fr
Social Media: Twitter, LinkedIn, Facebook, Instagram, YouTube
HEC Paris MiM – Curriculum, Class profile, cost of attendance, education background
Below are the details of the HEC MiM program's class profile, cost of attendance, median salary
HEC Paris MiM Details
Program starts
September 2023
Duration
18 months
Tuition Fee
€39700 (+ €2,400 in case of optional gap-year)
FT Global MIM 2022 Ranking
#2
Application Window
1 October to 30 April (for intermediate deadlines see Admissions page)
Admission requirements
· GMAT/GRE TAGE MAGE score

· One-page resume

· 2 letters of recommendation

· English language proficiency test report (IELTS/TOEFL/TOEIC/Cambridge)

· Interview

Loans & Scholarships
Please see fees and financing section
HEC Paris MiM Program structure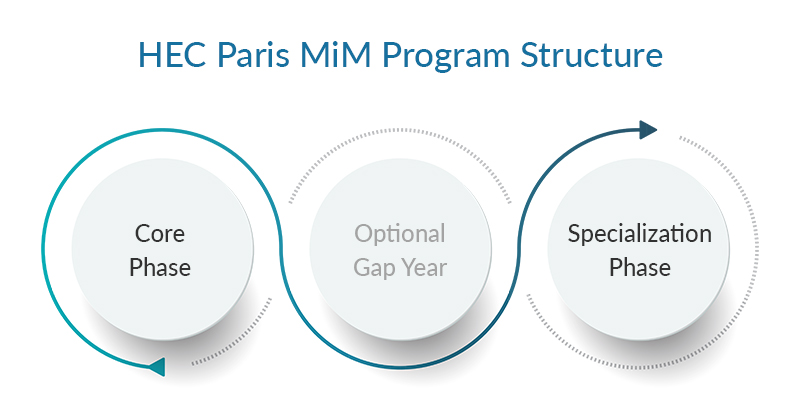 HEC Paris Master in Management program is intended to give a student the flexibility to modify the course based on his/her career ambition. Over 20 different specializations are available in streams like Finance, Strategy, Marketing, etc. The program consists of two phases – Generalist Phase (Core Phase) and Specialization Phase.
Core Phase comprises:
Core courses in Management – Business Performance Management, Operations & Supply Chain Management, Corporate finance, Financial Markets, Strategy, Marketing, Language courses, and 6 other core courses
Elective courses are covering vast topics from Business, Digital Strategy, International affairs, and Social innovation.
Consulting projects and Live case studies which provide students an opportunity to work with companies like L'Oréal Paris, PwC, Procter & Gamble, etc.
Between the Core Phase and Specialization phase, students have an opportunity to take a gap year. This gap year will help the student to widen their perspective and professionally assess the industry in which they want to pursue their career.
Specialization Phase is crucial for tailoring students experience and skills. This phase focuses on specializations in management or attains an International double degree. As a part of Master Exchange Program, a student can elect to study one semester abroad within 20 partner colleges.
As being a student of HEC Paris, students get an opportunity to do certificate programs supported by companies during Specialization Phase. The certificate program will provide a true reflection of the business world for students. Different certificates offered are in,
Data for management
Digital entrepreneurship
Digital transformation
Energy &Finance
Excellence in client experience
Luxury
Mergers & Acquisitions
Inclusive & Social business
HEC Paris MiM incoming class profile 2024
Here are the detailed statistics on HEC Paris Master in Management program incoming class of 2024
HEC Paris MiM Class starting 2024
Median GMAT score
700
International Students
250
Average Age
23 years
Nationalities represented
56 countries
Female Students
45%
HEC Paris Master in Management student background
Presented below are the undergraduate study discipline data of the students in the current class of HEC Paris Master in Management. 35% of the students are Business Administration, Management undergraduates, and followed by Engineering graduates (30%).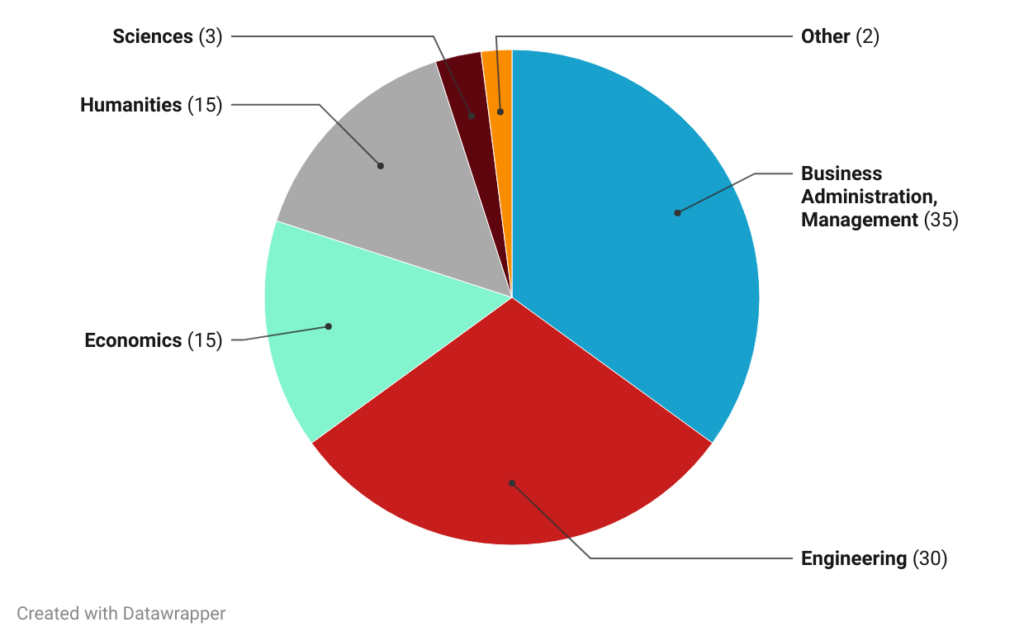 HEC Paris MiM student education background
Business Administration, Management
35%
Engineering
30%
Economics
15%
Humanities
15%
Sciences
3%
Other
2%
HEC Paris MiM employment and salaries
In the 18-month program, HEC Paris conducts numerous events for Career Roadmap, Job Market Workshops, Career Fairs, Meetings with Alumni and Networking events. Below is the glimpse of HEC Grande école Master in Management career report. Average starting salary of HEC Paris MiM student is €63000.

HEC Paris MiM Employment by industry
The Consulting industry offered the highest number of jobs – 37% of the MiM class took up jobs in the Consulting Sector, and Financial services sector was the second most top recruiter with 28% of the class opting for employment in the industry. Below is the detailed employment report of HEC Paris Masters In Management class of 2018.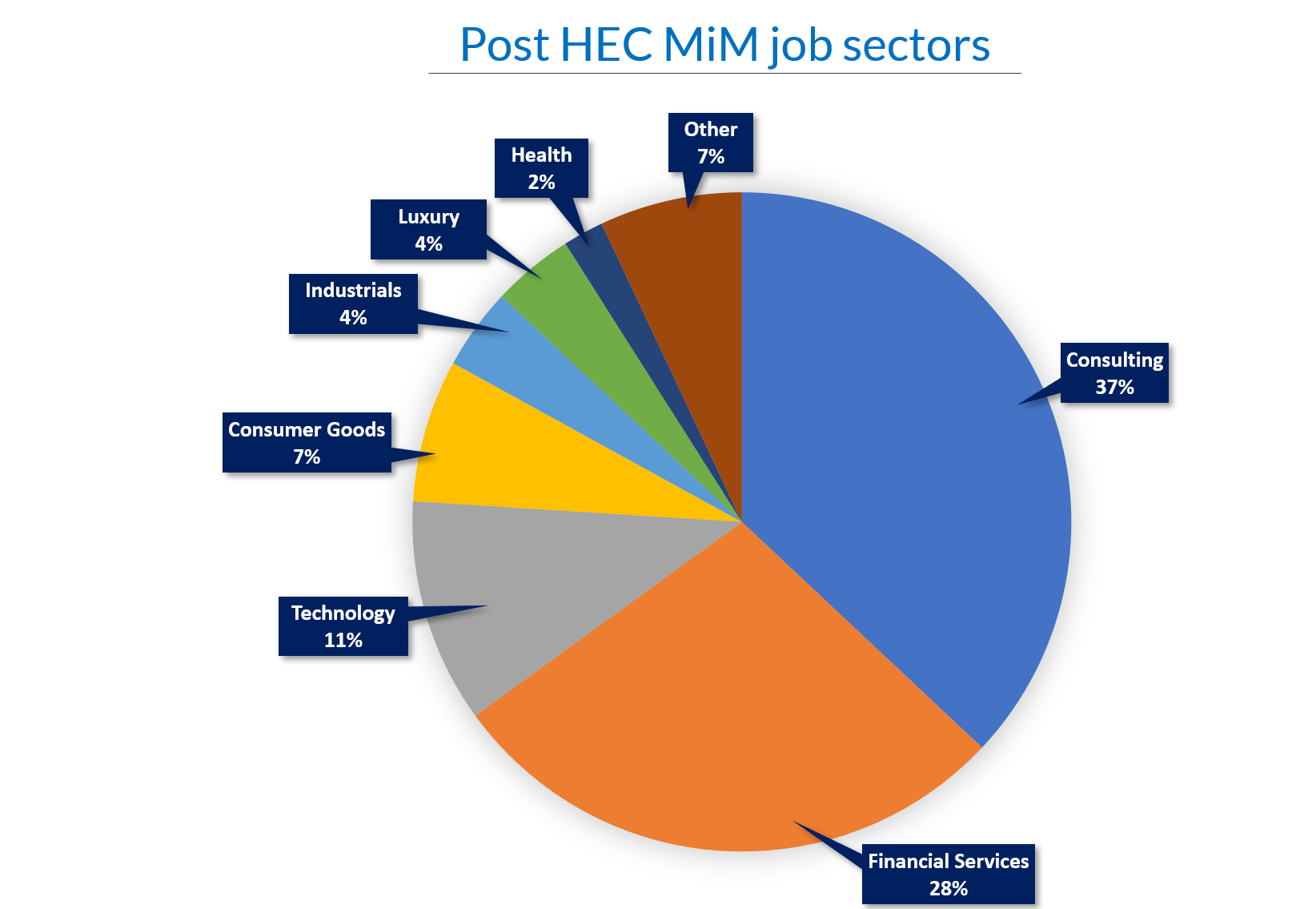 Post HEC Paris MiM Job Sectors
Consulting
35%
Financial Services
28%
Technology
11%
Consumer Goods
7%
Industrials
4%
Luxury
4%
Health
2%
Others*
7%
*Others – Media & Creative Industries, Public Sector, Non-Profit, etc.
HEC Paris MiM Employment by job function
Consulting (39%) and Corporate finance (22%) are the two functions which fascinated graduating class of 2018 HEC Paris Master in Management.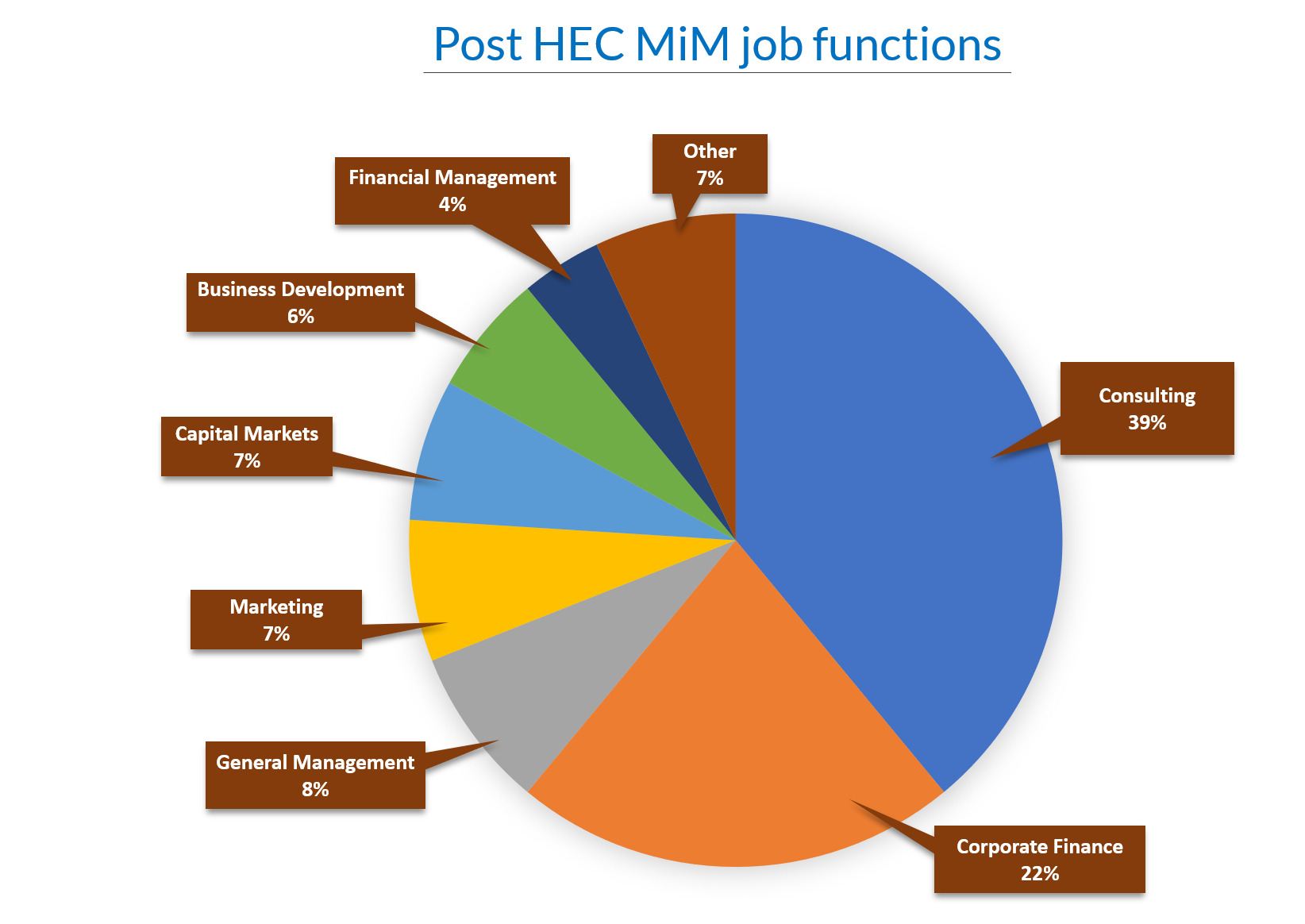 Post HEC Paris MiM Job functions
Consulting
39%
Corporate Finance
22%
General Management
8%
Marketing
7%
Capital Markets
7%
Business Development
6%
Financial Management
4%
Others
7%
HEC Paris MiM Employment by location
80% of the HEC Paris Master in Management students found employment in Europe. 30% in the United Kingdom, 20% in France, and 30% in other European countries. Check more details on location-wise employment below.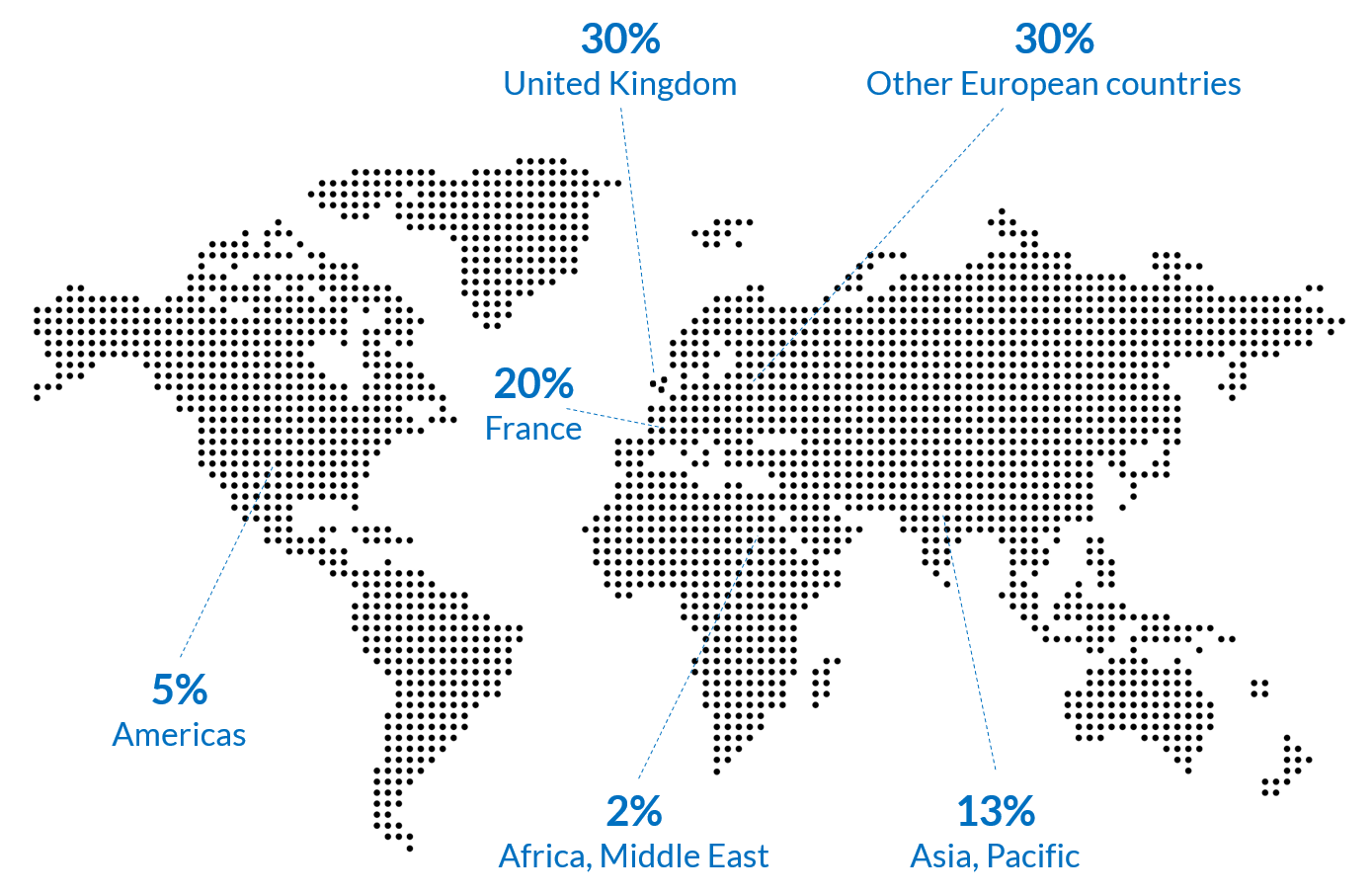 HEC Paris MiM employment by region
United Kingdom
30%
France
20%
Other European countries
30%
Asia, Pacific
13%
North and South Americas
5%
Africa, Middle East
2%
HEC Paris MiM Admission Process
HEC Paris is one of the top business schools in the world with a flexible MiM curriculum to tailor the course based on student's career ambition. No wonder the admission process of HEC Paris MiM program admission is highly competitive. It is crucial that you have your application ready by Round 1 or Round 2. Learn here why applying in Round 1 or Round 2 is important.
HEC Paris MiM 2022-2023 Application Deadlines
HEC Paris MiM admission rounds
Application Deadlines
Decisions
Round 1
18 October 2022
24 November 2022
Round 2
04 January 2023
16 February 2023
Round 3
01 March 2023
13 April 2023
Round 4
19 April 2023
2 June 2023
*for Chinese students of Fudan University, Tsinghua University, Nanjing University, Peking University, Wuhan University, Zhejiang University, Shanghai Jiaotong University.
It is not mandatory that you should speak French to apply for HEC Paris MiM program. The application form must be filled out in English and submitted online along with supporting documents by paying an application fee of €110.
HEC Paris MiM admission committee accepts GMAT or GRE or TAGE MAGE score. Applicant should also submit an English language proficiency test score (IELTS / TOEFL / TOEIC / Cambridge). Applicants must submit a one-page resume (CV) and two letters of recommendation along with other supporting documents. After submission of application, the admission committee will assess the admissibility of the candidate and publish the results through their website.
Shortlisted candidates will be invited for an admission interview. The interview will be conducted in English. The applicant can take part in the interview either by Skype or on campus. It is advisable to book the slot as soon as possible as the slots are offered on a first-come-first-served basis. Candidates are encouraged to discuss their motivation to join for HEC Paris MiM program, interests, unique background, and career goals during the interview.
Students who received an admit should confirm their seat with a deposit of € 6,100 deducted from their total tuition fees within 3 weeks of final results. There are many scholarships available for students to financially support their HEC MiM program. In our MiM scholarships article, we elaborate on different scholarships MiM students can avail.
HEC Paris is conducting an informative webinar on 19th September 2019, 2.30 pm CET (7 pm IST) for HEC MiM aspirants. You can attend this session to get answers to all your queries regarding the program.
MiM Programs Consideration Set
Here are some other top Masters in Management programs you can consider: