Getting an admit at top business schools is hard. You need to craft a strong application to stand out from the rest of the applicants. But how do you crack two of the most detailed international business school applications? In this article, we provide tips on how to get into London Business School (LBS) and Columbia Business school.  
We had a chat with Katy, an MBA student at Columbia Business School, who also got an admit from LBS. She did her undergraduate from Yale University and had work experience for eight years, before pursuing an MBA. She worked in the Film and Television industry.
Here is the video interview of Katy with Aayush – a first-year student at Columbia Business school, and an e-GMAT student who scored 750 on the GMAT.

You can even read this article to get an idea of how to craft a robust application for both Columbia and London Business school. The article is based on the Q&A session and covers questions related to the MBA application profile.
Here is the outline of the article
Did you know the average GMAT score range for Columbia MBA Class is between 716 to 732 and for London Business School it above 710 for the past few years? We can help you achieve that. Why don't you start your GMAT Preparation by trying out our FREE Trial? We are the most reviewed online GMAT Prep company on the GMATClub with more than 1870 reviews (as on 27th May 2020).
Why MBA after 8 Years of Experience?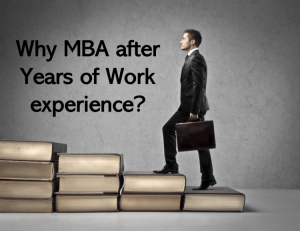 Aayush – Why did your higher than average work experience (8 years) not deter you from pursuing an MBA?
Katy: The decision of when to get an MBA is a personal one, and there is no right answer to when you should pursue your MBA. You need to think about when and why an MBA makes sense for you. For example, you might want to switch careers or are looking for career advancement.
From my personal experience, I started working my way up from the bottom in the film and television industry. Generally, you start as an intern, which leads to becoming an assistant for a few years, and then you start getting exciting projects to handle. I did not think of pursuing an MBA during those first 3-4 years because I was still at the learning stage. I was not in a position to contribute effectively to an MBA classroom.
Thus, after gaining 7-8 years of work experience and building a network in the industry, I decided to pursue my MBA.
Here is an article that highlights Why you should pursue an MBA in 2020.
Aayush – Do you think an MBA is still a good option (both in the short-term and mid-term) given the COVID-19 pandemic?
Katy: Because of the high cost of an MBA, it doesn't necessarily make sense to talk about short-term or mid-term prospects. An MBA is a long-term investment, and you need to think about it in the long-term.
I think an MBA is still a great option, even in the light of pandemic. At the risk of sounding hopelessly naïve, I would like to believe that the disruption caused due to COVID pandemic in business schools is temporary. By the Autumn 2021, things might go back to normal in terms of offering in-personal classes for MBA students.
Besides, if you think about the disruptions caused to the business overall, it might be an interesting time to get an MBA. When I was applying for an MBA, I was thinking about disruptions specific to my industry and how getting an MBA would help me navigate that.
We are now at a time where there are so many changes happening across industries, and thus, it would be an ideal time to gain those general management skills.
Getting an MBA during the COVID pandemic can also depend on which industry you see yourself working in. For example, if you see yourself working in say digital space, which is expected to grow more due to the pandemic, then pursuing an MBA to get relevant knowledge and skills is a good idea.
Why Columbia over London Business School?
Katy: It was not an obvious decision to join Columbia Business School. When I was going through the application process, LBS was my top choice. I had spent a long time building my career in London and have a good personal/professional network. Joining LBS would have been a seamless transition as compared to moving to New York, where I did not have the same network or experience.
Ultimately it came down to a few things:
Looking at my long-term career, I already had a strong network in London, and it made a lot of sense to go to New York and create an equally strong network there. Besides, I had never worked in the US before. Thus, pursuing MBA in USA would offer me to gain work experience in a different geography
In light of everything that was going on in the UK (BREXIT), I found myself leaning towards Columbia business school
After visiting both the campuses and having a talk with current students and Alumni, Columbia felt the right fit for me. In terms of environment and me fitting in a business school, Columbia surpassed LBS. Here is an article on How to find the right Business School fit for you.
At last, as I was interested in the financial part of management, Columbia felt like the right choice. It has a reputation of one the best Finance schools in the world
Check out Top business schools in Marketing, Consulting, Business Analytics, Operations, Human Resource Management, Supply Chain Management, Energy, and Entrepreneurship.
How to get into London and Columbia Business School 
MBA Essay Application Tips 

Aayush – How did to tackle the CBS essay question about career goals over 3-5 years and your dream job?
Katy: I approached this essay question by first thinking about my dream job and then working backward to stating my 3-5-year goals. While writing my short-term goals, I was a bit vague.
I wrote something like, "I see myself coming from a very creative background that was all about script editing and maintaining relationships. Thus, getting a management degree and gaining management skills will help me to come back to the industry in a more commercial business space. For example, doing business development for a studio or working in a corporate strategy."
The process of working backward from your dream job to short-term goals and then how an MBA fits in that is a great approach. You start with what you ultimately want to do and then connect the dots. Not to say that everyone should follow the same method. You can even first decide your short-term goals and then move to your long-term goals.
Also, business schools want to know if you have a roadmap of your career in mind. They do not want you to know your long-term goals exactly.
The whole point of getting into a two-year MBA program is to discover what you want to do professionally. The Adcoms completely get it if you do not have a sense of your long-term goals during the application stage. However, you should be able to make a logical coherence of your goals while attempting this type of essay question.
Aayush – How did you approach the CBS essay question about Team failure?
Katy: For this essay type question, the admissions committee is not focused on knowing your failures. They want to understand what learning you took from it. To approach this Columbia Business school essay question, I thought about the team projects that I have worked for in the past. I briefly outlined the failure situation in the first half of the essay, followed by the various steps we took to overcome it.
My advice would be to avoid answering the whole question, just detailing your failures. Add on the lessons that you learned from it. It would also be helpful if you talk about the future instances where you applied learnings from your failure. The admissions committee is testing your adaptability to situations.
Aayush – How did you answer Columbia Business School essay question about taking advantage of being at the very center of business (NYC)?
Katy: I tried to connect the question to my interest and career ambitions. I did some research on the kind of companies that were in New York that I would like to network or potentially do an internship with. I had also researched specific professors that I would be working with on different experiential learning courses. With all this information, I was able to craft my answer better.
Columbia Business School is one of the few b-schools that offers you an in-semester internship. Besides, being in the very center of the business allows you to commute between your classes and work smoothly.
Aayush – Did you choose to answer the Optional Essay question? Why/ Why not?
Katy: No. I did not answer this question. However, it is an excellent opportunity for people who want to highlight anything relevant, which the admissions committee should know about. I did not feel the need to write an optional essay because I was able to craft a coherent story for my non-optional essay questions. I was able to communicate my stories and was happy about the overall application.
Answer optional essay only if you have something relevant to add, which is not communicated through other parts of your application. For example, you can explain why you have a low GPA or a gap in your work experience by writing an optional essay.
Here is a detailed article on how to approach London Business School MBA Essay questions.
How to get into London Business School: Video Interview Tips 
In a video interview, you need to answer the question on the screen within the given time limit. Generally, 30 sec is given to prepare for it.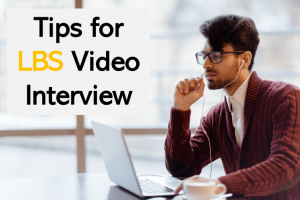 Aayush – How did you prepare for LBS Video Interview questions?
Katy: The most challenging part for me was to see myself while I was formulating a coherent answer to the Video interview question. The first question was very generic as to Why LBS. For this type of question, you can prepare earlier. I would suggest rehearsing answers to a few generic questions. Practice to answer them within a minute or so.
For the second Video question, generally, LBS picks up a random question from the question bank. Prepare a few answers to standard behavioral questions such as the time you worked on a team or challenges at work you faced.
There is a list of questions you can prepare for the Video interview format. Do prepare them and go. Also, try to do some mock video interviews.
Aayush – If you were to apply all over again, what would be the three things you would do differently?
Katy: There are two things that I would do differently. Firstly, I had not done much of volunteering or community services work, and I think it hurt one of my b-school applications.  There are some business schools out there that value community service. Thus, it is helpful to include these things in your application.
You can do any community service that is in line with your career goals or a day service that your company is running. I do think that these things are useful when it comes to crafting a strong application.
Secondly, take your GMAT exam early. By taking GMAT soon, you will have enough time to retake it if you did not hit your target score. Also, it will give you enough time to meet the MBA application deadline.
I faced some difficulties while taking the GMAT exam at the center, because of which I had to retake the test. I was lucky that I could give the exam before my application deadline. Thus, study early and give yourself a buffer time by taking the GMAT soon.
One of the advice I got from an admissions committee member was that if you do not have a business background, then your GMAT score will play a key role. They would be interested in the quantitative part of the GMAT to make sure that you can hand academics in the classroom. Thus, focus on getting a high GMAT score by preparing for it early.
Here is an article on what is a good GMAT score for Columbia and London Business School.
Did you know the average GMAT score range for Columbia MBA Class is between 716 to 732 and for London Business School it above 710 for the past few years? We can help you achieve that. Why don't you start your GMAT Preparation by trying out our FREE Trial? We are the most reviewed online GMAT Prep company on the GMATClub with more than 1870 reviews (as on 27th May 2020).
Questions by Webinar Attendees
Question 1: What are some of the reasons that would tip the scales in favor of LBS?
Katy: One of the things that would tip the scales in favor of LBS for me was the fact that it offered a two-year MBA program. Most of the b-schools in Europe offer a one-year MBA. Another thing that makes LBS stand out is the diversity. I think if I was committed to working permanently in London, then LBS made a lot of sense. However, I wanted to get a two-year degree, and thus choose CBS.
Question 2: Is a counselor necessary to craft an MBA application to Ivy League schools?
Katy: Hiring a consultant is a personal choice, and it can be helpful. However, I choose not to hire one because:
I had gone through the same application process for my undergrad at Yale University. Besides, putting together an MBA application was not that different structurally. Thus, I was comfortable with the application process
I had a lot of support from family/friends. They were also reasonably familiar with the American application process
If you have not studied in the US before or are struggling to articulate your stories, then I do think you should hire a consultant.
Question 3: What additional preparation should one do if he has a low GPA and ten years of experience. Can a low GPA be compensated by a good GMAT score?
Katy: I think the further you get from your undergraduate degree, the less your GPA matters. If you have a low GPA, they will look at your GMAT score. Besides with more years of experience, you will be in a position to share amazing stories in your essay.
Read in detail how to compensate for a low GPA score.
Question 4: What is the minimum year of work experience for a good business school?
Katy: I am not sure if any business schools have a hard-minimum year of experience. Most of the people do have three years before they join a business school.
Make sure that you have enough experience to contribute to a classroom. For example, if you are a management consultant and had a career path where you were exposed to a lot of different industries or projects, it would make sense to have fewer years of work experience.
Check out the average age and work experience at top business schools.
FAQs – How to get into London and Columbia Business School?
What is the average GMAT score required for London Business School?
The average GMAT score range for its Class of 2021 is between 600-780.
Is the London Business School MBA class diverse?
Yes. The Class of 2021 consists of 92% of international students.
What is the average salary of an LBS and Columbia graduate?
The average salary for the class 2019 is $150,000 for Columbia MBA graduate and £ 87,900 for LBS MBA graduate.
What are the requirements to get an admit at LBS?
You are required to submit the following:
1. Work experience for a minimum of 2 years
2. Application Essays
3. One-page CV
4. GMAT Score
5. Names and details of two referees
6. Proof of English proficiency
7. Copy of transcripts
8. Application Fee of £200
Check out the class profile and employment record at LBS.