The GMAT Online Exam has been a daunting challenge for students across the world due to the introduction of Online Whiteboard. However, the strategy for studying has become all the more critical since only students with strong pre-thinking abilities and core skills would adapt to this new tool.
Gaurav Saharan was able to fix the gaps in his learning through directed advice and utilize this new tool to his advantage by employing it effectively to increase his score from 670 at the test center to 730 (Q50, V39) on the At-home GMAT Online exam.
Gaurav scored 660 on the GMAT in his first two attempts, followed by GMAT 670 on his third attempt. He improved on both Quant and Verbal by essentially doing just two things:
Adopting corrective actions shared with him by our in-house strategy team
Befriending the GMAT Online Whiteboard.
The strategy team was able to crunch data from his ESR, connect the dots, and pave a clear path forward for him to achieve his target score. The team also helped him build his confidence in applying techniques like pre-thinking that accentuated the effectiveness of the Online Whiteboard.
We have built the whiteboard experience that (we think) is similar to that on the GMAT Online Exam.  Register for our FREE Trial and get access to 300 questions and 1 Mock test to hone your Whiteboard skills. 
In this video, Gaurav shares how GMAT whiteboard can be a blessing in disguise. He also shares his GMAT journey and the areas where he worked on to improve his score.
0:58 – First GMAT Attempt
3:43 – Isolating the weakness by analyzing ESR
4:28 – Pre-thinking approach for CR
4:56 – e-GMAT Application Files for GMAT Verbal
5:31 – Meaning based approach for SC
6:37 – Covering the pitfalls in RC, Algebra, and Geometry
15:24 – Gaurav's GMAT Study Plan
16:17 – Practising on Online GMAT Whiteboard and its advantages
20:25 – Online GMAT Experience
25:48 – Advice on MBA Admissions
You can also read this article to get an idea about how Gaurav was able to score 730 on the GMAT Online Exam. We also highlight the GMAT strategy followed by Gaurav while taking the GMAT Online exam using Whiteboard.
Here is the outline of the article. Click on the link to jump to the relevant section:
GMAT Journey – Humble Beginnings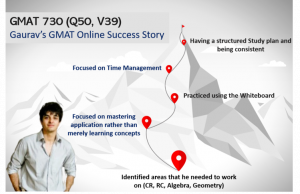 Gaurav started his GMAT preparation in July 2019 but did not follow a structured study plan. He went through all the GMAT resources at this time – a mistake made by the majority of students.
Using the GMAC Official Guide, he gave GMAT Club tests, got a Kaplan Workbook, and went through the Manhattan strategy guides. Basically, he lacked focus on the things he needed to do in order to push his GMAT score above 700.  
He thought that the more questions he solved, the better he would get. He did not pay much attention to the concepts, which is a very common misconception. All of this led to his first failed attempt on the GMAT, and he scored a 660.
After analyzing his ESR with one of our Strategy experts, he started to focus on mastering application rather than just learning concepts and was able to cross that GMAT 700 mark.
Our strategy team was able to pinpoint key focus areas after looking at multiple ESR's and pave a detailed step by step plan dispelling many of Gaurav's assumptions about his strengths and weaknesses.
By directing his attention to concepts and their application, the strategy team was able to show him the benefit of following this path. In his case, an unbiased and objective reference proved pivotal. Not only did the team help him with what he needed to do, but they also showed him the value each step added to his preparation.
Besides, by reinforcing his trust in strengthening foundations and not just senselessly solving a series of questions proved to be one of the things that allowed him to perform better on the GMAT Online Whiteboard as well.
GMAT Strategy to approach Sentence Correction
When Gaurav went through the e-GMAT course of Sentence Correction, he thought his accuracy would be good. However, it was pretty low. The reason behind it was that he still did not think about the meaning before answering a question.
Here the e-GMAT was helpful as it made him understand the meaning-based approach for solving Sentence correction questions.
GMAT Strategy to approach RC Section
Gaurav had changed a couple of things while preparing for RC –
Approached the question Differently: Earlier, he would spend 1-1.5 minutes to read the passage and then move to the questions. However, for his fourth attempt, he started to focus on spending more time on reading the passage. He spent around 2-3 mins, which helped in time management as you do not come back to the passage that frequently.
Analyzed his GMAT ESR: As mentioned earlier, after analyzing his ESR with our strategy team, he was able to pinpoint areas where I needed to work. He started to go through the Inference modules in the e-GMAT RC section, where he was weak and applied the e-GMAT reading strategy, which helped me to increase his RC score.
Here is an image of the ESR analysis and study plan that Gaurav followed: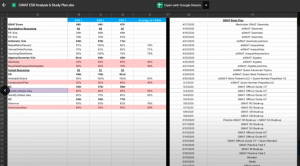 Check out  e-GMAT Verbal Course Here.
Conquering the GMAT Online Whiteboard
We have built a seamless whiteboard experience that (we think) mimics the GMAT Online Exam.
Register for our Free Trial and get access to 300 questions and 1 Mock test to hone your Whiteboard skills. 
Gaurav was able to use this and turn it into a blessing in disguise. He was able to derive tons of value from our video playlist, dedicated to effectively using the Whiteboard.
Gaurav started to approach the questions differently while using the GMAT online whiteboard. He was approaching a problem by jumping straight to calculations. But, after practicing on the Whiteboard, he started to look at the question first and think about the best way to approach it.
After implementing the pre-thinking strategy while using Whiteboard, he was able to increase his GMAT score to Q50 and V39.
We also discovered that there are hardly about 3% of the Quant questions that become difficult to solve on the Whiteboard. But if you have a strategy to tackle it, you will be able to overcome that hurdle. For example, if you have a strategy for expressing the exponents using the keyboard, and if you apply the pre-thinking approach, you can solve most of the questions on the GMAT using Whiteboard.
Gaurav's GMAT Online Experience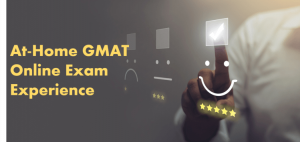 Gaurav had heard stories of people who went to go to the GMAT test center and had to wear a mask all the time. With so much stress and anxiety going around us, covering your face while taking the test can be distracting.
So, he decided to give the At-home GMAT online exam. Besides, he scheduled his test 2 hours before the exam, which was not possible while taking the GMAT at the center.
Another advantage is that you can take the GMAT online from your computer and in an environment that you are comfortable with.
The entire GMAT Online experience was seamless for Gaurav.
Connecting to the GMAT Online exam
Gaurav connected using Wifi. Also, there is a system test that you are recommended to take before the actual test. Thus, he was confident to take the GMAT test on his computer and had the right internet connection speed (1Mbps).
Here is an article that can help you set up your room for the GMAT Online exam.
Key Takeaways
Gaurav's story brings out two essential elements in GMAT preparation:
An objective, foolproof, and data-backed approach makes all the difference in filling those gaps in your preparation that can prove to be the difference between a good and bad score
The right strategy and vision are imperative to score well on the GMAT
Our strategy team has helped numerous students with this clear direction and thought-based approach. Drop us a mail at support@e-gmat.comto get in touch with one of our strategy experts today!
Comfort with the GMAT Online whiteboard is now synonymous with GMAT success. Using our seamless whiteboard experience, you would be able to start leveraging this tool to your benefit.
You can now go into the exam filled with the confidence of having practiced on a tool that mimics the live test environment.
Register for our Free Trial and get access to 300 questions and 1 Mock test to hone your Whiteboard skills. 
FAQs – GMAT Online Success Story
What is the registration fee for the GMAT Online?
The registration fee is $250 for the GMAT Online.
Are there any system requirements to take the GMAT Online?
Yes. As per GMAC, there are various system requirements related to the operating system, firewall, display, internet browser, and more. Check out our article to know in detail about the system requirements for GMAT Online exam.
Can I reschedule or cancel my GMAT Online Exam?
Yes. you can reschedule or cancel your 'GMAT Online' 24 hours before your scheduled appointment.
Can I retake the GMAT Online?
Yes. You can retake the GMAT online once .