Known for its diversity and expertise in Finance, Columbia Business School is one of the  M7 business schools. It receives a massive number of applications every year and has an acceptance rate of 16.5%. So, how to get into Columbia?
To help you, we had a chat with Nishant a Columbia MBA admit to know about his journey and understand how to get into Columbia.
Nishant is a first-year MBA student at Columbia Business school and an e-GMAT student who scored 740 on the GMAT. He has seven years of experience in managing large cross-functional and cross-cultural teams in Upstream Oil and Gas organizations. He will be starting his internship at Bank of America.
Below is Nishant's video interview with Aayush – a first-year student at Columbia Business School, and an e-GMAT student who scored 750 on the GMAT.
You can also read this article to get an overall picture of how he got into Columbia, why he decided to pursue an MBA after seven years of experience, and how is the COVID-19 pandemic affecting admissions/ recruitment process.
Here is the outline of the article. Click on the link to jump to the relevant section:
Why MBA and Why Columbia?
Aayush – Why did you decide to pursue an MBA after a tremendous career success?
Nishant: I started thinking seriously about pursuing an MBA during the 2014-2015 oil crises. It will surprise you that most of the managers in our field generally do not have an MBA degree. They progress by having an engineering degree in the organization. So, at this point, if I wanted to get out of the oil industry, I did not possess any extra skills.
Also, when I joined Cairn Oil and Gas, it was at the growth stage, and the engineering team made decisions. But as the company reached that stability, the decision-making power moved to the management team.
This made me realize that even if I change my industry, I would be able to handle a big team because of my experience, but I will not be able to make strategic decisions. Thus, an MBA degree made sense for me because it will allow me to make a career transition and take those strategic/influential decisions.
Learn more about Why you should pursue an MBA.
Aayush – What attracted you to Columbia Business School?
Nishant: When I started to look for business schools, it was clear that I wanted to get into Financial services post-MBA. So, I started looking at Top business schools for finance such as Wharton school of business, Chicago Booth, and CBS. After doing my research, what made Columbia business school standout was:
Finance curriculum at Columbia business school
It is in New York City. You can end up at Philadelphia or Boston, but that would not give you an experience in terms of the city life
Also, New York is the headquarter for many big financial companies, making networking easier
Aayush – Did you consider schools outside the US? What was your school selection strategy?
Nishant: For me more than geography, the duration of the program mattered. I wanted to get into a 2-year MBA program, and generally, the US has the reputation of offering it. If you look at Singapore or Europe, most of the reputed business schools offer a one-year MBA. Thus, an MBA from the USA made sense.
One-Year vs. Two-Year MBA
I wanted to pursue a two-year MBA because:
I was making a career transition, and a two-year MBA would offer me internship opportunities as compared to a one-year MBA.
A two-year MBA offers you a comprehensive learning experience.
Read our detailed article on the difference between a one-year MBA vs. Two year MBA.
Webinar Attendees Question
Question 1: How much does a post-MBA visa play a part in thinking of pursuing an MBA in the US?
Nishant: The post-MBA visa did play a part when I decided to get an MBA in the USA. In Europe, they give you a six months visa post-MBA. You can only apply for an extension if you are planning to do entrepreneurship after your MBA. As I was not keen on doing that, an MBA in the USA made more sense.
Also, most of the business schools there are converting to a STEM MBA program, which gives you an additional 24 months of optional practical training.
A typical graduate gets 12 months OPT. Learn more about STEM MBA and business schools that offer them.
GMAT Journey

Aayush – How did you go from 570 to 740 GMAT Score?
Nishant: e-GMAT was extremely helpful because of which I was able to go from 570 to 740 GMAT score. The three key things that helped me where:
Scholaranium: It helped me to understand what areas I need to focus on.
Concept files: e-GMAT provided the videos and easily understandable concept files.
Application Files: with the application of the concepts on actual GMAT questions rather than just learning them helped me achieve my targeted score. It helps you to develop a framework on how to answer a particular question. Thus, learning the application of concept works well for both Verbal and Quant.
Are you planning to give the GMAT? Why don't you try out our FREE Trial and get access to FREE online GMAT resources? We are the most reviewed online GMAT Preparation company, with 1870+ reviews on GMATClub.
Webinar Attendees Question
Question 2: What challenges you faced while preparing for the GMA? How did you manage to slide upwards from a 570 to 740?
Nishant: One of the biggest challenges that I faced while preparing for the GMAT was my stress. After the oil & gas crises, people around me were losing jobs. Also, I had a few family issues because of which preparing for GMAT became stressful. In addition to that, the stress that I had before taking the GMAT exam also made it challenging.
My advice would be to take the GMAT exam after you have reached the desired score in mock tests. Here are some tips to overcome your GMAT Anxiety.
How to get into Columbia: Application Profile

Aayush – What advice do you have for candidates who are above the average age at top business schools?
Nishant: I decided to pursue my MBA after seven years of experience, and I did think that I was older than the average MBA candidate. But that gives you a lot of advantages.
Firstly, it gives you an edge from the other candidates as you have more experience and more exposure to leadership roles. If you have let's say 5+ years of work experience, you probably have gone through a lot of leadership challenges, failures, and quite a few successes. Thus, you can bring a lot of richer stories in your essays as compared to a person who has two-years of experience.
Secondly, you kind of understand what younger students are writing, and it gives you a viewpoint on what your competition is writing. Thus, this gives you a mileage that can put you ahead of the competition.
My advice would be to leverage your work experience and the stories that you bring out in your essays to get ahead of the competition.
Webinar Attendees Questions
Question 3: What is your suggestion on someone who has three years of experience and does not have many leadership experiences to share?
Nishant: In such a situation, you need to understand leadership experience in the context of you taking the initiative. Highlight the challenges that you faced while working on a project and negotiation skills that you showcased. Make these into exciting stories and share them in your application.
Question 4: How did you leverage your work experience to get an admit to Columbia business school? I am working for the mining industry.
Nishant: If you look at the number of people who come from an energy background, its generally 2%. For example, if there are 5000 seats, then 100 seats come from the energy sector. To top it up, there is usually a quota for international students. Let us say 40%, which brings down the seats to 40. And that not all. There are other quotas to like depending on your gender you might have less than 40 seats available. Thus, you need to understand your competition first.
So, if you are coming from the natural resource industry (oil & gas, mining, etc.) with good work experience, then you would have a lot of leadership qualities to showcase. You may not have an analytics or business understanding, but you can leverage your leadership experience. That is what I did.
Also, M7 business schools are more inclined towards leadership development, and you need to bring those leadership skills to the program. If that is something you can authentically talk about, then you will be the right candidate for M7 business schools.
Question 5: Do five years of consulting experience post qualification help in landing in M7 schools?
Nishant: Yes. M7 schools are loaded with people with a consulting background. So, I do not see any problem with it. Also, if you are working at top consulting firms, then it would be an added advantage. Besides, to get into M7 business school with a consulting background, you should be able to talk about what you have learned and how does it translate to do an MBA.
Question 6: As an engineer in a major software firm with three years of experience, how much should I focus on leadership experience in my applications?
Nishant: Your whole application should be around leadership. An Indian engineer is an over-represented pool and faces a lot of competition. Thus, you need to make sure that you stand out of the crowd by highlighting your leadership experience.
Question 7: How can we leverage our entrepreneurial background in the application?
Nishant: You can leverage your entrepreneurship background by highlighting your entrepreneurship mindset. For example, in your application, you can talk about how you lead a conversation with a VC firm, where you able to sell your product to them and the challenges you faced. You can even talk about any failures you had with your entrepreneurial venture, where you can talk about your learnings from it.
If you are a part-time entrepreneur, make two different sets of stories. For example, you can make your failure stories entrepreneurial and your success stories related to corporate life. If you have been an entrepreneur all your life, then just talk about the leadership experience in the context of what we discussed.
Question 8: Funding opportunities in a business school – as a fellowship or assistantships, and what factors does it depends on?
Nishant: There are funding opportunities available in terms of scholarships and funds that are available for your education. The fellowship application will generally depend on the quality of your application and how special you are. If you can demonstrate what makes you unique, then definitely you can aim for a large amount of scholarship.
Most of the Indian people I know have scholarships, which can range from 20%-80%.
In terms of assistantships, opportunities are there. You can apply for a teaching or thesis assistant position, which is kind of well paid and can take over your daily expenses or rent expenses.
Are you planning to pursue your MBA at Top Business Schools? A 740+ GMAT score can increase your chances of getting an admit. Why don't you start your GMAT preparation with us? We are the most reviewed online GMAT Prep company with 1870+ reviews on the GMATClub. Take our FREE Trial and get access to FREE GMAT Resources. 
Should you Hire an MBA Consultant?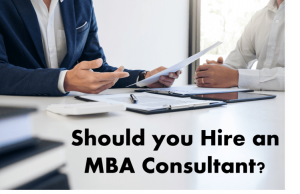 Aayush – Did you hire a consultant for your MBA Application? Do you think it was the right decision?
Nishant: I had hired a consultant for my MBA Application. The decision to hire a consultant depends on which stage you are at. For example, if you don't understand how to write an application or how the admissions process works, then it's great to hire a consultant. They can help you through the research of the schools, offer you insights into what the admission committee expects from your application, and provide you with all the key points.
Thus, hiring a consultant was the right decision for me. However, if you have significant experience and you know what you need to write, then you do not need a consultant. Also, a support system should be there. You need someone to give you feedback on your essays and application. Thus, if you have that support system in place and know what you want to convey through your MBA application, then a consultant is not required.
If you decide to hire a consultant, keep in mind that you need to draft your own story. Consultants are there to support you and guide you through the application process. If someone else writes your story, then the authenticity is lost. Also, once you hire a consultant, you might feel that you have given up control over your application. Thus, make sure you have control over your application, and the stories you present should be authentic.
How to get into Columbia: MBA Interview Tips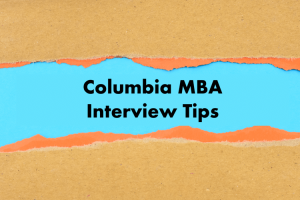 Aayush – How did you practice for your interviews? How was your interview experience?
Nishant: For me, I knew that if I make it to the interview, I will have a lot of interesting stories to talk about because of my past work experience. Thus, I was confident that I could coherently communicate my stories, and that would make an interesting discussion in the interview.
Here are some tips for Columbia MBA interview process:
Review your application. Make sure that what you have written on your application is coherent to what you talk about in the interview
Most of the interviewees do not have a physical copy of your application and thus try to tell your story in a new format so that it comes alive
Have four to five stories that fit into the category of ethics, leadership, professional and personal success
The interview experience at Columbia business school was pleasantly conversational for me. The interviewer's agenda is to connect with you and figure out if you are a good fit for the business school.
If you got into the interview stage, then you probably have ticked all the basic requirements of the school, and now they just want to know if you will fit in their environment. You cannot come across as someone who is sharp-elbowed and extremely competitive for the Columbia MBA interview.
Do not over-prepare for your interview. You should be aware of what you have written on your application, your goals, and should be able to connect to the different pieces of your application.
How to get into Columbia: Things Nishant would do differently
Aayush – If you were to apply all over again, what would be the three things you would do differently?
Nishant: Firstly, I would never hire an expensive MBA Admissions consultant. However, you must go ahead and take help from someone. But a consultant that is charging you INR 8 to 10 lakhs is not worth it. You need support while reviewing your essays and give you input on the structure.
Secondly, I would provide myself more time for the preparation of an MBA. Generally, people start thinking about pursuing an MBA during the third year of work ex. It takes time to build up your stories and gain those leadership skills. Also, top business schools are super competitive, and you need to build your profile so that it increases your chances of getting an admit.
So, give your self more time to think about why you want to pursue an MBA, what your targeted business school is looking for, and is the b-school right fit for you.
Aayush – How has the current pandemic affected your recruitment? How will it affect admissions for 2021 intake?
Nishant: The internship is an excellent experience when you go to firms, meet people, make connections, and try to convert it into a full-time offer. However, with the current COVID-19 pandemic, our internships have moved online. But we do consider ourselves lucky because Columbia Business school has done a lot to make those internship opportunities available for us.
Thus, I do not think that it has affected our internship recruitment in a significant way. Most of the organizations that have committed to giving internships are still there. However, will we be able to convert those internships to full-time recruitment? I am not sure. It might affect our recruitment, but if you are coming out from a top business school, at least you can fall back on that.
When it comes to the admissions for 2021 intake, generally, whenever there is a recession, we have seen business school's intake rise. I believe that will be a similar situation at this point. What can be a disadvantage is that we might have to move to an online teaching format.
Are you planning to pursue your MBA at Top Business Schools? A 740+ GMAT score can increase your chances of getting an admit. Why don't you start your GMAT preparation with us? We are the most reviewed online GMAT Prep company with 1870+ reviews on the GMATClub. Take our FREE Trial and get access to FREE GMAT Resources. 
FAQs – How to get into Columbia
What is the GMAT score required for Columbia Business school?
The average GMAT score for the class entering 2019 was 727.
How much is the MBA Tuition fee at Columbia?
The Tuition fees at Columbia for 2019-2020 is $77,376. However, there are other fees that you need to pay. Thus, the total MBA cost is approx. $114,219.
Learn more about Top business schools MBA costs.
What are the Columbia MBA Application Requirements?
Here is a checklist for Columbia MBA Application:
1. GPA
2. Transcripts
3. GMAT/GRE/Executive Assessment
4. Essays
5. Recommendations
6. Interview
7. Application Fee
8.Re-applicant Checklist
9. Deposits