In Part-1 of this article, we looked at why consulting is a popular career choice post-MBA and the skills the top consulting firms are looking for in candidates. We also looked at the Top 5 Best Business Schools for Consulting based on the latest business school employment reports.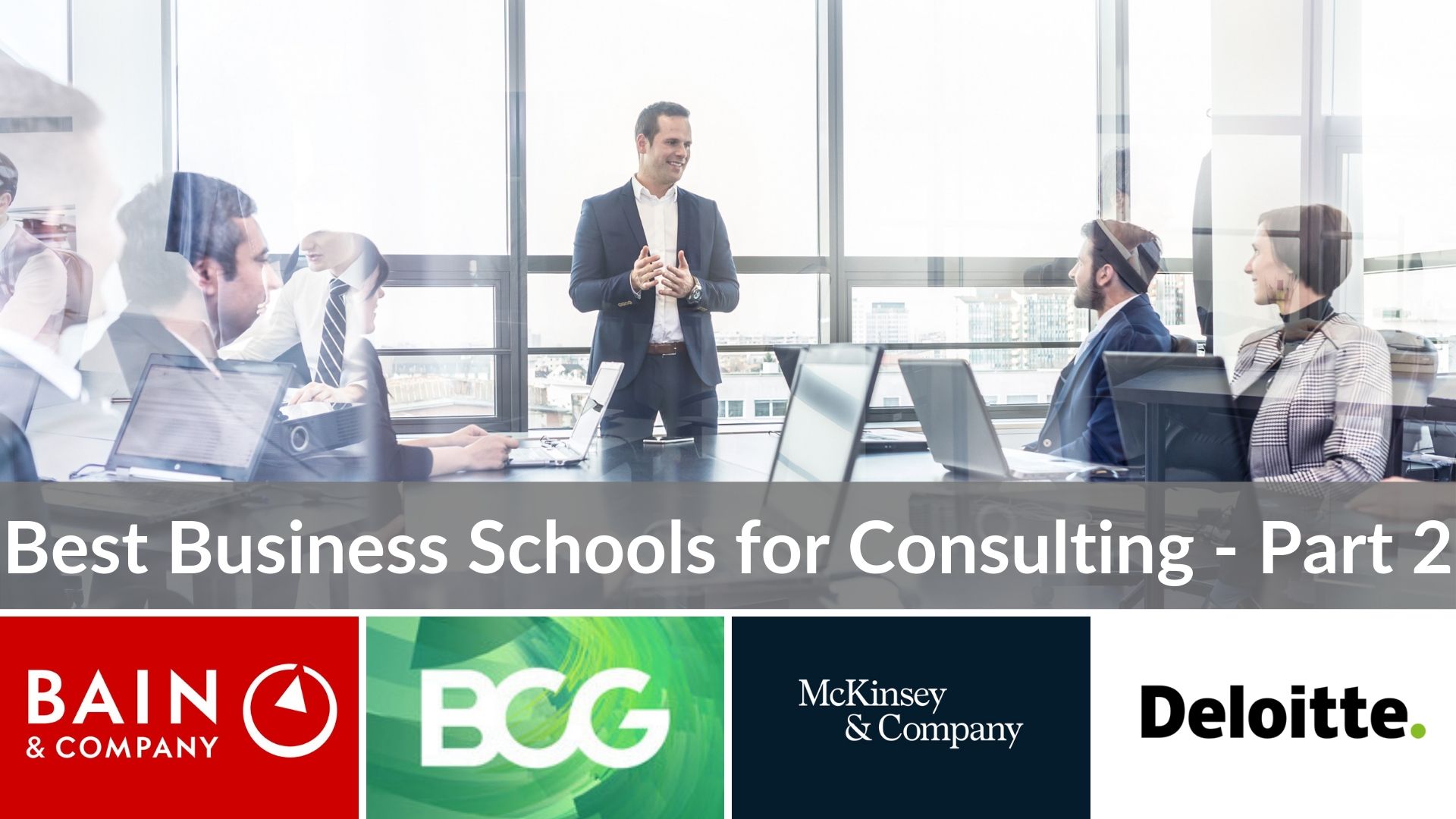 In this article, we take a look at the next set of 5 Best Business Schools for Consulting careers.
Here is a brief outline of this article:
Top 10 MBA Programs for Consulting Careers:
INSEAD
London Business School
Yale School of Management
Columbia Business School
Duke Fuqua School of Business
If you missed out on Part-1 of this article where we cover the first 5 Top MBA Programs for Consulting you can read it here.
Top 10 Best Business Schools for Consulting Careers
Following are some statistics from the latest employment reports of the above business schools related to consulting.
| | | | | | | | |
| --- | --- | --- | --- | --- | --- | --- | --- |
| Sr. No | Business Schools | Class Size | Incoming Percentage (By Industry) | Outgoing Percentage (By Industry/Function) | Median/Mean Salary (in US $) | Mean/Median Sign-On Bonus (in US $) | Salary Range |
| 1 | INSEAD | 500 | 16% | 52% | 113,400/113,800 | 27,000 | 46,000 – 180,000 |
| 2 | London Business School | 415 | 26% | 37% | 113,329 | 47,407 | 74,438 – 168,000 |
| 3 | Yale School of Management | 347 | 20.20% | 34.9%/46.3% | 145,000 | 25,000 | 125,000 – 152,000 |
| 4 | Columbia Business School | 756 | 23% | 33.60% | 147,000 | 30,000 | 80,000 – 233,500 |
| 5 | Duke Fuqua | 440 | 24% | 32%/35% | 140,000/140,300 | N/A | 93,000 – 170,000 |
| 6 | Virginia Darden | 345 | N/A | 32% | 140,189 | 31,940 | N/A |
| 7 | MIT Sloan | 409 | 21% | 31.6%/38.5% | 147,000/142,988 | 30,000 | 73,677 – 185,000 |
| 8 | Chicago Booth | 591 | 24% | 31%/32.3% | 150,000 | 25,000 | 53,000 – 170,000 |
| 9 | Michigan Ross | 423 | 16% | 30.1%/33.1% | 147,000/136,667 | 25,000 | 70,000 – 170,000 |
| 10 | Northwestern Kellogg | 478 | 24% | 30.1%/32.4% | 147,000/140,830 | 28,130/25,000 | 82,800 – 170,000 |
Best Business School for Consulting #6 – Darden School of Business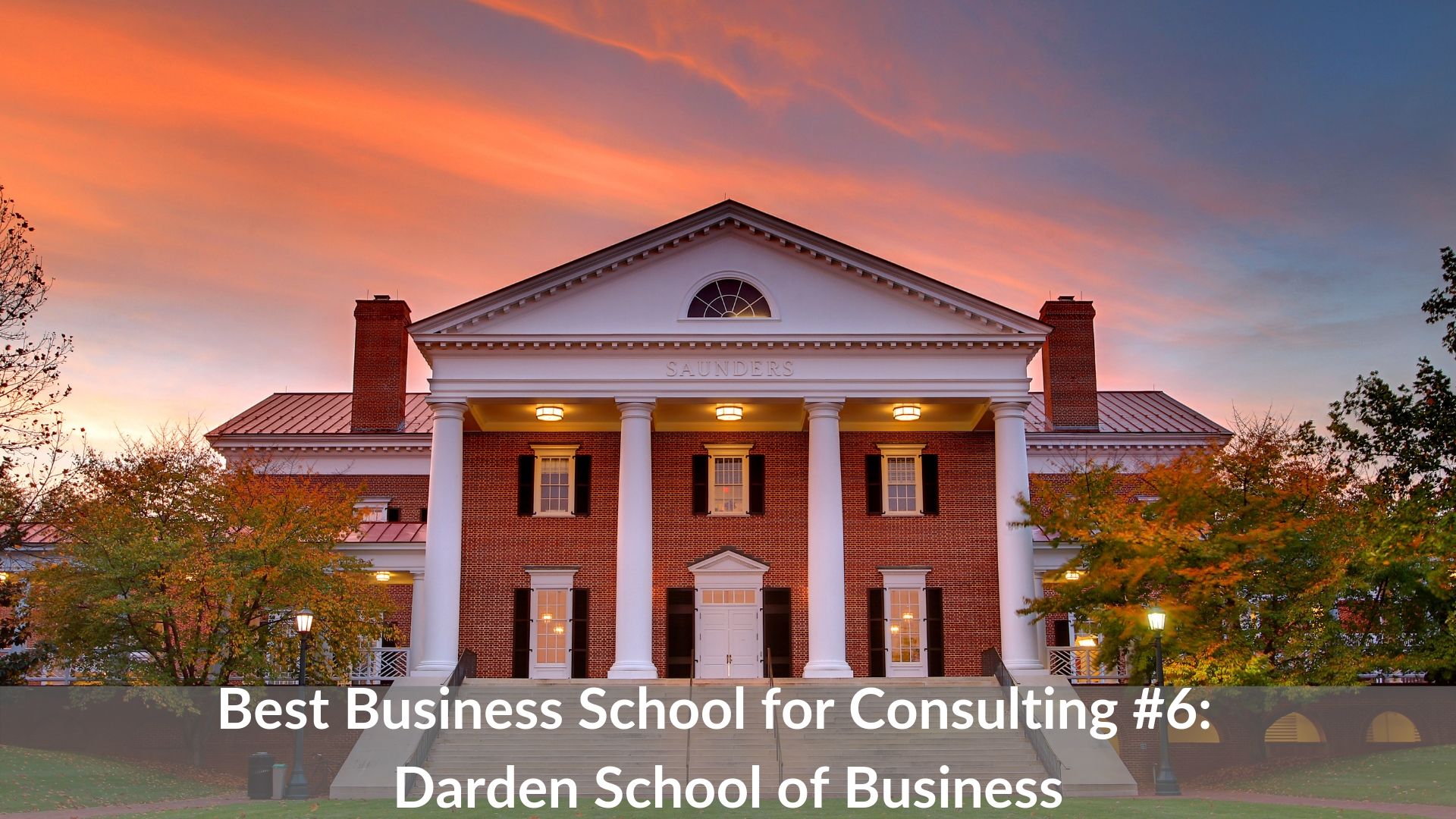 32% of Darden's class of 2018, chose careers in the consulting industry post MBA. The average starting salary and bonus offered to students recruiting for consulting careers at Darden are US $ 140,189 and US $ 31,940 respectively.
McKinsey & Co., Bain & Co., and BCG are among the top 5 hiring companies from the class of 2018 at Virginia Darden. Accenture, Deloitte, and PwC were some of the other top employers hiring for consulting roles.
Coursework and Pedagogy
Darden offers many courses related to consulting with the aim of getting students up to speed quickly about the industry and preparing them to generate hypothesis and possible solutions to client problems. Some of the consulting related courses offered are:
Post-Merger Integration
The Practice of General Management
Strategy Seminar
The Consulting Process
Systems Design and Business Dynamics
Darden Consulting Projects
Management Decision Models
Operations Strategy
"The Consulting Process", teaches the basic skills of successful consultation to students interested in consulting but with no experience in the field. Students sure about recruiting for consulting can also select Strategy Consulting as a Career Track concentration. Overall students can choose from over 10 electives to personalize their MBA experience for a career in consulting.
Besides the coursework, the case-method based pedagogy and Darden's focus on collaboration through learning teams is particularly relevant for consulting.
Darden Consulting Club
The Darden Consulting Club attracts up to half of each year's class. The club is active in organizing networking opportunities with recruiters, interview practice and resume-polishing workshops.
These events are geared towards first-year students and help them in understanding what consulting is and how the various consulting firms differ. The Consulting Club also publishes its own case book and provides students access to case books from other top-ranked business schools.
In addition, the Consulting Club also sponsors a Consulting Conference in which the club invites representatives from a diverse set of consulting firms each year such as Bain & Co., Accenture, Booz & Co., Deloitte, IBM, and McKinsey & Co. Representatives are encouraged to present issues most relevant to their current area of practice. The conference takes place over 2 days and usually starts off with a kickoff speaker.
Darden Business Project
To gain hands-on experience in consulting, second-year Darden MBA students can take part in the Darden Business Project. Teams of 3-6 students frame issues, analyze data, and present solutions in a real-world environment for a U.S. or an international company. The business projects can focus on an issue facing one of the school's corporate partners, or the project team can develop and assignment of its own.
Best Business School for Consulting #7: MIT Sloan School of Management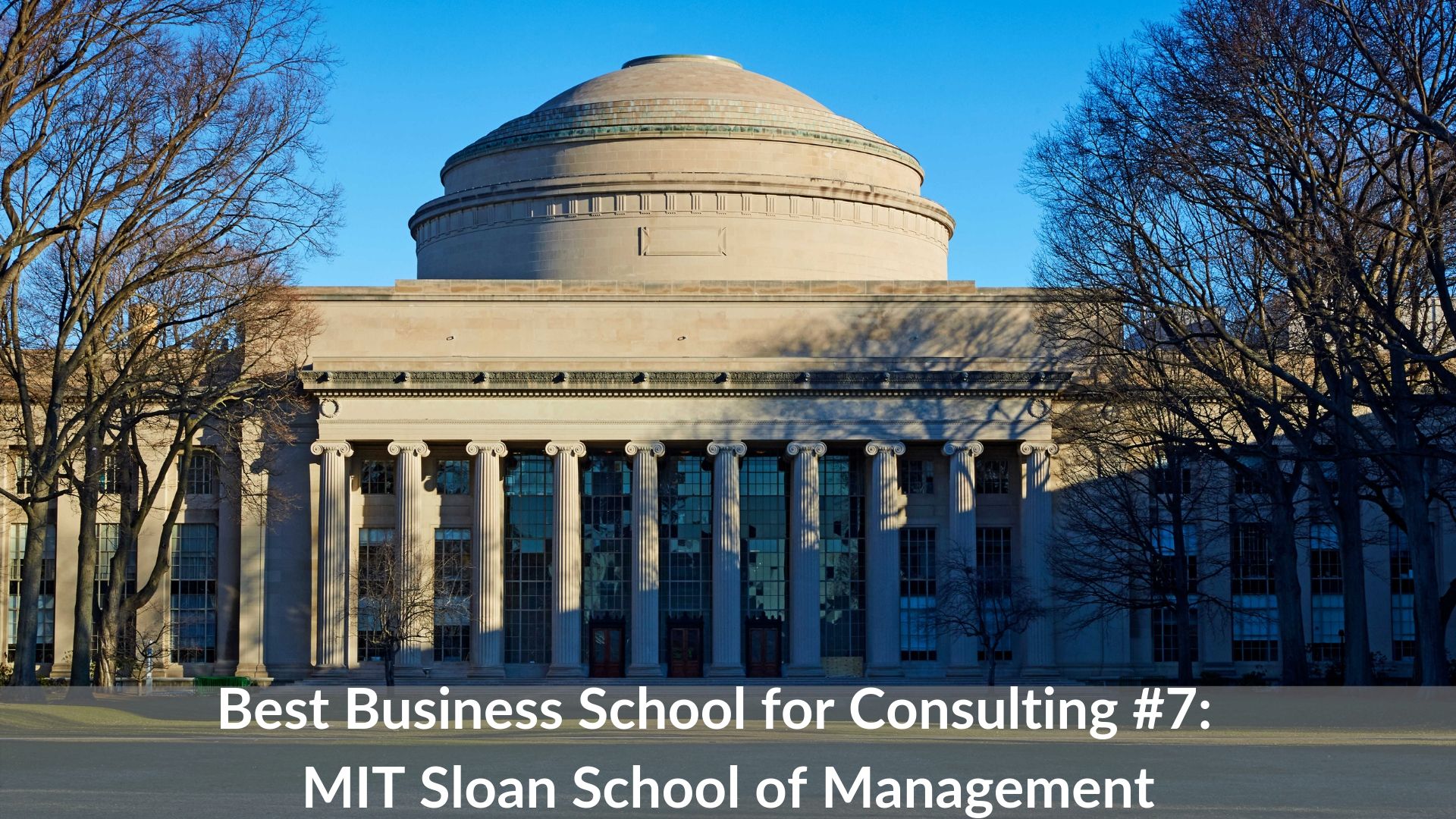 31.6% of the full-time MBA class of 2018 at the MIT Sloan School of Management chose careers in the Consulting Industry. The median salary and bonus offered to students going into consulting are US $ 147,000 and US $ 30,000 respectively.
McKinsey, Bain. and BCG are among the top four employers of MBA graduates at MIT Sloan. The 'MBB' firms cumulatively recruited 61 students from the class of 2018. Apart from the 'MBB firms', Deloitte Consulting hired 9 students from the class of 2018. Other notable consulting employers hiring from the MIT Sloan School of Management include L.E.K Consulting, PwC Strategy&, and Parthenon-EY.
Consulting Coursework and Experiential Learning Opportunities
MIT Sloan offers more than 30 classes that are directly relevant to students interested in consulting and Strategic management. Popular courses include:
Advanced Strategic Management
Global Strategy and Organization
Innovation Strategy
Competitive Strategy
Strategic Market Measurement
Operations Strategy
Apart from coursework, MIT Sloan offers experiential learning opportunities in the form of strategic management and consulting seminar. The two seminars that aspiring consultant may find particularly useful are:
Strategic Management and Consulting Proseminar: Current Strategic Challenges for Global Enterprises
Strategic Management and Consulting Proseminar: Practical Applications
Students gain firsthand strategic consulting experience by working directly with a participating company for a full semester in the practical applications proseminar.
MIT Sloan Management Consulting Club (MCC)
The Management Consulting Club is among MIT Sloan's largest professional clubs on campus. It helps students prepare for careers in consulting by conducting comprehensive training sessions which cover all aspects of the consulting recruiting process for both full-time and internship interviews. The MCC, through a pilot program, organizes cover letter and resume reviews with those who have successfully landed a full-time job or summer internship offers at top consulting firms.
Members of the MCC are also provided a copy of the Sloan Casebook to assist students in practicing for the unique case-style interviews employed by most consulting firms. The MCC also organizes company presentations hosted by partners and consultants from recruiting teams. Members also learn more about careers in consulting through student panels where second-year members discuss their summer internship experiences.
Best Business School for Consulting #8: Chicago Booth School of Business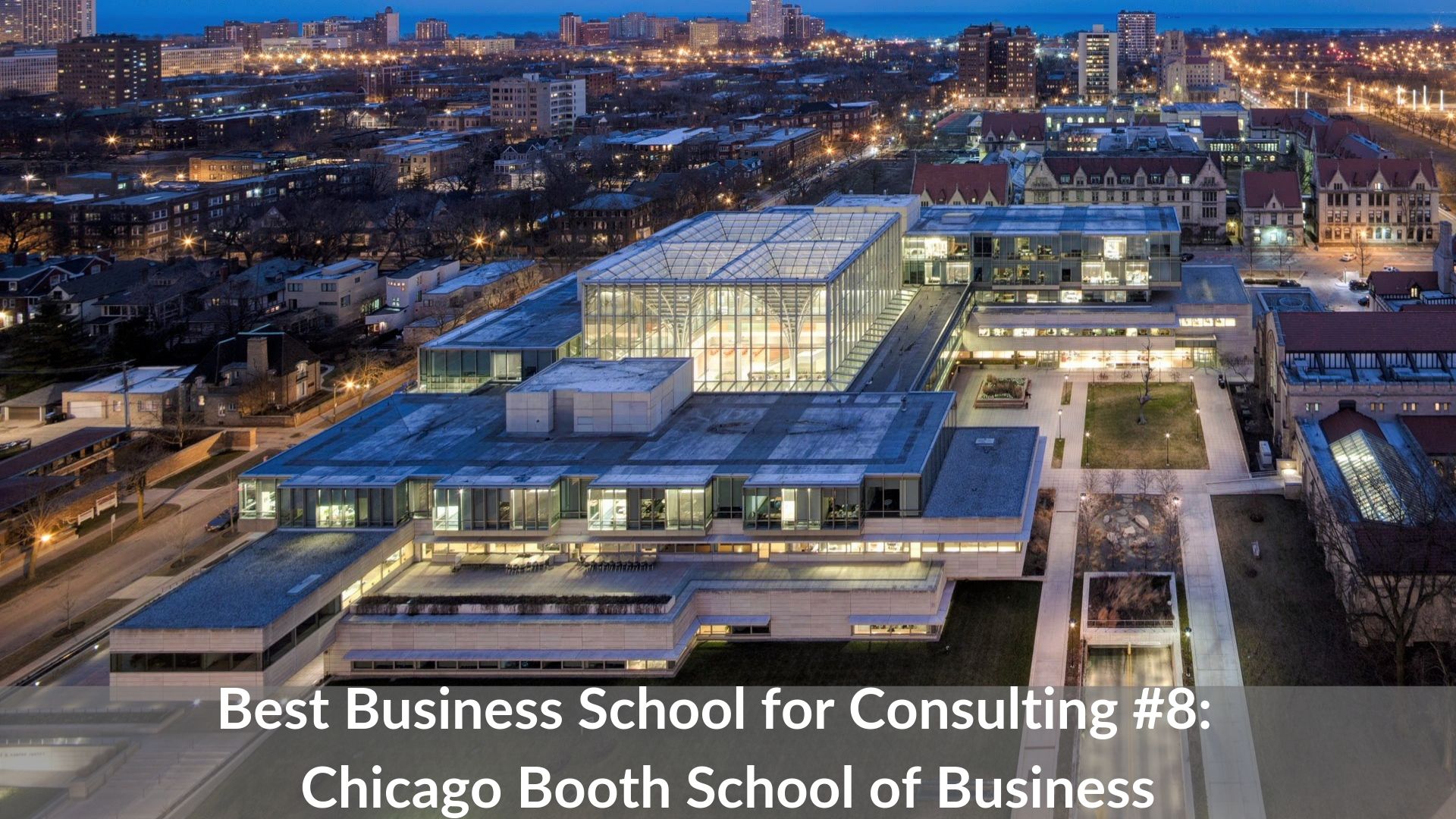 In 2018, 31% of the graduates of the Chicago Booth School of Business chose careers in Consulting. Graduates opting for careers in consulting received median starting salaries and sign-on bonuses of US $ 150,000 and US $ 25,000 respectively. In total, consulting employers hired more than 145 graduates from the class of 2018.
McKinsey, Bain, and BCG hired a total of 83 students from the class of 2018. Accenture, L.E.K Consulting, PwC Strategy& and A.T. Kearney were some of the other major consulting employers of Chicago Booth graduates.
Experiential Learning through Labs
Chicago Booth provides considerable hands-on learning opportunities for students interested in consulting careers through its "Lab" courses. In the "Lab in New Product and Strategy Development," MBA students teams take on consulting assignments and work with executives of from major companies to target a problem that the client is facing or conduct research on a strategic opportunity.
Similarly, the "New Venture and Small Enterprise Lab" and the "Private Equity and Venture Capital Lab" provide aspiring consultants the opportunity to engage directly with senior management leaders and make hands-on decisions while working in a collaborative team environment with mentors and teammates.
Management Consulting Group and Corporate Management and Strategy Group
Student clubs such as the Management Consulting Group and the Corporate Management and Strategy Group educates students on the ins and outs of obtaining a job in consulting. They help aspiring consultants through resume preparation and reviews, case workshops and lunch and learn sessions.
Business Solutions Group
The Business Solutions Groups helps first-year students interested in consulting by providing an opportunity to work on high-quality consulting projects. Teams consisting of 5 first-year students and a second-year mentor work for a nine-week period at a broad range of both profit and non-profit organizations to solve operational and strategic problems.
Participating organizations include McDonald's, Art Institute of Chicago and Advanced Diamond Technologies. Recent projects include conducting industry analysis for ArrowStream, developing a Marketing Strategy for Excelerate Labs and performing internal research and analysis for Baxter Healthcare.
Best Business School for Consulting #9: Michigan Ross School of Business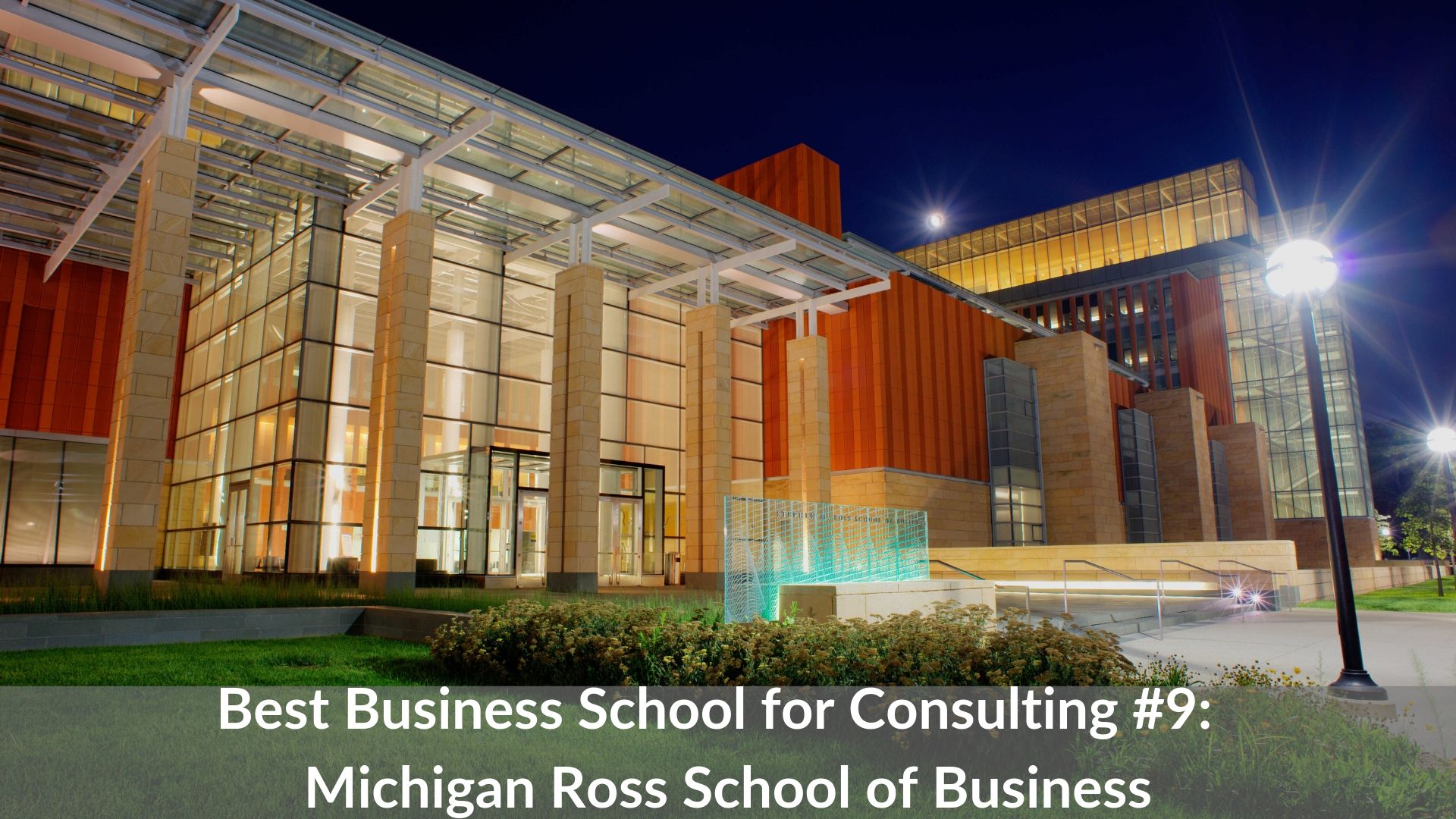 Given the general management focus, hands-on and problem solving oriented nature of the MBA program curriculum at Michigan Ross School of business, it is not surprising that 30.1% of the class of 2018 chose careers in Consulting. Ross graduates going into consulting received median salaries and sign-on bonuses of US $ 147,000 and US $ 30,000 respectively.
McKinsey & Co., Ernst & Young, Deloitte, PwC and Bain & Co. are some of the top consulting recruiters that hire Ross MBA students. The 'MBB' firms recruited a total of 37 graduates from the class of Ross MBA class of 2018.
Multi-Disciplinary Action Project and Coursework
The strategy department at Michigan Ross offers approximately 20 course offerings and consists of 30 active faculty members offering a broad array of opportunities to MBAs interested in consulting.
The Multi-Disciplinary Action Project (MAP) is a full-time, hands-on assignment that students take in the first year of their MBA at Michigan Ross. Student teams of 4-6 act as external consultants for a company for a 7-week period in the last quarter of their first year and make recommendations at the project's conclusion, just as one would do as an employee of McKinsey or Bain.
The projects focus on helping organizations solve strategic issues which makes it a perfect training ground for students interested in consulting careers. Similar to the cross nature of teams in consulting organizations, the MAP program's teams, advisors and projects are cross-functional in nature.
Ross Consulting Club
As the largest professional club on campus with over 500 members, the goal of the Consulting Club @ Ross is to help members develop the skills required to launch successful consulting careers. The club conducts training, holds interview workshops, hosts case competitions and offers a case book for case practice.
Best Business School for Consulting #10: Northwestern's Kellogg School of Management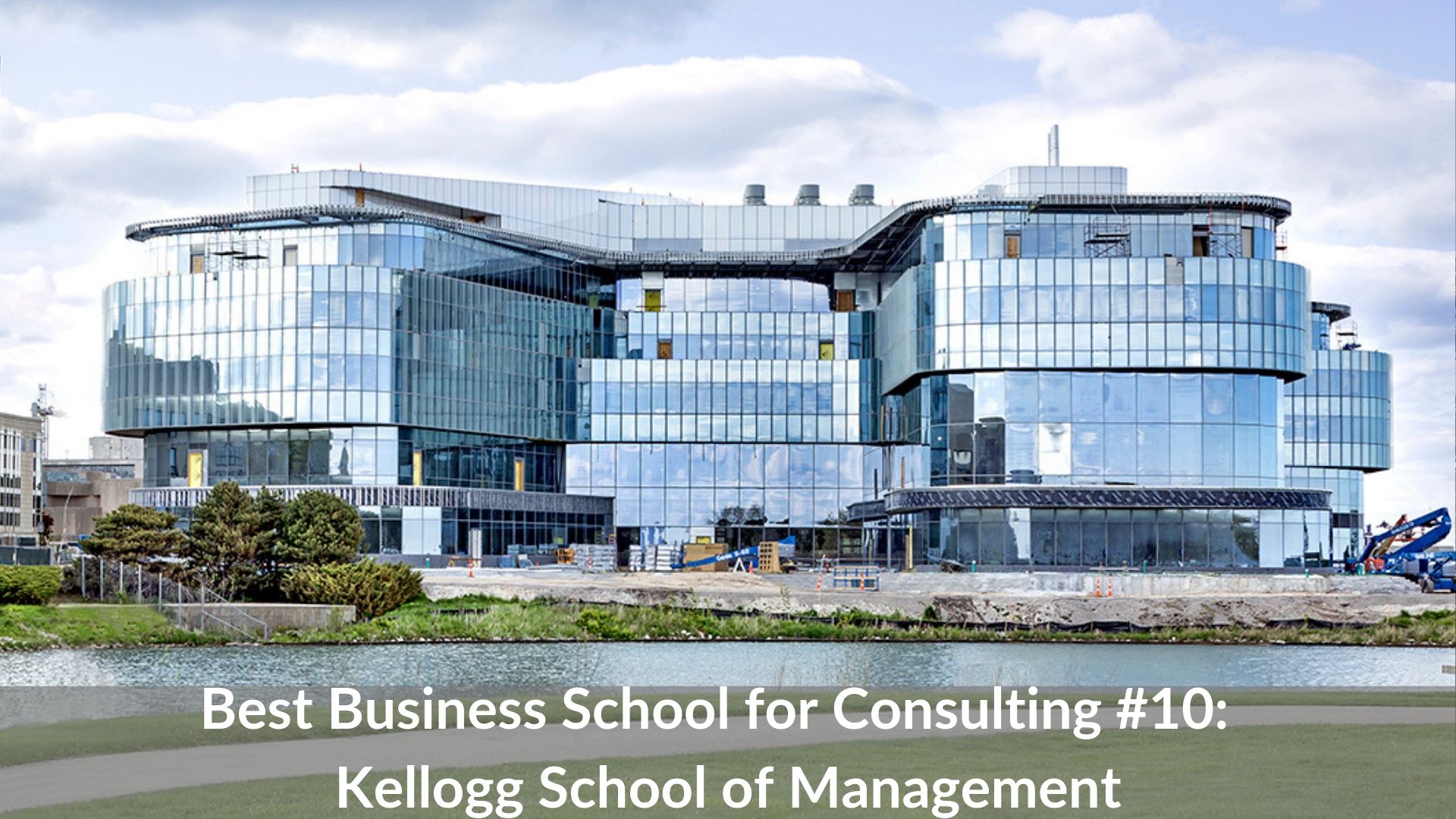 30.1% of the 2018 MBA class at Kellogg chose careers in consulting. Median salaries and bonus offered to students is US $ 147,000 and US $ 25,000 respectively. The 'MBB' firms were the top recruiters from the class of 2018, hiring a total of 90 Kellogg MBA graduates. Other top consulting recruiters hiring from Kellogg include Deloitte, Accenture, PwC Strategy& and L.E.K consulting.
Experiential Learning Opportunities through Labs and Courses
Kellogg offers multiple majors that students interested in a career in consulting would find appealing, including Management Organizations, Operations, and Strategy. Apart from the coursework, Kellogg offers several experiential learning opportunities through Labs such as the "Management Lab" (M-Lab) and Global Lab (G-Lab).
Management Lab (M-Lab) and Global Lab (G-Lab)
Through the "Management Lab" (M-Lab), students can take a trial run at a consulting project before starting their summer internships. The course matches students with outside organizations dealing with specific management questions or problems. Students are mentored by consultants from reputable organizations as they work to solve the issue over a 10-week period.
Via the "Global Lab" (G-Lab) students examine a real-world problem affecting international business and attempt to solve the issue with support from a company contact and a faculty advisor. Students spend 2-weeks on-site at the designated firm and meet with senior management, and then present their findings to the company.
Kellogg Consulting Club
The Consulting Club at Kellogg is one of the largest student clubs on campus. The club works to prepare students interested in consulting through case interview workshops, mentorship program, and other extensive online offerings. Additionally, the club organizes lunch and learn sessions with representatives from organizations such as McKinsey & Company, Bain & Company, Boston Consulting Group, and Accenture.
Interested in a career in Consulting? The top business schools can give you a great boost in achieving your consulting career aspirations. And a great GMAT score can help you in strengthening your application to these top business schools. We are the most reviewed GMAT prep company on GMATClub with more than 1830 reviews (as on June 21, 2019). Sign up for our Free Trial. We can also help you with a personalized study plan and give you access to quality online content to prepare. Write to us at acethegmat@e-gmat.com with your questions.