If you're an MBA aspirant then you've surely heard or read about the Harvard Business School. Harvard has one of the most prestigious MBA programs in the world. Therefore, getting into Harvard MBA takes a lot of effort and it's really important to understand what the Harvard MBA admissions committee looks for in applicants. To help you understand we have broken down the process of getting into Harvard Business School in 7 steps.
In this article, we have described how to understand the expectations of the Harvard MBA and not get bogged down by its aura. Because at the end of the day its strong brand and influence is a result of the accomplishments of its alumni. If the admissions officers see value in you, they will come running to you (metaphorically) and say 'yes'.
Harvard Business School's message to those who received Admits in 2014 – "The answer is YES"

That's how Dee Leopold, Managing Director – Admissions and Financial aid, informed applicants that they have been accepted for the MBA program of Harvard Business School.
In this article, we'll discuss the 7 steps that can help you secure an admit from Harvard Business School.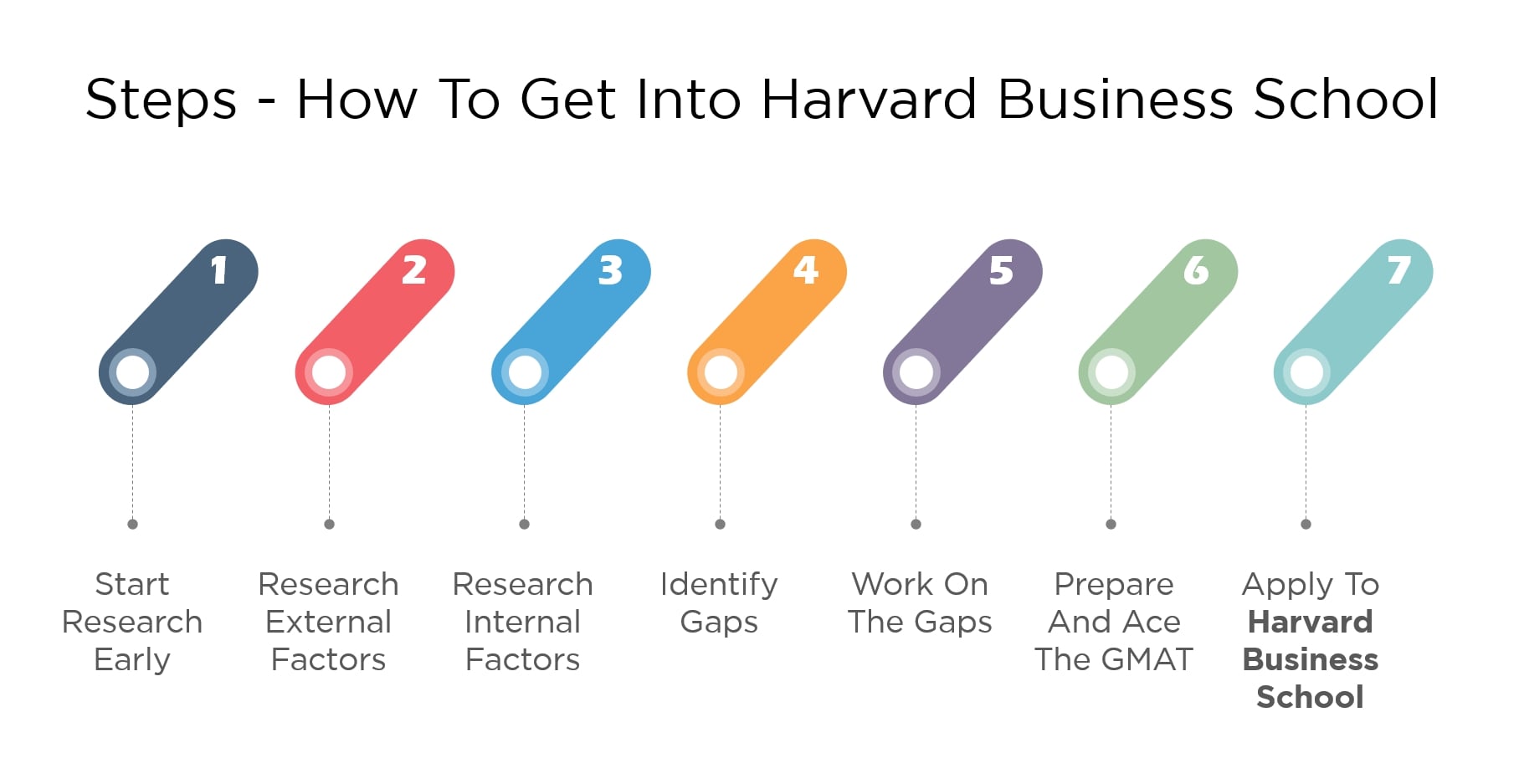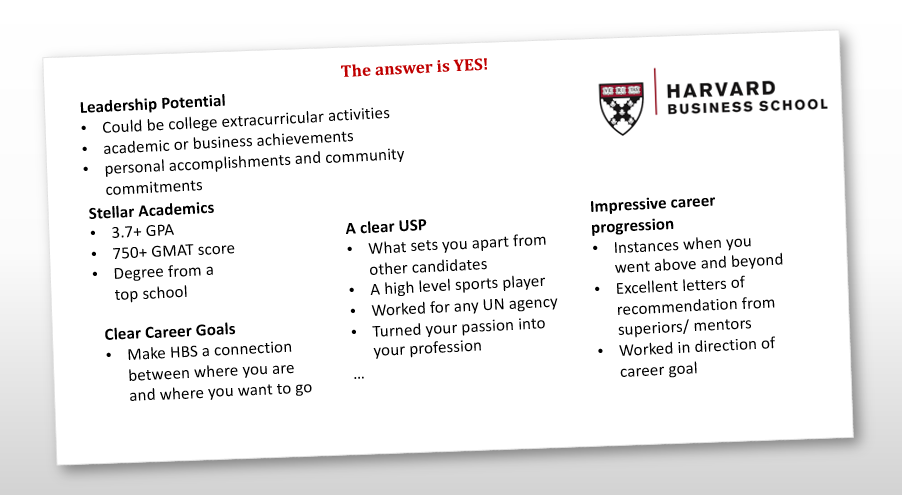 Here are 7 steps to getting into Harvard Business School (HBS) MBA program:
Step 1 – Start Research Early
Start your research at least 1 year before you plan to apply. The Round 1 application deadline for the HBS MBA class of 2023 is September 8, 2020, and Round 2's deadline is January 5, 2021. I would suggest applying in the first round itself.
So, what kinds of research will you need to do? Well, there are 2 types of research that you'll have to do
External Research
Internal Research
The takeaway from Step 1
The early bird catches the worm
HBS boasts a very high median GMAT score of 730 for its latest incoming class. Therefore, it's really important to score above the median score for a successful HBS MBA application. Here are some free GMAT preparation resources for you.
Step 2 – Research External factors
Word of Caution – Before you start researching external factors, be prepared that you might feel overwhelmed and that's normal. Keep your cool and remember, all those people who eventually got an admit in HBS started just like you.
HBS is one of the most sought after Business School. How about getting into Stanford, Wharton, Kellogg or other top business schools? Read this article on how to get into a top business school.
HBS Website Research
In External research, you should first start with Harvard Business School's website. Research on the program you are planning to apply for (2- year MBA, executive program, HBX, Doctoral programs). Look at the facts and figures of their MBA program, Alumni, research, and their campus & culture. HBS boasts about their diverse classrooms. Take a look at the Harvard Business School (HBS) class profile, and employment reports to learn more.
If you are planning to take the GMAT, we can help you with a personalized study plan and give you access to quality online content to prepare. Write to us at acethegmat@e-gmat.com. We are the most reviewed GMAT prep company on gmatclub with 2090+ reviews. Why don't you take a free trial and judge for yourself?
LinkedIn Research
Review the profile of people who made it to Harvard Business School. There is a chance that you might feel that you are not as accomplished as those people are. That's because they have presented their profile better than most individuals. And even if you stumble upon profiles of extraordinary individuals, just aspire to be better than them. It's never too late to start.
Contact people on LinkedIn
When you have researched LinkedIn profiles, it's time to contact them. Remember, they are busy people so they might take some time to respond. The idea is to contact lots of different people from diverse backgrounds and get their advice on your profile. Some people might not respond, so make sure you contact a lot of people. A few of them will surely give you sound advice, and you'll feel the worth of this exercise.
Takeaways from Step 2
Website research will reveal information about HBS' programs, campus, culture, alumni, and diversity of its batch. Doing so will help you analyze how you can add value to its classroom and also help you identify your USP. It will also tell you which test to take. GMAT or GRE. We'll personally suggest GMAT, as it holds immense value even after you complete your MBA. Read more on the importance of GMAT.
Website research will also help you identify gaps in your academic profile. You'll get to know the average GPA of the incoming batch. For the GMAT score, I would recommend you to look at the median score of 730. There are a few applicants who make it to HBS with a GMAT score of 600, but they are rare and have extraordinary profiles.
The LinkedIn research will give help you talk with people who were once in the same position as you are today. They will not only be a source of valuable information but also a source of inspiration for you.
To get into a top business school like Harvard, you need inspiration while preparing for your GMAT. Here is a list of some amazing success stories of individuals who aced the GMAT and went on to get an admit from their target business schools.

HBS looks for well-rounded candidates. Here are 10 tips on making your profile appealing to the HBS adcom.
Step 3 – Research Internal factors
By researching internal factors, I mean introspection. Once you have completed external research, you'll have enough information to compare yourself with. Now, start thinking about your life. What makes you tick? If someone asks you, "How will you measure your life?", What will your answer be? We would suggest reading an HBR article of the same name by an HBS professor Clayton M. Christensen. He has also written a book called 'How will you measure your life.'
While introspecting, we recommend that you stay away from distractions. Use a pen and paper to jot down your thoughts. These thoughts will be like proverbial breadcrumbs which led you to where you are today. List down the smallest of leadership positions you took and your achievements.
Do it every day for a few minutes. In a week or two, you'll have a list of achievements, and you'll now see your own story much more clearly.
The takeaway from Step 3
Steve Jobs in his famous Stanford graduation speech said, "You can't connect the dots looking forward; you can only connect them looking backwards." Doing so will help you make sense of your unique story. Therefore, introspect!!
Step 4 – Think like Harvard Business School's Admission committee – Identify gaps
HBS' admission committee wants a candidate who can not only 'get in' but also 'get through' their MBA program. If you want to build your profile to get an admit in Harvard Business School or any other top business school, you should –
Understand the different factors considered in the application
Weight-age of all those factors in the application
Which factors are under your control (unchangeable and changeable factors)
Work on the factors which are still under your control
A rough weight-age of different admission evaluation factors is as below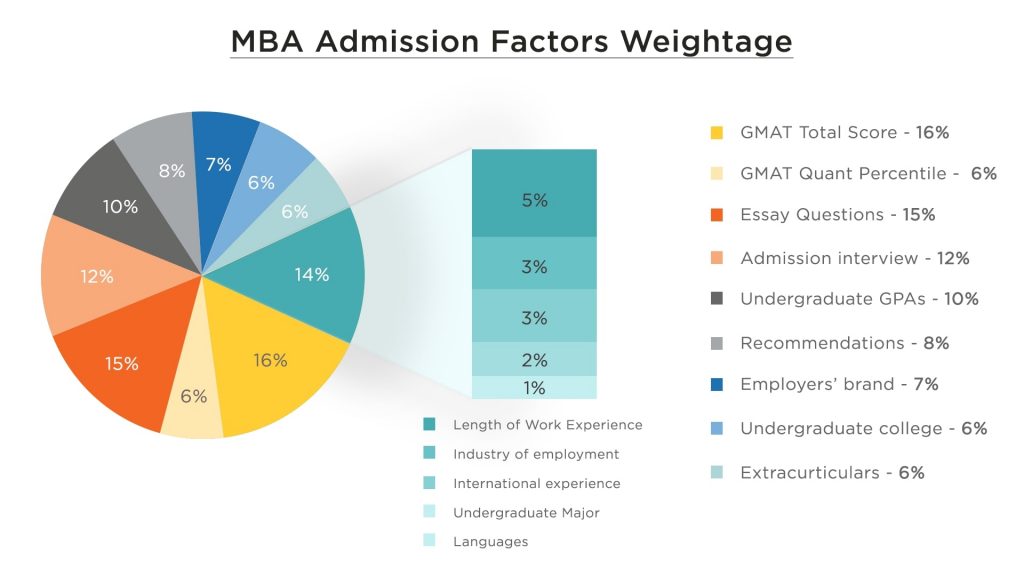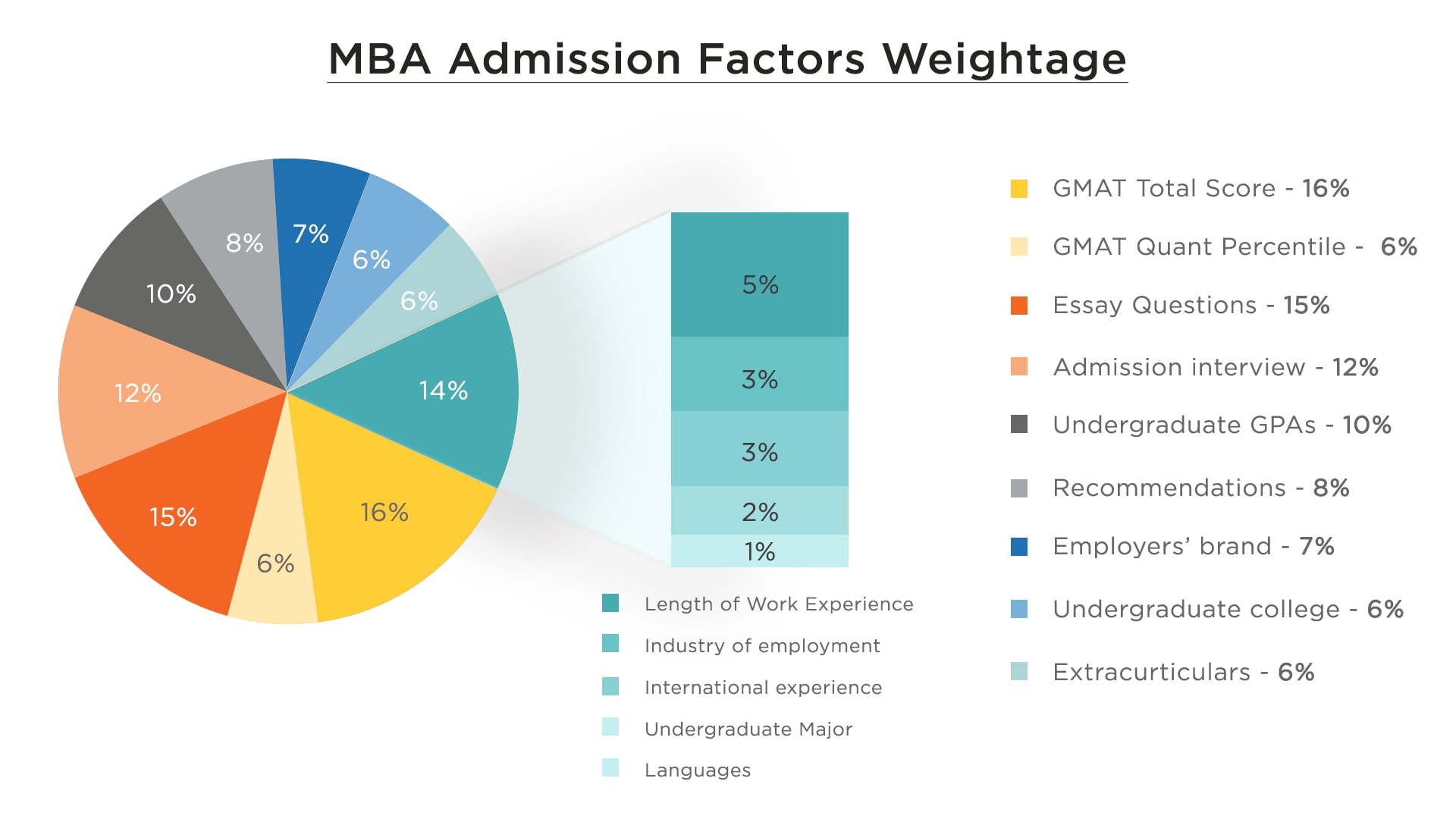 Out of all these factors, few will be out of your control by now, and a few will still be in your control. Read more on this topic in our article on – MBA Application Process – GMAT Score Weightage and other factors
The takeaway from step 4
Thinking like an Ad-com is essential to understand the gaps in your application. If Your work experience is exceptional, then adding extracurricular work on top of it can make your resume impeccable. Take up some leadership work that would ultimately positively impact your peers. You feel social work is your calling. Join an NGO and help build weak communities.
Step 5 – Work on the gaps in your application
Let's look at changeable vs. unchangeable factors and see how many of them are still under your control.
Changeable vs. Unchangeable Evaluation Factors
In the MBA application process, several parameters may not be under your control now (GPA/employer's brand, etc), but a whopping 56% is still within your immediate control – GMAT, essays, interview, and recommendation letters. You should focus on putting your best foot forward as far as these aspects are concerned.
Takeaways from Step 5
Analyzing gaps in your application will tell you which areas to focus on.
Classify factors into changeable and unchangeable.
Work on factors that you can still control. Those factors have a 56% weight in your application.
Step 6 – Prepare and ace the GMAT
Your GMAT score accounts for 22% weight-age (16% for total GMAT score + 6% for GMAT quant score) in your application. Most students require 3 months of preparation time to achieve a 740+ score. Make sure to target a score which is 20+ more than the average GMAT score of your target B-school's incoming batch. For HBS you should target 750, which is around 20 points more than 731 – the average GMAT score of last year's batch. Here's a detailed analysis of a good GMAT score for Harvard Business School
To achieve the envious GMAT score of 750, try this free online resource for GMAT preparation which is the highest reviewed GMAT prep company (1900+ reviews) on gmatclub.
Importance of GMAT score
Take a look at the chart below. It has been compiled by GmatClub for a sample size of 10029 applicants. It shows the role of the GMAT score in getting interview invites and post-interview acceptances in M7 elite business schools (Harvard, Wharton, Stanford, Booth, Columbia, Kellogg, MIT Sloan)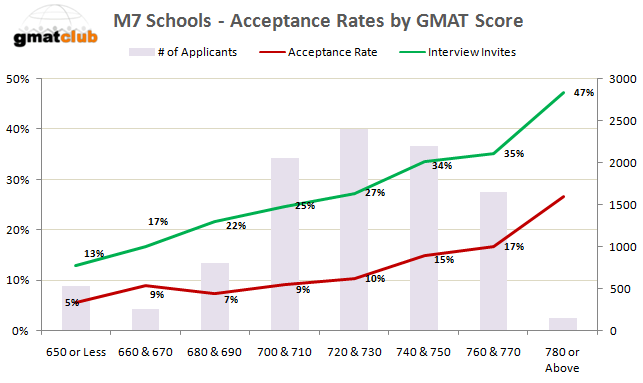 Unsurprisingly, the acceptance rate and interview invites are directly proportional to your GMAT score.
The takeaway from Step 6
Aim for a GMAT score which is 20+ points more than the average GMAT of the last incoming batch. For Harvard Business School, aim for a GMAT score of 750+
Step 7 – Apply to Harvard Business School's (HBS) MBA Program
There are 3 steps in the application process
Written Application

You need to prepare the following
Transcripts
GMAT/GRE Score
TOEFL/ IELTS/ Pearson Test of English (PTE) –  Make sure you get a TOEFL score higher than 109 on the iBT, an IELTS score higher than 7.5, or a PTE score higher than 75.
Resume
Acceptance of policies
Fee

Interview

After submitting your application, it will be reviewed, and then you may be invited for an interview

Post – Interview reflection

You have to submit a written reflection through the online application system of HBS within 24 hours of your interview
Our two cents on "How to get into Harvard Business School (HBS) MBA Program"
At the end of the day, Harvard Business School is just one of the top business schools. The strategy on 'How to get into Harvard Business School' or any other top business school remains the same as mentioned in the article. The only thing that matters is that you add value to the Business School and learn new things to your heart's content.
In a few years, you'll realize that getting into Harvard Business School was just a part of a larger goal of your life. So, let's start right away with Step 1 of 'How to get into Harvard Business School.'
For any strategic advice for GMAT or MBA Admissions, write to us at acethegmat@e-gmat.com. Take a free trial to get unlimited access to concept files, live sessions and practice questions.