A
11
min read
M7 Business Schools
Are you curious about M7 business schools and what they represent? M7 refers to the seven most prestigious business schools in the world, with the 'M' standing for 'magnificent' or 'magic', depending on who you ask. These schools have come together to form an exclusive network that meets twice a year to discuss and exchange information on the latest developments in graduate business education. In this article, we'll delve deeper into what M7 business schools are, their history, and what makes them stand out from the rest. Whether you're a prospective student or simply curious about the world of business education, this article will provide valuable insights and information. So, keep reading to learn more!
The M7 Business Schools offer a plethora of opportunities to their graduates in terms of having an impact and changing industries as well as geographies. But before we go any further, let us first look at the seven schools that form this illustrious group of "M7 Business schools."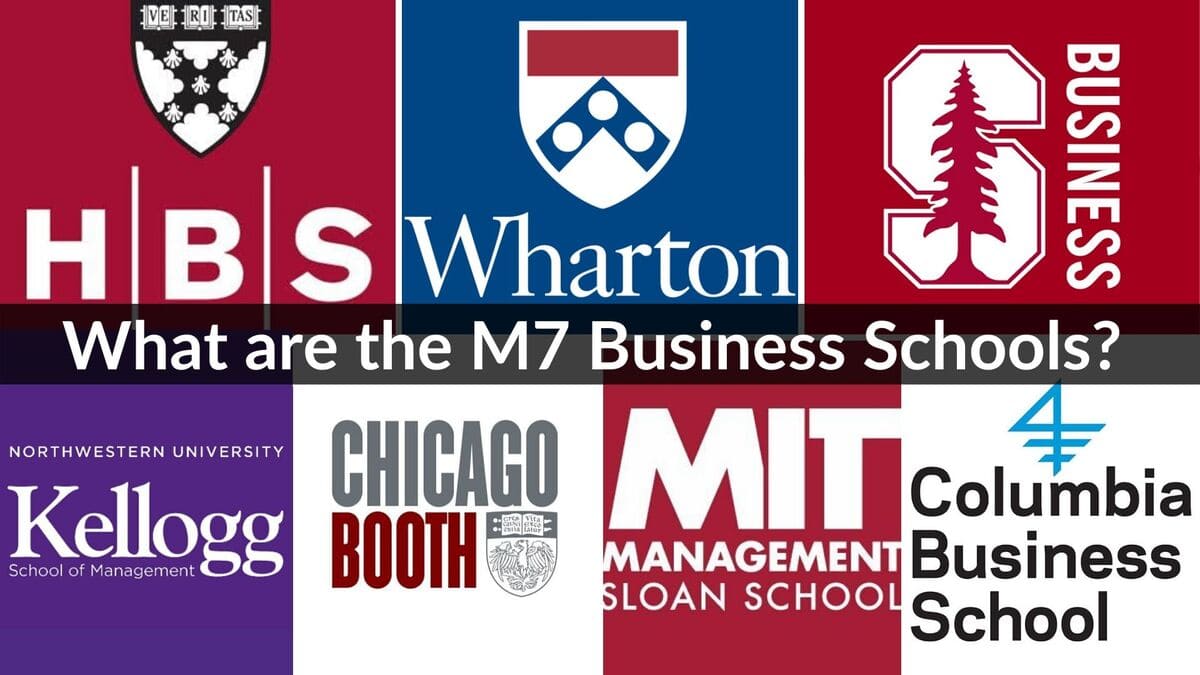 Here is the list of M7 Business Schools:
Harvard Business School
Stanford Graduate School of Business
Wharton School at the University of Pennsylvania
Columbia Business School
Northwestern University's Kellogg School of Management
University of Chicago's Booth School of Business
MIT Sloan School of Management
What should be your target GMAT score?
Getting into an M7 business school is highly competitive. A strong GMAT score is often an important factor in the admissions process. It's generally recommended to aim for a competitive score that falls within the range of the average GMAT scores of these top schools. Do you know yours? Take this quiz to find out. You'll receive personalized recommendations for your target score based on factors such as the business school you want to attend and your unique profile.
A high GMAT score can set you apart from the competition and help you get an admit at your dream business school. Start your GMAT Preparation with the most reviewed online GMAT prep company. Try out our FREE Trial Today!
Read on to find the answers to some of the most pressing questions related to M7 Business schools, such as how to get into M7 business schools, what is their acceptance rate, what is their typical class profile and cost of attendance, etc.
In this article, we answer all these important questions from an applicant's perspective and compare the M7 business schools by employment reports, rankings, and alumni.
Did you know that Indian students account for almost 30% of all the MBA Applicants, yet only 9% of the class at Harvard, Stanford, Wharton, or other M7 schools comprises Indian nationals? So, how do you increase your chances of getting an Admit to M7 business schools? After analyzing MBA admissions success stories of numerous such students, we have come up with 5 best practices for Indian applicants to get into M7 schools:
As mentioned earlier, at their biannual private sessions for which these M7 business schools rotate hosting duties, they trade gossip, best practices, and whatever topical issues end up on the agenda.
Was your b-school application rejected? Redefine Your MBA Application: Discover reapplicant strategies by reading our comprehensive article. – Reapplicant Strategies to Business Schools.
Watch how to make your MBA Application stand out while applying to these M7 business schools. Here is a playlist where candidates who got into M7 business schools share their application journey:
M7 Business Schools Rankings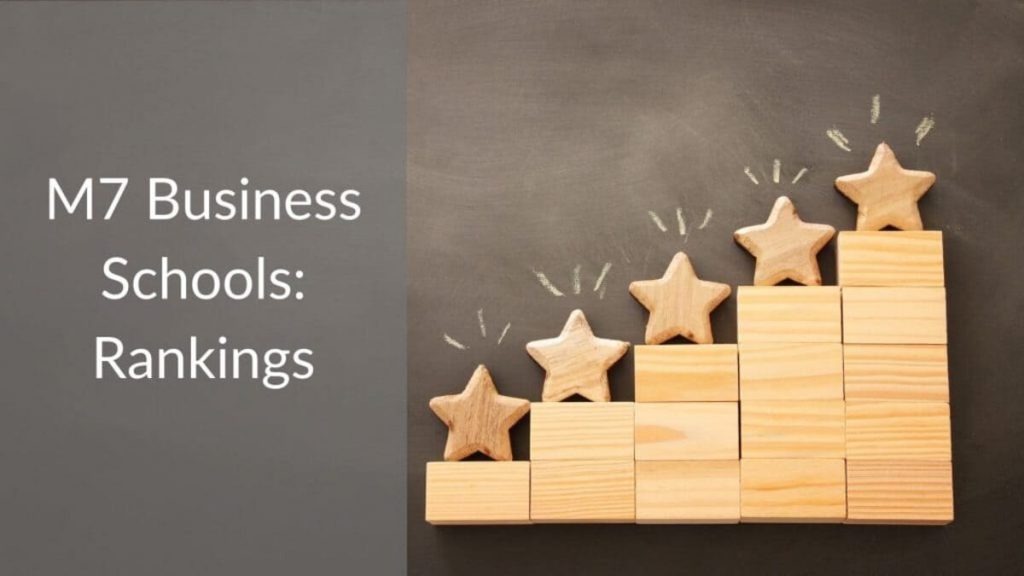 Here is how the M7 business schools fare in the 2023 Business School rankings published by leading business publications:
What is the significance of the M7 MBA?
A natural question to ask here is about the significance of M7, especially since various publications come up with business school rankings each year. The answer is simple and something that humans always crave - consistency. Rankings vary every year across different publications. On the other hand, M7s remain constant. Schools are neither added to nor removed from this list.
Getting an MBA degree is a long-term decision, and choosing an M7 school will guarantee you make the right choice. The fact that these schools recognize each other as part of a super-elite group and work together to enhance the quality of business education overall is also a validation of the quality of education these institutions provide.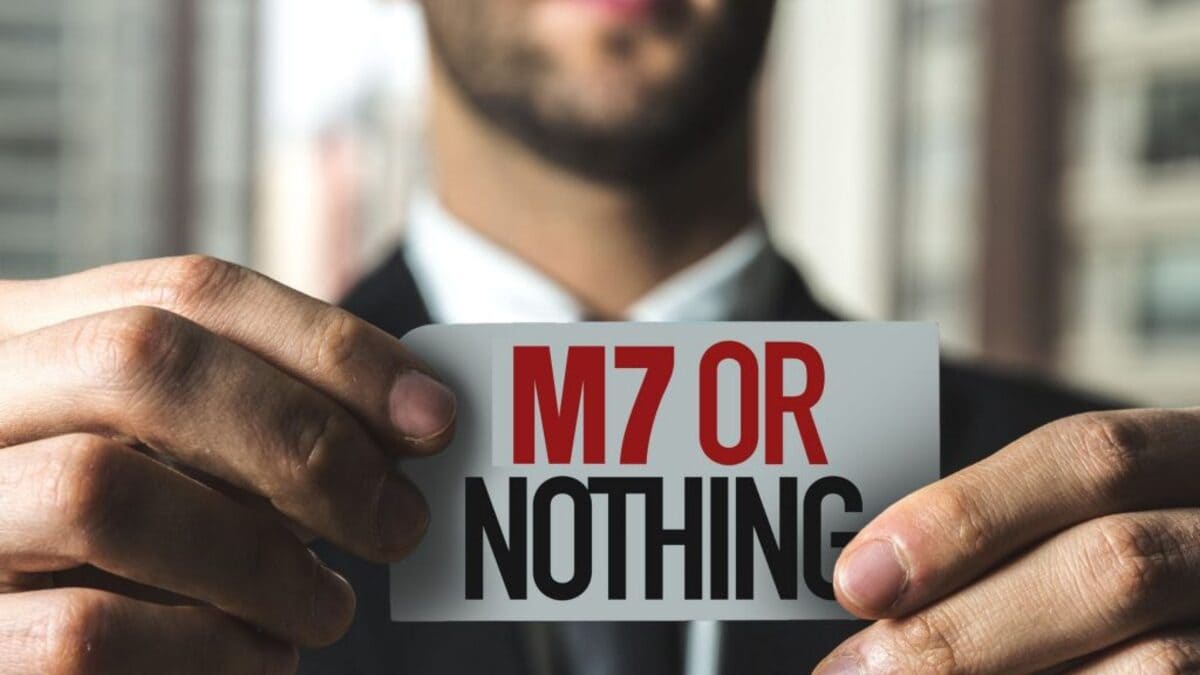 Though M7s are definitely A-listers and you cannot go wrong with choosing them, there are many schools outside of this definition that are prestigious and possibly even a better fit for you. Yale, NYU Stern, UVA Darden, UCLA Anderson, Michigan Ross, etc. are excellent schools frequently breaking into the Top 10 of all major rankings.
Several schools outside the US provide top-class business education and enjoy a high global reputation – INSEAD, LBS, Saïd (University of Oxford), Judge (University of Cambridge), Rotman (University of Toronto), and IMD Switzerland, for example.
Therefore, your choice of an MBA program cannot be driven solely by a certain ranking or classification. An MBA is a means to achieve one's career goals, not an end in iteself. It is important to introspect about what you want from your MBA and research well to shortlist programs that will help you achieve your specific goals – during and after the MBA!
Learn the Top 5 reasons to pursue an MBA from M7 business schools and how an MBA can add value:
Take a FREE GMAT mock test to understand your baseline score and start your GMAT prep with our free trial.
M7 Business School Class Profile and other Statistics
If you are looking to get into an M7 business school, here are some of the statistics about these schools that will be useful for you:
MBA Class Profiles 2024
Employment Statistics(Post MBA Salaries)
Cost of Attendance
Business schools rankings by specialization
Industry Choices of MBA graduates
M7 Business schools- MBA Class Profiles 2024
The following are the statistics of the class of 2024 MBA programs at the M7 Business Schools:
The average GMAT score for the incoming class of 2024 at the M7 business school is around 730, with an average GPA of 3.6+. Not only this, if you want to apply to these business schools you require to have work experience. A minimum of 2 years of work experience is required. However, you need to check with respective b-schools regarding the same.
The average work experience for the incoming class of 2024 at M7 business schools is 5 years. Moreover, M7 business schools do welcome diversity in their class profile. On average 39% of the class is filled by international students.
M7 Business schools- Employment Statistics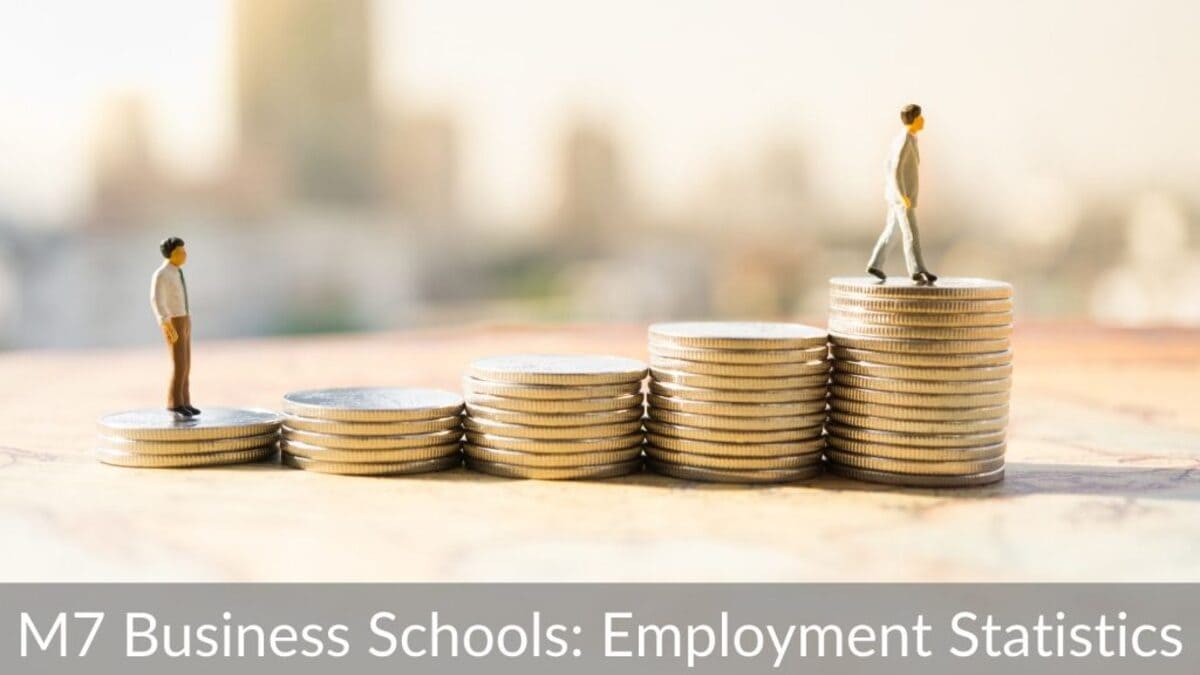 Graduates from M7 Business school earn some of the best salaries in the business world. Here are the employment statistics for the Class of 2022:
| | | | |
| --- | --- | --- | --- |
| School Name | Median Base Salary | Median Signing Bonus | % of the class that received an offer |
| Harvard | $175,000 | $30,000 | 95% |
| Stanford | $175,000 | $30,000 | 96% |
| Wharton | $175,000 | $30,000 | 99% |
| Northwestern (Kellogg) | $165,000 | $30,000 | 99% |
| Columbia | $175,000 | $30,000 | 95% |
| Chicago (Booth) | $175,000 | $30,000 | 97% |
| MIT (Sloan) | $165,000 | $30,000 | 97% |
The average median base salary of all M7 Business schools is between $165,000- $175,000. The average signing bonus is $30,000. In all the schools, more than 95% of the students received an offer within three months of graduation.
Did you know a GMAT score of 730+ yields incremental $500K in ROI? Start your GMAT Preparation by Signing up for our FREE Trial and get access to FREE online GMAT preparation resources. We are the most reviewed GMAT preparation company on GMATClub with more than 2600 reviews.
M7 Business schools- Cost of Attendance
Following are the fixed cost of attendance for 1 year at M7 business schools:
| | | | | |
| --- | --- | --- | --- | --- |
| School Name | Tuition | Books, materials, and other fees | Health insurance and service fee | Total (1 year) |
| Harvard | $73,440 | $2,550 | $5,384 | $81,374 |
| Stanford | $76,950 | $2,655 | $7,491 | $87,096 |
| Wharton | $84,874 | $6,778 | $4,029 | $95,681 |
| Northwestern (Kellogg) | $78,276 | $3,047 | $5,478 | $86,801 |
| Columbia | $80,472 | $4,423 | $5,497 | $90,392 |
| Chicago (Booth) | $77,841 | $3,284 | $7,086 | $88,211 |
| MIT (Sloan) | $80,400 | $3,604 | $9,657 | $93,661 |
The cost of attendance for one year ranges between $80,000- $95,000 at M7 Business Schools. Considering the cost of living and other expenses, it is safe to assume that the total cost of MBA for a year at an M7 business school ranges between $100,000- $150,000
M7 MBA Program Rankings by Discipline or Specialty
The following are the rankings of the M7 MBA programs by different disciplines and specialties based on QS rankings:
Consulting
Consulting remains the top function choice of the MBA students post graduation and it also the function with the highest average salary. So, it is no wonder that many top MBA colleges offer this specialization. Wharton ranks #1 when it comes to the consulting specialization in MBA. Next in line is MIT Sloan (#2), followed by Chicago-Booth (#3).
If you are interested in learning more about consulting, check out our article on the top 10 business schools for Consulting where MBA grads earn the most. Also, read our article on the Top 50 consulting firms to work for.
Finance
A finance specialty can open opportunities in careers like investment banking, private equity, corporate accounting, and many more. Wharton school ranks #1 in Finance, followed by Harvard (#2), Stanford(#3), Columbia (#4), and Chicago-Booth (#6). Check out our article highlighting the top 10 business schools in Finance 2023.
Marketing
If you are interested in media, sales, promotion, and entertainment, then a specialization in marketing is for you. You can also work in various sectors ranging from FMCG, Hospitality, Media, Tourism, consultancy, market research, Banking, etc. The number one business school for marketing is none other than Stanford, which is followed by MIT Sloan (#2).
Read our article on top business schools for marketing in 2023.
Entrepreneurship
Stanford GSB and Harvard rank #1 and #2 respectively in Entreprenuership. You can check out our article on the top 7 business schools for Entrepreneurship in 2023 and what makes them unique.
Looking for other specializations? Here is the list of articles on top business schools in:

Human resource management (HR)
Industry Choices of M7 Business School Graduates
Alumni and scholarships at the M7 business schools 2023
Alumni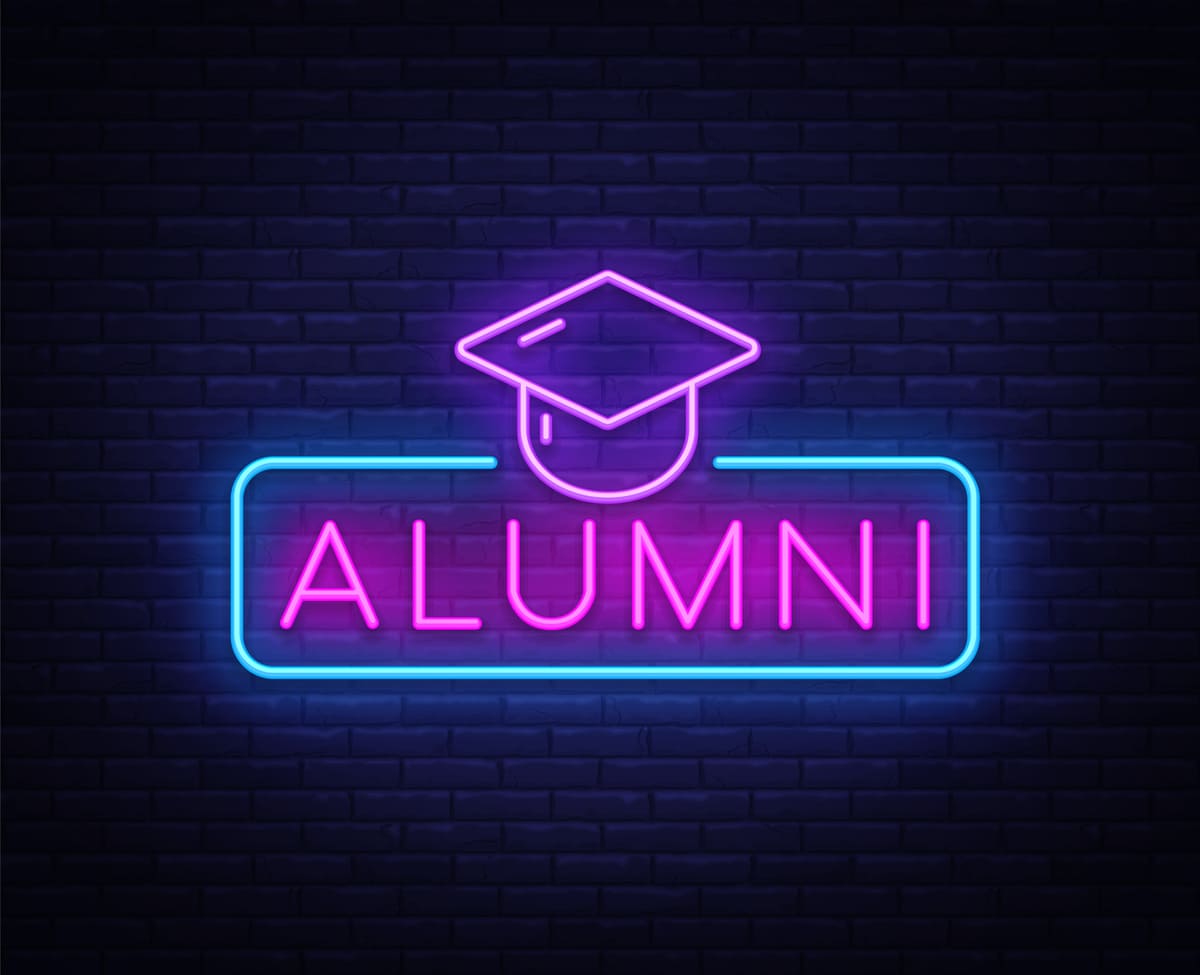 The M7 business schools have large, active, and engaged alumni networks around the world. You will have access to thousands of engaged alumni who are willing to connect students with recruiters and hiring managers at their firms, helping graduating students land that all-important first job post-MBA.
All the M7 business schools have more than 20,000 alumni networks. Alumni also helps business schools to employ MBA graduates. For instance, Stanford GSB employed 24% of its MBA class 2020, through the Alumni network. Let us look at the alumni network and some of the noted alumni from each of the M7 business schools:
Harvard Business School- Alumni Network:
Harvard business school has 89,000 alumni, spread over 173 countries, with 103 Alumni lead clubs. Here are a few well-known HBS MBA graduates:
Sheryl Sandberg, 1995 – COO of Facebook
George W. Bush, 1975 – 43rd President of the United States and former Governor of Texas
Salman Khan, 2003 – founder of Khan Academy
Rahul Bajaj, 1964 – CEO of Bajaj Auto
Michael Bloomberg, 1966 – CEO of Bloomberg LP and former mayor of New York City
Stanford Graduate Business School- Alumni Network:
Stanford has a large alumni network of over 30,000 graduates, spread across different countries. Here are some noted alumni from Stanford GSB:
Roelof Botha, Venture Capitalist, Sequoia Capital Global Head
Mukesh Ambani, Billionaire Indian Businessman and Chairman of Reliance industries
Rishi Sunak, Prime Minister of the United Kingdom (2022–present)
Phil Knight, Billionaire Founder and Chairman of Nike
Mary Barra, Chairman, and CEO of General Motors
Wharton- Alumni Network:
Wharton has 99,000 active alumni, spread over 153 countries, with 77 alumni clubs. Some famous people who went to Wharton are:
Sundar Pichai, CEO of Alphabet and Google
Ashwini Vaishnaw, Indian Politician and Current Minister of Railways and Minister of IT and Communications
Robert S. Kapito, founder and president of BlackRock (world's largest asset manager)
Rakesh Gangwal, chairman and CEO of US Airways
Anil Ambani, chairman of Reliance Group
Columbia Business School- Alumni Network:
Around the globe, with more than 80 alumni groups, Columbia has a huge alumni network of more than 45,000 people. Some of the well-known alumni of Columbia are:
Beth Ford, MBA 1995, CEO of Land O'Lakes
Beverly Leon, MBA 2020, former midfielder for Sunderland A.F.C. Ladies
Harvey Schwartz, MBA 1996, president and COO of Goldman Sachs
Jon Stein, MBA 2009, Founder and CEO of Betterment
Benjamin M. Rosen, MBA 1961, Former chairman and CEO of Compaq
Chicago (Booth):
Over 55,000 people have graduated from Chicago booth, and there are over 90 alumni clubs throughout the world that allow for networking, learning, and development opportunities. Here are some well-known alumni from Chicago- Booth:
Satya Nadella, CEO at Microsoft
Eric Kriss, co-founder of Bain Capital
Mark Loughridge, CFO of IBM
Dhiraj Rajaram, founder and CEO of Mu-Sigma
Jon Corzine, former CEO of Goldman Sachs, former governor of New Jersey
Northwestern (Kellogg):
Kellogg students become part of a global network of more than 65,000 entrepreneurs, innovators and experts across every conceivable industry and endeavor. Here are some famous people from Kellogg:
Roshni Nadar, Executive Director, and CEO, HCL Corporation, Founder and CEO of the Shiv Nadar Foundation
Darren Woods, Chairman, and CEO, ExxonMobil
Kushagra Bajaj, Vice Chairman, Bajaj Hindusthan
Chris Kubasik, former President and COO Lockheed Martin
Pankaj Sahni – CEO at Medanta
MIT Sloan:
MIT Sloan graduates are automatically connected to a network of more than 24,000 MIT Sloan alumni and over 136,000 MIT alumni. MIT also has more than 95 MIT and MIT Sloan Alumni Clubs around the world. Some of the most well known Alumni of MIT Sloan are:
Douglas Leone, managing partner, Sequoia Capital
Sumantra Ghoshal, founding dean, Indian School of Business
Adi Godrej, chairman, Godrej Group
Robin Chase, Co-founder and former CEO of Zipcar
Thornton Wilson, former CEO, Boeing
Apart from the robust Alumni network, M7 business schools also offer scholarship opportunities to its students. Let us now look at some of the scholarships offered at M7business schools:
Scholarships at M7 Business Schools
There are various types of MBA scholarships that are offered to students at M7 business schools such as need-based, merit-based, diversity, and gender-based, external scholarships. However, the type and the amount of scholarship can differ from each business school.
Harvard MBA Scholarships are offered based on financial need, and they do not offer merit-based scholarships. It is a gift that does not need to be paid back, and nearly 50% of the class receives it. The average need-based scholarship amount for the Harvard MBA program is $40,000 per year or $80,000 in total.
Stanford also offers need-based scholarships. The average Stanford GSB fellowship is approximately $40,000 per year or $80,000 in total awards. On the other hand, the MIT Sloan Admissions Committee awards merit-based fellowships to exceptional students based on a variety of criteria, including, but not limited to:
Academic excellence
Professional achievements
Potential to enhance the MIT Sloan community
Columbia business school and Chicago Boot also offer merit-based scholarships to its students. The Wharton MBA program also provides a broad range of fellowship opportunities based on your application for admissions. Criteria for fellowship includes your academic achievements, community involvement, professional development, and personal qualities and background.
Planning to take the GMAT? We can give you access to quality online content to prepare. We are the most reviewed GMAT prep company on the GMAT club with more than 2600+ reviews and have delivered 10x 700+ scores than the average GMATClub partner. Why don't you take a free trial and judge it for yourself? Write to us at acethegmat@e-gmat.com in case of any queries.
Also, read our detailed articles on each M7 Business School, which include the latest data about their class profiles, employment reports, and salaries:
FAQs
What are M7 Business Schools?
M7 Business Schools are an elite and informal group of top US business schools. These include Harvard, Stanford, Wharton, Booth, Kellogg, MIT Sloan, and Columbia.
Where is Columbia Business School located?
Columbia Business School is located at 3022 Broadway (at 116th Street), New York
How to get into M7 business schools?
To get into M7 business schools you have to work on your application holistically. Best business schools want a candidate who will 'get through' their rigorous MBA program successfully. Learn what it takes to get into top business schools.