A
5
min read
Applying to business school can be a challenging and daunting process. Many applicants, especially those who are reapplying after being rejected, may feel discouraged and overwhelmed. However, with the right mindset and strategies, you can increase your chances of success and achieve your goal of getting accepted to your dream business school. In this article, we will discuss six key reapplicant strategies to Business schools, using the example of Nithish, who was rejected from Rice Business School during his first attempt but was accepted the following year with a 75% scholarship.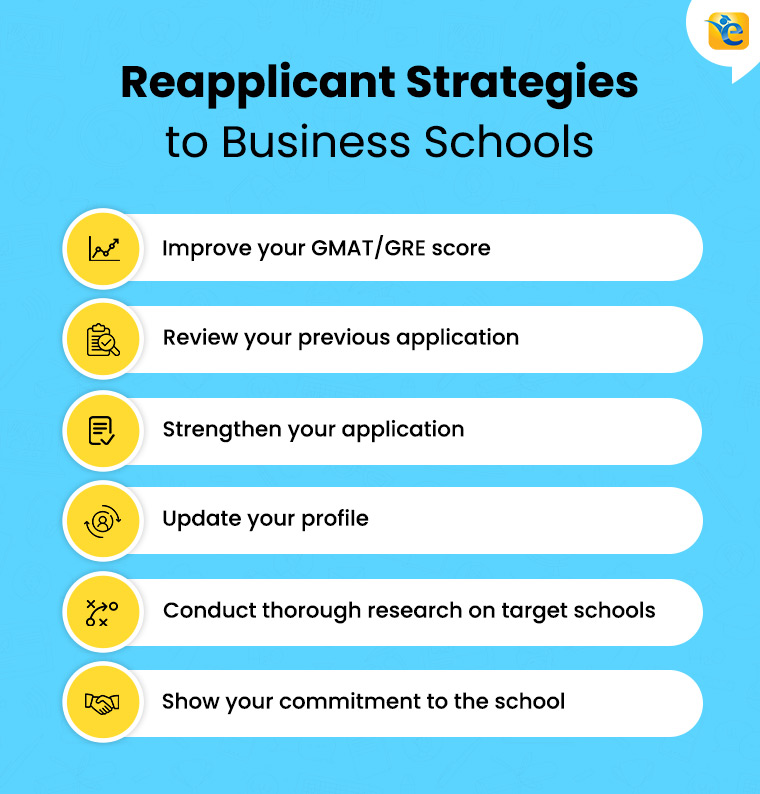 Acknowledgement:
We would like to take a moment to express our profound gratitude for the invaluable contributions made to this article, a co-authored piece that has benefited immensely from the wisdom, expertise, and experience of Poonam Tandon.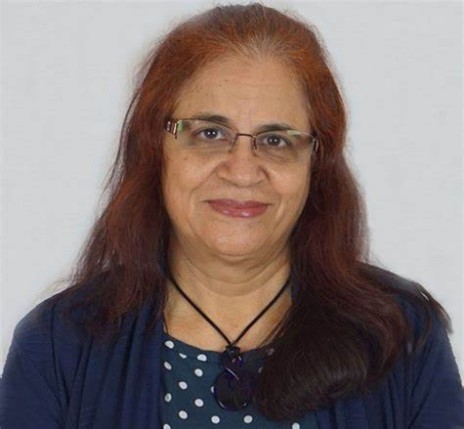 Poonam Tandon
Poonam Tandon, Founder of MyEssayReview, has been instrumental in shaping the narrative of this article. Her profound insight into the intricacies of the subject matter has provided us with a fresh perspective and a comprehensive understanding of the topic. Poonam's reputation as one of the top 5 admission consultants at GMAT Club, among more than 300 experts, underscores her proficiency and relentless dedication to her craft.
We are especially grateful for her contributions given the immense impact she has had on students' lives, assisting them in securing over $5M in scholarships. Her commitment to her students and her drive for their success is evident in the numerous reviews and testimonials that bear witness to her effectiveness and dedication. To learn more about Poonam's work and impact, we invite you to read her reviews [here] and hear firsthand from her students [here].
Reapplicant Strategies to Business Schools:
Lets discuss about the key strategies for reapplicants in detail:
1) Improve your GMAT/GRE score if needed.
Your GMAT/GRE score is one of the most crucial factors in your application. A strong score can make a significant difference in the admissions process. If you did not score as high as you wanted in your first attempt, consider retaking the exam. Nithish, for example, took the GMAT twice and increased his score from 700 to 740. If you need help, invest in a reputable test-prep program or seek the guidance of a tutor.
Want to start with your GMAT prep? Let us help you ace the first step of the process i.e., set up a baseline score and create your study strategy. Take a free GMAT mock to understand your baseline score and start your GMAT prep with our free trial. We are the most reviewed online GMAT Prep company with 2500+ reviews on GMATClub, as of April 2023.
2) Review your previous application and identify weaknesses.
Before reapplying, take a step back and assess your previous application. Identify any weaknesses or gaps in your profile that may have contributed to your rejection. Ask for feedback from the admissions committee or a mentor who can provide constructive criticism. Nithish received feedback on his previous application and used it to improve his essay and interview skills.
How to get into a top business school? – Read this article to know more about it.
3) Strengthen your application.
Use the feedback you received to improve your application. Work on your essays, resume, and recommendation letters. Highlight your achievements and strengths, and showcase how you have improved since your last application. Use specific examples and metrics to demonstrate the impact on your professional and personal life.
4) Update your profile with new experiences and accomplishments.
Since your last application, you may have gained new experiences, skills, or accomplishments. Update your profile to reflect these changes. Participate in extracurricular activities, volunteer work, or certifications that align with your goals and show your dedication to your field. Nithish improved his profile by gaining international experience in Oman and taking on a leadership role in his job.
5) Conduct thorough research on your target schools.
Research your target schools thoroughly and understand their values, culture, and program offerings. Attend information sessions and webinars, and connect with alums to gain insights and perspectives. Show how your goals and values align with the school's mission and how you can contribute to the school's community. Nithish chose Rice and Mays because they were located in Texas, close to the oil and gas industry he wanted to work in, and had a strong alumni network.
Shortlisting Business Schools that fit you the best! – Read This article to know more about it.
6) Show your commitment to the school.
Finally, demonstrate your commitment to the school by showing how you plan to contribute to the community and achieve your goals with the help of the school's resources. Attend campus visits, connect with current students and professors, and participate in school events. Nithish showed his commitment to Rice by participating in a team-building program with his future classmates and showcasing his enthusiasm for the school.
You May also read the below articles:
Nitish – MyEssayReview, student.
Case Study: Nithish's Journey to Business School
Nithish is a successful applicant who was rejected by Rice Business School in his first year of application but was accepted with a 75% scholarship in his second year. Nithish applied to five top 30 MBA programs, including Rice, MAYs, UNC, Kelley, and ISB. He was accepted into all five programs and was offered scholarships from Kelley, Rice, and Mays.
Nithish's successful application journey can be attributed to a number of factors. First, he spent a significant amount of time preparing for the GMAT and improving his score. He took the GMAT twice and improved his score from a 700 to a 740, which helped him stand out as a competitive applicant.
Second, Nithish focused on his strengths and experiences when crafting his essays. He was able to articulate his career goals and how an MBA would help him achieve them. He also demonstrated a strong fit with each program by tailoring his essays to each school.
Third, Nithish prioritized his target schools and managed his time effectively. He applied to the most competitive programs in Round 1 and applied to a less competitive program in Round 2. He also made time for the application process by taking a week off from work to work on his applications.
Fourth, Nithish prepared for his interviews by researching each school, practicing potential questions, and being able to articulate his goals and experiences. He was able to demonstrate his fit with each program during his interviews.
Finally, Nithish was authentic throughout the application process. He was honest about his experiences, goals, and motivations. He was able to showcase his personality and stand out as a unique applicant.
If you're eager to gain more insights into reapplication strategies, we highly recommend to read the article 11 Helpful Tips to Craft a Reapplication Strategy. It's a great resource to bolster your chances of success and assist you in attaining acceptance at your dream business school.
Conclusion : Reapplicant Strategies to Business Schools
In conclusion, while applying to MBA programs can be a challenging process; with the right approach, it can be a successful one. Applicants should focus on their strengths, tailor their application to each school, manage their time effectively, and be authentic throughout the process. By doing so, applicants can increase their chances of getting accepted into their target MBA program.
Looking to make it to a top business school in the US or Europe? The top 10 B-schools in US and Europe have an average GMAT score of 720+.Start your GMAT preparation today by taking our free mock test. Identify your strengths and weaknesses, and get expert insights on how to improve your performance. With over 2500+ reviews and the most 700+ scores delivered than any other GMATClub partner, we're the GMAT prep company you need. Don't wait, start your MBA journey now!