Over time we have seen many business schools joining the STEM movement. The Entire Full-time MBA programs at Tepper Business school, and UC Berkeley Haas is now STEM-designated. And that's not all.
Business schools like NorthWestern Kellogg, Michigan Ross, Dartmouth Tuck, Columbia Business School, UNC Kenan-Flagler, and others have designated part of their full-time MBA programs as STEM in the last few months.
Recently, Stanford GSB has announced a STEM designation for its MBA and MSx program. Brain Lowery, senior associate dean for academic affairs states that Stanford GSB has entered the implementation phase of STEM designation. However, communication regarding how a student would achieve STEM certification for their degree is not yet provided.
In an email by Lowery co-signed by Paul Oyer, senior associate dean for academic affairs, and Margaret Hayes, associate dean for the MBA and MSx programs to all graduate students states that " We are pleased to share that the academic codes for the MBA and Msx program will be changed so that they are STEM-eligible for incoming and current students."
Stanford GSB working on STEM certification came into limelight after a widely discussed op-ed by a current graduate student that the efforts to achieve Science, Technology, Engineering, and Math certification are under process but, for which programs, and on what timeline is still undecided.
The op-ed, by Anupriya Dwivedi, asks Stanford to " work towards obtaining a STEM certification for its MBA and MS degrees by closely collaborating with comparable peer institutions." She also points out that the current management degrees at Stanford have enough STEM-appropriate material, and pushing STEM classification will help it to escape the decline in applications.
Business schools inclining towards STEM not only reflects the need to integrate analytics and technology into the curriculum, but it's also a response to the plunge in international applications.
According to the GMAC Application trend 2019, international applications at top-50 full-time MBA program were significantly down (-21% or more) as compared to last year. The decline in the international application is mostly due to immigration hurdles and the increasing cost of the degree.
But how will a STEM-designation attract more International Students?
Did you know a GMAT score of 730+ yields incremental $500K in ROI? Start your GMAT Preparation by Signing up for our FREE Trial and get access to FREE online GMAT preparation resources. We are the most reviewed GMAT preparation company on GMATClub with more than 1870 reviews.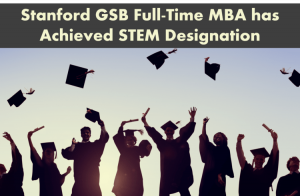 STEM-Certified US Programs Report Growth in International Application
STEM MBA programs are becoming popular among international students as these programs bring along with it an extended visa duration. A non-US citizen who graduates with STEM-certified programs can apply for an additional 24-month stay in the country as a part of optional practical training (OPT) for F-1 visa students.
An OPT is the temporary work authorization. It allows international students to work in the U.S. to complement their studies. The general post-degree OPT is 12 months, but if your degree has STEM certification, you can extend this period to three years, without needing an H-1B visa.
According to the GMAC survey 2019, 36% of the non-US citizens who prefer to study in the United States are considering a STEM program. In fact, a total of 195 of the 804 (24%) responding US programs self-reported that their program is STEM certified.
Although the majority of both non-STEM (57%) and STEM-certified (53%) programs reported a decline in the total application, STEM-certified programs attracted more international applicants. Besides, 43% of STEM-certified programs grew their international applications as compared to 26 % of non-STEM programs.
Apart from the visa extension, the employment opportunities for STEM MBA graduates are on the rise. With data analytics and business skills becoming more intertwined, and the trend to use data to make business decisions, has resulted in organizations needing graduates with analytical and business skills.
Aspiring to aspiring to pursue your MBA at Stanford? Getting into Stanford requires an envious GMAT score. Start your GMAT preparation with registering for our FREE GMAT Trial and get access to FREE GMAT preparation resources. Here is the GMAT success story of our student who got admit from Stanford.
How Stanford GSB decided to go for a STEM MBA?
The Stanford GSB Dean, Jonathan Levin, was among 50 deans who urged the administration to "reform the H-1B visa program and remove 'per- country' visa caps during October 2019."
He also expressed concerns over the fact that there are three million open STEM jobs in the country because "the U.S. is not having enough people with the skills to fill them."
But these talks were in the year 2019, after which many business schools, even MIT Sloan MBA, declared all its graduate business programs as STEM. After this, Anupriya had a conversation with the GSB, trying to mobilize and educate MBA and MS cohort.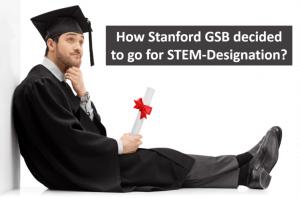 In the op-ed, Anupriya pointed out that the continued inaction of Stanford GSB towards STEM program has directly pushed its international cohort away since prospective employers hesitate to hire someone for 12 months who may or may not cross the H-1B hurdle. But with a three-year OPT, business school graduates have more career opportunities. Pushing for STEM classification would make it explicit that GSB is behind its international students and supports them.
After months of planning and development, Stanford GSB has finally got STEM designation for its entire full-time MBA program. Kristin Harlan, Stanford GSB director of strategic communications, had earlier responded by email that some changes will happen for the MBA degree but not yet for the MSx degree. However, the MSx degree at Stanford has also gained STEM designation.
Planning to pursue your MBA at Stanford? Here are some related articles that can help you with your Stanford MBA Application:
FAQs on Stanford GSB STEM MBA
What does STEM stands for?
STEM is an acronym for Science, technology, engineering, and Math.
What is STEM MBA?
In recent years, US business schools have been offering STEM MBA programs to attract international students. A STEM MBA Program offers business skills with an emphasis on STEM applications.
Here is an article to understand what is STEM MBA and its advantages.
What is the average salary of a Stanford MBA graduate?
The Median base salary for a Stanford MBA graduate is $150,000.
Does Harvard offer a STEM MBA?
Yes. Harvard has two STEM-designated programs – MS/MBA and MS/MBA in BioTechnology.