A
4
min read
On January 17, 2020, Tuck School of Business decided to provide MBA students with an option to earn formal recognition for learning in Quantitative Analysis and Management Science. Tuck believes this new option that designates a portfolio of courses across the Tuck MBA curriculum would best fit within the "Management Sciences and Quantitative Methods" category on the U.S. Department of Homeland Security's STEM-designated Degree Program list.
The federal government in 2016, created the STEM-designated degree program to address the shortage of qualified workers in the STEM field, which is estimated to grow more than a million jobs by 2028. This means students who graduate with a STEM-degree will have better employment opportunities.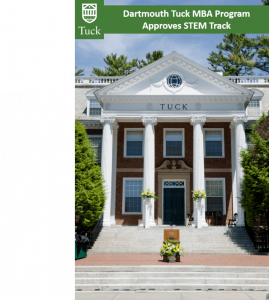 With this announcement of adding STEM Track to its MBA program, Dartmouth Tuck will join NorthWestern Kellogg, Michigan Ross, UNC Kenan-Flager, and UVA Darden, who have also put STEM tracks in their MBA programs in recent months. Many business schools, including the Tepper School of Business, UC-Berkeley Haas School of Business, and NYU Stern, have gained STEM designation for their entire MBA program.
Learn more about what is STEM MBA program and Other Business Schools offering the same.
Advantages to International Students from Tuck's STEM Approved Tracks
One of the primary reasons for many business schools embracing STEM designation is to lure back international applicants who are increasingly concerned about the changing visa and immigration rules in the U.S.
Many b-schools are facing a decline in their MBA application. Tuck saw the application to its MBA program declined by 22.5%, which sent Tuck's MBA acceptance rate to 34.5% from 23%.
With a higher acceptance rate, getting admission into Tuck has become a bit easier as compared to last year.
Planning to work after MBA in the U.S.? Read Three ways of extending your visa.
Gaining STEM designation also makes it possible for international graduates to extend their stay for an additional 24 months after graduation and receive work training. A typical graduate gets a 12-month optional practical training (OPT) as compared to a 36 month OPT for a STEM graduate.
Tuck MBA STEM Track – Management Science and Quantitative analysis option
As stated in Tuck's MBA official blog, the new option will have a portfolio of courses across the Tuck curriculum. The interested students can select courses to deepen their knowledge of analytics.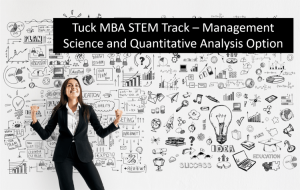 In an interview, Joseph Hall, senior associate dean for teaching and learning at Dartmouth Tuck, said the curriculum update happened after a six-month of discussions through focused groups of students, recruiters, and alumni. The conclusion was that Tuck students need to have analytical skills and should be able to defend a point of view with data. After which the school added a new series of data analytics courses in Fall A and Fall B along with a refined leadership framework.
Additional details about the courses and the number required to pursue this student option will be finalized and announced very soon.
Want to pursue your MBA at Tuck? A 740 on GMAT can increase your chances of getting an admit. Start your GMAT Preparation today by Signing up for our free trial and get access to free GMAT resources and quality online content.
Restructuring Tucks MBA Core
Apart from the new STEM option, Tuck has also revamped the core MBA curriculum for the Class of 2021. The increasing interest in analytics tools and careers among prospective and current students has resulted in an increased focus on analytical skills in the refined Tuck's core curriculum.
To ensure that its students begin their MBA experience with a strong foundation and confidence, the curriculum review committee came up with the Tuck Launch program.
The Tuck Launch is a new two-week program based on three design principals – experiential learning, integrated programming, and reflection. The program aims to prepare students for the intensity and academic rigor of their first year at Tuck.
The incoming class 2021 experienced a welcome session from Dean Matthew J.Slaughter and Senior Associate Dean for Teaching and learning Joe Hall. Students participated in several immersive and integrated sessions led by Tuck faculty, alumni, and staff on topics ranging from telling one's personal story with Tuck Career Services, to how to create high-performing study groups.
Besides, to incorporate experiential learning, improv actors were brought into roleplay with students to teach them about issues of diversity and inclusion. Also, instead of formal lectures, professors engaged students with case studies to get them thinking about what they would do in certain situations.
At last, under the new curriculum, Tuck also offers leadership coaches to all students. The school has recruited 30 couches, and each MBA student can have three one-on-one sessions with a coach.
Here are some related articles on Dartmouth Tuck School of Business that can help you get an admit:
A high GMAT score can set you apart from the competition and help you get an admit to your dream business school. Start your GMAT Preparation with the most reviewed online GMAT prep company. Try out our FREE Trial Today!