A
4
min read
The Columbia Business School has joined a growing list of business schools in adding a STEM certification (Science, Technology, Engineering, and Math)  to its full-time MBA Program. The certification is retroactive to the school's May 2019 graduates.
With this decision, Columbia becomes the latest M7 school to embrace STEM- designation. It has joined the Kellogg School of Management, Wharton School of Business, and MIT Sloan School of Management with STEM pathways or STEM MBAs within their MBA program.
Other Business schools in the M7 group include HBS, Wharton, Stanford GSB, Booth, Kellogg, and MIT Sloan.
Feel free to click on the above mentioned M7 business schools, to know more about their MBA program and career opportunities they offer.
Learn more about What are the M7 Business Schools?

STEM- Designation a vital enhancement to Columbia's MBA Program
Dean Costis Maglaras highlights the school's commitment to providing all graduates with the knowledge and skills they will need to thrive in rapidly evolving, data-driven industries.
He states, "Data analytics and Technology affects all aspects of business, from investment to innovation, in a diversity of field, including artificial intelligence, healthcare, transportation, and energy. The faculty at Columbia has made great strides to infuse data science and analytics throughout the MBA curriculum."
Aspiring to pursue your master's at Columbia Business School. A 740+ GMAT score can increase your chances of getting an admit. Sign up for our FREE Trial today and get access to FREE GMAT preparation resources and quality content.
In an email, Jonah Rockoff, senior vice dean for curriculum and programs at Columbia Business School, wrote:
" a STEM-designated degree not only benefits students going into STEM-related jobs but also gives international students ( who comprise 40% of Columbia's MBA class), a chance to work in the U.S. for three times as long without an H-1B visa."
Check out the curriculum, class profile, and employment report for Colombia Business School MBA Program. 
Columbia STEM MBA Program: Advantages to International Graduates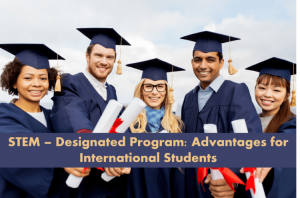 Currently, international graduates of U.S. Business schools hold U.S. jobs for only 12 months before needing an H1-B visa. However, the H1-B visa has become harder to get with the political debate on immigration.
A STEM-designated degree program makes it possible for international graduates to remain in the U.S for an additional 24 months after graduation. It also allows them to receive training through work experience. That means students with STEM-designated master's degree can work in the U.S. for up to three years after graduation without an H1-B visa.
In 2016, the federal government created the STEM-designated degree program to address the shortage of qualified workers in STEM fields that are estimated to grow more than a million jobs by 2024. That means graduates with a STEM degree will have more opportunities in the U.S. job market.
Planning to pursue your MBA in the U.S.? Here are three reasons you should pursue an MBA from US in 2020 and Three Ways to extend your stay.
Columbia MBA Application Requirements
To get an admission into the Columbia MBA program, you require:
A bachelor's degree or it's equivalent
GPA
GMAT, Executive Assessment, or GRE Score
One short answer question and three Essays
Two letters of recommendations
A non-refundable application fee of $250
Here are some articles to help you with Columbia MBA Application: Career Goals or Why MBA Essay types, 5 Types of MBA Essay with example, and GMAT score required for Columbia.
Other STEM Eligible Programs at Columbia Business School
Apart from the Columbia MBA program, the Executive MBA (EMBA) program has also been officially designated STEM Program by the US Department of Homeland Security, reflecting the integration of data analytics and technology into its curriculum.
The Master of Science Program at Columbia provides academically distinguishes and industry-oriented students the opportunity to obtain rigors, graduate-level training comprised of Ph.D. and MBA courses.
Concentrating on areas within Quantitative marketing and finance, the programs mentioned below train students in analytics, sophisticated programming tools, modeling and forecasting, and machine learning. All three programs are STEM-eligible:
MS in Financial economics – a two-years program with 5% acceptance rate
MS in Accounting and Fundamental Analysis – a three-semester program with 6% acceptance rate
MS in Marketing Science – a two-semester program, with 8% acceptance rate
Aspiring to pursue your master's at Columbia Business School. A 740+ GMAT score can increase your chances of getting an admit. Sign up for our FREE Trial today and get access to FREE GMAT preparation resources and quality content.
Here are some of the other business schools with STEM Pathways or STEM MBAs within its MBA Program: