A
4
min read
With a curriculum that focuses on strategic analytics and leadership development, the Tepper MBA program has now earned a STEM – designation. The Tepper School of Business is the second U.S. business school after the University of Rochester to gain STEM designation status.
Over the past two years, the Tepper MBA program has made several changes in its curriculum to strengthen students' foundational experience in management science. The school offers a new MBA course that blends business, technology, and analytics.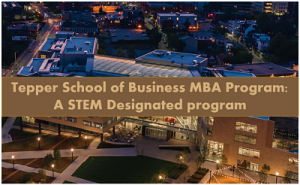 Throughout its curriculum, the Tepper MBA program has included the adoption of more sophisticated analytical tools like prescriptive modeling, optimization, and predictive modeling with interdisciplinary and experiential learning opportunities.
Therefore, gaining a STEM designation re-enforces the academic approach of the Tepper MBA program that emphasizes the application and study of key business drivers, as well as depth and breadth across multiple functional and industrial areas.
In this article, we cover the following topics:
What is a STEM Program and Why is it important?
STEM is an acronym for Science, Technology, Engineering, and Math. A field of study that falls in any of the four disciplines mentioned, then that program is categorized as a STEM program.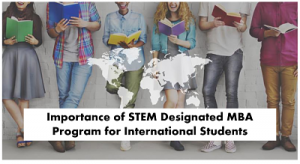 To help with the shortage of qualified workers in the STEM field, the federal government created the STEM designation. For international students, the STEM-designated program is quite attractive because it offers an additional benefit when it comes to an H-1B visa.
Importance of STEM Designation for International Students
Optional practical training (OPT) provides many F-1 visa students with the opportunity to work in the U.S for up to 12 months to gain relevant experience related to their field of study, whereas a student graduating from STEM-designated programs can apply for a 24-month extension after completing their OPT.
Therefore, a STEM-designated program provides up to 36 months of temporary employment in the U.S.
Read more about the Stem MBA Program and Other Business Schools offering STEM MBA in 2019
Tepper MBA: School's Leadership Views on Gaining STEM Designation Status
With big data and business analytics growing importance, the Tepper School's leadership believes that more focus on management science is required to keep the school's rigorous approach to business education.
Besides, the Tepper School of Business earned STEM designation status at a time when there is an increased demand for students who can leverage big data sets for efficient decision making.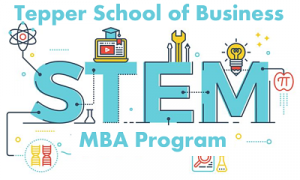 A STEM Designation Strengthens the Management Science Position of Tepper School of Business
Having gained a STEM designation status, Dean Robert Dammon points out that the school has correctly reinforced its positioning on management science. He states that "At Tepper School of Business, they are educating future business leaders to utilize data, technology, and analytics to make better business decisions and solve complex problems that impact the world."
Tepper's Dean Robert Dammon states, " The Tepper School is a place where management science developed, and the school's commitment to intellectual rigor runs deep. A STEM designation fits in nicely with the reputation and the brand of the university as a technology university."
STEM Designation Captures the Tepper MBA Program Scientific Approach to Management
Sevin Yeltekni, Senior Associate Dean of education, states that "A STEM designation is a signal that the blend of analytical, technological and business skills are in demand and that these skills are important for the U.S. economy. That's why the STEM designation is important. In short, Tepper's MBA program gives you the skills and tools that are very much in demand and is important for any student no matter where they are from and what they intend to do."
Sevin Yeltekni, also points out that " the STEM designation captures the increasingly interdisciplinary nature of the Tepper MBA program that blends foundational business disciplines in innovative ways. The MBA program at Tepper brings in expertise in science, technology, and engineering from the rest of the Carnegie Mellon campus into the classroom."
The head of the MBA program gives a similar view, where Kate Barraclough points out that "the Tepper MBA program has a strong emphasis on quantitative expertise as a crucial management skill, which is in high demand from employers. Across the industry, employers are looking for MBA graduates who are data-driven decision makers and analytical thinkers."
Thus, a STEM designation captures then Tepper's MBA program's scientific approach to management.
Read in detail about Tepper MBA Program – Class Profile, Employment Report, and Notable Alumni
Here are some related articles to read:
Want to pursue your MBA in USA ?

A good GMAT score is the best first step towards your U.S. MBA dream. Start your GMAT preparation by Signing up for our free trail and get access to free GMAT preparation resources.