A
3
min read
Northwestern's Kellogg School of Management has added a new STEM-Designated Management Science major to its MBA program. According to Kellogg, MBA candidates who chose this major would be well-prepared for careers in Finance, Consulting, and Entrepreneurship.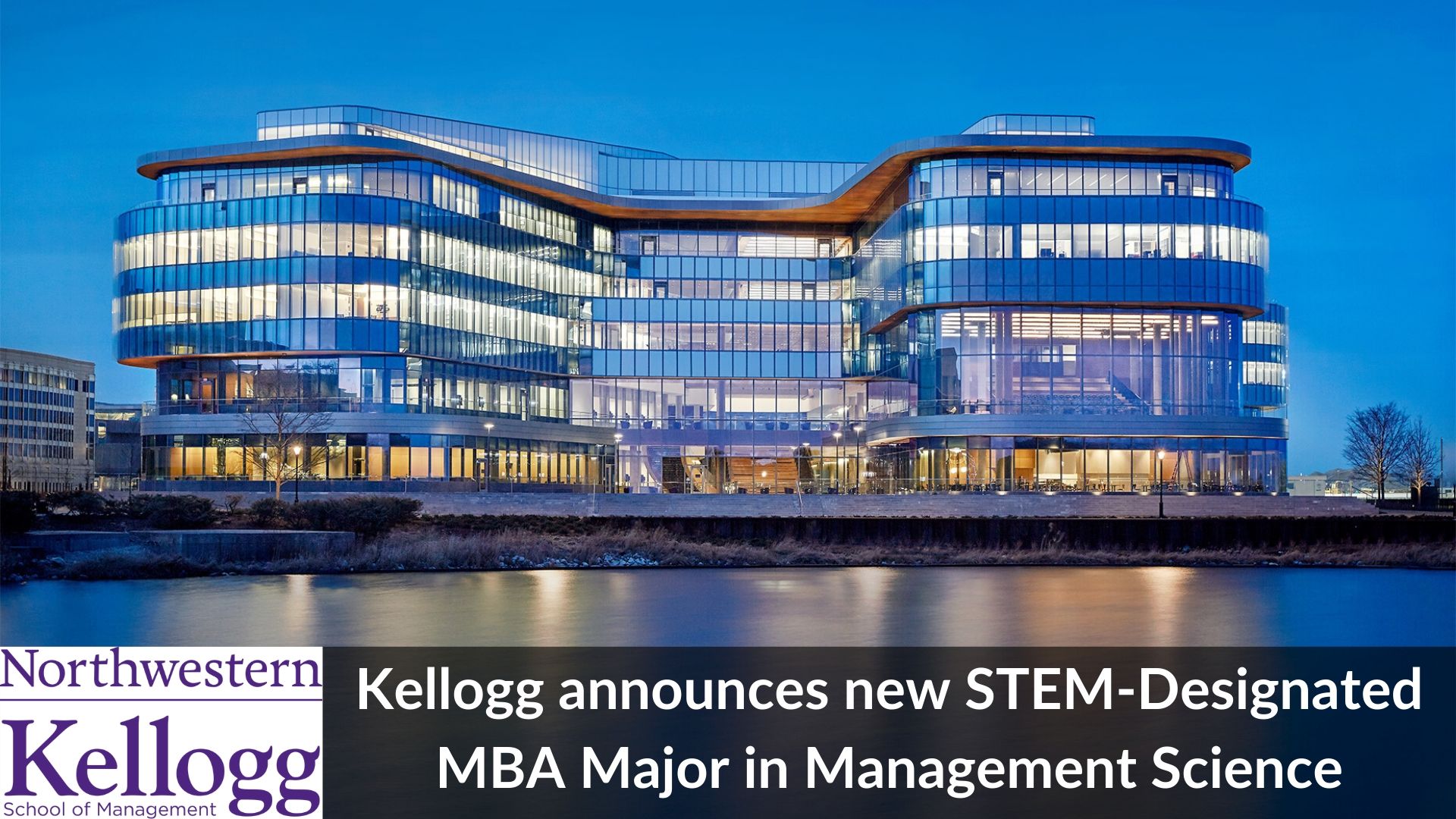 Kellogg one of the Highest Ranked Programs to Add STEM-Designated Major
Kellogg is one of the highest-ranked schools besides Wharton, CMU Tepper, UC Berkeley Haas, and Darden School of Business to add a STEM-Designation to their MBA Program/Major.
According to Matthew Merrick, Associate Dean of Degree Operations, following are just a few of the questions that the new Management Science Major aims to answer:
How to use big data efficiently to understand capital markets?
How to identify opportunities to apply analytical techniques and models to solve problems of business organizations?
The major is led by distinguished Kellogg faculty such as:
Kellogg does not require students to declare a major during the MBA program, however, those who take at least 4 qualifying courses will receive notice of the major on their transcript.
What are the subject areas and courses available in the Management Science Major?
Following are some of the different subject areas and the courses that can be taken by students pursuing the management Science Major:
Accounting:
Managerial Accounting
Financial Reporting and Analysis
Finance
Financial Decisions
Capital Markets
Derivatives Market
Strategy and Analytics
People Analytics and Strategy
Strategy and Organization
Analytics for Strategy
A full list of coursework and subject areas can be viewed here.
What kind of careers can students look forward to with the Mangement Science Major?
According to Kellogg, students who choose the Management Science major will be well-prepared for post-MBA jobs in a wide variety of fields including Consulting, Finance, and Entrepreneurship.
The career management center at Kellogg works directly with recruiters to identify particular job opportunities where students with the major would be a good fit.
Benefits of the Management Science Major for International Students
Since the Management Science major qualifies as a STEM-Designated field of study, international students that graduate with the major are eligible for the additional 24-month STEM-OPT extension to their F-1 visas. Thus international students can extend their stay and work in the U.S for a total of 36-months after they graduate from the MBA program.
Kellogg MBA Class Profile: Class of 2021
Following are some statistics of the class of 2021 at the Kellogg MBA program:
| | |
| --- | --- |
| 2021 Kellogg MBA Class Profile | Number |
| Average GMAT | 730 |
| GMAT Range | 620-780 |
| Class Size | 474 |
| Average Age | 27 Years |
| Average Work Experience | 5 Years |
| Work Experience Range | 3.5-7 Years |
| Average GPA | 3.6 |
| % of International Students | 32% |
| % of Women | 43% |
Industry Backgrounds: Class of 2021 – Kellogg MBA Program
| | |
| --- | --- |
| Industry Background | Percentage |
| Consulting | 27% |
| Financial Services | 19% |
| Tech/Communication | 14% |
| Govt./Education/Non-Profit | 8% |
| Health/Bio | 5% |
| Consumer Products | 4% |
| Energy | 4% |
| Manufacturing | 3% |
| Military | 3% |
| Others | 13% |
Educational background: Class of 2021 – Kellogg MBA Program
| | |
| --- | --- |
| Undergraduate Majors | Percentage |
| STEM | 29% |
| Economics/Business | 49% |
| Humanities | 24% |
2019-2020 Kellogg MBA Application Deadlines
| | |
| --- | --- |
| Application Round | Date |
| Round 1 | September 18, 2019 |
| Round 2 | January 8, 2020 |
| Round 3 | April 8, 2020 |
Here a few articles you may like:
Source: Kellogg