A
3
min read
In a press release by NYU Stern School of Business, it announces that its two-year full-time MBA program is now officially STEM-designated. The school's move to designate a STEM program will allow its international graduates a chance to extend their stay by 24 months over the 12 months that they are currently offered.
This change will cover MBA graduates in May 2019 who are currently on post-completion of Optional Practical Training (OPT), as well as all students graduating in May 2020 or later.
NYU Stern will now be joining the ever-growing collection of MBA programs across the U.S. to add an official STEM-designation. Business schools like Michigan Ross, Columbia, Dartmouth Tuck, UNC Kenan-Flagler,  Northwestern's Kellogg, UC- Berkeley Haas, Tepper, and others have designated all or part of their full-time MBA programs as STEM in the last few months.  Even Stanford GSB is talking about launching STEM certification for its MBA programs. However, there is no timeline set as of now.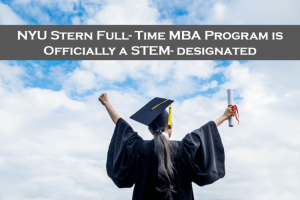 NYU Stern STEM MBA program
In May 2019, the school's one-year Technology and Entrepreneurship MBA received the STEM designation. The program focuses on Technology, through coursework and experiential learning projects built into the 52-credit curriculum.
With its full-time MBA program also gaining a STEM-designation, NYU Stern now offers two STEM-designated MBA degrees.
JP Eggers, NYU Stern Vice Dean for MBA Programs, said:
"Many top MBA programs are announcing STEM designations, although stern is one of a select few to receive the designation for its entire program as compared to offering a select concentration or track." He adds, "The fact is that STEM skills are a ubiquitous skill set today which will help MBA students compete for jobs."
Similarly, Marti Subrahmanyam, professor of Finance, Economics and International Business who sates:
"Students should be able to do statistical and data science work. They need those skills to get a good position."
In addition, the designation not only incorporates the STEM-based curriculum but also has a favorable implication for international students.
Importance of STEM programs for International Students
International students in F-1 status studying for STEM degrees are eligible for STEM OPT extension up to three years, which gives them an additional 24 months as compared to a non-STEM degree.
To be eligible for a visa extension, the STEM degree should be from an accredited U.S. school, and the international graduate must secure employment with an employer with a minimum of 20 hours of work per week with a formal training within the STEM field.
Learn more about F1 student visa for MBA in U.S and Post-MBA work visa in the U.S. for international students.
Marti Subrahmanyam, says, "NYU has a larger proportion of foreign students, which means that a significant portion of the Stern student body would be positively affected by the new STEM designation." He also raised his concerns regarding the Washington Alliance of Technology Workers suing the Department of Homeland security over OPT in 2019. They claimed that it had overstepped its authority by using OPT to create a loophole for international workers in the U.S.
He said, "The NYU model is based on foreign students, and abolishing OPT will be a disaster."
Aspiring to pursue your MBA at NYU Stern? A 740+ GMAT score can increase your chances of getting an admit. Start your GMAT preparation with our FREE Trial and get access to FREE GMAT resources.
NYU Stern STEM MBA: An Evolutionary Process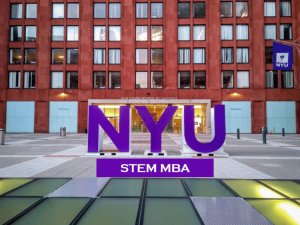 In an interview, Eggers states, "Over time, the school has been slowly updating the curriculum and the way they teach things." 
He also mentions that without a doubt, the Stern STEM MBA that is focused mainly on analytics, entrepreneurship, and Technology is a straightforward sell to make everyone feel comfortable that it is clearly a STEM program. In contrast, an existing program like MBA that has not been STEM certified beforehand will require an understanding of how the MBA degree has evolved over the past 20 years, to be much more analytic and data-driven.
He also says, "There are some small tweaks that NYU Stern has been making and will make in the future, but it is not a part of a significant curriculum overhaul. It reflects what the school has been doing for a while."
Here are some related articles that can help you with your NYU Stern MBA application: