A
7
min read
MBA Scholarships help you study at your dream Business School without any financial burden. A GMAT scholarship (provided by Business Schools) becomes much more important when you are planning to pursue an MBA in a foreign country. Business Fellowships and MBA Scholarships for international students are, therefore, very popular. However, some genuine questions pop up when planning to pursue an MBA, such as: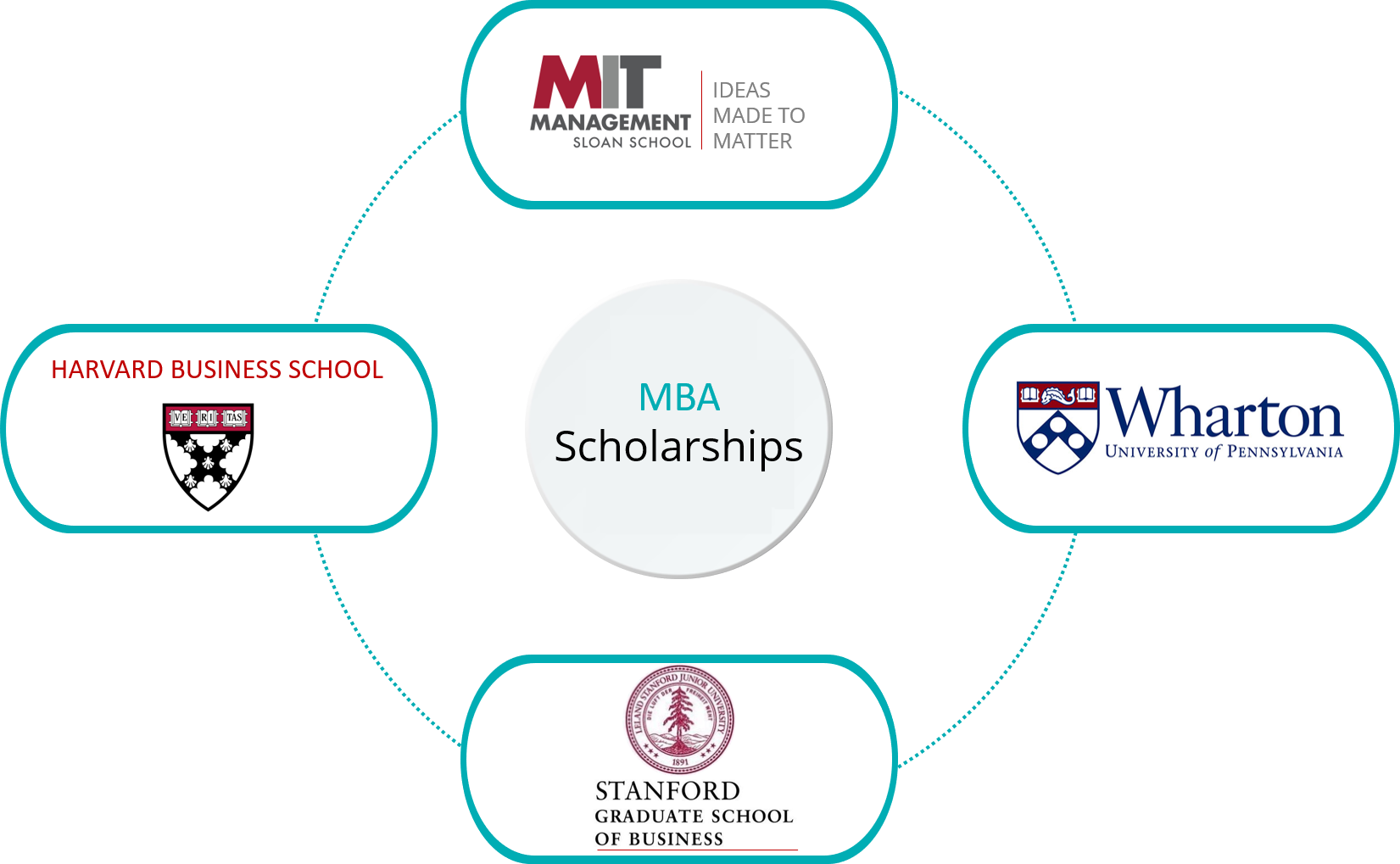 How to get a scholarship for MBA?
What is a good GMAT score for scholarships?
Who awards MBA scholarships?
What factors do AdComs consider for awarding school scholarship?
What are the eligibility criteria to get a GMAT scholarship?
Scholarship committees evaluate many factors before awarding a scholarship and GMAT score for scholarship is an important factor considered by them. If you are stressed about paying for your MBA even when you have an envious GMAT score, then worry not. You stand a good chance of getting a business fellowship or GMAT scholarships.
Scholarships are one great benefit from a high GMAT score. There are two more. Read more in this article on top 3 reasons – why take the GMAT
An MBA degree is one of the most gainful investments that you'll make in your life. Amongst rising tuition costs, business school scholarships can help you get into your dream college and successfully earn your degree.
A high GMAT score can set you apart from the competition and help you get an admit at your dream business school. Start your GMAT Preparation with the most reviewed online GMAT prep company. Try out our FREE Trial Today!
For the benefit of all GMAT Aspirants, we've covered the most common concerns relating to MBA Scholarships in this article as follows:
Tuition fees of top Business Schools

through MBA Scholarships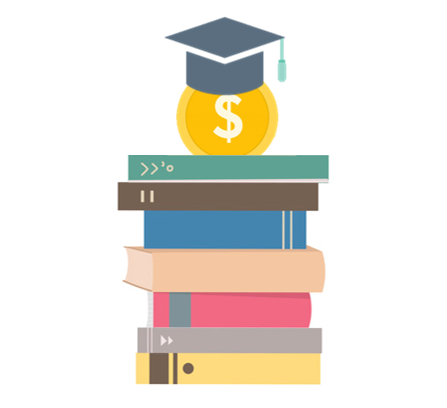 According to the basic law of supply and demand, "High demand and constant supply mean an increase in equilibrium price". Business Schools follow the same law.
Barring a few cases, every year the college intake remains constant, but the demand for a top MBA degree keeps on increasing.
Below is the tuition fee of some of the top Business Schools across the world (for the year 2022). This will give you an idea of why you need full business fellowship now more than ever:
Tuition Fees are just a part of the cost you incur in pursuing an MBA. Learn more about the real cost of an MBA and how you can make it pocket friendly.
For any strategic advice for GMAT or MBA Admissions, write to us at acethegmat@e-gmat.com. Sign up for a free trial and get unlimited access to concept files, live sessions, and practice questions.
Benefits of MBA Scholarships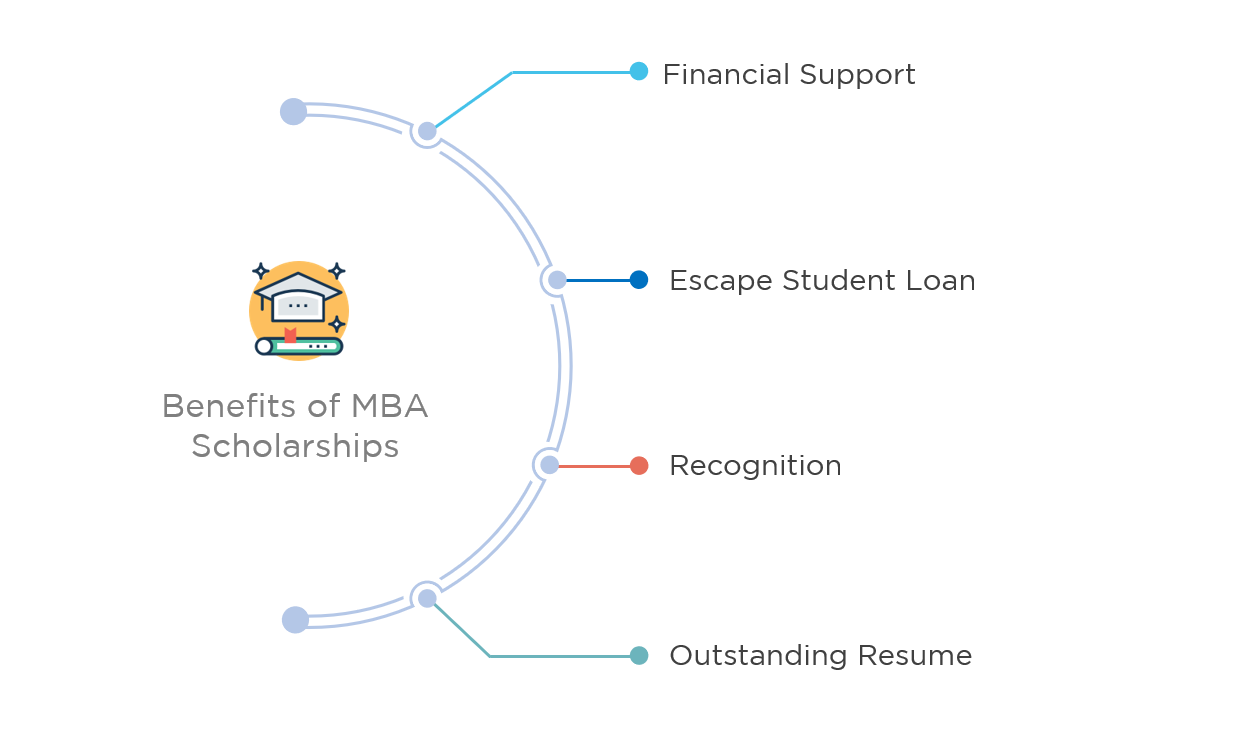 The tuition fee of top business schools rises year-on-year. An annual hike of 3-5% is a norm. Since there is a perceived return on investment, students also take up loans to pay for the tuition fee. However, a scholarship offers many more benefits than just monetary assistance. You can reap those benefits even after completing your degree. Here are some benefits
Prawee scores a 740 on the GMAT and received scholarships worth US $180,000 and admit 4 top business schools including Kellogg. Learn about the importance of a high GMAT score from her.
Winning business school scholarships also gives you a chance to put it on your resume. It becomes a big distinguishing factor. Job-search requires hard work but having this achievement will make it easier for you.
Many students keep paying their student loans for ages after completing their degrees. Spending a considerable part of your professional life, working to pay for student loans is not a good situation to be in. Escape this situation and work on getting scholarships.
Learn more ways to reduce the cost of your MBA here.
Receiving a merit-based scholarship means that you have competed against hundreds, sometimes thousands of students to get it. This achievement will not only help you monetarily but also instil a sense of confidence in you. You'll join your class riding on this wave of confidence.
There are a few other ways to impress the MBA admission committee, read the article to learn more.
Can you get MBA scholarships with high GMAT scores?
Yes, you can. Although, scholarship committees do not list a minimum GMAT score to guarantee a scholarship, a high GMAT score only increases your chances of getting one.
There are many factors that a scholarship committee evaluates before granting a scholarship. Some significant areas are: –
If you are planning to take the GMAT, we can help you with a personalized study plan and give you access to quality online content to prepare. Write to us at acethegmat@e-gmat.com. We are the most reviewed GMAT prep company on GMAT club with more than 2400 reviews and are the only prep company that has delivered more than 700+ scores than any other GMAT club partner. Why don't you take a free trial and judge for yourself?
Academic experience – Your undergraduate GPA and GMAT score

Leadership attributes – Your initiatives and experience at and outside work

Work experience – career progression and achievements

Goal clarity – Where you want your career to go

Diversity – Your personal experience, interests, perspectives and the uniqueness you bring

to the program.
What do experts say

"Someone with a 770 GMAT is much more likely to get a financial award than someone with a 670 – it can be much more likely for that business school to want to 'buy' that high GMAT score," says Jon Fuller, a former admissions director at the University of Michigan Ross School of Business and now an MBA prep coach for MLT (Management Leadership for Tomorrow)
On its official website, GMAC also provides information about Funding and GMAT Scholarships for Business Schools.
To understand the weight-age of the GMAT score in your application, read this article.
Types of MBA Scholarships available
There are two kinds of MBA scholarships available. First are those offered by individual schools and second are those offered by external organizations.
1. MBA Scholarships offered by Business Schools
Top Business Schools offer merit-based scholarships. These are highly competitive and vary by the amount of funding. GMAT score plays a significant role in the decision as to who gets the scholarship.
However, no B-school lists a minimum GMAT score to be eligible, but the higher your GMAT score, better are your chances.
What is a good GMAT score for Scholarships?

A general thumb rule is having a GMAT score higher than the B-school's incoming class GMAT score. For example, if you are targeting the top 10 B-schools, a GMAT score of 730+ will make your application more lucrative. If you are targeting the top 25 B-schools then a GMAT score of 700+ can do the trick.
Business Schools offer a wide variety of scholarships
Business schools offer different types of scholarships. They offer merit-based scholarships for MBA students, MBA scholarships for international students, gender-based scholarships and many more. To illustrate this, let's look at the types of scholarships offered by the Kellogg School of Management and INSEAD.
Northwestern's Kellogg School of Management, offers targeted scholarships like the Diversity Scholarship (for students from underrepresented backgrounds) and the McGraw Foundation Excellence Grant (for students planning to use their MBAs to protect the environment), as well as the more general Kellogg Scholarship, which is awarded to select students who demonstrate exceptional academic abilities and leadership skills.
INSEAD offers 85 different types of MBA scholarships. Most of the school scholarships are targeted for a particular nationality or gender, but there a few scholarships which are either need-based or merit-based. Some of those scholarships and their award value are listed below, for more information visit this link
| | | |
| --- | --- | --- |
| Scholarship Title | Criteria | Award amount |
| INSEAD Alumni Association (IAA) Endowed MBA Scholarship Fund | Diversity with financial need | Up to €25,000 |
| INSEAD Antonio Borges Endowed MBA Scholarship | Outstanding academic achievements and promise | € 10,000 |
| INSEAD Christoph Rubeli MBA '92D Endowed MBA Scholarship | Merit | Up to €20,000 |
| INSEAD Eric Sasson MBA'90D Scholarship | meritorious candidates of any nationality | €15,000 to €25,000 |
| INSEAD Henriette and Norbert Albin Endowed MBA Scholarship Fund | financial need | Up to €20,000 |
We do know that there are external organizations who take GMAT score into account for the scholarship applications.
The Graduate Management Admissions Council (GMAC) releases a list each year of all institutions and organizations who are eligible to receive GMAT scores. Some of them are given below:

2. MBA Scholarships for international students (offered by external agencies)
| | | |
| --- | --- | --- |
| Scholarship/Fellowship | Eligibility | Funding |
| Canadian Bureau for International Education | Canadian prospective graduate students looking to study internationally or non-Canadian students looking to study in Canada | Varies greatly by program, but generally covers full tuition |
| Consortium for Graduate Study in Management | U.S. citizens with a bachelor's degree from the U.S.; must submit GMAT scores along with many other application materials for consideration | Full tuition and fees for two years of full-time study |
| East-West Center | Citizens or permanent residents of the U.S., the Pacific Region, South Asia, Southeast Asia, or East Asia studying towards a master's or doctoral degree at the University of Hawaii | Full tuition, housing costs, fees, books, and some living expenses for a graduate degree at the University of Hawaii |
| Hariri Foundation | Lebanese citizens studying for a master's degree at Boston University | Full tuition and fees for two years |
| Harvey Fellows Program | Christian graduate students in several fields | Stipends of $16,000 that can be renewed for up to two years |
| Institute of International Education-IIE | International students looking to study in the U.S. | Varies by sponsor; search the database for specifics |
| La Caixa Fellowship Program | Students from Spain who plan to study at Indiana University, Bloomington | Full tuition for two years of full-time study |
| Roche MBA Fellowship Programme | Students with undergraduate degrees in science/medicine | Two full years of tuition |
| Stars Foundation | Permanent residents of South or West Texas | Full tuition for a master's program |
| The Scholarship Foundation, The Patrick Turner Scholarship for Innovation and Entrepreneurship | Students aiming to enter MBA programs and pursue careers in innovation or entrepreneurship | 10,000 SGD (around $7,125 in U.S. currency) |
| Tibet Fund | Applicants from India and Nepal | Full tuition for two-year master's programs |
| World Learning, World Learning (Kosovo) | Citizens of Kosovo planning to undertake graduate study in the U.S. | Full ride to a master's program, followed by job placement in a Kosovo institution |
Now that you have understood the role your GMAT score plays in the application process, the next step is to find a suitable MBA scholarship.
How to search for an MBA Scholarship
There are many ways to search for one:
MBA Scholarship search engines: – scholarships.com, scholarshipportal.com, studentscholarshipsearch.com are some search engines you can refer.
Google Alerts for MBA Scholarships, Business School Scholarships, Business Fellowships, etc.
Subscribe to updates for the term "MBA scholarships" or keywords related to a specific B school you are targeting.
Business school scholarship websites – MBA B-school websites usually list external sources of funding. They are an excellent resource for reliable information on MBA scholarships
Here are some tips for successful MBA scholarship applications:
Be sure to investigate industry-specific, gender-specific or nationality specific MBA scholarships
Have a strategy or an advisor to help you out with the application process. If you know a student who successfully got a scholarship, seek out his/her advice
Reflect on your Unique Selling Points. A GMAT score is important, so is the value you will bring to the MBA program
If you are planning to take the GMAT, we can help you with a personalized study plan and give you access to quality online content to prepare. Write to us at acethegmat@e-gmat.com. We are the most reviewed GMAT prep company on GMAT club with more than 2400 reviews and are the only prep company that has delivered more than 700+ scores than any other GMAT club partner. Why don't you take a free trial and judge for yourself?