A Q50 score on the GMAT Quant section corresponds to an 85 percentile score. A Q50+ GMAT quant score does not only look good on your score report but also proves that you have the required quantitative ability to get through business school. This quantitative ability will hold you in good stead even after business school when you are pursuing a career in consulting or finance, two of the most popular post-MBA career choices.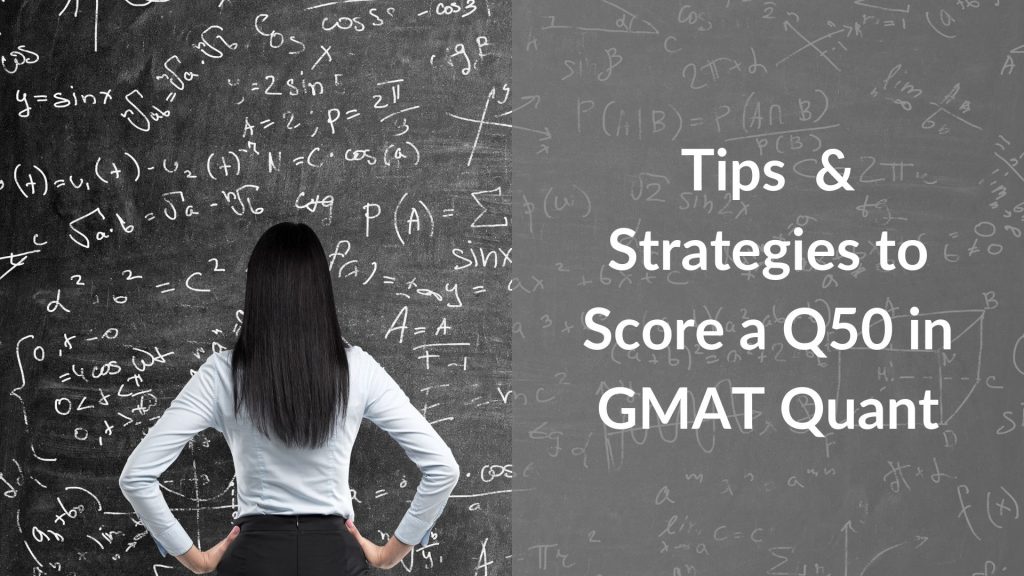 Furthermore, business schools assign around 6% weightage to your GMAT quant score while making admission decisions. Thus, In this article, we will look at the tips and strategies that will help in achieving a Q50+ score in the GMAT quant section.
Here is a brief outline of the article:
GMAT Quantitative Reasoning Section – The Basics
The aim of the GMAT Quant section is to measure your ability to reason mathematically, solve quantitative problems, and interpret graphic data. It consists of 31 questions and you are given 62 minutes to complete it.
The GMAT Quant section is divided into two further areas i.e.:
Algebra and Geometry
Arithmetic
And it consists of 2 Question types i.e.:
Problem Solving Type Questions
Data Sufficiency Type Questions
Problem-solving type questions measure your ability to use logic and analytical reasoning to solve quantitative problems. You have to solve the problem and select one out of the five given answer choices.
Data sufficiency type questions measure your ability to analyze a quantitative problem, recognize which data is relevant, and determine at what point there is enough data to solve the question.
You will be given a problem that consists of a question followed by 2 statements. Using the data given in the statements and your knowledge of math, you have to decide whether you have enough data to answer the question asked.
The GMAT Quant section raw score lies between 6-51 and the mean score of a sample size of 700,000+ test takers who took the test between January 2015 – December 2017 is 39.93. This mean score corresponds to a 39-percentile ranking.
To learn more about GMAT scores and percentiles read this article
Importance of the GMAT Quant Section in MBA Admissions
Your GMAT score has a 22% weightage in MBA admissions. Out of this 22%, 16% weightage is given to your overall GMAT score out of 800 and an additional 6% weightage is given to your GMAT quant score.
Since the GMAT is used for admission to graduate management programs your GMAT quant score signifies your ability to deal with the quantitative curriculum in business school.
Read this article to learn more about the importance of GMAT score in MBA admissions.
Now that we know more about the GMAT quant section and its importance in MBA admissions let us take a look at the tips and strategies that will help you in achieving a Q50+ score.
Tips and Strategies to score a Q50+ in GMAT Quant
We have divided the tips and strategies into the following different sections:
Study Strategies
Timing Strategies
Test Day Strategies
Studying Strategies for scoring a Q50 in GMAT Quant
Conceptual Clarity
Achieving a Q50+ score in the GMAT Quant section requires a solid grasp over concepts and their application to solving questions. Thus, to achieve a Q50+ score you first need to focus on getting the basics right. A way to measure this is by using a sectional test with an equal mix of various difficulty level questions. If you are scoring consistently between Q45 – Q49 that means that you have mastered most of the concepts and their application.
Understanding the Structure and Requirements of GMAT Quant questions
The GMAT Quant section is a test of reasoning and not of your prowess to process large/difficult numbers. Thus, it is important to understand the intricacies and subtlety of both Problem Solving and Data Sufficiency type questions and the common mistakes made by students in these types of questions.
Here is a collection of articles on various concepts that are tested in GMAT Quant including common mistakes made by students in GMAT quant questions.
Using a structured process to solve questions
The GMAT is not a test of concepts but a test of application. Once you have mastered the individual concepts that are required, you should also focus on mastering the process to apply those concepts to solve questions.
A structured process-based approach to solving questions not only helps you in scoring well but also reduces the chances of making silly mistakes that may harm your GMAT quant score.
Create and Maintain an Error Log
An error log is a way to track and analyze the practice questions that you solve. Maintaining an error log will help you in identifying why you answered a particular question incorrectly.
This further helps in identifying your weak areas and the remedial steps you can take to bring the weak area up to speed. Maintaining an error log also helps you make judicious use of your GMAT preparation resources. Reviewing and analyzing your error log after taking a mock test or a sectional test helps you identify your areas of improvement.
Here is GMAT error log template that you can use.
Common mistakes made by students in studying for GMAT Quant
Mistake #1: Not getting enough timed practice
The concepts tested on GMAT quant are of high school level of difficulty, thus given enough time most test-takers can solve the questions asked in the GMAT quant section. However, it is a combination of time pressure and application of concepts to solve questions that makes it difficult for test-takers to reach a Q50 score in GMAT quant.
Thus, once you are done going through the concepts and practicing the application of concepts to solve questions, make sure you spend enough time doing timed practice. This will help you in getting accustomed to the timing aspect of the GMAT Quant section. Make sure you practice enough questions of various difficulty levels to get a holistic view of your performance.
Mistake #2: Focusing only on hard GMAT quant questions or advanced topics
Focusing your time only on practicing and solving hard GMAT quant questions or advanced topics may not give the best return on investment of your preparation time. Remember that the GMAT is a computer adaptive test.
The algorithm determines the difficulty level of your next question based on your response to the previous question. Thus, if you get an easy or medium difficulty level question wrong it may so happen that the test will not serve you any hard difficulty level questions.
Therefore, your first aim should be to perfect your ability to solve easy and medium difficulty level questions without making any errors consistently. Then you can take sectional tests with a greater mix of hard GMAT quant questions to ensure that you have sufficient practice of solving them in a timed environment.
Here is the success story of Guillermo who used the same approach as described above to improve from a Q38 to Q50 in GMAT quant 3 months. He scored a 710 on the GMAT and received an admit from Wharton.
Timing Strategies for GMAT Quant

Know your Takt-Time
On average you have around 2 minutes to solve a question in the GMAT quant question. However, based on your strengths and weaknesses you may be able to solve certain types of questions in lesser time than others. It is important to recognize this fact and make sure that you understand the questions in which you will less than the average time and questions in which you will need more than the average time.
This is the concept of takt-time. Takt-time is the time you need to solve a particular type of question correctly. Knowing your takt-time for different types of questions will help you optimally manage your time on test day.
Here is an article that explains Takt-time in detail and how you can utilize this develop your GMAT quant section strategy.
Practice the Art of Leaving
A common error that students make during the test is to get stuck on a seemingly unsolvable question. This error can cost you dearly if it causes you to fail to complete the test. An important part of devising a timing strategy is to prepare for a situation when you are not able to solve a question even after spending more than sufficient time.
Thus, in such a scenario your best option is to guess the answer and move on. Since there is no guarantee that you will be able to solve the question even if you spend more time on it. Rather it is much more possible that once you guess and move on you can solve the next question. Remember that the GMAT is a computer adaptive test and you can still hit a Q50 score with 2-3 mistakes. However, there is a heavy penalty on leaving questions unanswered.
Carrie Law, Guillermo, Sireesh, and Raghav are just a few of the students that have achieved a Q50+ score in the GMAT Quant section using e-GMAT.

If you want to try out the e-GMAT course that helped them, sign up for our Free Trial. 

We can also help you with a personalized study plan and give you access to quality online content to prepare. Write to us at acethegmat@e-gmat.com. We are the most reviewed GMAT prep company on GMATClub with more than 1875 reviews.
Test Day Strategies to score a Q50+ in the GMAT quant section

Select the right section order
The GMAT exam lasts for 3 hours and 7 minutes and consists of four different sections i.e.
Quantitative Reasoning
Verbal Reasoning
Integrated Reasoning
Analytical Writing Assessment
To make sure you reach a Q50+ score in the GMAT quant section it is important to select the right section order. As such, the GMAT offers 3 different options on how to select your section order for the GMAT. This selection should be based on your testing preferences and strengths and weaknesses.
Learn more about the select section order feature of the GMAT here.
Develop a pacing plan
A pacing plan for the GMAT quant section ensures that you allocate enough time for all questions and prevents you from getting stuck on a particular question for more than 3-3.5 minutes.
Rather than checking the time left after each question which can take precious time away from solving questions, a pacing plan ensures that you stay on track throughout the section.
Here's a suggested pacing plan for the GMAT Quant section:
20 minutes for the first 10 questions
20 minutes for questions 11-21
20 minutes for questions 22-30
2 minutes for the last question
Samiya, who scored a GMAT 780 (Q50 V48), developed a unique strategy to catch herself from spending more than 5-minutes on any quant section by writing down the starting minute of each question. This prevented her from checking the time left after each question and served as a valuable tool for decluttering her thought process in the GMAT quant section. You can watch her full video interview here.