A
7
min read
Updated: June 16, 2020 
GMAC has suspended the GMAT at various test centers across the globe after the World Health Organization (W.H.O.) declared the coronavirus (COVID-19) outbreak a global health emergency. In the interest of health and safety, GMAC has also decided to conduct the interim GMAT (Now called GMAT Online), where you'll be able to take the test from your home.
In China, the GMAT test was suspended in February, which is now extended until June. However, in many countries, the GMAT test centers are being resumed.
Many cities in India have resumed the GMAT testing at the Center, including Bangalore, Kolkata, Mumbai, and Delhi. However, the available slots are less. Similarly, countries like France, Germany, Spain, Italy, and many more have resumed the GMAT testing at the Center for a few locations.
In this article, highlights the GMAT Test centers that are closed as well as the countries where GMAT testing is resumed at the Center.
Here is the outline of the article: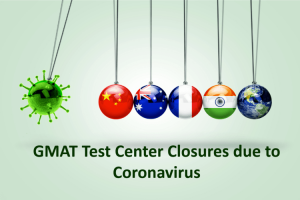 Effective immediately, GMAC has temporarily waived all GMAT exam reschedule fees.  No matter your test center location, you can reschedule to another date or location, without getting charged. 
Here is an article on how to reschedule your GMAT Appointment step-by-step explained with pictures. 
Did you know a GMAT score of 730+ yields incremental $500K in ROI? Start your GMAT Preparation by Signing up for our FREE Trial and get access to FREE online GMAT preparation resources. We are the most reviewed GMAT preparation company on GMATClub with more than 1870 reviews.
Coronavirus: Latest News on Interim GMAT Exam – Online
Due to many test center closures happening around the world, beginning in mid-April, GMAC will launch an online proctored alternative to the GMAT exam. The test will offer a comparable structure, time, and scoring as the exam delivered in the test centers. The Verbal, IR, and Quant will have the same number of items and time for completion.
The security protocols and check-in will be modified to accommodate online delivery, and remote proctors will be used to manage test integrity. The online GMAT test will be available in impacted markets, outside of mainland China.
GMAC is working closely with the Chinese government authorities to present an alternative solution for test-takers in mainland China.
Also, the interim solution will be offered at a lower price point than the standard GMAT exam to support the test takers and schools during this time.
Keep an eye on our article on the interim GMAT Exam for updates. 
Stuck at Home? Start your GMAT Preparation Online with our FREE Trial and get access to quality GMAT Preparation resources online. We are the most reviewd GMAT Prep Company on GMATClub with more than 1875+ reviews.
Click on the link to jump to the relevant section What to do If Your GMAT Test Center is Closed and when to expect your Refund?
GMAT Test Centers that have been closed due to coronavirus outbreak
Here is the list of test centers that are closed for GMAT
Click on the link to jump to the relevant section: 
GMAT Test Center Closures due to COVID-19 Outbreak

Center

Suspended Through

America

Argentina – Buenos Aires – ICANA

June 26, 2020

Brazil
Porto Alegre
July 1, 2020
Rio de Janerio
July 1, 2020
Brasilia
July 1, 2020
Fortaleza
June 22, 2020
Bolivia – La Paz
July 13, 2020
Bulgaria – Sofia
August 31, 2020
Columbia – Bogata
July 1, 2020
Chile – Santiago
June 16, 2020
Dominican Republic
July 1, 2020
El Salvador – San Salvador
July 1, 2020
Guatemala
July 1, 2020
Honduras – Tegucigalpa
July 1, 2020
Jamaica – Kingston
July 13, 2020
Mexico – Guadalajara
 July 13, 2020
Panama
July 1, 2020
Peru – Lima
July 6, 2020
Uruguay – Montevideo
July 3, 2020
Trinidad and Tobago – San Fernando
September 1, 2020
Venezuela – Caracas
June 22, 2020
South and Central Asia
Kazakhstan
Nur Sultan
September 1, 2020
Almaty – High Tech for Human
July 1, 2020
Russia
St Petersburg
June 18, 2020
Novosibirsk
July 26, 2002
Moscow
June 15, 2020
Bangladesh – Dhaka
June 16, 2020
The Asia Pacific and East Asia
Australia – Toowoomba
October 30, 2020
Indonesia – Jakarta 
July 1, 2020
China – Mainland
Testing suspended through June
Malaysia
June 16, 2020
Mongolia – Ulan Bator
August 16, 2020
Europe
Bulgaria – Sofia
August 31, 2020
Croatia – Zagreb
June 13, 2020
Hungary – Budapest
June 16, 2020
France
Testing suspended until further notice
Italy
Trento – Trento University
September 4, 2020
Latvia – Riga Business School
June 1, 2020
Netherlands
Amsterdam
July 1, 2020
Poland
Krakow – Compendium
September 1, 2020
Romania – Buchares
April 1, 2020
Germany
Testing suspended until further notice
Switzerland
St Gallen University
June 20, 2020
Turkey
Ankara – TOBB
July 3, 2020
Ankara – Yildirim Beyazit University
June 15, 2020
France – Nantes
July 31, 2020
Middle East and Africa
Bahrain – Manama
July 1, 2020
Afghanistan – Kabul
May 31, 2020
Cote d'Ivoire – Abidjan
July 1, 2020
Egypt
Cairo – American University of Languages
June 15, 2020
Cairo – Global Knowledge
June 14, 2020
Nigeria
Abuja
August 8, 2020
Lagos – UKEAS
June 16, 2020
Kuwait City
June 21, 2020
Oman
Muscat – National Training Institute
June 1, 2020
Pakistan
Islamabad
June 16, 2020
Qatar – Doha
Qatar University
August 27, 2020
Al-Attiya Computer & Technology
Testing suspended until further notice
Saudi Arabia
Dammam – Al-Bassam Institute (Male candidates)
July 1, 2020
Jeddah – Topaz System (male)
June 21, 2020
Jeddah – Topaz system (Female)
June 21, 2020
South Africa
Cape Town – CTU Training solutions
June 17, 2020
Tanzania – Dar Es Salaam
March 23, 2020
UAE
Sharjah
September 1, 2020
Dubai – The exam preparation and Testing House FZCO
July 1, 2020
Morocco – Rabat
May 21, 2020
Read our article on How to select GMAT test center?
GMAT Test Center Resumed
Here are the locations where GMAT Testing is been resumed. Check out the test center availability here:
GMAT Test Center Resumed  
Americas
Bahamas: Nassau
Brazil – Curtiba and Belo Horizonte
Canada – Burnaby, Calgary, Edmonton, Montreal, Regina, Saskatoon, Surrey, Vancouver, Victoria, Winnipeg
Costa Rica – San Jose
El- Salvador – Quito
Ecuador – Quito, Pichincha
Guam – Tammuning
Mexico – Mexico City, Monterrey
Paraguay – Assuncion
United States – Most of the test centers resumed
Europe
Austria – Vienna
Belgium – Mechelen, Brussels
Czech Republic – Prague
 Denmark – Hvidovre
Finland – Espoo
France – Villeurbanne, Wasquehal, Paris, Marseille, Bordeaux, Montreuil
Germany – Munich, Dusseldorf, Berlin, Frankfurt, Hamburg
Greece – Athens, Thessaloniki
Iceland – Reykjavik
Ireland – Dublin – The exam center Dublin north and new horizon Ireland
Italy – Milan, Rome
Lithuania – Vilnius
Macedonia – Skopje
Netherland – Diemen, Nieuwegein, Utrecht
Norway – Oslo
Poland – Warszawa
Portugal – Porto, and Lisbon
Romania – Bucharest
Spain – Barcelona, and Madrid
Sweden – Stockholm, Gothenburg
Switzerland – Zurich, and Lausanne
UK: Sutton Coldfield
South and Central Asia
Kazakhstan – Almaty – Kazah British Study Center M&K
Kyrgyzstan – Bishkek
Mauritius – Quatre Bornes
Myanmar – Yangon
Sri Lanka – Western Province
Ukraine – Kiev
 Uzbekistan – Tashkent
Armenia – Adelaide
Georgia – Tbilisi
Asia Pacific and East Asia
Australia – Adelaide, Box Hill, Brisbane, Canberra, Melbourne, Northbridge, Parramatta, Perth, Sydney, St. Lucia, TheBarton
Hong Kong Special Administrative Region
Indonesia – Jakarta – University of Indonesia, Surabaya
Japan – Chiyoda-ku, Osaka-shi, Shinjuku
Manilla – Makati City
New Zealand – Auckland -Northland Polytechnic,  The University of Auckland, Wellington
Philippines – Makati City, Metro Manila, Cebu city
Singapore
South Korea – Daegu-Si, Seoul, Busan
Thailand – Bangkok, Chiang Mai
Taiwan – Kaishiung, Taipei City
Vietnam – Hanoi City
The Middle East and Africa
Azerbaijan – Baku
Botswana – Gaborone
Cameroon – Bonapriso
Cyprus – Nicosia
Ethiopia – Addis Ababa
Ghana – Accra
Israel – Ramat Gan
Jordan – Amman Specialized Technical services
Kenya – Nairobi
Lebanon – Beirut (IT Grammar and New Horizon C.L.C.)
Liberia – Congo Town
Namibia – Windhoek
Nigeria – Lagos (Bellaz Education Services)
Oman – Muscat (Gulf college)
Pakistan – Lahore, and Karachi
Qatar – Doha (Family Computer Center)
Republic of Cyprus – Nicosia
Saudi Arabia – Dammam and Riyadh
State of Palestine – Bethleham, and Gaza
South Africa – Cape Town (International Business Training college
Tanzania – Dar Es Salaam
Tunisia – Tunis
UAE

Abu Dhabi (New Horizon CLC and The UAE Academy)
Dubai (New Horizon CLC and the exam preparation and testing house)

Uganda – Kampala
Zimbabwe – Harare
Coronavirus – What to do if your GMAT exam is scheduled at a test center that is closed?
For further information, contact the GMAC Customer service Center. The call center fees will be waived for affected test takers.
Check the availability of testing center near you by visiting: mba.com/find-a-seat
Can you reinstate your canceled GMAT score without a fee, if you have previously canceled your score with the intent to re-taking it again, but now the GMAT test centers are closed?
GMAC has temporarily waived GMAT exam score reinstatement fees as of March 25, 2020. Rescheduling a GMAT appointment is challenging during the coronavirus outbreak and can delay your ability to finalize your school applications. Thus, you can reinstate your canceled GMAT exam score at no cost to you.
To reinstate, you need to log in to your mba.com account and select the "Reinstate Score" link located next to your most recently canceled score with NO FEE. The score will be active within 5-7 days. However, the reinstated scores cannot be canceled after activation.
When to expect your Refund, if your GMAT appointment is canceled?
If you have paid through your credit card, the refund amount will be automatically refunded within 3-5 days of receiving the cancellation confirmation email.
For GMAT Test Takers in China
If you have paid using a bank transfer through NEEA, you need to follow the following instructions on requesting a refund from NEEA. It will take 4-6 weeks for refund processing through NEEA.
Stuck at Home? Start your GMAT Preparation Online with our FREE Trial and get access to quality GMAT Preparation resources online. We are the most reviewd GMAT Prep Company on GMATClub with more than 1875+ reviews (as on April 03, 2020)