ISB has facilitated dramatic career shifts and has had an excellent placement record in 2020. In addition to excellent management education, ISB offers opportunities to excel in your career with self-discovery and introspection. Apart from their flagship ISB PGP (one-year, full-time MBA), there are three different types of programs – ISB PGPpro, ISB PGPMAX, and ISB PGP MFAB.
Umesh Rathaur (ISB CO'19), with 12 years in the Defence Industry and now working as Head analytics in Ecoppia, talks to ISBmantra about his unique background before ISB and how the ISB MBA helped him transition to the corporate. Before joining ISB, Umesh was working with the Indian Navy and was efficient in handling logistic, technological, and operational challenges. He decided to pursue a full-time MBA to explore opportunities beyond the armed forces, leading him to join the corporate world.
After MBA from ISB, he joined Car24, where he worked in B2B Operations as a Senior General Manager for 2 months. After which he moved to Ecoppia – a Tech Company that is changing the face of Solar Power.
Here is the debrief of his interview.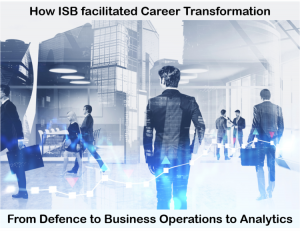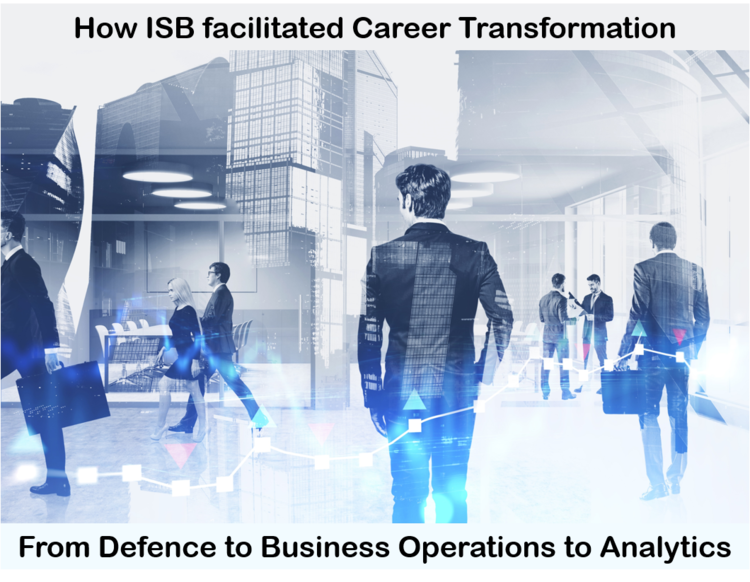 ISBMantra: Please give us a brief about your profile before ISB happened.
Umesh Rathaur: Immediately after school, I joined the National Defense Academy (NDA). From there, I joined the combat arm of the Indian Navy in the capacity of an Operations Specialist.
I served for 20 years before I joined ISB. And I held the position of Joint Director of the naval operations in Delhi for the last five years of my pre-ISB career. I was in charge of managing the entire operations of the Navy along the Indian coastline.
I also coordinated with foreign navy men for various training exercises. Apart from handling many smuggling operations and anti-pirate operations, I played a crucial role in 'Operation Sukoon' in 2006, wherein I evacuated people from Lebanon during the war.
Did you know a GMAT score of 730+ yields incremental $500K in ROI? Start your GMAT Preparation by Signing up for our FREE Trial and get access to FREE online GMAT preparation resources. We are the most reviewed GMAT preparation company on GMATClub with more than 1870 reviews (as on 9th, April 2020).
ISBMantra: Why did you consider the option of pursuing an MBA at this stage in your career.
Umesh Rathaur: After having served for 12 years, I was keen to explore opportunities beyond the armed forces. So, I thought of getting into the corporate world. But I wanted to learn about industries and understand how various companies function.
While I did evaluate part-time and correspondence MBA courses, I eventually decided to pursue a fulltime flagship program at a b-school. A flagship program would give me the opportunity to interact with a diverse cohort and pick the nuances of working in the corporate, in addition to learning about business through a structured curriculum.
Learn more about MBA Curriculum, Syllabus, and course.
ISBMantra: Most people who pursue an MBA are from an engineering or business background. Did you ever have concerns about being able to excel at a Management degree – especially given your high experience?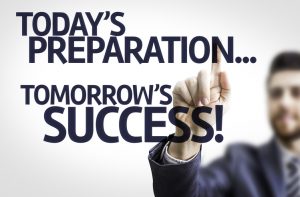 Umesh Rathaur: Oh yes, I did have some apprehension in terms of matching up with the cohort. So, to overcome the same, I did some preparation on my own before joining ISB. I meticulously practiced all the material given by ISB before the classes actually commenced. Additionally, I also reached out to alumni to seek ideas for good books to learn statistics and basics of accounting.
ISBMantra: Given your non-traditional background, did you ever get deterred by the idea of taking the GMAT, and how did you go about preparing for your GMAT?
Umesh Rathaur: I was not deterred, but I was aware that I would take some time to get used to studying for GMAT since I was away from academics for the last 20 years of my life. That's why I enrolled myself in a coaching class because it would allow me to get the feel of a classroom again and also ensure that I study for GMAT every day with my potential classmates in the post-graduation course. I studied for about five months and was able to get a decent score.
Are you aspiring to pursue your MBA at ISB? A good GMAT score can increase your chances of getting an admission. Learn more about what is a good GMAT score for ISB and the importance of GMAT score at ISB.

If you are planning to take the GMAT, we can help you by giving you access to quality online content to prepare. We are the most reviewed GMAT Prep company on GMATClub with more than 1875+ reviews. Why don't you take a FREE TRIAL and judge it for yourself?
ISBMantra: What schools did you consider for your MBA, and how did you zero in on ISB?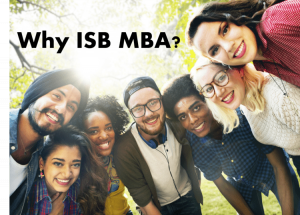 Umesh Rathaur: I wanted to do my MBA in India because I wasn't keen on moving my family abroad. Doing so would hamper my kids' school and would give me less time to spend with my parents. Now, within India, I did apply to ISB and the 1-year programs at the top 3 IIMs. I received an admit from ISB and IIM Ahmedabad. Eventually, I chose to join ISB because, at ISB, I had the opportunity to meet a myriad of people with very different work experiences and with a wide gamut of the number of years spent in corporate life (i.e., 2 to 20 years of work-ex). At IIM Ahmedabad, I would not have got the opportunity to meet with the younger lads since the average work experience is on the higher side of the spectrum. ISB also presented a wider variety in terms of the recruiters visiting the campus.
Here is the importance of diversity in MBA.
ISBMantra: Did you face any challenges getting back to studies? Any other problems you encountered during your MBA at ISB?
Umesh Rathaur: So, I would say that the very act of getting up in the morning and going to the classroom, instead of going to work, felt quite different. It took me about a month to get back into the mode of listening to lectures in a classroom. Next, being from an under-represented pool, I could not make friends instantly based on a common employer or a graduation institution. I just knew a couple of people who I had met during the city-wise meetups that happen a few months before joining ISB. But then, at ISB, I realized that it is so easy to make friends because there are so many team-based activities that happen every single day. Today I can confidently say that I know everyone by their first name at the Mohali campus.
ISBMantra: In addition to academic learning and industry exposure, what other ways do you think you benefited from your decision to study at ISB?
Umesh Rathaur: I think my most significant learning, other than academics, came from living with the cohort at ISB. For the past 20 years, I was working in a very different world, working with a very different kind of people. Now that I had decided to get into corporate life, my main aim was to understand the other 300 people at Mohali campus and what motivates/ demotivates them. I wanted to understand what kind of tasks are perceived as challenges by people who have already spent a reasonable period in the corporate world. The talks arranged by the various clubs at ISB allowed me to further understand the corporate world by listening to renowned stalwarts from multiple industries.
ISBMantra: How did you go about planning your career post MBA? What courses or opportunities at ISB did you find specifically helpful in making a career transition?
Umesh Rathaur: As I worked in operations for 20 years, I didn't want to change my concentration. So, I majored in Strategy & Leadership and Operations at ISB. I was also an active participant in the Manufacturing and Operations club, and I did the KPMG Lean Six Sigma certification to understand better the processes followed in the corporate world. Lastly, by the virtue of the nature of my job, I was easily able to grasp subjects and completely able to relate to what professors said in all the supply-chain classes.
ISBMantra: What are the typical career opportunities available to people working in the armed forces sector post ISB?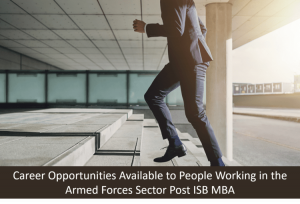 Umesh Rathaur: I think the most probable career opportunity for people who share my background is in the field of operations. To break it further, people who previously worked in air force have the liberty to transition into other industries such as aviation easily. But people from navy background mostly get absorbed into operations-heavy roles. Also, given that defense personnel has typically led large teams before joining ISB, one can try for the senior leadership roles that require strong people management skills.
Here is the placement report for ISB PGP.
ISBMantra: What is your advice to candidates from the armed forces sector for their Application to ISB and even once they start their studies at ISB?
Umesh Rathaur: My advice to future ISB aspirants who share my background is to focus on the applications and ensure that a coherent story is conveyed through all the essays. We, from the defense background, are typically not exposed to selling our skillsets in the form of interviews or internal hiring meetings. Therefore, aspirants should consciously see to it that the story is very clearly conveyed.
And at ISB, I would advise future students to be as interactive and as easy going as possible. Because compared to most other students, students who share my background have a lot more to learn since they have never really worked in a corporate setting. While learning hard-skills is undoubtedly essential, developing soft-skills is simply indispensable.
Want to pursue your MBA at ISB? Here are eight-step guidelines to get into ISB.
About the author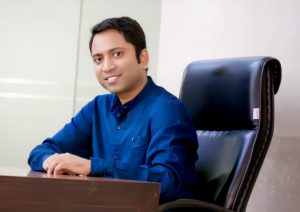 Prashant Tibrewal is the founder of ISBmantra and has mentored 1000+ MBA aspirants to get into their dream schools. As the only consulting company with Former ISB Admissions Officers on Board, ISBmantra boasts a success rate of over 80% with its ISB applicants. You may send your details to info@isbmantra.com for a free profile evaluation.