A
8
min read
For the 2023 MBA application season, the Kellogg MBA Essay questions focus on two attributes – Leadership and Values.  The applicants are required to submit two written essays and one optional essay. Apart from the written essay, Kellogg also requires three short video essays that are designed to get to know the applicant better in an interactive way.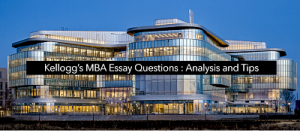 In this article, Poonam Tandon from myEssayReview, who has been helping students with their MBA applications since 2011, shares her tips on Kellogg MBA essays for 2023 intake.
Before we move on to the Kellogg MBA essay tips, let's take a look at what does Kellogg's admissions committee expects from its applicants.
Read more about the Northwestern University Kellogg School of Management MBA Program Class Profile | Employment Reports | Notable Alumni
Kellogg MBA Essay Question 1
Kellogg's purpose is to educate, equip, and inspire brave leaders who create lasting value. Provide a recent example where you have demonstrated leadership and created value. What challenges did you face, and what did you learn? (450 words)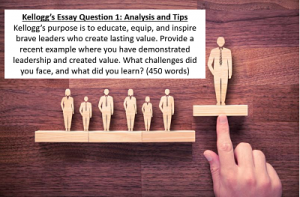 This question asks the applicants to recount a leadership experience in which they made a significant impact while overcoming challenges and learning something that helped them in similar situations in the future. Please note the word "brave leaders" and choose a leadership example in which you stepped outside your comfort zone to guide people around you towards a goal.
Regarding examples of leadership, you may choose stories from your personal or professional experiences. Make sure that the impact you have made and the value you have created is not only in terms of dollar amounts or percentages but also in terms of the challenges faced. The examples can be handling an uncooperative team member, or a supervisor, taking a decision with insufficient information, convincing someone of your innovative ideas, handling a new project, meeting stringent deadlines, managing a client's expectations, or resolving the conflict between two team members, etc.
In these exceptional times, when the whole world is dealing with a global health crisis, what actions you took to do your part in helping people that made a difference in their lives? Did you take the initiative to make masks or PPE for the hospitals, or did you private tutor kids, or got involved with a local NGO to contribute in any way you could, or connected with your alma mater in their virtual efforts to help the underprivileged. Maybe you stepped up to volunteer in your community and helped an old and physically disabled people in your neighborhood with groceries or medicines, or took the responsibility of your family as your parents have immunity issues. During this ongoing crisis, you can show leadership in many different ways. The key is you stepped out of your comfort zone at this challenging time, took the reins, and made a difference.
As always, we recommend you follow the 4-part STAR framework below:
Situation: what was the situation/ challenge? Who were the people involved in this situation- players, stakeholders?
Task: what you needed to accomplish? What conflict/ challenges did you encounter?
Action: What were the actions you took? Describe this in detail as it will become a crucial part of your essay.
Result/ Impact: What was the outcome of your leadership efforts? Were you able to address the situation? What "lasting value" you created? What lessons did you learn?
Since the second part of the essay question asks you to share what the experience taught you, you must explain at length why that experience is meaningful to you, in terms of what you achieved and what you learned about yourself. The experience may have revealed to you your strong attributes, which you might not have been aware of earlier. For example, you might have never known that you could rise to the occasion to contribute to the ongoing crisis, but this complicated situation offered you an opportunity to lead people that yielded great results. You may wrap up the essay with a final note about how you are now applying or trying to apply those lessons in similar situations.
You may also use this essay as an opportunity to comment on a leadership position you are interested in holding as a student at Kellogg and add value to the Kellogg community.
Kate Smith's advice: This question is unchanged. We're looking for those individuals who have found or plan to find unique ways to demonstrate the Kellogg purpose in their careers. As you consider leadership, in particular, keep in mind that Kellogg was the school that pioneered the team-based learning model that is now ubiquitous among the top business schools. We want all of our students to be able to step up when their teams need them.
Kellogg MBA Essay Question 2
Kellogg Essay Question 2 – Values are what guide you in your life and work. What values are important to you, and how have they influenced you? (450 words)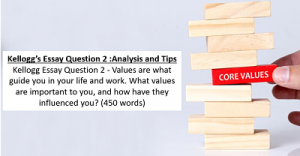 This essay requires applicants to do a significant amount of self-reflection to understand what values and beliefs are meaningful to them. Simply discussing values that you think will impress the admission committee members will not work here as it is crucial to explain how you have demonstrated those values/ beliefs in your life.
Also, please don't be tempted to provide a laundry list of values. You may discuss only 2-3 values, and back up your statements with concrete examples from your life (personal or professional). Also, explain how these values have shaped your personality and have influenced your decisions and actions.
You may wrap up your essay by stating how you will enrich the Kellogg community through these values.
Kate Smith's Advice: Our goal is to uncover what motivates and inspires you. What drives you? How will this make you a meaningful member of the Kellogg community?
Reapplicant essay
Since your previous application, what steps have you taken to strengthen your candidacy? (250 words)
This is a straightforward re-applicant essay. Through this question, the Ad Com would like to know if your need for the Kellogg MBA is as strong as it was last time. Hence you should demonstrate your continued interest in Kellogg by explaining how you have enhanced your application since you applied last time. Focus on the areas you have improved upon since you applied last. Whether you have taken extra classes, boosted your GMAT score, received a promotion, led a new and exciting project, increased your community involvement, taken on a personal challenge, or articulated your goals, the key here is to demonstrate that you are now a stronger candidate. Your conscious efforts to strengthen your profile and to work on your weak areas will prove how determined you are about your Kellogg MBA.
Learn What is a good GMAT score for Kellogg School of Management?
Kellogg Video essays for 2023 intake
Kate Smith: "Kellogg introduced the video essay several years ago to provide the chance to "meet" our applicants around the world. It also lets us assess your communication skills through a medium that has overtaken the business landscape."
Kellogg has retained its video essays.
Kellogg MBA Video Essay 1
Introduce yourself to the admissions committee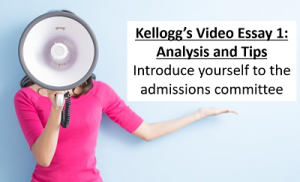 This question allows you to present your personality to the Ad Com and your classmates. You can discuss your cultural background, motivation, personal and professional goals, hobbies/interests, and issues that pique your interest. The motive is to tell them who you are. Since you will be discussing your plans in your second video essay, you may just touch upon them in this video essay.
Kate Smith's advice: "Consider this your opportunity to share what you would want your future Kellogg classmates and our admissions committee to know about you. What makes you, you?"
Kellogg MBA Video Essay 2: Analysis and Tips
What path are you interested in pursuing, how will you get there, and why is this program right for you?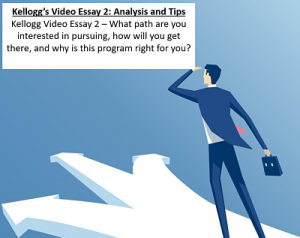 The second question provides you an opportunity to describe your plans for the future and how Kellogg will help you achieve them. Since the written essays do not offer you a chance to discuss your post-MBA goals and why you are applying to Kellogg, this is a great place to show how your goals are in line with the offerings and resources of Kellogg.
Kate Smith's advice: "This is an intentionally broad question so you can answer honestly and meaningfully. We want to know what set you en route to pursuing an MBA and why you're choosing a particular Kellogg Full-Time Program."
Kellogg MBA Video Essay 3: Analysis and Tips
Kate Smith's advice: Each of you will receive a randomly selected prompt, all of which have the same objective. You need to show how you handled a challenging situation in your career or personal life and learning from those challenges.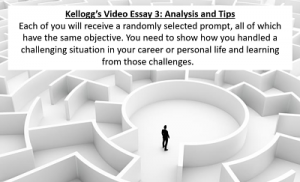 This is typically an interview-style question and is usually related to the workplace or your leadership skills, for example, "Tell us about a time when you had to make a difficult decision?" or "Tell me about a time when you overcame an obstacle in the workplace."
The Kellogg application suggests some sample questions that you can use to prepare for video essays. You should practice as many times as you like until you get comfortable with the format and technology. You may prepare MBA-related questions as well as non-work questions about your interests/ passions and volunteer work. Add more items to the list and begin practicing. Also, it's a great idea to seek the help of family or friends and get their feedback on your topics and delivery style so you can improve yourself accordingly in your next recording.
You will have 20 seconds to think about the question and up to one minute to give your response. So timing is the crucial thing in this response. Please note that you will not get a second chance to record your answer to the official video essay questions. So make sure to practice to get a clear sense of how much time you need to think and record your response.
Kellogg MBA Application Deadlines
The deadlines for the Full-Time 2022 application are as follows:
| | | |
| --- | --- | --- |
| Round | Application Deadline | Decision Released |
| Round 1 | September 14, 2022 | December 14, 2022 |
| Round 2 | January 10, 2023 | March 28, 2023 |
| Round 3 | April 5, 2023 | May 10, 2023 |
Free Resources:
Since 2011, MER (myEssayReview) has helped many applicants get accepted into the top 20 MBA programs. (Poonam is one of the top 5 most reviewed consultants on the GMAT Club.)
Do you have questions about your application? E-mail Poonam at poonam@myessayreview.com or sign up here for a free consultation.
About the author
Poonam, one of the top 5 most reviewed consultants on the GMAT Club, is a master storyteller with more than three decades of experience in successfully helping students craft compelling stories for undergraduate and graduate school programs.
A Ph.D. in English, with three decades of teaching experience in India and the US, Poonam launched myEssayReview (MER) in 2011 to provide highly personalized and dedicated consulting services to Business School applicants. Since then, she has helped hundreds of students around the world get into top MBA, EMBA, part-time MBA, and specialized graduate programs. A full-time consultant, Poonam is passionate about her work and is highly committed to each of her students' success.
GMAT is the stepping stone if you want to pursue your MBA from Kellogg School of Management. Start your GMAT Preparation online by registering for our free trial today.
Here are some additional articles :