Aastha Chawla, a current candidate at Kellogg's 1-year MBA and a former e-GMATer, shares insights into how she secured an admit and scholarship from Kellogg school of management. She discusses her Kellogg MBA Application and how she used her MBA essay to highlight the leadership skills that helped her impress the Kellogg Adcoms.
You can watch her video debrief on the Kellogg MBA Application below or read this article.
00:00 Introduction and format of the session
01:03 GMAT 640 to 730 Journey
07:05 Is GMAT 730 a good score to get into Kellogg?
08:50 Kellogg MBA Application Questions Decoded
09:13 Kellogg MBA Application – Question 1
13:00 situation presented by Aastha to approach Kellogg MBA essay question 1
16:29 How much time did Aastha took to write the Kellogg Essay 1?
21:28 Kellogg MBA Interview outlook
23:03 Kellogg MBA Application – Question 2
29:08 Kellogg MBA Video Essay Tips
34:41 How did Aastha get a Letter of recommendation?
37:50 Which MBA Admission Consultancy Aastha worked with?
38:10 How did Aastha negotiate for the Kellogg MBA scholarship?
40:40 Life at Kellogg
45:54 FAQs – Kellogg MBA Application
Kellogg MBA Application – GMAT score Requirement
Aastha had a prior experience with CAT and was confident about acing the GMAT in her first attempt. However, a GMAT score of 640 (Q49, V28) came as a shock to her. She needed to improve her verbal scores and realized that a structured approach is required to cross the GMAT 700 mark. With her 'never-give-up attitude,' Aastha was able to score a 730 on the GMAT.
Here are three takeaways from her GMAT Journey:
Having a quantitative approach and setting a target for yourself is essential: Aastha took the e-GMAT course, which offered a structured study plan and data points to improve her score. With the help of Scholaranium, she figured out the areas to boost her ability. She was able to pinpoint her weakness and work on it by following a targeted strategy
Preparing for the GMAT's adaptive nature: In the initial three GMAT attempts, Aastha prepared for the GMAT as an objective test. She was giving each question the same amount of time and weightage. However, she soon realized that time management is crucial, and it's ok to let go of questions to have a good accuracy
Not to lose confidence while attempting GMAT: It is possible that the first question that you get on the GMAT might throw you off the back. The key is not to lose your confidence and give yourself time to attempt the initial few questions. Here are ten tips on how to tackle GMAT anxiety.
Built milestones and craft your preparation, trust your practice and remember you are there to ace the test, not the question.

Aastha Chawla
Know in detail about Aastha's GMAT Verbal strategy for each subsection.
Did you know the average GMAT score for Kellogg when Aastha applied was 732? Even after scoring below average GMAT score, Aastha secured admission at Kellogg with a scholarship. How? Remember, the GMAT is just a test. Your score is only a data point in your entire application process. There are other components of the Kellogg MBA Application that you need to focus on.
Your GMAT scores can get you into the consideration pool, but from there, your application is what matters.

Rajat Sadana, CEO at e-GMAT
Kellogg MBA Application questions decoded
Here are the Kellogg MBA Application questions and Aastha's insight into how to impress the Kellogg Ad com through each essay question:
Question 1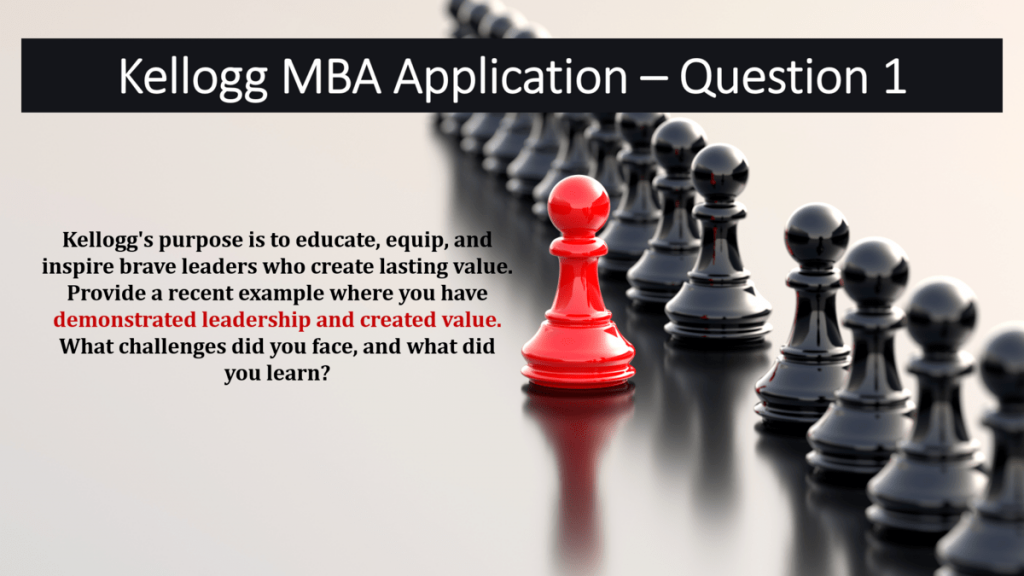 Initial Brainstorming
Aastha: To approach this question, I first thought about my career in a timeline. For instance, I graduated from my undergrad in 2012, then went to my first company in XYZ, and so on.
When you genuinely reflect on your career timeline, you will realize that it is not linear. You are bound to have those ups and downs and the beauty lines there.
I would suggest MBA aspirants to think hard about these ups and downs – what was different about them, and where you feel your impact was highest.
While choosing a story for this question, I looked at two things:
What level of challenge did I face while implementing it?
The level of role I played in overcoming the challenge.
How Aastha approach this question?
Aastha: Separate leadership from people's leadership. Not all MBA aspirants have a leadership role before applying to their dream business school. You might not be working in a leadership role, but you will have instances that demonstrate your leadership qualities. Remember, the question is not asking you to report your leadership duties but to showcase cases in which you showed leadership qualities.
What is leadership at Kellogg?
Aastha: Leadership at Kellogg that I understood is how authentically you can represent your story and how vulnerable you are while writing it. Also, vulnerability is not about your areas of improvement but about the real challenges you faced and your approach to them.
It will help if you highlight how you were able to identify those challenges and what process you followed to overcome them. Giving that insight while writing this question reflect your leadership qualities.
Here are the key takeaways to write this question:
Structure your story in star format: Situation, Task, Action, and Result
Spend time to reflect on your challenges. How you approached it, and what action did you take
Give context to your task and explain the situation
The admissions committee has a lot of experience and will understand the problem you are facing. What they want in your application is to see how you implemented your ideas, the unique challenges you faced, and how you approached them. Your approach is the differentiating factor that will set you apart from other applicants.
The situation presented by Aastha to approach Kellogg MBA essay question 1
Aastha: I used an example of when I was working as an area sales manager with GSK. We were working on a project where the focus was on the digital transformation of the distribution management system.
I reflected on what role I played, like talking to distributors and getting the sales representatives to adopt the digital solutions. I did highlight how my communication style was different when I talked to my team members vs. when I spoke to sales representatives vs. when I was talking to internal stakeholders.
Question 2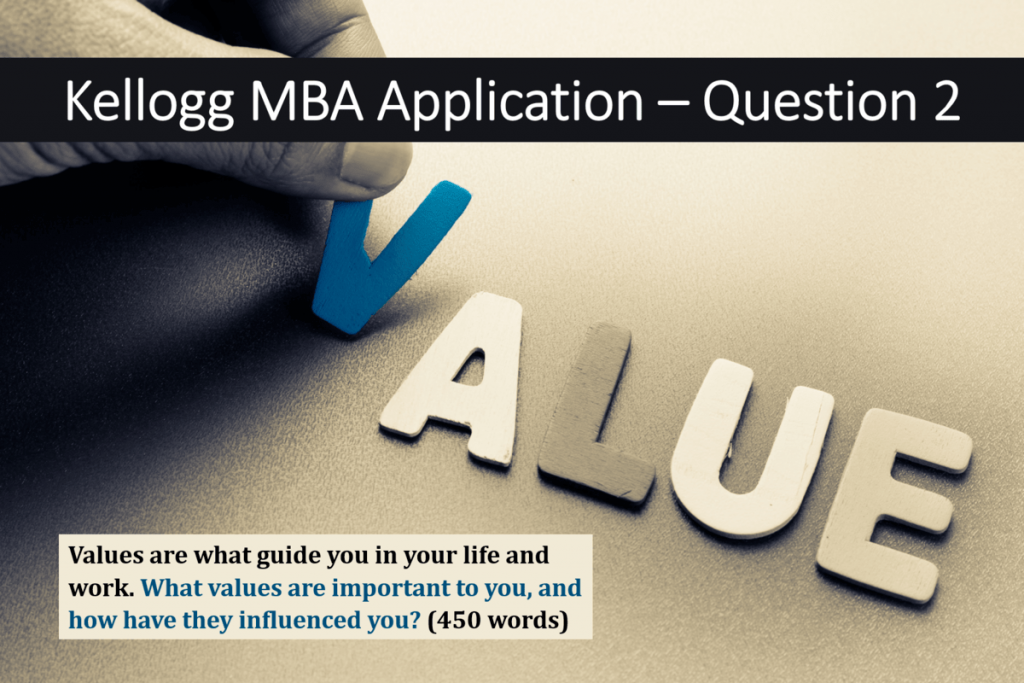 How Aastha approach this question?
" Think about your life, what were the biggest challenges not just professionally. The decision you took, why you took it, and how it connects to your value."

Aastha Chawla
Aastha: After a lot of thinking, I narrowed down to two values that showcased my vulnerability and truly mattered to me:
Importance of Family: I could have written how family is essential to me or how I have always prioritized it. However, this is something that we see in every family. So, I thought about the biggest challenge that I had faced when I was working with GSK. I got married and had to choose to continue my work in India or stay with my husband in the USA. So, I wrote about why I decided to move to the USA after quitting the job that fits my career trajectory. This is how I showcased the importance of family in my essay.
Inclusivity: Another value that I talked about was inclusivity where I highlighted a work environment example
Admissions officers are reading thousands of applications over the years, so just mentioning your values will not set you apart. What sets you apart is the supporting example of your story or experience unique to you, which resonates with Kellogg's values.
Think about Values where you can be authentic, vulnerable, and have experiences to share. Having values is great, but what makes them truly apart is your dilemmas you face and how your values helped you to overcome them.

Aastha Chawla
Take a look at our article on writing a steller Kellogg MBA Essay for 2021 intake.
Kellogg MBA Application – Video Essay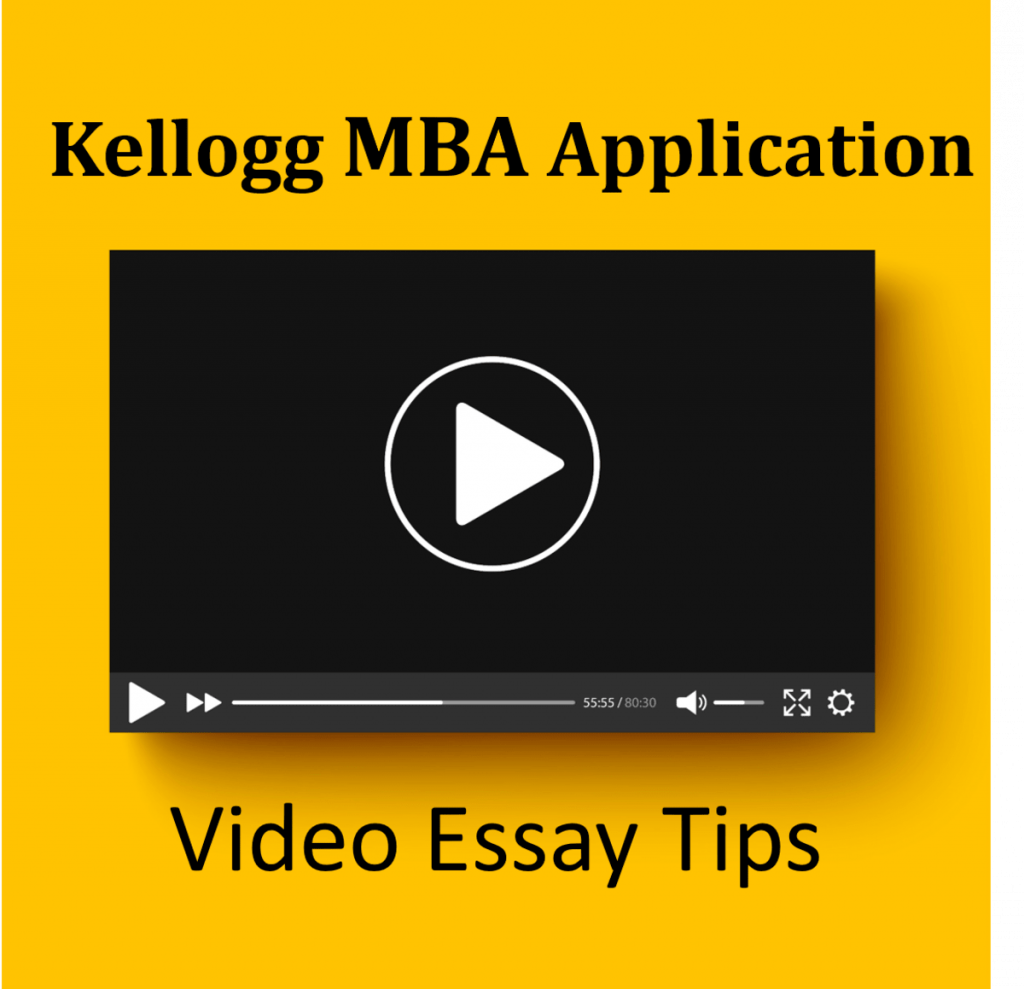 After submitting your application and payment, you will access the video essay through your application status page. You may complete practice questions as many times as you like to get comfortable with the format and technology.
The practice questions and experience will simulate the actual video essay experience, so this is a useful tool to help you feel prepared.
You will have 20 seconds to think about the question and give your response up to one minute.
Aastha: During my application process, Kellogg had given me a software to practice for the video essay round. Radom questions where been asked.
The goal of the video essay round is not for you to memorize your answers. They want to see your communication skills and how you can be yourself on the video.
Even if you stumble somewhere, your ability to come back quickly and take control of the situation shows your ability to manage challenges in a real-time situation where time is limited.
Video Essay question at Kellogg
Aastha: In my application, there were three questions:
The question around leadership: I had thought about what I would talk about under this question and had a framework. I made sure that I did not memorize my answers
Why Kellogg's one-year program: while answering this question, be sure what you want to achieve through the Kellogg MBA program. I talked about what my career goals will be like and what I plan to do at Kellogg to achieve them
I cannot remember the third question, but it was about leadership and career goals.
Take a look at our article that highlights how to crack the Kellogg MBA Video Essay in 2021.
Kellogg MBA Admissions – How to approach your recommenders?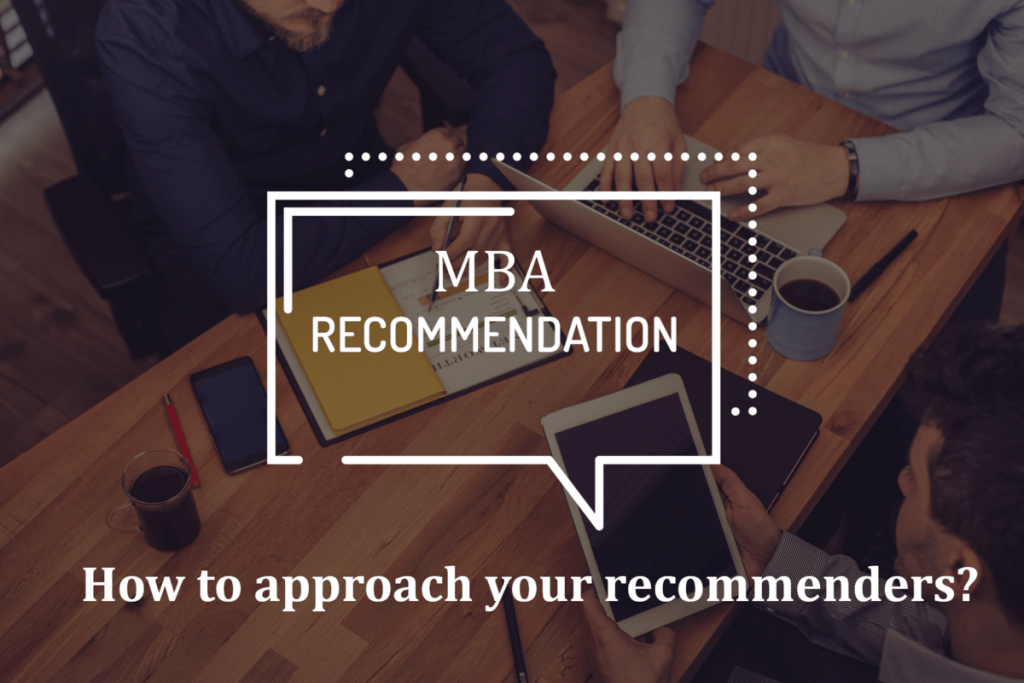 Aastha: Most of the business schools are keen on listening to your manager's recommendation. If you cannot recommend your current manager, try getting it from your previous manager in your prior role.
They have had the full experience working with you, and their recommendation talks about your working style.
I remember some people advised me to take recommendations from MD or GM. However, I did not take those recommendations because:
"A recommendation is an affirmation to your essays. If you have mentioned a challenge in your essay, your recommendation should highlight that instance as an achievement. Thus, there should be a connection between the two. An MD or GM will not give those unique instances because they have not worked directly with you. Thus, a person who has directly managed you would be in a better position to provide that connection between your essays and recommendations."
If you have worked directly with the top management, then it is advisable to take their recommendations. Just ask them to quote a few instances that support your essay answers.
I took a recommendation from my direct manager and project leader.
Read our article on how to get a letter of recommendation in 2021 and who should you ask?
Kellogg MBA Admissions – Interview Outlook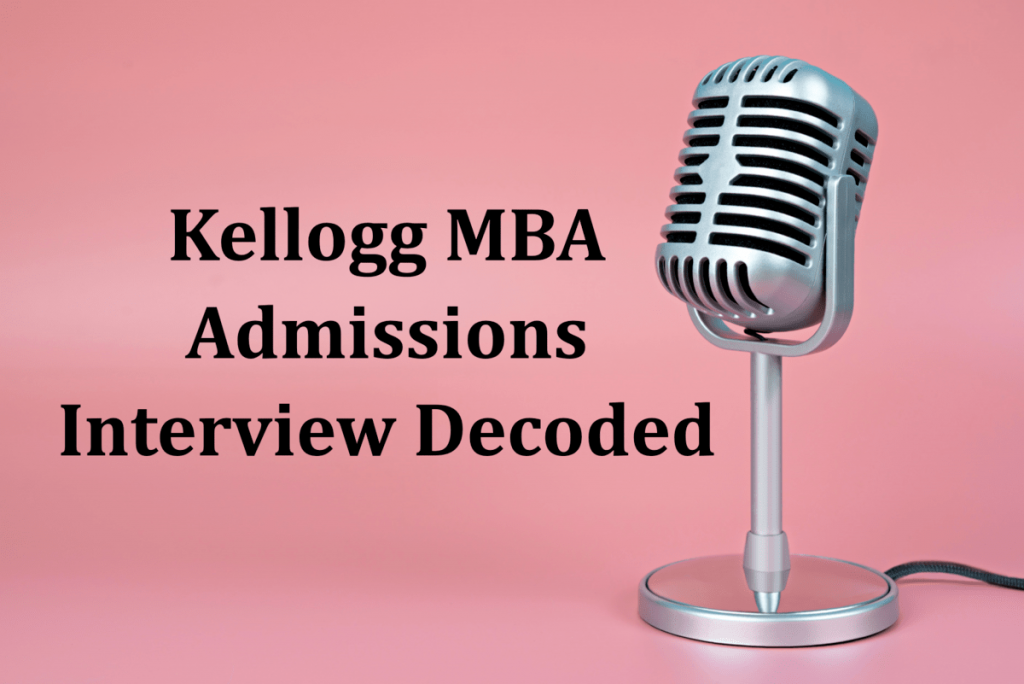 Aastha: As far as I know, at the Kellogg MBA interview, they do not look at your application. They look at your resume and give a fresh look to your application. This is your chance to tell your story first-hand. The interviewees usually come in with a framework of questions to ask.
It was a very friendly conversation. However, it is still an interview, and you need to talk about your achievements, values, and aspects that sets you apart.
Check out the 5 MBA interview tips you need to know to get into your dream business school.
How did Aastha negotiate for the Kellogg MBA Scholarship?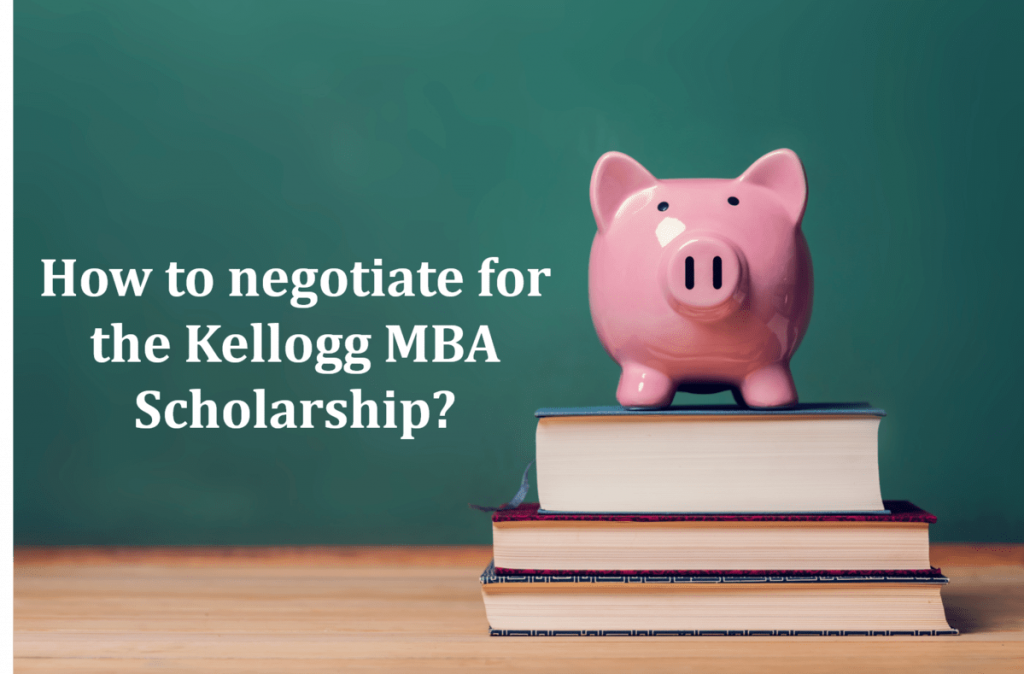 Aastha: When I got my admit into Kellogg, I did not get a scholarship. At that time, I had another admit from Carnegie Mellon (CMU) for a master's in product management. So, I had a talk with the admissions officer at Kellogg and told her about the qualities I was bringing and what I planned to do at Kellogg. I also spoke about my other admits.
If you can communicate the incremental value and show a great interest in the program, I think it is worth discussing for a scholarship. Sometimes the admission committee does listen to you and give you a scholarship.
Check out the list of scholarship available to an Indian student in 2021.
Life at Kellogg
Aastha: I went into pursuing an MBA during the COVID pandemic, and I would not consider it as an unfortunate year. The challenges that we are facing now are so unique, and it boils down to how you approach them.
I would say that the students this year came into the program knowing that things will be different. Everyone came in with a lot of intention of knowing more people and ensure that we have a full MBA experience no matter what.
For instance, hosting small group dinners, having pods within the Kellogg, and organizing things in a COVID freeway helped us stay in touch during these times.
Kellogg has been very agile in keeping the global hub active with regular tests and daily symptoms check. They have a very detailed contact tracing, which they have talked about in detail on their website.
FAQs – Kellogg MBA Application
How is the job scenario post-MBA during COVID?
There is an impact on the recruitment scenario due to the COVID pandemic. I do not have the data on the Kellogg recruitment scenario, but in my opinion, the number of companies coming for recruitment to Kellogg has not been impacted.

I was surprised to see companies struggling during COVID times coming for recruitment because they wanted to maintain the relationship with the business school.

However, the number of students they take was less this year as compared to last year. Closer to our graduation in June 2021, a more positive outlook will be there for recruitment.
Do you have enough opportunities to get into consulting in the 1-year MBA?
Yes. Consulting has the same amount of opportunities in terms of summer interns and a 1-year MBA at Kellogg. The same companies come for a one-year as well as a two-year MBA. However, I believe that a two-year MBA takes a greater number of interns.
Does Kellogg consider second MBA applicants for a 2-year MBA as well?
Yes. You can get into a two-year MBA for your second MBA at Kellogg. All you need to know | Why, where, and how?
If you have 7-8 years of experience, will you go into a one-year or a two-year MBA?
An experience of 7-8 years is best suited for a one-year MBA to serve your purpose. The opportunity cost is less, and you will have the same job opportunities post MBA. However, if you are making a career switch, say from finance to marketing, then a two-year MBA would be advisable.
How did you choose between Tepper and Kellogg admit, and how did you shortlist schools you applied to?
I had shortlisted schools based on my interest, i.e., the Retail sector. I was also interested in Tech retail, and thus, Tepper was one of my choices. I applied to MSc in product management at Tepper. I also had NYU Tech and Cornell Tech MBA as my option. However, Kellogg was my dream school, and thus I chose it.
How do you pitch yourself about the shift from Sales to product management?
Whenever you are looking for a switch, try to identify identical skill sets in both the job profile. I looked at the skills required for a product manager and the skills I already had while working in sales.

The product manager's job profile is more about listening to your customers and translating their needs to different company stakeholders. As a sales manager, I had a similar profile where I talked to various stakeholders.
I have 5+ years of experience in the execution of tasks and almost no managerial/ leadership experience. Should I consider the Kellogg MBA program?
Yes, you can consider yourself for Kellogg if you do not have managerial/leadership experience. You do not need to be a manager to show your managerial or leadership skills. 

You should identify what you want to do post-Kellogg and how Kellogg MBA fits into your goals. Also, execution comes with its challenges, and thus, think about instances that were difficult for you. Reflect on your growth in the execution role and how you managed situations that were challenging.
Can you get into Ivy League schools without managerial experience?
Yes, you can get into Ivy League schools without managerial experience. If you are able to showcase your growth and leadership skills through your career transition and the challenges you faced, you should be able to get an admit from Ivy league schools.