In this article, we'll look at the solution to the 700-level GMAT Official Guide Sentence Correction question. Here is some general information about this OG question – Before Colette, the female writers of France had been aristocrats, from Mme de Lafayette to Anne de Noailles; there were no Jane Austens or Bronte sisters, perhaps because there were almost no clergymen's daughters.
Difficulty Level: Hard
Most Common Incorrect option choice: Choice E and Choice D
Question Type: Idioms
1. OG Question – Before Colette the female writers of France…
Before Colette, the female writers of France had been aristocrats, from Mme de Lafayette to Anne de Noailles; there were no Jane Austens or Bronte sisters, perhaps because there were almost no clergymen's daughters.
[Refer to the Official Guide for options] \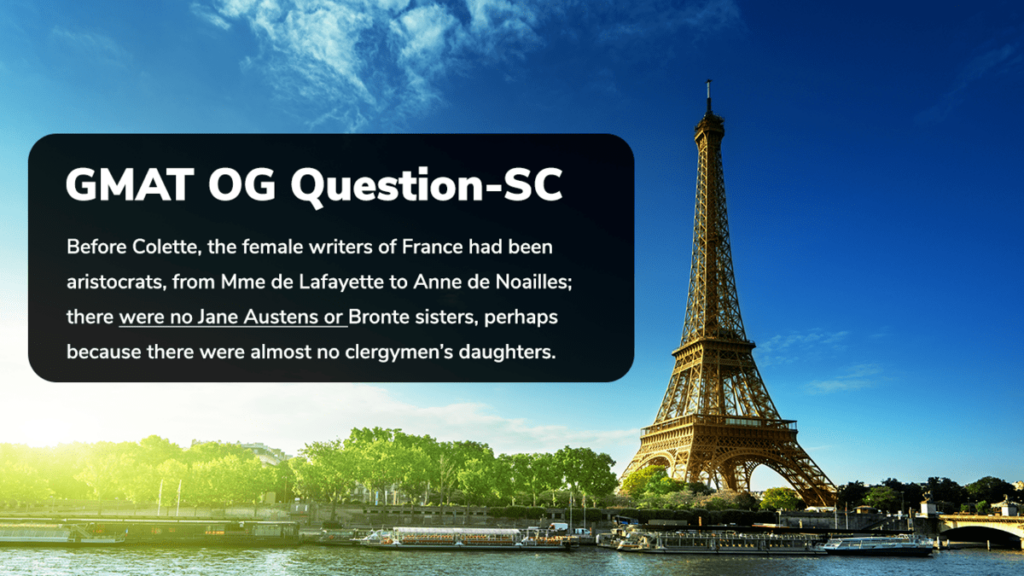 This sentence is a good one, dealing with a few of my favorite subjects — female writers, literature, and history and involves a bit of metaphorical meaning. Let's start working through this one and see if this author is as strong a writer as the women he is writing about.
2. The Female writers of France Official Guide video solution
3. The Ladies of Literature
Let's begin by understanding what the author tells us about these classic European ladies of literature.
Before Colette,

the female writers of France

had been

aristocrats,
We begin with the understanding that prior to Colette, the female authors in [KS1] France had been nobles.
from Mme de Lafayette to Anne de Noailles;
We are then given examples of these French writers, Mme de Lafayette and Anne de Noailles.
there

were

no

Jane Austens

or

Bronte sisters,
Next, the author points to English writers Jane Austen and the Bronte Sisters to reference the type of authors that did not exist in France then. Why?
perhaps because there

were

almost

no clergymen's daughters.
The reasoning given is that no authors like these women existed in France, possibly because there were almost no clergymen's daughters. Now, we do not need to be experts in European literature to infer from the context here that these four English writers mentioned in the sentence were daughters of clergymen. However, history fun fact- The three Bronte sisters were the daughters of poor Irish Clergyman Patrick Bronte, and Jane Austen was the daughter of George Austen, a Clergyman of the Church of England.
Now, it is essential to make a mental meaning note here that our author is using the reference to these English writers metaphorically and in no way intends to communicate that Austen and the Bronte Sisters were in France. Instead, our author expresses that there were no writers in France like them. The message is being conveyed using "there were no Jane Austens or Bronte Sisters…" which metaphorically states there were no "types of authors like Jane Austen or the Bronte Sisters in France." This understanding is an integral part of the meaning to keep clear when assessing the sentence for errors.
4. Is the Pen Mightier Than the Sword?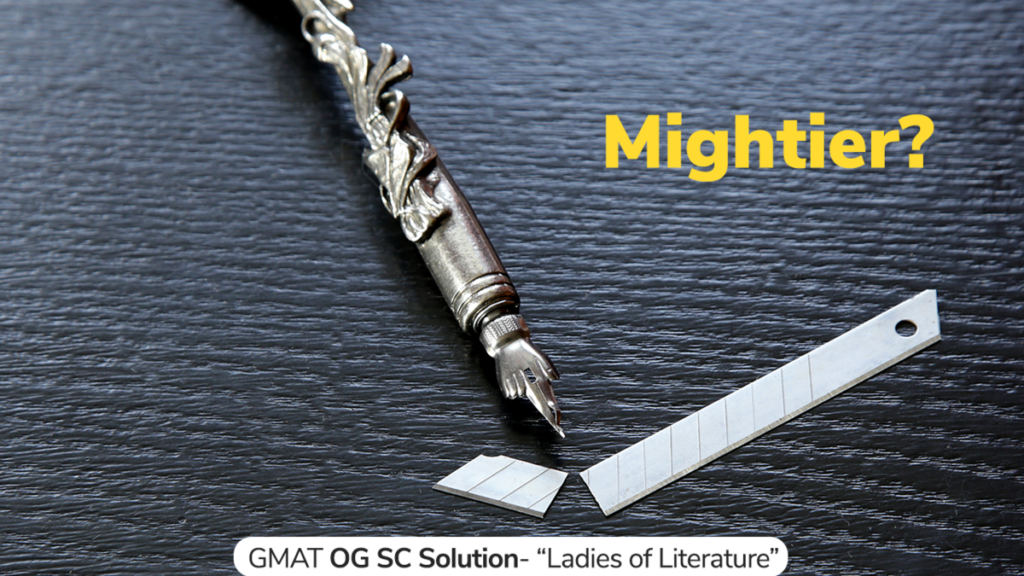 Now that we have a clear understanding of the meaning of the original sentence let's see how our author did with communicating the intended meaning through the written word and if we need to get our editing swords out and start hacking through the sentence and answer choices.

As we read through the original sentence again, looking for errors, we notice that the sentence reads smoothly like a good piece of literature— one sign that the sentence may be free from errors. We can quickly go through our foundational checklist and realize we have no subject-verb issues, no pronouns to deal with, and no problems with parallelism, comparisons, or idioms. However, we need to stay astute and reject other options on solid ground. A few key concepts will allow us to reject the different options with a quick swish of our quill.
5. Quick Concepts Check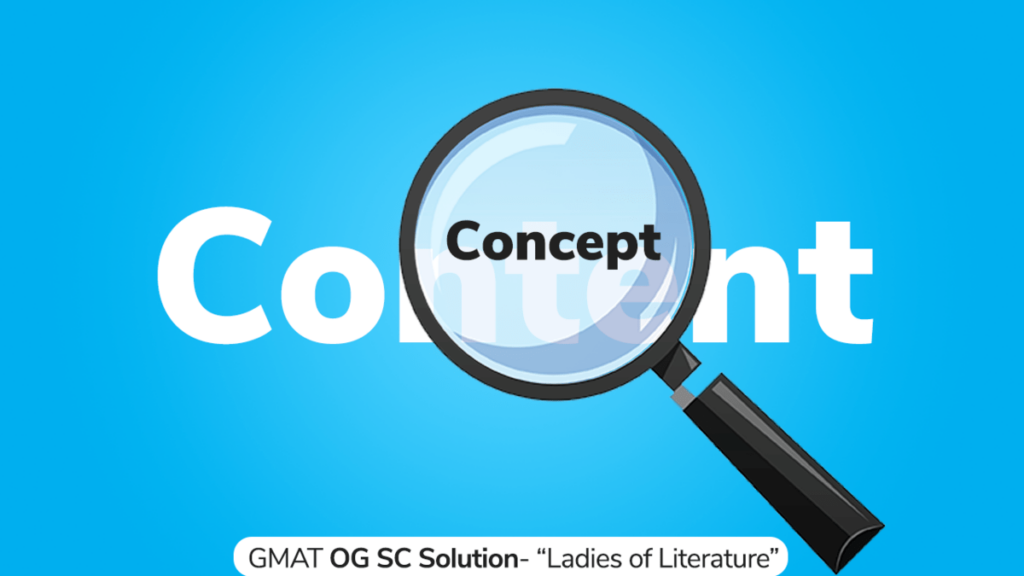 5.1 Not vs. No
(B) were not Jane Austens or
(C) was not Jane Austen nor the
(D) was not a Jane Austen or the
While both "not" and "no" are used for negation, "no" is an adjective and is used before a noun or noun phrase. Therefore, we can swiftly scratch B, C, and D off as incorrect for this usage error which renders the expression used in these choices idiomatically incorrect.
5.2 Was Vs. Were
Now, option E properly uses "no" before the noun "Jane Austen," but a couple of other issues make option E incorrect.
(E) was no Jane Austen or no
The singular "was" is incorrect because we need the plural "were" to agree in number with the plural noun "The Bronte Sisters". In addition, the use of the Singular "Jane Austen" distorts the intended meaning.  As discussed above, the reference to Austen is a metaphorical one, and the author intends to state there were no "writers" in France like her.  Thus, the plural "no Jane Austens" should reference plural "writers" per the intended meaning.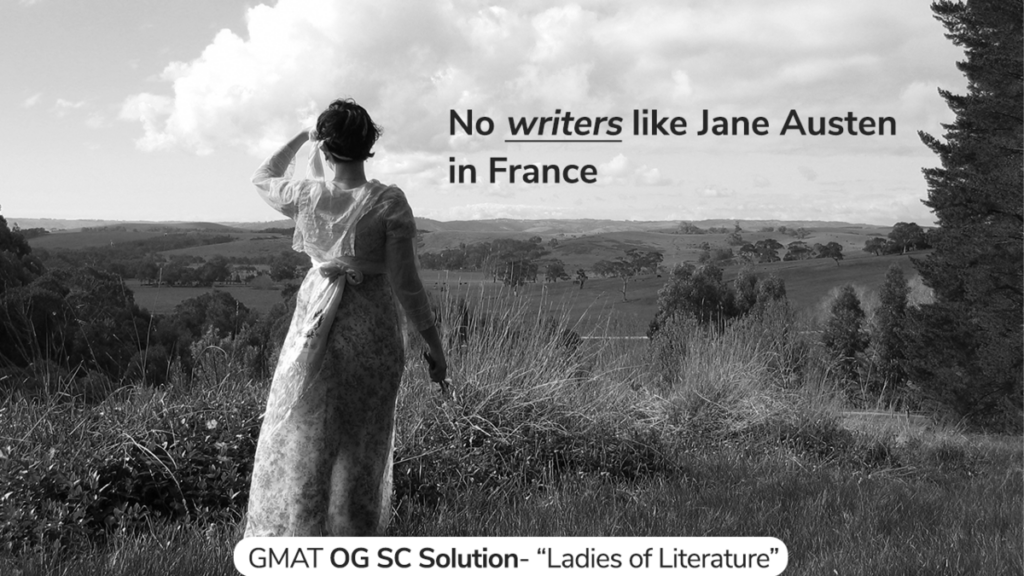 There we have it; our original sentence prevails. Our author did our ladies of literature proud. Using his clearly written communication, we extracted the intended meaning. We combined that meaning with a few quick grammar concepts to quickly move through the choices and confirm our original thoughts. I always love the sentences that just fall into place for us.
Cheers!
Happy Learning
Stacey
Planning to take the GMAT? We can give you access to quality online content to prepare. We are the most reviewed GMAT prep company on the GMAT club with more than 2200+ reviews and have delivered 10x 700+ scores than the average GMATClub partner. Why don't you take a free trial and judge it for yourself? Write to us at acethegmat@e-gmat.com in case of any queries.