A
3
min read
With the launch of SIGma-X mocks we empowered students to personalize their plan using the precise insights generated. However, taking a mock test requires more than 2 hours of uninterrupted internet connection and there are times when your internet connection may be interrupted during the test.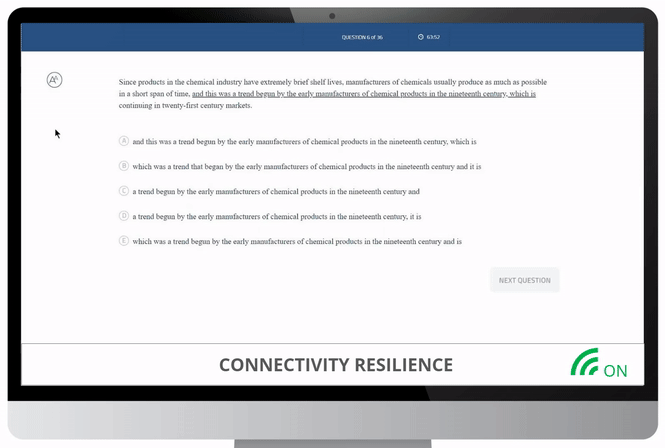 We have taken care of such scenarios by building in connectivity resilience for the mock tests. Connectivity Resilience is a feature that allows you to continue normally even in the face of internet faults or disruptions.
The feature has been explained in detail below.
Take a free GMAT mock to understand your baseline score and start your GMAT prep with our free trial. We are the most reviewed online GMAT Prep company with 2400+ reviews on GMATClub.
Allow switching connection
In the event of a loss of connection, you will get a total of 5 minutes to reconnect to your network or switch to a different network. If you are facing a problem with your LAN connection or Wi-Fi, you can work with your mobile data as well. The platform is light enough to run smoothly on mobile data.
Connect to an active network without closing the browser.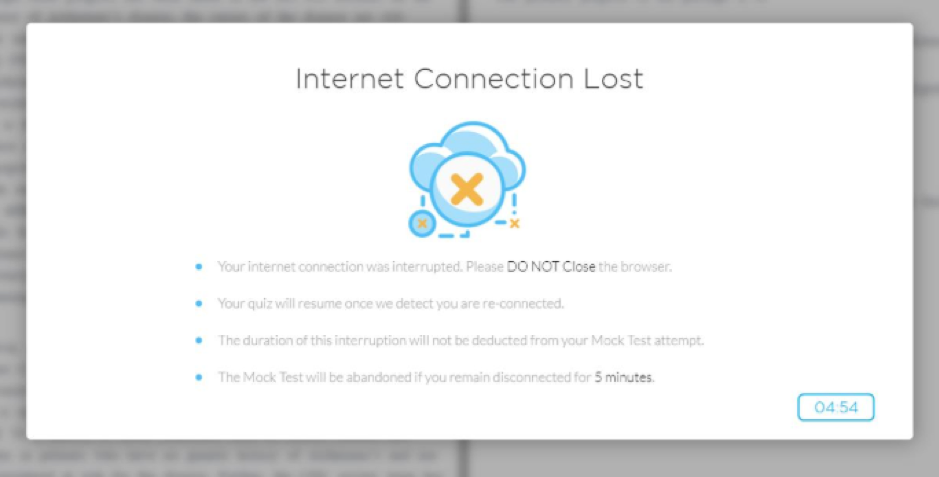 Once the connection is established your test will resume from the question you left off.

Test Duration remains intact
While you take care of re-establishing the connection, we keep the mock timer on pause so that you can complete the test without panicking and get a true estimate of your ability.
Begin your GMAT preparation with the only prep company that has delivered more 700+ scores than any other GMAT club partner. Achieve GMAT 740+ with our AI driven tools that you personilzed feedback at every step of your GMAT journey. Take our free trial today!
Ensure the feature is not misused
Taking deliberate pauses while taking a mock test will not give you an accurate estimate of your ability. Even if a student pause the test intentionally the question will not be visible to him on screen. The question will be visible only when the connection is re-established, and the timer starts running. This will help the student stay true to the purpose of the test.
The maximum number of disconnections allowed is 2. On the third disconnection, your test will get abandoned.
Watch how e-GMAT's SIGma – X mock helped students in their preparation for GMAT:
Learn more about the world's most intelligent GMAT Mock, which provides ESR-like analysis and actionable insights to reach your target score by driving personalized study plans.
See how SIGma-X Mocks powered a 700 to 750 improvement in 1 week for Kashish.  Now, go ahead and take a free SIGma-X mock, by logging into your free trial account.