A
11
min read
Video essays are an integral part of the MBA application process for many business schools. They are also an excellent opportunity for the admission committee to evaluate your interpersonal skills.
Through the video essay, the admissions committee gets a more direct understanding of who you are, and you get a chance to substantiate the authenticity of your story and offer a glimpse into your personality.
Here is a brief outline of this article:
Instead, you can also watch this video on expert advice from admissions officers and consultants on how to create a video essay.
What is an MBA video essay?
The reason business schools made video essays a part of the MBA application was that they were looking for more genuine responses from applicants, without any direct involvement of admissions consultants or other professionals. Below are the responses of admission committees of Rotman, Kellogg, and INSEAD on why business schools ask Video Essays as a part of their application process?
University of Toronto's Rotman School, the B-School, which pioneered the video essay as a part of the application process, says that the video essay allows the admissions team to screen for different aptitudes and competencies in the admissions process.
Kellogg MBA Admissions committee, says, "the video essay provides students with an added opportunity to demonstrate what they will bring to our vibrant Kellogg community — in an interactive way."
According to INSEAD's Admissions committee, the video should be a unique opportunity for students to share their passions, their motivations, and who they are. The Admissions Committee is interested in finding an authentic view of the applicant as a person, to see how a student thinks on your feet and how he/she convey ideas.
Typically, the school will provide one or more questions, and some time to think about them (around 30 – 60 seconds per question) and is then expected to provide the school with a recorded answer.
Learn the importance of MBA Essays in Business School applications
Types of MBA Video Essays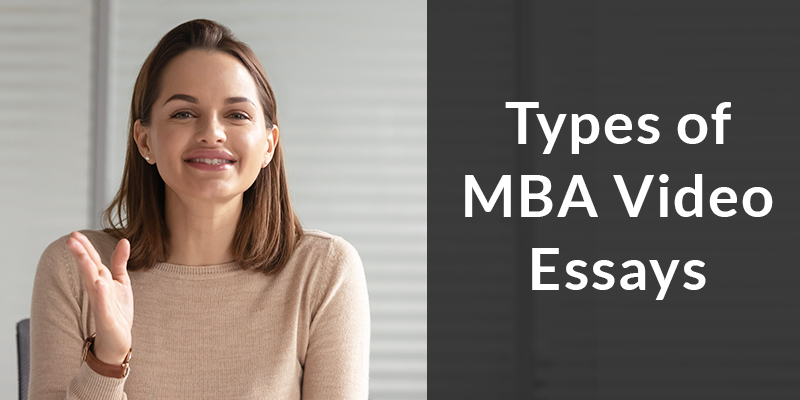 There are two types of videos an applicant may be asked to submit as a part of the MBA application.
Record the video on the school's platform: After submission of the application, the school will send an e-mail with a link to record the video on an online platform. Applicants should record the answers to specific questions using their personal computers. You may receive two types of questions:

Questions specified in the school's application instruction: In such questions, you will get an opportunity to prepare for the question prior. The question can vary from asking about your career path to introducing yourself to the admission committee.
Random Questions: School will ask a random question to each student. You will be provided a time frame to think and answer the questions. You must prepare yourself with some personal situational stories that are relevant to diverse topics.
Record offline and submit the video: Schools like MIT Sloan asks applicants to provide a video statement on the topic specified in the application instruction. Most of the school as for single take (no editing) videos not lasting more than one minute.
For some business schools such as Texas McCombs, the video essay is not mandatory to submit during application. But the student gets an optional video essay as a part of the application. If you get an optional video essay as part of the application, it is better to take it. The optional video essay is an opportunity for you to showcase your personality and the motivation to pursue an MBA program.
A video essay is one of the 5 types of MBA essays typically asked in a business school application.
Top B-Schools which ask for Video essays and common questions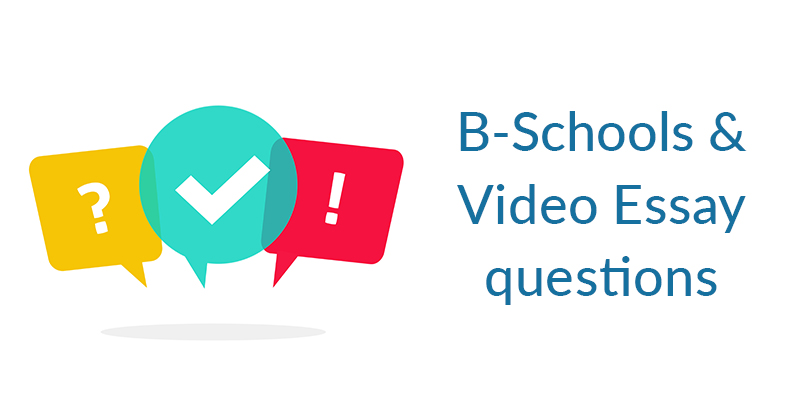 Below are some of the top business schools which ask applicants to submit a video essay as a part of their admission process:
INSEAD Video Essay
After finishing your online application, you will receive an e-mail from the admission committee with a unique link to complete the video essay portion. Each applicant will be asked to record answers to 4 questions. The questions can be related to your interest in INSEAD, teamwork, diversity & culture, etc. After receiving the question, you will have 45 seconds to prepare each answer and 1 minute to record your answer.
You can practice on the INSEAD online platform before recording your answers. The practice session will have multiple questions available, and you practice as many questions as you need to feel comfortable. You can create an account on the online platform and come back later without any limit on the number of practice sessions.
Northwestern Kellogg Video Essay
Northwestern's Kellogg School of Management is the first amongst the M7 B-Schools, which popularized the video essay in the MBA admission process. After submitting your application and payment, you can access the video essay portal from your Kellogg application status page.
You will be asked to answer 3 questions. You will be given 20 seconds to think about the question and up to 1 minute to give your response. Out of 3 questions, Kellogg provides questions upfront in their application instructions for two, and one will be randomly selected question.
For the intake of 2020, the static questions given by the admission committee are, 'Please introduce yourself to the admission committee' and 'What path are you interested in pursuing, how will you get there, and why is this program right for you?'.
The third question will be a behavioral type question that asks about how you handled a challenging situation in your professional or personal life. You can answer as many practice questions as required to get comfortable with format and technology in the application portal.
Yale SoM Video Essay
After submission of your application, you will receive access to the video questions portal. You will get three basic behavior-based questions as a part of the admission process. You will get 30 seconds to structure your thought and 90 seconds to respond to the questions. Like Kellogg and INSEAD, you can utilize Yale's Video question practice tool to get familiarised with the technology.
MIT Sloan Video Essay
As a part of the MIT Sloan application, you must submit a video statement along with other documents. Unlike the other schools, where you record the video in the admission portal, in MIT Sloan video statement, you can record and upload the video at your convenience on their portal.
The video prompt is – 'Introduce yourself to your future classmates'. The video statement must be a single take (no editing) with a duration of fewer than 60 seconds. The admission committee recommends delivering a response that includes a bit on your experience and why you chose MIT Sloan to pursue your MBA. Upload instructions are provided with the application.
Did you know a GMAT score of 730+ yields incremental $500K in ROI? Start your GMAT Preparation by Signing up for our FREE Trial and get access to FREE online GMAT preparation resources. We are the most reviewed GMAT preparation company on GMATClub with more than 2400 reviews.
How to prepare for video essays?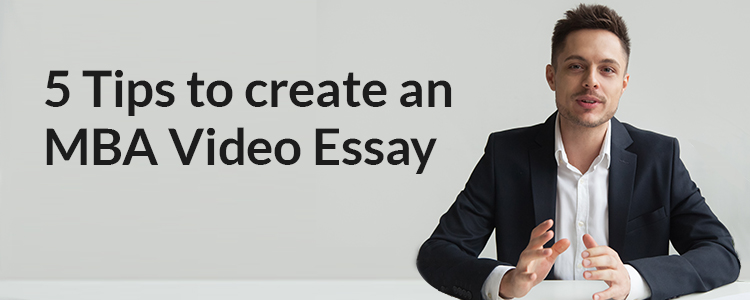 Video essays allow MBA admissions to evaluate your confidence, language skills, and capability to think on your feet. A video essay is one opportunity you can leverage to leave a long-lasting effect upon the admissions committee. The following are the top 5 tips that will help you create a better video essay for your MBA application.
Tip #1 – Plan your answers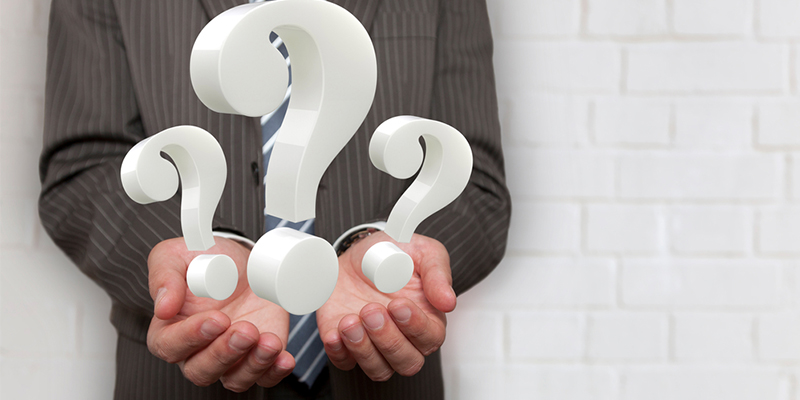 Many applicants wobble when they hear 'you have to think on your feet while facing video questions'. However, you will not feel like you're being thrown under a bus when you see a question prompt on the screen if you create and a question bank and use a framework for your responses.
Identify personal and professional stories: You will get many practice questions from your target school's website. You can find a part of questions school asks on the application instruction. A few business schools also mention the category under which the random question will fall into.
Many of the video essay questions fall under the why MBA/career goals, or behavioral type questions. Based on the category, you should create a repository of personal/career experiences and jot down your answers around it. When you get the opportunity, talk about why that B-School is an excellent match for your career ambition. Talk about your exact goals and how you will accomplish them through this specific program.
Learn to answer succinctly: Most of the schools ask applicants to think and answer the questions in less a minute. Try to answer questions in Situation, Action, Result (SAR) method. Answer the essay questions by using one of your personal or professional examples of a situation that you were in; the action that you took; and the result. Approaching questions in the SAR method will help you to answer concisely.
Choose words wisely: One key aspect of communication is vocabulary. You should keep your vocabulary on a professional level and choose words carefully. Avoid the usage of colloquial words, and although you are required to be formal, you should avoid the frivolous use of formality in the video essay.
Tip #2 – Create a set-up for video recording
While preparing your set-up for your video essay recording, make sure to follow the given instructions.
Choose quite and well-lit area: Make sure you choose a space where there is enough light on your face and no background noise. You should have any noise distractions while recording the video. If possible, ask a friend or family member to surveillance the area to avoid any voice distraction while you take the interview.
Recording accessories: Even though most of the schools don't mention about the video output, it is advisable to use good quality webcam and microphone for recording your video essay. If you feel your laptop webcam output is substandard, connect an external webcam to record the video. When you choose the microphone, make sure your voice is audible properly. You must record a sample video and test the quality of the video, audio output, and the lighting.
Make sure your devices don't take away your attention: Before starting the interview, make sure your mobile phone is on Do not disturb mode and close all unnecessary computer applications and browser tabs.
Chose plain background: While recording, it is advisable to choose a single color background. If there are too many elements behind you, the viewer may lose focus away from your presentation.
Keep a notepad and pen handy: In most of the essay questions, you will get less one minute to structure your thought before delivering the answer. You may need to keep a notepad and a pen ready in the table to jot down the main points and supporting examples you want to deliver while answering.
Tip #3 – Practice makes perfect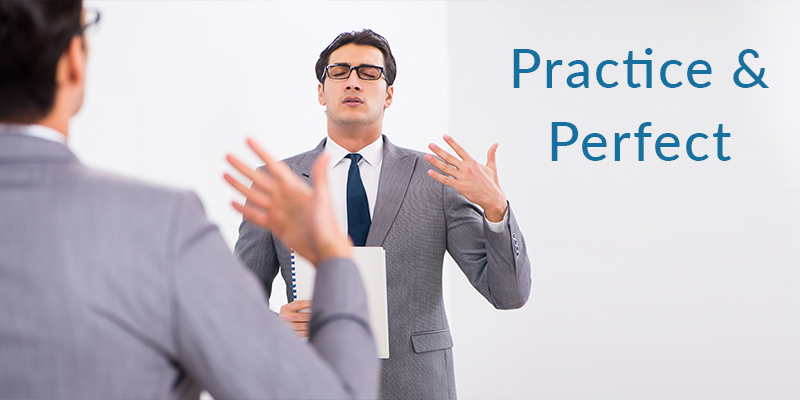 Once you have the question bank, learned how to respond in a crisp & clear manner, and set up your recording area, it is now time to practice and perfect your responses.
Using a camera, film yourself giving the response to the questions you have on your list. Filming the responses will help to introspect the style in which you respond. Start evaluating the video after at least a few hours have passed. While evaluating, make sure you are not saying fillers like "like.." and "umm…". Hemming and hawing create the impression of being unprepared.
Check your posture and facial expressions while answering the questions. If you are not satisfied with the first take, do retakes, till you get the desired output. Send your final production to people you trust for critique. It is the best way to figure out what kind of judgments a person will make while evaluating your video essay.
Another way to practice is to get the help of a friend and replicate the video essay set-up at your home. Provide your question bank to your friend and connect for a video call through applications like Skype with your friend. Make sure he/she switches off the video. This mock video essay activity is an excellent exercise for you to get rid of camera shyness and improve your confidence.
Some B-Schools have portals where an applicant can practice video essay questions before starting the official attempt of essay questions. Using this portal is the best way to get a hold on the type of questions asked and get familiarised with B-School's video essay recording platform.
During your final recording, you may get a situational question, choose whether one of your stories can help you answer the question. Also, be ready to think swiftly because some questions are genuinely random. The best response is to be authentic, so be yourself and don't overthink things. While practicing with your friend, you can instruct him to ask a question that is out of your question bank to get used to such random questions.
Tip #4 – Present yourself well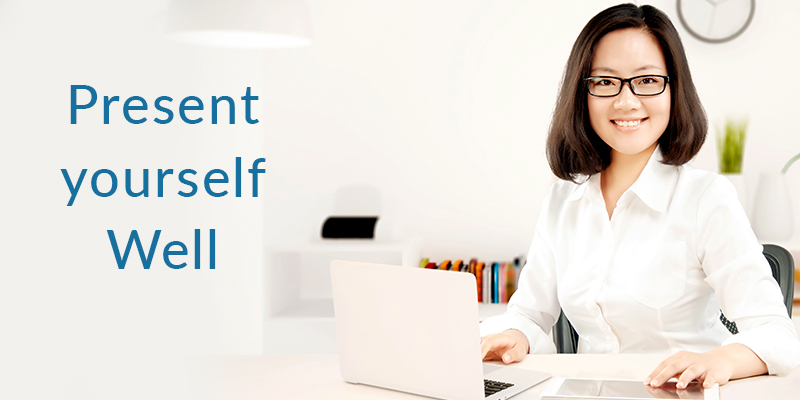 Dress Professionally: The video essay is a professional video, and it is considered as a 'pre-interview' communication with the Admissions Committee. Because of the same reason, it is important to dress professionally.
Avoid excess motion: The video should be conversational like a speech. So, you should avoid excessive gesturing and movement throughout the recording of your video essay.
Speak Clearly with proper enunciation: Make sure you do not narrate the whole essay expressionlessly. You should take enough pauses in between to emphasize your words and thoughts to encourage the admissions committee to accept you as a serious applicant. You must deliver the response in a fluid tone and pitch that carries your conviction and passion.
Mind your body language: It is a vital aspect to pay attention to during your video essay. You should keep in mind to sit straight throughout the recording. The best way to identify issues with your body language is by filming yourself, giving the response to some of the questions in your list, and analyzing them. Practicing while correcting such errors will remove nervousness and nervous ticks before sitting down for the final take.
Position the camera: Make sure you do not lean forward or put your head down to face the camera. Position the webcam to your eye level to deliver the answer with your head straight. Always make sure you look into the camera while responding.
Using a camera, film yourself responding to a few questions on your list. Evaluate your background, lighting, and outfit to make sure they look good.
Tip #5 – Don't get tensed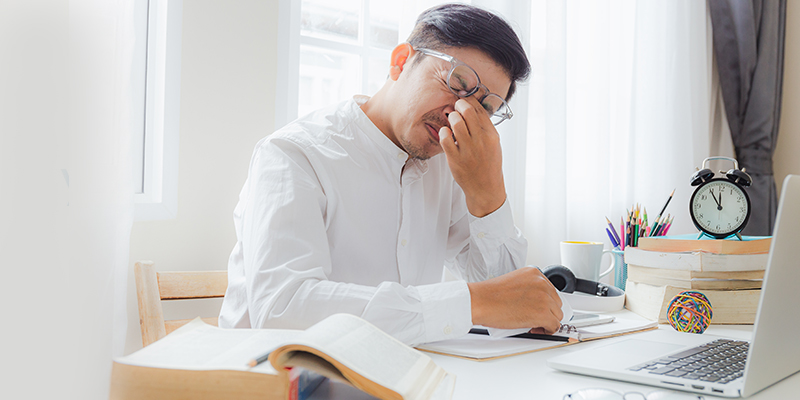 You aced the GMAT, curated an impressive resume, got your letters of recommendation, filled out your entire application, and checked it thrice. You crossed all the hard checkpoints. For video essay, it is just one mantra – be your best self. When it's showtime, let yourself relax and enjoy the experience. As you respond to the questions to the questions, don't forget to smile.
Avoid these MBA application mistakes and make it to your dream business school.
Key Takeaways | How to Prepare for MBA Video Essays
Video Essays are an opportunity for the admission committee to evaluate your interpersonal skills and determine your 'fit' for an MBA program.
Video essay questions can be related to your personal and career experience, your post-MBA goals, and Why MBA?
Prepare for your Video Essays by creating a framework and identifying stories from your personal and professional life that relate to the above topics.
Many business schools offer the option to practice video essays and familiarise yourself with the process. Take advantage of this opportunity.
An increasing number of B-Schools have started to integrate video essays into their MBA applications. In a video essay, you are not expected to be scripted. You are expected to be prepared. The admission committee hopes applicants who are not great on paper will have a chance to shine and exhibit their personality that is not seen elsewhere in a traditional application. With structured preparation, you can make an outstanding video essay without it getting on your nerves.
Did you know a GMAT score of 730+ yields incremental $500K in ROI? Start your GMAT Preparation by Signing up for our FREE Trial and get access to FREE online GMAT preparation resources. We are the most reviewed GMAT preparation company on GMATClub with more than 2400 reviews.