A
7
min read
London business school needs no introduction to a management degree aspirant. London Business School started offering a Masters in Management (LBS MiM) in 2009.
LBS MiM is a 12-month program aimed at recent graduates with less than two-year professional work experience. The program is popular among young graduates as it offers a great fast-paced curriculum, the school's brand, and a vibrant alumni network.
Inclusion & diversity has always been a cornerstone of LBS's core values. True to that, 94% of the class of 2021 MiM students represent 45 different countries which make London Business School's MiM one of the richest and culturally diverse MiM program in the world.
If London Business School Masters in Management is your target MiM program, this article will help you research the curriculum, class profile, and career prospects. Here is the outline of this article: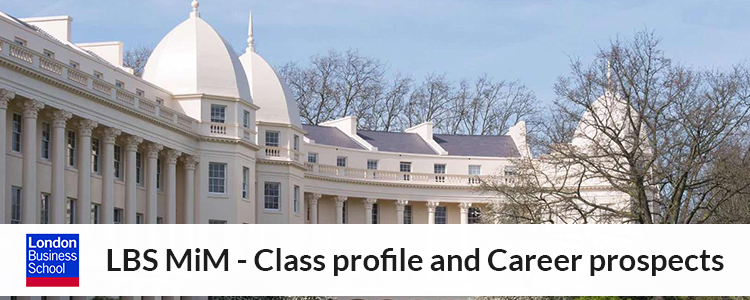 General information on LBS MiM Masters in Management
Location – London Business School, Regent's Park, London, NW1 4SA, United Kingdom
Telephone – +44 (0)20 7000 7503
Email – mim@london.edu
Social Media – Twitter, YouTube, Facebook, LinkedIn, Blog
What are MiM programs? Read these articles to know everything about MiM programs and difference between MiM and MBA
LBS MiM – Curriculum, Class profile, cost of attendance
Below are the details of the LBS Masters in Management program's class profile, cost of attendance, median salary
Aspects of the LBS MiM program
Program starts
September 2023
Duration
12 months
Tuition Fee (2023 intake)
£44900
FT Global MIM 2018 Ranking
#7
Application Window
03 October 2022 to 15 May 2023 (check Admissions section for details)
Admission requirements
· University Transcript(s)

· GMAT/GRE score

· One-page Curriculum Vitae

· Application essays

· Name & details of referee

· IELTS/TOELF/ CAE/ Cambridge CPE/PTE Academic score (see admissions section for details)

Loans & Scholarships
Please check loans and scholarships section
LBS MiM Program Structure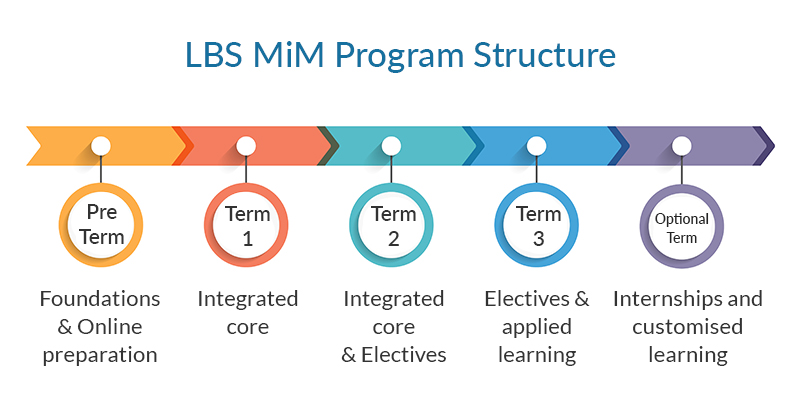 London Business School MiM curriculum is fabricated to combine theoretical knowledge with real-life exposure to provide students with a deep understanding of business. LBS MiM course curriculum includes,
Core Courses & Integrated Modules: Core courses will give a broad business overview through the fundamentals of business and general management topics. Integrated modules are a combination of theoretical knowledge and practical experiences. Integrated modules help to explore how various business functions & areas assimilate to meet real-life challenges and deliver value.
Electives: Student can choose 3/50 Elective Subjects from Finance, Accounting, Economics, Marketing, Management Science & Operations, Organizational Behavior, and Strategy & Entrepreneurship to customize his/her learning experience. This will help students to deep dive into areas of interest.
Global Immersion Field Trips in 1st, 2nd, & 3rd term and LondonLAB in 3th term is a vital part of the curriculum to engage students with real-life business challenges.
Global Immersion Field Trips (GIFT) edifice skills and experience to work with corporations, communities, and diverse business cultures. The location of these trips includes Silicon Valley, Cape Town, Beijing, Tel Aviv, Medellin, and Kathmandu. The student should choose one of six Global Immersion Field Trip options.
LondonLAB is a six-week live business project based in London. In LondonLab, the student will engage their theory knowledge to tackle real-life business challenges of organizations such as Amazon, the Bank of London, the British Fashion Council, and Transport for London.
LBS Masters in Management graduating class of 2021
LBS MiM class is known for its cultural diversity. 94% of the graduating class of 2021 are international students representing 45 countries. Here are the detailed statistics on LBS Masters in Management program graduating class of 2021.
LBS MiM graduating class of 2021
Total Students
258
International Students
94%
Countries represented
45
Female Students
42%
Average GMAT
681
Alumni
44,000+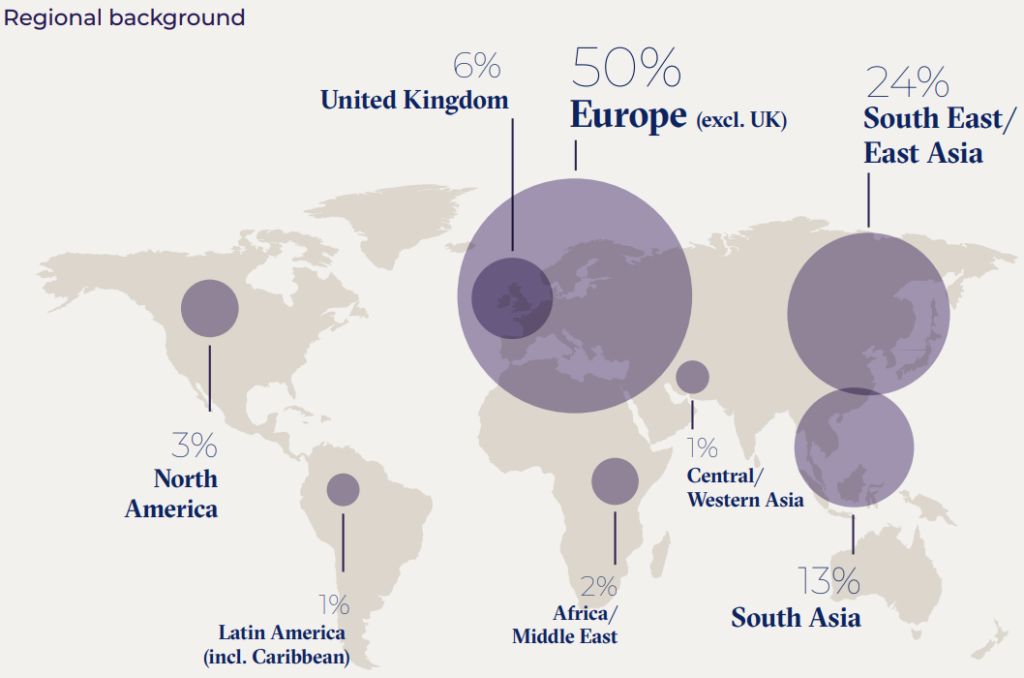 Source: LBS MiM Employment report 2021
LBS MiM -Diversity of class in terms of nationality
LBS MiM graduating class of 2021 – Geographic distribution
United Kingdom
6%
Europe (excluding the UK)
50%
South East/East Asia
24%
South Asia
13%
North America
3%
Africa/Middle East
2%
Central/West Asia
1%
LBS Master in Management – Students' academic background
Presented below are the undergraduate study discipline data of the students in the graduating class of 2021 LBS MiM. 33% of the students have under graduation in Business/Management, 19% in Economics, followed by 12% in financing and accounting.

Undergraduate study discipline of LBS MiM Class of 2021
Business/Management
33%
Economics
19%
Engineering
10%
Finance/Accounting
12%
Social Sciences
8%
Humanities
5%
Mathematics/Science
8%
Law
1%
Other
4%
LBS MiM – Employment and salaries of LBS MiM Class of 2021
45% of students of the London Business School MiM class of 2021 found employment in Management Consulting. Consulting firms like McKinsey, Bain, and BCG hired students by offering a mean salary of £45,872. 26% of the class accepted employment in the Financial Services sector, followed by 16% in Technology. The detailed employment numbers are in the following sections.
Employment by industry
LBS MiM Employment Industry – Class of 2021
Industry
% of Class
Mean Salary
Other Compensation
Consulting
45%
£45,872
£7,904
Finance
27%
£43,110
£20,829
Investment Banking/Brokerage
13%
Investment Management
3%
Private Equity
5%
Hedge Funds/Alternative Investments
1%
Finance – Other*
1%
Technology
18%
£37,043
£5,709
Internet/E-Commerce
8%
Information Technology and Services
5%
Technology – Other**
5%
Diversified
10%
£35,411
£5,740
Consumer Products
6%
Industrials
1%
Diversified – Other***
3%
Employment by location of LBS MiM class of 2021
A considerable number of the LBS MiM graduates found excellent job opportunities within the United Kingdom, 43% of the students, were recruited locally with a mean salary of £42,386. 29% of the graduates found a job in other countries in Europe, followed by 23% in Asia.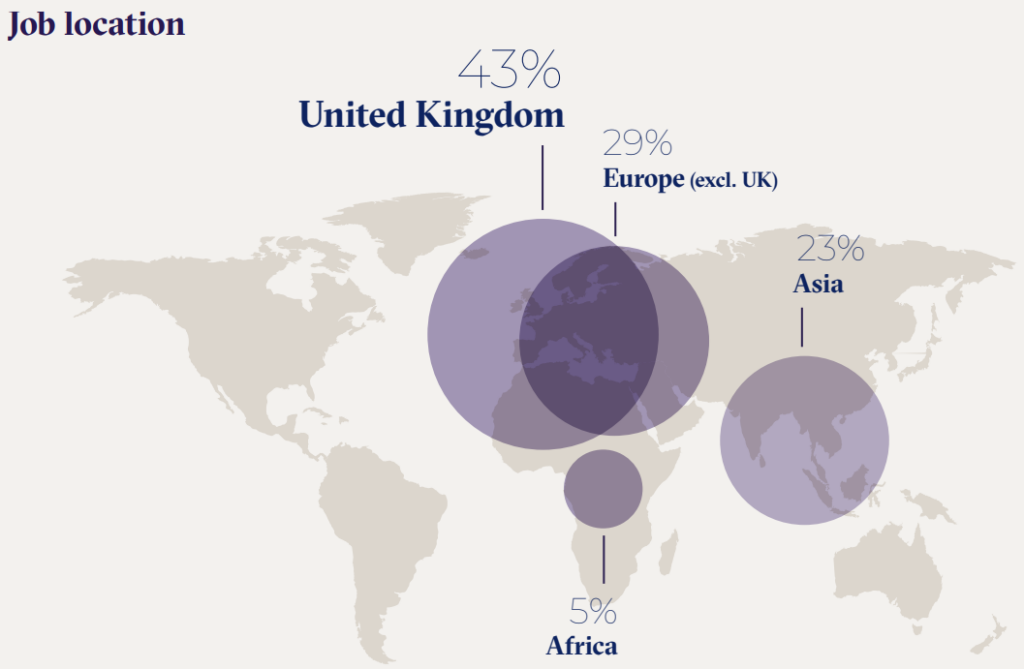 | | | |
| --- | --- | --- |
| Location | Mean Salary | Other Compensation |
| Overall | £42,573 | £11,534 |
| United Kingdom | £42,386 | £13,226 |
| Europe (excl. UK) | £47,571 | £9,507 |
| Asia | £34,951 | £12,779 |
| Africa | £41,030 | £5,598 |
LBS MiM Application process and 2023-2024 Application Deadlines
The application process for admission to the LBS MiM program needs the submission of the following:
GMAT/GRE Score – Average GMAT score of the LBS MiM graduating class of 2021 is GMAT 681. It is better to have a GMAT score above 700 to increase your chances of admission. You can follow th

ese

7 steps to score 700+ on the GMAT

.
Copy of University Degree transcripts – The degree transcripts should include a complete record of courses completed, grades, and the class of degree received. If the student is yet to complete the degree, you should submit a transcript that is recent at the time of applying.
IELTS, Cambridge CPE, TOEFL, CAE, or PTE Academic score as a proof of your English language ability.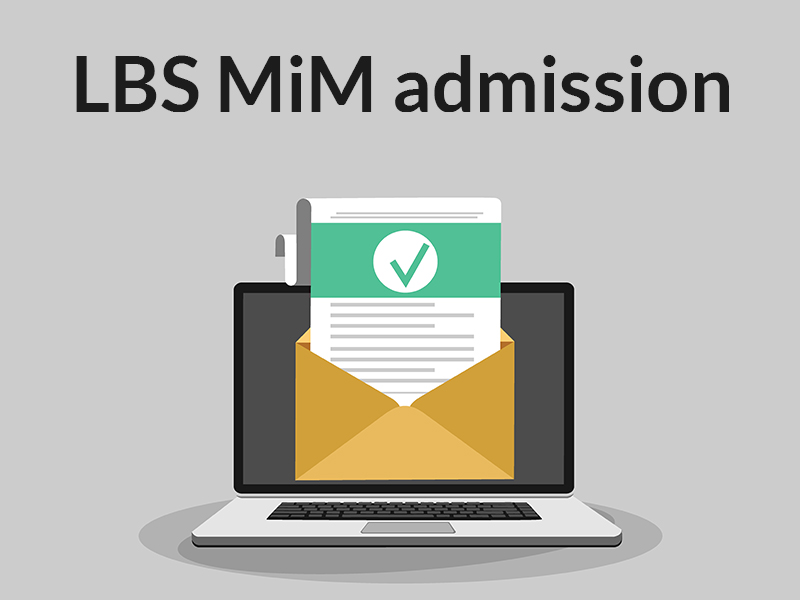 One Page Curriculum Vitae – Applicant can create a CV in his/her formatting. But, the LBS admission committee recommends submitting in their standard template.
Application Essays – The essay is an opportunity for aspirants to elaborate more about their values, goals, interests, teamwork & leadership evidence, motivation to pursue LBS MiM, and what value addition they will bring to the LBS community.
Name and details of one referee – LBS MiM admission committee prefers one referee from academic and one professional.
After shortlisting based on the application review, candidates will get an invitation for an interview. If the applicant is in the UK, he/she will be asked to travel to London Business School campus for the interview. If a candidate is unable to travel to London for the interview, members of the alumni community conduct it by based on the preferred location selected by the candidate. In a few cases, if face to face interview is not possible, the interview will be conducted through skype.
Below is the application deadline for Masters in Management class commencing in August 2020. You may apply in the round of your choice. Still, applying on Round 1 or Round 2 is always beneficial.
LBS MiM Application Deadlines of the class commencing in 2023
LBS MiM admission rounds
Application Deadlines
Decisions
Round 1
03 October 2022
08 December 2022
Round 2
09 January 2022
9 February 2022
Round 3
13 March 2022
11 May 2023
Round 4
15 May 2023
29 June 2023
Loans and Scholarships available for LBS MiM Program
The tuition fee for LBS MiM 2023 intake was £44,900. If a student opts for 4th term, there is an additional fee of £7,500. In addition to the tuition fees, a student will pay a Student Association Fee of £150.
You can fund your LBS MiM studies through loans and multiple scholarships available. We will brief you about different options to finance your Master in Management program at London Business School.
Loans for the LBS MiM program
There are multiple loans available for LBS MiM students.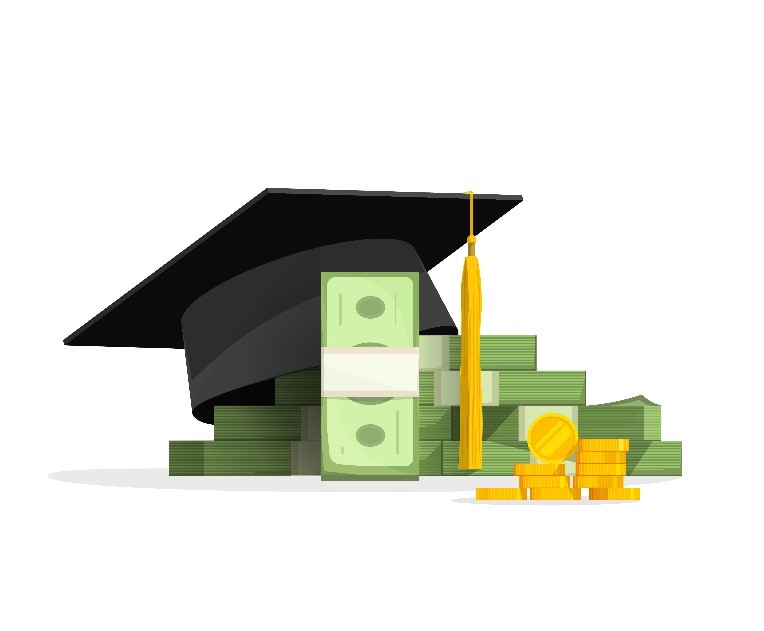 Scholarships for the LBS MiM program
Scholarships – London business school provide multiple merit-based and bursary scholarships available for Masters in Management students.
On average, 20% of LBS MiM students receive a London Business School Scholarship. A student who receives an admit will automatically get considered for all merit-based scholarships. The student must give an application for bursary scholarships. You can learn more about other Masters in Management scholarships around the world in this article.
MiM
P
rograms
Consideration Set
Other top global Masters in Management programs that are a close match to LBS MiM in terms of competitiveness of brand image, selection process, rankings, and employability image are:
MSc in Management, HEC Paris