A
9
min read
MiM or Masters in Management has become a sought-after postgraduate program for recent graduates and professionals with up to 2 years of work experience. In our previous article, MIM vs. MBA, we compared various aspects like work experience and age, course duration & curriculum, cost of education, choice of specializations, employment opportunities, and scope of MiM.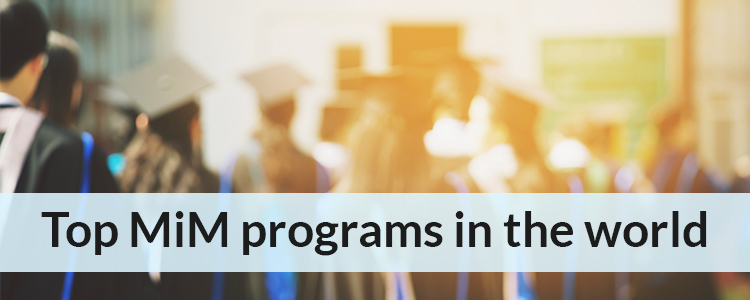 In this article, we will discuss the top MiM programs in the world.
Top 10 MiM programs in the world
MA in Strategy and International Management (SIM), University of St. Gallen
MSc in Management, HEC Paris
MiM, London Business School
MSc in Management, Essec Business School
Master in Management (MiM), ESCP Europe
MSc in International Management, Bocconi University
MSc in International Management, University College Dublin: Smurfit
MSc in International Management, Rotterdam School of Management, Erasmus University
Master's in Management (MiM), IE Business School
MSc in International Management, Esade Business School
We will discuss top MiM programs based on FT Masters in Management 2018 rankings. Rankings are calculated based on the information provided by 104 schools spanning across 27 countries and their alumni who graduated in 2015. We recommend you read about the ranking methodology to understand better about different ranking criteria.
MiM Program
Location
MiM Program Name
Require Academic background in business or economics
MiM Program Length
MiM Tuition Fee
Weighted Salary (US$) after 3 years of graduation
University of St Gallen
St. Gallen, Switzerland
MA in Strategy and International Management
Yes
18 Months
CHF 9978
108,621
HEC Paris
Paris, France
HEC MSc in Management
No
18 months
€39700
96,249
London Business School
London, England
Master's in Management
No
12 months
£32500
89,801
Essec Business School
France/
Singapore
MSc in Management
No
18 months
€40900
93,461
ESCP Europe
FR / UK / DE / ES / IT
ESCP Europe Master in Management
No
24 months
€43000
80,346
Bocconi University
Milan, Italy
MSc in International Management
No
24 months
€14000
77,452
University College Dublin: Smurfit
Dublin, Ireland
MSc in International Management
Yes
12 months
€19200
68,400
Rotterdam School of Management, Erasmus University
Rotterdam, Netherlands
MSc in International Management
Yes
18 months
€27000
78,922
IE Business School
Madrid, Spain
Master's in Management
No
10 months
€38200
79,784
Esade Business School
Barcelona, Spain
MSc in International Management
No
10 months
€29100
81,615
Here is a list of MiM Scholarships available at top business schools
University of St. Gallen – MA in Strategy and International Management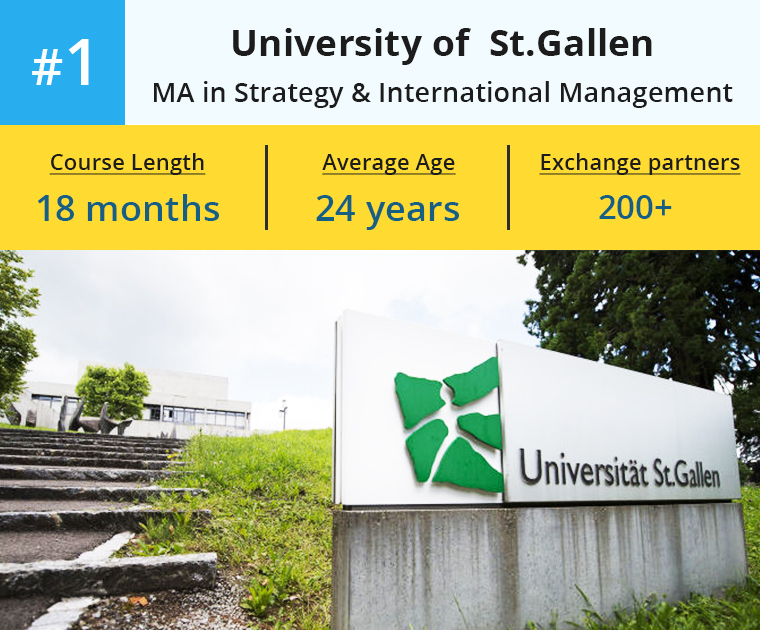 University of St. Gallen started offering MA in Strategy and International Management (SIM) in 2004. SIM program has been ranked #1 MiM program by Financial Times for eight consecutive years since 2011. This 18-month program aims at graduates with a degree in BA, Economics, or any equivalent degree.
SIM program has a strong focus on academic research and practical knowledge. With an average class size of 50, students have an opportunity to interact with their faculty. SIM faculty consists of award-winning academic scholars and senior lecturers in the field of management. A large number of industry and academic guest lecturers and executives are also part of their faculty members.
SIM program gives high priority on building student's practical knowledge and international exposure.
SIMagination Challenge is a vital part of the Master of Arts in Strategy and International Management curriculum. Students are required to independently plan, fundraise, and execute an international social initiative which aims at leaving a positive and sustainable impact in the society.
SIM International Project is a compulsory international internship every student must complete during their course. The purpose of the internship is to prepare students with the necessary skills and experience to manage complex problems in international settings before their graduation.
SIM students have an opportunity to explore a broad spectrum of their educational and intercultural goals by opting for International Double Degree programs or SIM-MBA double degree. Dual degree programs offered by St.Gallen are:
CEMS MIM (Global alliance of 31 leading business schools across the globe)
DM2 Double Degree Programmes (Partnership with HEC Paris, ESADE Barcelona, RSM Rotterdam, and FGV-EAESP-Brazil)
FGV-EAESP Double Degree Program
International Exchange Term (from any 200 partner universities across the globe)
SIM-MBA Double Degree MBA (Partnered with Nanyang Business School in Singapore or INCAE Business School in Costa Rica which will help students to earn an MBA degree along with SIM degree)
The SIM program has close ties to many international companies that act as corporate sponsors to the SIM program. This cooperation includes interactive workshops, lectures, invites to visit their sites, and international internships offer.
HEC Paris – MSc in Management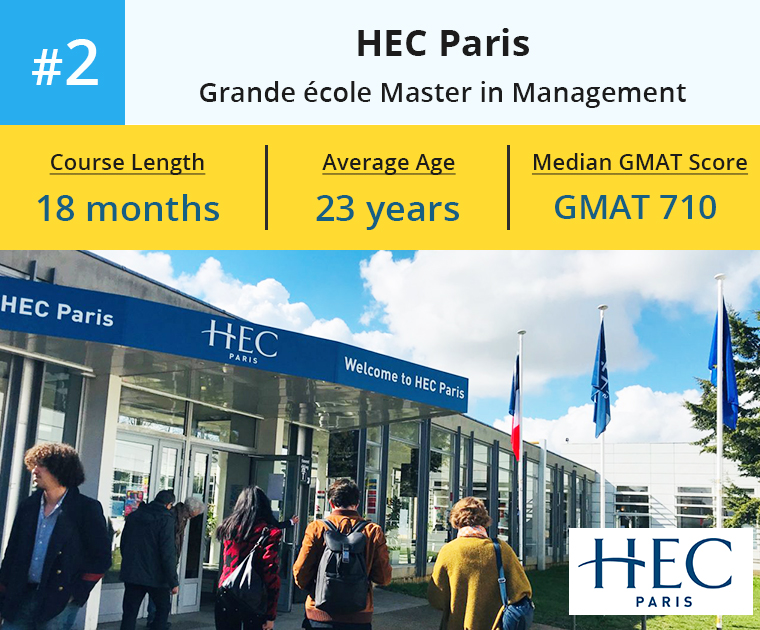 HEC Paris Grande école Master in Management program has been consistently ranked #2 since 2014. It is an 18-month program with an optional gap year after 1st year for students to professionally evaluate the industry in which they want to pursue their career.
Grande école Master in Management program is designed to give a student the flexibility to tailor the course based on his/her career ambition. Over 20 different specializations are available in streams like Finance, Strategy, Marketing, etc. The program consists of two phases – Generalist Phase (Core Phase) and Specialization Phase. The Generalist phase comprises:
Core courses in Management like Business Performance Management, Company Law, Corporate finance, Strategy, Marketing, etc.
Elective courses covering – Business, Digital Strategy, International affairs, and Social innovation
Fact projects, Consulting projects, Live case studies and conferences
Specialization Phase focuses on specializations in management or obtains an International double degree. As a part of the Master Exchange Program, a student can choose to study one semester abroad within 20 partner colleges.
As being a student of HEC Paris, students get an opportunity to do certificate programs sponsored by companies during the Specialization Phase. The certificate program will give a true reflection of the business world for students. Different certificates offered are in,
Data for management
Digital entrepreneurship
Digital transformation
Energy &Finance
Excellence in client experience
Luxury
Mergers & Acquisitions
Inclusive & Social business
In the 18-month program, HEC conducts different events for Career Roadmap, Job Market Workshops, Career Fairs, Meetings with Alumni, and Networking events. According to Grande école Master in Management last year placement report,
96% of the students found employment within 3 months
Average starting salary – €63000
Post MiM job sectors – 37% Consulting and 28% Financial Services.
Teseo scored a 750 on the GMAT and made it to the HEC Paris MiM program. Read his GMAT journey or watch the video below.
If you want to try out the e-GMAT course that helped Teseo improve from a GMAT 640 to 750 in just 6 weeks , sign up for our Free Trial.
London Business School (LBS)– MIM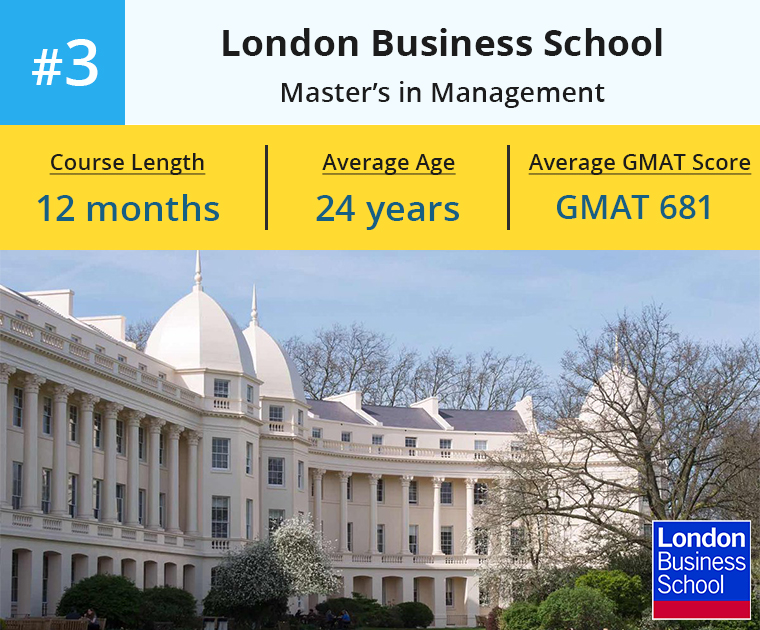 London Business School's Masters in Management (LBS MiM) program started in 2009. It entered Financial time's MiM top 10 rankings in 2014. LBS MiM is a 12 months program aimed at recent graduates who have less than two-year professional work experience. The program consists of 3 terms with an optional 4th term which includes a Summer internship or international exchange or electives.
LBS offers multiple masters program related to Management apart from regular MiM:
Global Masters in Management – 2-year Global Master in Management (GMiM) in collaboration with the School of Management, Fudan University. In this program, student study 1 year in London and a further 12 months in Shanghai. In GMiM, the student will get a Masters in Management from LBS and a Masters in International Business from Fudan.
Other Masters degree:

Masters in Analytics and Management: Program for people aspire for a career in business and data analytics.
Masters in Financial analysis: Program designed for people who target a career in finance
LBS MiM course curriculum includes Global Immersion Field Trips in 3 terms and LondonLAB in 3th term to engage students with real-world business challenges.
Global Immersion Field Trips focus on building skills and experience to work with organizations, communities, and different business cultures. The location of these trips includes Silicon Valley, Beijing, Cape Town, Medellin, Tel Aviv, and Kathmandu.
LondonLAB is a 6-week live business project based in London. In LondonLab, the student will engage their theory knowledge to tackle real-life business challenges of organizations such as Amazon, the Bank of London, the British Fashion Council, and Transport for London.
LBS has around 70+ student-led clubs supported by alumni which help students to follow professional and personal passions. Student clubs, conferences, summits, and forums provide MiM students with an opportunity to network with LBS MBA students who study in the same campus and leverage the influence of the LBS Alumni network.
LBS also offers its MiM students an active career service. LBS Career Centre conducts mock interview sessions, interactive workshops, and online training to make students' job searches more focused and effective. According to 2018 stats, 45% of students chose the Consulting sector, and 26% of students chose the Finance sector with a mean base salary of £42,183.
Here are complete details on the class profile and career opportunities for the LBS MBA program. Watch this video to know how to crack the LBS MiM application:
ESSEC Business School – MSc in Management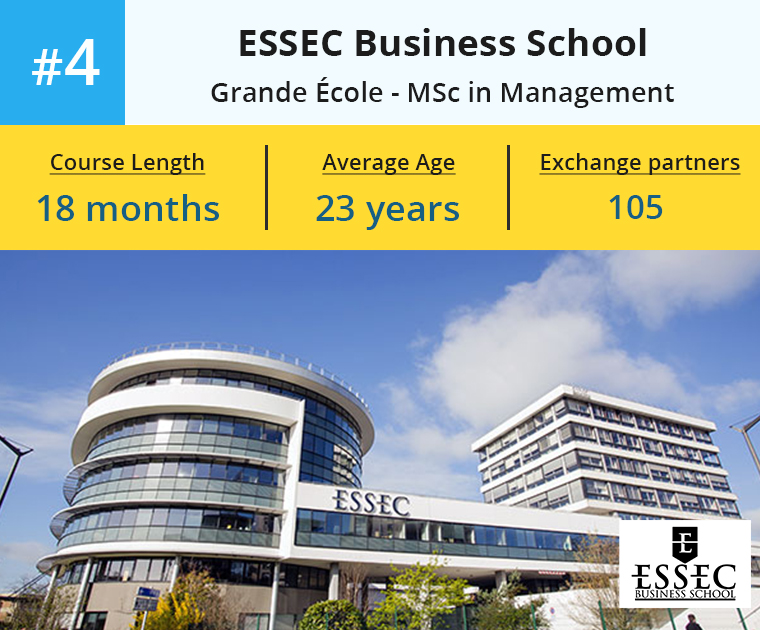 ESSEC Business school's MSc in Management is an 18-month program that is known for its double degree partnership and strong apprenticeship program. The student will study one year from the French campus and another year from their Singapore campus, which makes ESSEC MiM a great way to amalgamate learnings of both east and the west.
In ESSEC, MiM students have the complete flexibility to tailor their curriculum based on their career interests. The program offers 47 specializations in the following topics:
Finance and Economics
Entrepreneurship and Innovation
Managing Luxury Brands, Art & Culture
Digital Business
Health and Food
IT Data and Operations
Management
Public & Private Policy
Accounting & Management Control
Management & Society
All students must spend 9 months abroad either through an internship or through an academic partner. ESSEC has 105 international exchange university programs and 17 double degree partners. This extensive partnership with universities across 36 countries is an excellent opportunity for students to strengthen their field of specialization from the best schools.
ESSEC MiM program makes sure students get constant interactions with the business world. Gaining practical experience is mandatory during the program. A student must have at least 12 months of professional work experience through internships or apprenticeships or entrepreneurship or volunteer experience. Every year, ESSEC students get 21000 apprenticeship/internships/volunteer offers.
ESSEC MiM has one of the best apprenticeship placements. An apprenticeship is a 2-year contract between a student, ESSEC business school, and an employer. During this period, the student alternates between studying and working for the employer. ESSEC's flexible curriculum paves the way for the student to work for 6 months and study for the next six months or allows the student to work part-time for 3 days and study for 2 days. Employer covers all the tuition fee and pays a monthly salary to their apprentices. This helps the student to get financial support to manage tuition fees and living expenses.
According to ESSEC's 2018 career report, 44% of students work in Consulting/Finance sector. The average starting salary of ESSEC MiM students is €55000, and the average starting salary of graduates working outside France is €65000.
ESCP – Europe Master in Management (Grande Ecole)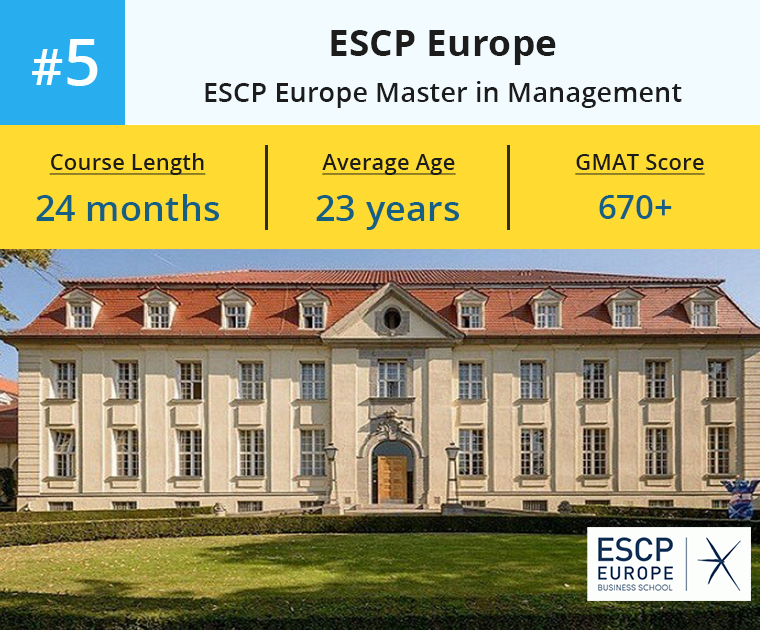 Established in 1819, ESCP is the world's 1st business school. Europe Master in Management (Grande Ecole) program is ESCP's flagship 2-year program on which a student can attain up to 4 different international degrees without leaving the ESCP Europe campus. ESCP have their campuses in major European cities like Paris, London, Berlin, Madrid, Turin, and Warsaw.
ESCP MiM curriculum focuses on experiential learning. The 1st year of study familiarizes students with core intercultural management courses like Corporate Finance, European Business Law and Taxation, Economics, Human Resource Management, International Marketing, Operations Management, Strategy, and other management courses. In the second year, the student can choose 1 or 2 specialization topics like Finance, Marketing, Entrepreneurship, Strategy & Consulting, Innovation & Digital. By the time of course completion, an ESCP student will have 10 months of work experience through apprenticeship or internship. As it is a part of the curriculum, if a student is inexperienced, he/she must take a gap year and complete internships.
ESCP has 130 exchange programmes partner universities and 33 dual degree partners across the globe. ESCP MiM student can earn up to 4 degrees without leaving their Europe campus:
| | | |
| --- | --- | --- |
| Country | Degree | Institution |
| France | Master in Management Grande Ecole | ESCP Europe |
| Germany | Master of Science | ESCP Europe |
| Italy | Laurea Magistrale in Economia | University of Turin |
| Poland | MSc in Management | Kozminski University |
| Spain | Master en Administracion y Direccion de Empresas | Carlos III University of Madrid |
| United Kingdom | MSc in Management | City, University of London |
Like ESSEC business school, ESCP also has a strong Apprenticeship Track. Apprenticeship track combines in-company work experience with academic coursework. Each year, 110 students chose apprenticeship track and got a monthly salary between €1000 – €1600.
ESCP students must attend five thematic Seminars in addition to core courses, electives, and specialization. Each seminar focuses on a unique business topic and the noteworthy being the visit to the European Parliament in Strasbourg. In this 'Design Europe' seminar, students roleplay negotiations as if they were a member of the European Parliament.
98% of the ESCP MiM class of 2018 students found a job within three months of graduation. Average annual starting salary of MiM class of 2018 is €50480. 35% of students chose Consulting, and 25% chose Financial Services.
A good GMAT score can increase your chances of getting into top MiM colleges. Why don't you start your GMAT Preparation with the most reviewed online GMAT Prep company on GMATClub? Try out our FREE Trial and get access to FREE online GMAT resources and material.