GMAT preparation requires time and effort. It might take days, weeks, or even months to prep for the exam. Ashray was able to score GMAT 760 in just 20 days, whereas it took Jinna Yang more than six months to score 760 on the GMAT. Thus, the time taken to prepare for the GMAT depends on you and various factors, such as your preparation level and targeted score.
Besides, since the GMAT costs $250, you must take the test when you are confident about your preparation.
Apart from investing time, your GMAT preparation requires the right kind of approach. You should approach the test with a robust study plan. And that is not all. It would help if you practiced pacing because time management is critical for the exam.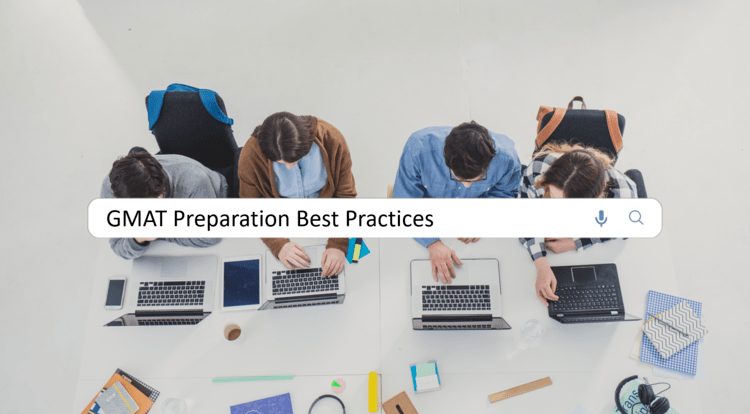 GMAT Preparation Best Practices 2021
GMAT, or Graduate Management Admissions Test, is a 3 hours 7 minutes long computer adaptive test. It is intended to assess certain quantitative, verbal, analytical, and writing skills.
We have compiled some of the best practices pointed out by 700+ GMAT scores. Preparing for GMAT during COVID pandemic? Read on to know how you can prepare for our GMAT exam during the COVID-19 outbreak.
Here is a list of best practices to score 700+ on the GMAT in 2021:
GMAT Preparation #1 – Know all about the GMAT Exam
It would be best if you started your GMAT Prep by getting acquainted with the exam. To Prepare for the GMAT, you should first know what to expect in the exam, how you will be evaluated, can you retake the test, and much more.
For example, GMAT is a computer adaptive test, which means as you progress through the test, the testing software adapts to your performance.
But why understanding how the test works important? Here is why
Let us consider a scenario where a group takes the same test, and 50% of the group answers eight or more questions correctly out of 10. Here, your accuracy will be 80%, however as 50% of the group was also able to solve more than eight questions correctly, your ability is just 50 percentile.
Similarly, if only 5% of the test takers were able to get more than eight questions correct, then your ability increases to 95 percentiles with 80% accuracy. Hence, even the accuracy is the same, your ability as compared to other test takers leads to a difference in your GMAT score!
Did you know you can get a high score such as 760+ while still making a few errors? Learn how to leverage the adaptive nature of GMAT CAT in your Preparation.
One of our e-GMAT students who scored 760 on the GMAT leveraged the adaptive nature of GMAT CAT by following a metric where she started her preparation by answering the easy questions first and making sure she got 90-100% of those correct. After this, she moved on to the top medium type of questions and tried to get 70-80% accurate. At last, she practiced hard questions to get 60-70% correct.
Understand the GMAT exam better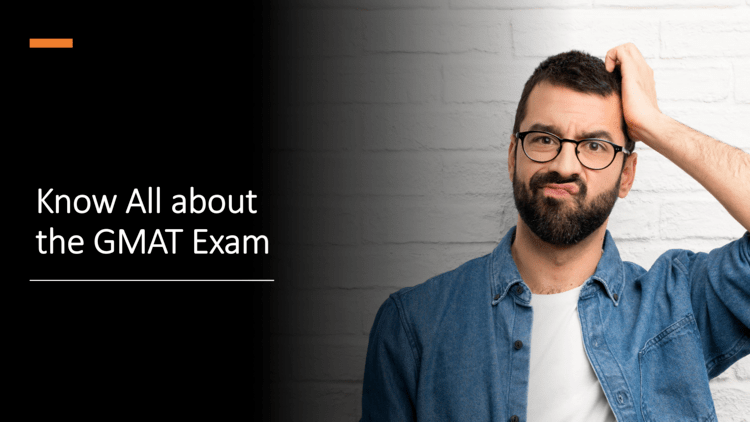 Here is a list of articles to help you understand the GMAT exam better:
Once you have a clear idea about various aspects of the GMAT exam, you will be in a better position to start your preparation. Here is how long it will take you to prepare for the GMAT.
One advice that you will hear is to start your GMAT preparation early so that you have enough time to prep as well as retake the test before your first admissions deadline.
Check out this article on When is the right time to take the GMAT exam?
GMAT Preparation #2 – Look for the Best GMAT Preparation Resources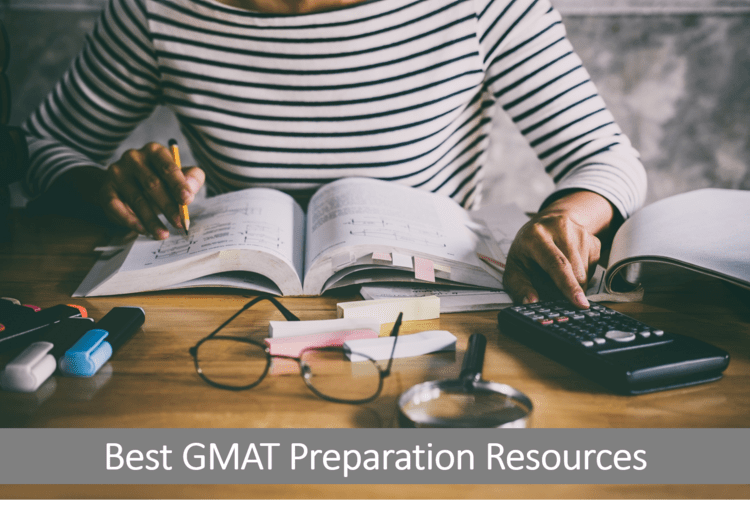 Looking for the best GMAT preparation resources can be tricky. Apart from the GMAT Official Guide, students take help from various online and offline courses. In our experience, they go for GMAT books but eventually opt for GMAT online prep courses.
You can also take advantage of the free resources available online. Many online test prep companies offer free registration resources that can be helpful. Besides, GMAT Forums also provide a massive amount of free study material.
Try out our FREE Trial to get access to concept files, practice questions, and live sessions. We are the most reviewed GMAT Prep company with 2000 reviews on the GMAT Club.
GMAT Preparation #3 – Have a Personalized Study Plan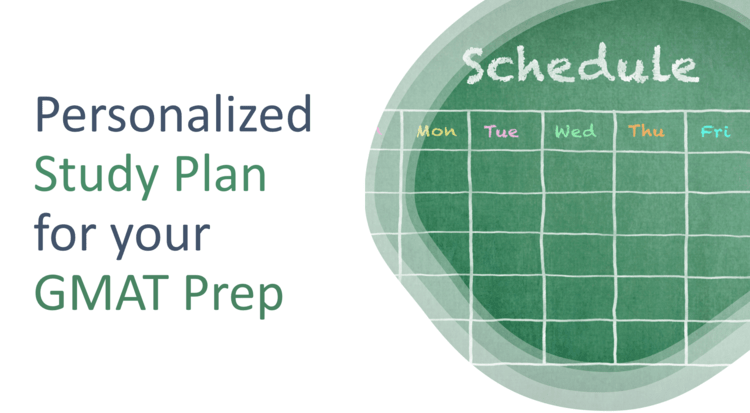 Before scheduling your GMAT Date, you should have a comprehensive study plan. You might have the best resources for your GMAT preparation, but without a detailed study plan in place, you won't be able to achieve your targeted GMAT score. Check out how a personalized study plan helped in increasing the score from GMAT 590 to GMAT 710.
Access the GMAT Personalized Study Planner tool and create your study plan in less than 5 minutes. You can also write to us at acethegmat@e-gmat.com.
Here is a list of articles that can help you create your GMAT study plan:
GMAT Preparation #4 – Follow these Strategies while you prep for the GMAT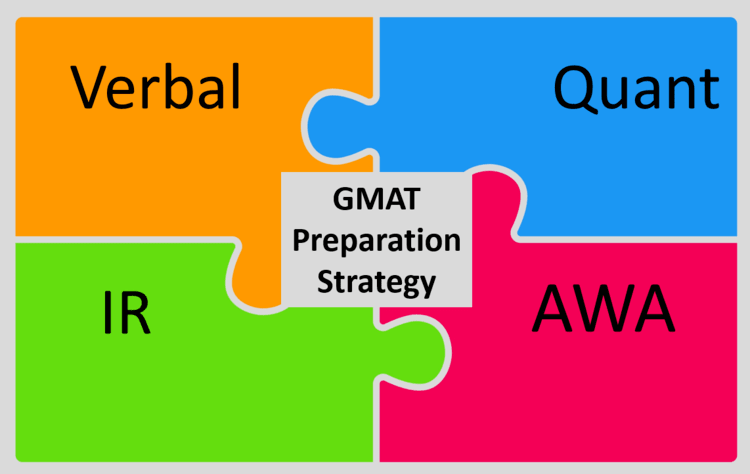 The internet is filled with strategies that you can follow to achieve your targeted GMAT score. With so much information available, it can get a bit overwhelming.
To help you, we have handpicked a few of our articles that focus on highlighting quick tips and strategies to follow during your GMAT prep:
If you are retaking the GMAT, here are a few strategies that can help you:
Follow a section-wise targeted GMAT Preparation Strategy
Sanchit, who scored 750 on the GMAT in his first attempt, followed a section-wise targeted approach. After taking a sectional mock test, he realized his sentence correction section was the weakest in Verbal. He then focused most of his preparation on GMAT Verbal.
Similarly, Nishant, who scored 570 on the GMAT in his first attempt, analyzed his ESR, which helped him improve his score to 740. How? He was able to identify his weakness in GMAT verbal and focus on improving it.
Both the students followed a meaning-based and pre-thinking approach to ace the Verbal section. Thus, having a targeted approach towards each section on the GMAT is fruitful.
Take Quizzes in Scholaranium to know your sectional and sub-sectional Abilities. Use the Skill Data section to isolate your weaknesses and reach your target score most efficiently! Verbal Ability Quiz and Quant Ability Quiz.
GMAT Prep for Quant
GMAT Prep for Verbal
GMAT Prep for IR and AWA
GMAT Preparation #5 – Learn the concepts right and then Practice Questions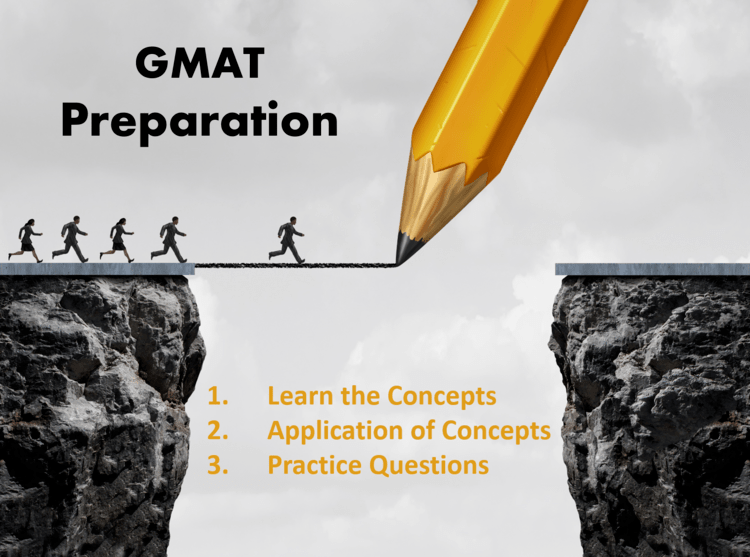 Many people have this misconception that solving more questions will improve their score. Gaurav, an e-GMAT student, did not pay much attention to the concepts and ended up scoring a 660 on the GMAT. After talking to our strategy experts, who showed him the benefit of learning the concepts and their application, he was able to score GMAT 730.
Thus, learning the concepts is essential, but knowing its application is also necessary. Once you understand the concepts and their application, you can take a GMAT mock test to know your progress.
Students often raise a question about when to take the GMAT Mock test?
You should take one mock test right at the beginning of your preparation to see how far or close you are to your target score. It will also give you an insight on how you should prepare further. You can take the next mock in the refine phase of your preparation.
Here is the GMAT Mock test strategy that you can follow for your prep:
GMAT Preparation #6 – Follow these strategies during the exam
After you are done with your GMAT preparation and scheduled your appointment, questions like – What to expect at your test center, how to prepare for the GMAT mentally, and should you study or practice on the test day comes to mind.
Here is an article that will answer these questions and provide a checklist for the test day.
A 700+ GMAT score can help you get into your dream business school. Kickstart your GMAT preparation by signing up for our free trial. We are the most reviewed company on the GMAT club with 2000 reviews. Write to us at acethegmat@e-gmat.com in case of any queries.
How to prepare for the GMAT during COVID-19 Outbreak?
With the world fighting against the Coronavirus pandemic, many students have started preparing for the GMAT at home, and classroom coaching has become redundant.
Not only preparing but taking the GMAT at home has become the new normal. Taking the GMAT Online Exam has been a daunting challenge for students across the world. One of the major hurdles was using an online whiteboard. After many test-takers opposed it, GMAC decided to allow the use of a real physical whiteboard.
If you are planning to take the exam by using the Online whiteboard, why don't you try our FREE Trial where you can get access to 100 Quant and 100+ Verbal questions to practice with the online whiteboard. In addition, you also get one full-length mock test with the Whiteboard.
Here is the GMAT Preparation Journey of students who scored above 700 on the at-home GMAT exam:
GMAT Preparation – FAQs
Is the GMAT really that hard?
Yes. Before we answer the question take a look at a few statistics:
1. The average GMAT score at the top-10 business schools is 720+
2. Only 6% of test-takers score 720 or above
3. The GMAT is taken by 200,000+ aspirants every year

From the above data, we can make out how hard is the GMAT. However, with the right GMAT Preparation and test strategy, the GMAT does become easier.
Here are some reasons why the GMAT may seem hard to aspirants.
Is it difficult to score 780 on the GMAT?
Yes. Only a few test-takers end up scoring a 780 on the GMAT. You require the right kind of attitude and strategy to score a 780. Here are the GMAT Prep tips and strategies from Samiya who scored GMAT 780 in 3 months.
Can I choose the order in which I want to take the GMAT?
Yes. You can choose the order in which you want to take the GMAT before you begin your exam.
What is a Good GMAT score?
According to the GMAC the average total score is 563 for the test takers between 2014-2018. However, you need to understand that 'good' is a relative term. A score that might be good for one business school might not be suitable for another.
Is GMAT Official Guide enough for GMAT Preparation?
No. GMAT official guide is not enough to prepare for the GMAT. You should not just depend on one resource. Check out this article to learn about the best GMAT prep books and online resources in 2020.