A
8
min read
GMAT preparation is not just about learning and applying concepts. It is about a constant struggle with fear of failure, anxiety, hopelessness, and all those negative emotions which creep into your mind to convince you that you cannot ace the GMAT.
It is during these times that we yearn for inspiration. We tend to search for those people who were once in the same situation and still went on to ace the GMAT. "What did they do in this situation?", is one common question that we ask. Reading their GMAT success stories gives us hope and precise information on how to ace for GMAT.
One important key to success is self-confidence. An important key to self-confidence is preparation. – Arthur Ashe
Hence, for all of you feeling bogged down right now, here are a few success stories to rejuvenate and inspire you to ace the GMAT.
In this article, we have classified different e-GMAT reviews according to the following categories:
1. Working Professionals with Hectic Schedules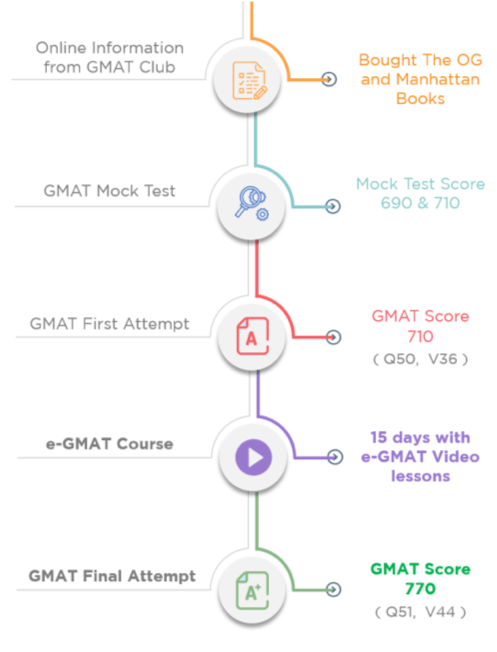 His Story –You find inspiration in unexpected places. Anuj, found his inspiration from a taxi driver, pursuing an undergraduate degree at the age of 35. So, he decided to pursue an MBA and started preparing for the GMAT.
Despite a 60+ hours work week, he scored a 770 in his second attempt. To get to such a high score as a working professional with a very hectic schedule is what makes this a special story. He got an admit from Duke's Fuqua School of Business.
His Strategy –
Prepared consistently irrespective of work pressure
Took support from colleagues
Didn't overthink about the aspects, not in his control but went all in for the aspects in his control
His Story – He scored 690 on his first attempt. However, being an Indian Engineer, which is a highly competitive pool, he didn't receive an interview call from any of his target Business Schools. He didn't get bogged down. He prepared again, and this time he scored a 740, with just 1 month of preparation, while managing a hectic work schedule.
His Strategy –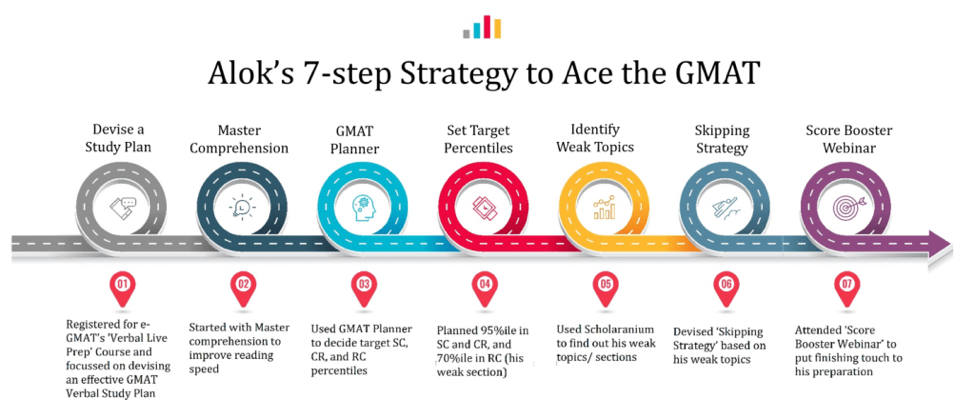 Registered for e-GMAT's Verbal Live Prep Course and focused on devising an effective GMAT Verbal Study Plan
Started with Master comprehension to improve reading speed
Used GMAT Planner to decide target SC, CR, and RC percentiles
Planned 95%ile in SC and CR, and 70%ile in RC (his weak section)
Used Scholaranium to find out his weak topics/sections
Devised 'Skipping Strategy' based on his weak topics
Attended 'Score Booster Webinar' to put finishing touch to his preparation
His Story – His 'never settle for less than your worth' attitude and determination paid off handsomely when he achieved his dream GMAT score of 760. He did this while working a 12+ hour per day job. He followed a consistent approach and practice schedule to get a good GMAT score
His Strategy –
Dedicate time for preparation, keeping in mind inherent strengths and weaknesses
Follow a consistent process to solve questions, and improve timing through practice.
Choose resources which focus on building ability and provide proper solutions with detailed explanations.
2. 100+ points improvement in 40 days or less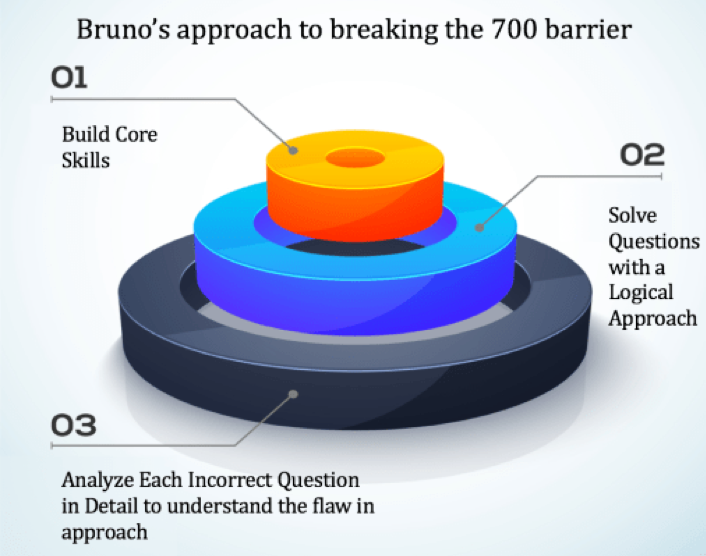 His Story – Bruno took a one-month break from work to focus on GMAT preparation full time. He took his first mock and scored an abysmal 540. A month later he scored 730 on the GMAT. His story is one of diligence and a will to continually improve.
His Strategy –
Building core skills
Following a logical approach to solving questions
Analyzing each question in detail
His Story – His story tells how a methodical and focused approach can create stellar results in a short period of time. He scored 560 (Q48, V27) in his first mock. Disappointed by this score he went on to score 760 (Q50, V42) on the actual GMAT 20 days later.
His Strategy –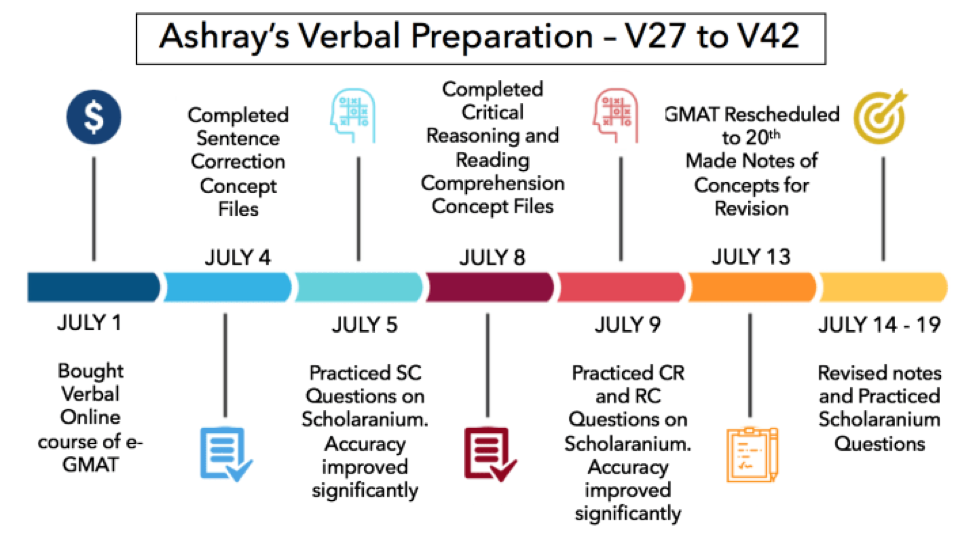 Completed each sub-section (SC, CR, RC) first before moving on to the next one
Made notes of concepts for revision
Practiced on Scholaranium
Her Story – She is a perfect example of how a well-crafted study plan can help you ace the GMAT in less time. Rhea improved her score from 620 to 760 in her second attempt with 40 days of preparation.
Her Strategy –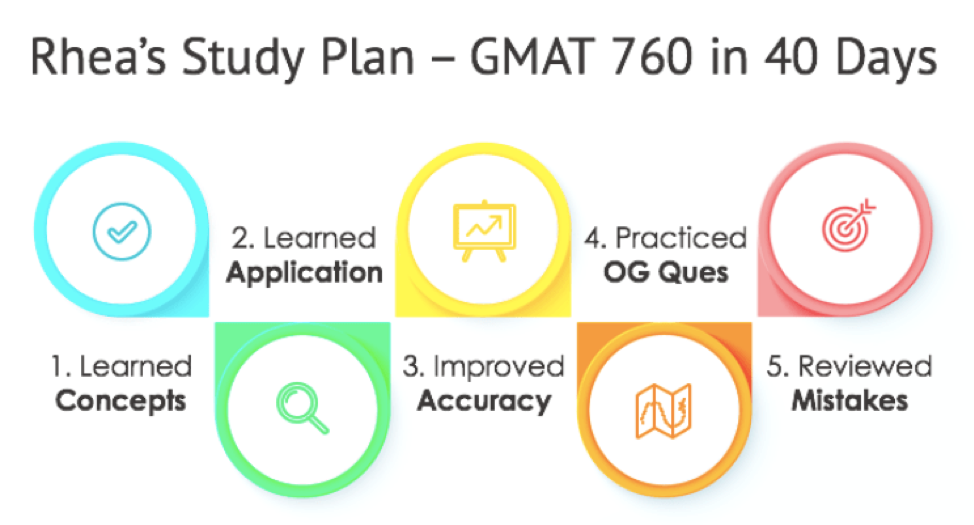 Take a subject (she started with SC) and cover topic-wise basic concepts
Practice concepts with the provided Application Quizzes as suggested in the course.
Improve accuracy with Scholaranium
Maintain an error log of the questions
Practice OG quizzes along with the concepts first, and then again in the last two weeks
3. First Time GMAT Takers
His story is that of dedication and relentless pursuit of a goal. Deciding on Wharton as his dream Business School after a visit, he pushed himself and scored a 710 in his first attempt and got an admit from the Wharton School.
His Strategy –
Focusing on conceptual clarity and logic
Following a structured approach
Choosing the right resources for preparation
Her Story – She was never keen on taking the GMAT because she thought it was too difficult for her. Moreover, she struggled in Quant. She went on to score a 760 in her first attempt.
What makes her story special are her Quant and Verbal Scores. She scored Q48 (67 percentile) and V46 (99 percentile). Her story proves that you don't have to be extremely good in Quant to score 750+ on the GMAT.
PS – She got married during her preparation.
Her Strategy
Focus on your strong section
Practice on Scholaranium
Review mistakes
4. Native Speakers
His Story – A big misconception among many GMAT aspirants is that native speakers are strong in Verbal. GMAT verbal is more about logic than vocabulary or grammar. Adam improved his score by 210 points from 490 to 700, leveraging the Verbal Live Prep course.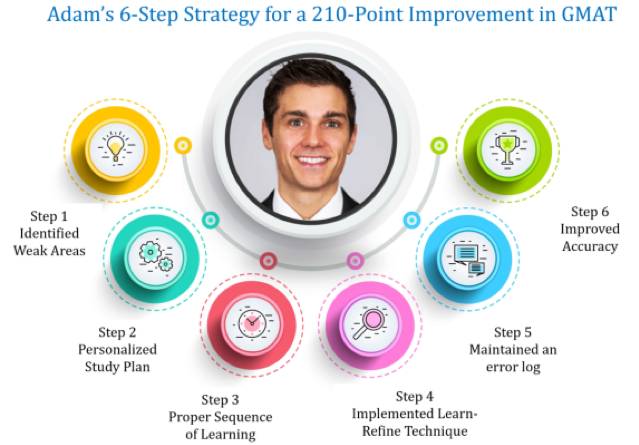 His Strategy-
Identified his weak areas
Stuck to his personalized study plan
Followed a proper sequence of learning
Concept files -> Application file -> OG files -> Scholaranium
Maintained an error log to understand why a particular answer is wrong or right
Practiced questions on Scholaranium to improve accuracy
Her Story – She managed to score 750 (Q50 V42) in her first attempt with just 3 months of preparation while balancing her work commitments. She did that by following an effective study plan.
If you're a working professional looking for a study plan that meets your needs, be sure to check out our comprehensive article on it, Study Plan for Working Professionals.
Her Strategy –
Used GMAT Planner to set her target scores
Prepared her strong section (Verbal) first and then Quant
Developed her ability in a structured manner
5. Retakers with Multiple Attempts
Her Story – She took the GMAT 5 times and improved from 550 to 740. What makes her story truly inspirational is that she received an admit from 4 business schools including Kellogg School of Management and scholarships worth $180,000.
Her Strategy –
Understood the various nuances of topics tested in GMAT while going through the e-GMAT course
Pre-thinking approach for CR
Learned from other successful students' debriefs
Reviewed Mistakes/ error logs
Didn't stress herself out before the test
His Story – He improved his GMAT score by a commendable 230 points with sheer perseverance and determination. He scored 700 on his fourth attempt which only goes to prove that with the right attitude you can reach your target score irrespective of the starting point.
His Strategy –
Worked Diligently throughout his GMAT journey
Timed practice after learning concepts
Maintained an error log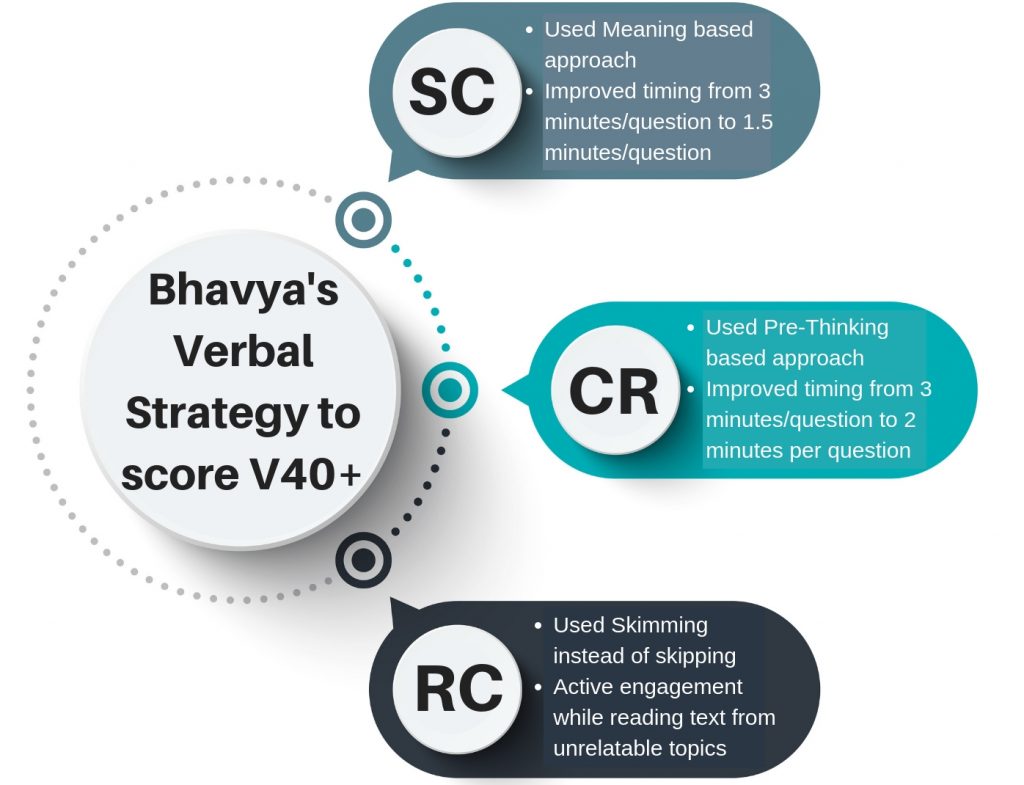 Her Story – Improved by 160 Points from her first attempt by following the approaches taught in the e-GMAT course and developing a sound test-taking strategy! She scored a 730 in her third attempt by overcoming crippling test-taking anxiety.
Her Strategy –
Choose the right resources and stick to them.
Learn concepts and practice their application by solving questions. Practicing will also improve your time management.
Take mock tests and sectional test to refine test-taking strategy further.
Her Story – Improved her GMAT score by 100 points with less than 3 months of preparation. She credits her success to using a verbal-based test-taking strategy and following a structured way of learning. She scored a 740 in the GMAT (Q51 V39)
Her Strategy –
Used the meaning and logic based approach for SC and Pre-Thinking approach for CR.
Developed her own strategy for tackling weak RC ability as pointed out by skill data made available on Scholaranium Dashboard.
Focused on building ability. Shortcuts and tricks may not work during the actual test.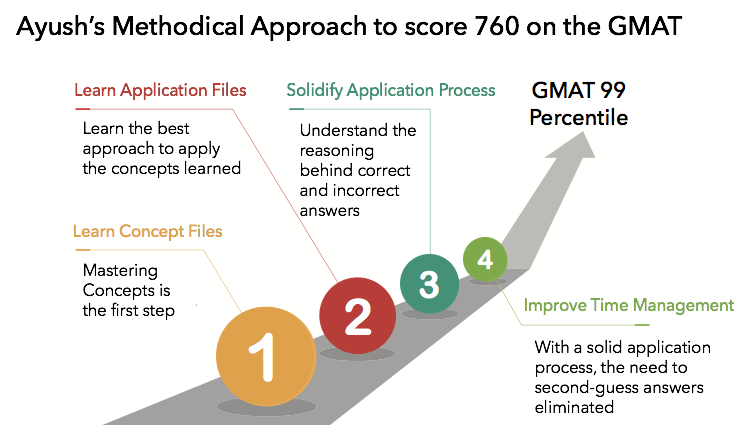 His Story – He realized early on during his GMAT preparation that low accuracy and speed in the GMAT are an outcome of low ability. He solely focused on identifying weaknesses and developing an understanding of the correct application of concepts. The result is an outstanding 99% tile score (760) in the GMAT.
His Strategy –
Followed the Pre-Thinking based approach to increase both accuracy and speed.
Used Scholaranium for practice. Reviewed the detailed solutions to understand how to approach the question and improve the application of concepts.
Time management improves as you improve your ability. Building ability builds confidence which helps in tackling difficult questions you may guess answers to.
6. Working Parents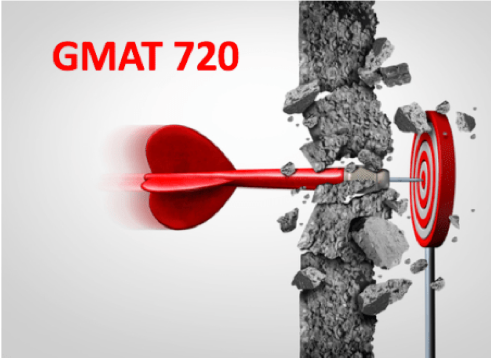 Her Story – Raising a baby is the hardest job in the world. Imagine, preparing for the GMAT while raising a 6-month-old baby and that too after you just moved to an entirely new country. Jacqueline overcame these odds to score a 720 on the GMAT.
Her Strategy –
Utilize time well
Letting go questions which would need more than 3 minutes to solve
Worked on her ability to improve her timing
Balanced preparation for both sections
Mayank, father of a 6-year old and a working professional who was out of touch with studies for 10 years scored 730 in his first GMAT attempt. He achieved this remarkable feat with just 3 months of preparation.
His Strategy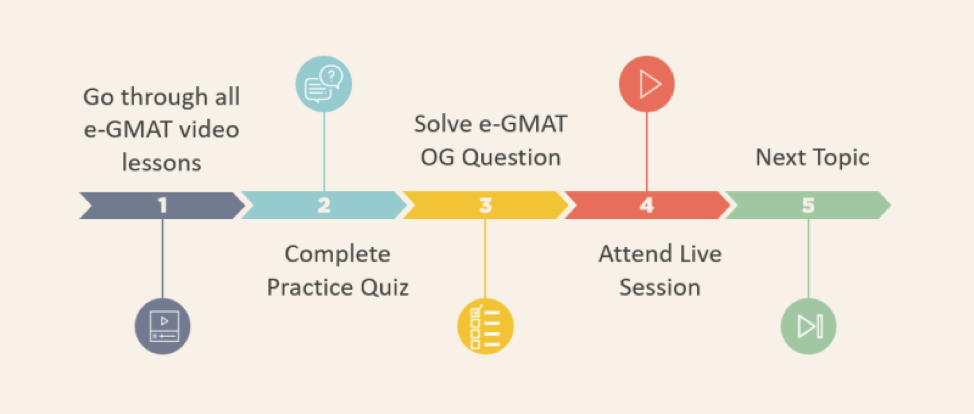 Go through all video lessons pertinent to the upcoming e-GMAT session
Complete the practice quizzes for these video lessons and work on my mistakes
Solve the list of OG questions provided by e-GMAT after each section
Attend the live session
Move on to the next topic
These are some inspirational GMAT success stories for you to continue working confidently on your GMAT preparation. Take your first step to ace the GMAT and start with your free trial with 25+ Concept Files, 300+ Practice Questions and 7 Free Webinars conducted by e-GMAT.