The video statement is a vital part of the MIT Sloan MBA application. The video statement is an opportunity to exhibit your personality to the admissions committee, which may be difficult to express through other written components of the MIT Sloan application. In this article, we will share tips to create an impressive video statement for MIT Sloan.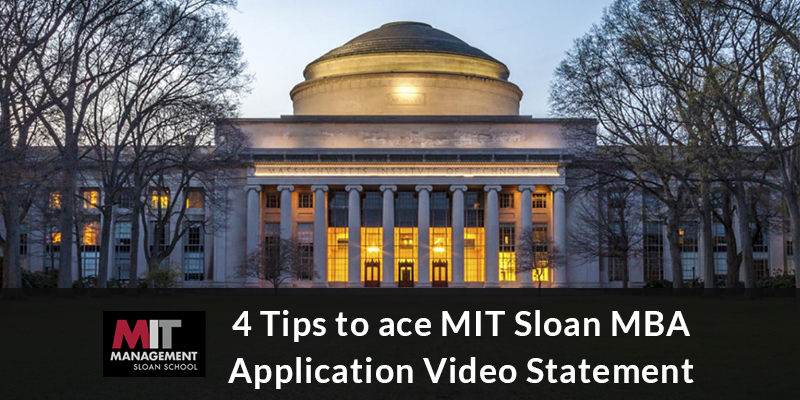 Here is a brief outline of the article:
MIT Sloan Video statement question and format
Below are the question and the format in which you should submit the video statement
Question: "Please take a minute to introduce yourself to your future classmates."
Admissions Committee's recommendation: Include a bit about your past experience and why MIT Sloan is the best place for you to pursue your MBA.
Video Specifications:
Duration – Less than 1 minute
Look directly into the camera while recording your video.
The video must be a single take – you should not edit it.
Upload the video file in any of these file format – .m4v, .avi, .mkv, .mpeg, .flv, .m1v, .m2v, .mov, .mp4, .wmv, .mpg, .webm.
Use any of these web browsers to upload – Safari, Chrome, or Firefox.
What would be a good GMAT score for MIT Sloan School of Management?
Why should you give importance to your Video statement?
MIT Sloan introduced a video statement into the application process 3 years ago. Shauna LaFauci Barry, Associate Director of Admissions at MIT Sloan, says the video statement is all about getting to know you better. The 60-second video statement is an excellent chance to exhibit your personality, language skills, confidence, and presentation style in front of the MIT Sloan admissions committee. MIT Sloan admissions committee is evaluating your presence, your interests, and your passions. 
Tips for creating an admirable MIT Sloan application Video Statement
Tip #1 – Create a script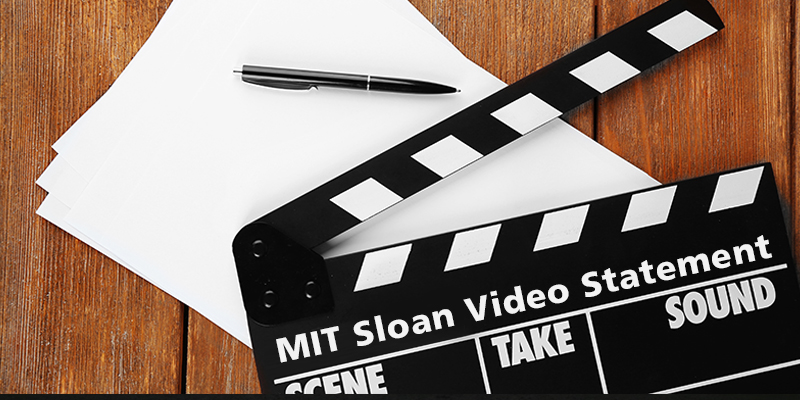 You must get ready for the video statement recording as you would prepare for any other interview. One added advantage you have in the case of MIT Sloan video statement is that you know the question ahead of time. Make sure you spend enough time to prepare yourself for the video statement. Use the below advice to frame an impressive video statement story:
Decide what to talk about: As a part of your MIT Sloan application, you must submit a cover letter, CV, and letters of recommendation in which you may discuss your professional or academic achievements. We recommend you give more focus on your passion and interests for video statement than on examples of triumphs at work. The emphasis should be on quality over quantity. Make sure you choose one specific topic rather than trying to cover multiple topics in a 60-second video statement.
When you start brainstorming about the topics to talk about, imagine you are on the first day at your work and how you will introduce yourself to your office colleagues. Or, think a new co-worker who joined, and he is introducing himself, what would you like to hear from him? Always make sure you go beyond just your name and job – where are you from, hobbies, something that you are proud of.
Connect your story to the values of MIT Sloan:  When you write your script, keep MIT Sloan's values in your mind. From MIT Sloan Admissions Team, " MIT Sloan students are informed and responsible global citizens with the vision, drive, and practical experience to make significant contributions to their organizations and to the world."
Consider your audience: MIT Sloan asks you to introduce yourself to your future classmates, not to the admissions committee. The admissions committee is trying to be strategic by not asking to sell yourself to them. They are asking you to be authentic and speak to your classmates & peers. When you prepare your statement, make sure the language and tone are similar to the way you talk to people close to your age.
Tip #2 – Present yourself well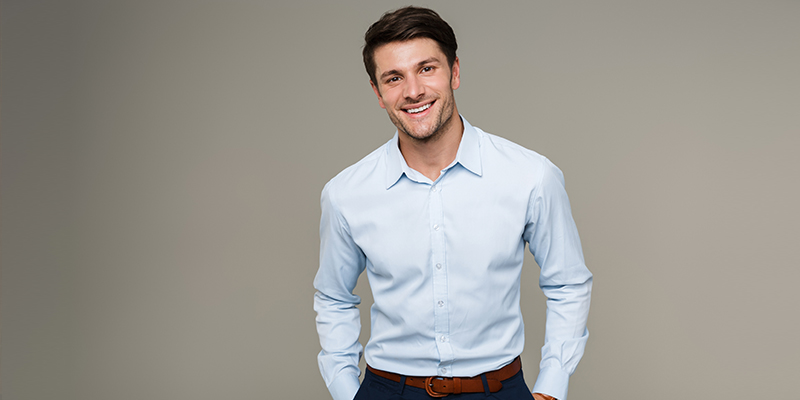 Dress Professionally: Your classmates are your future professional network and social group; we recommend you to wear business casuals for your video statement recording. Even though you are addressing your classmates, the admissions committee will view this video as a part of your application process. For the same reason, you must avoid any casual wear for your video statement.
Speak Clearly: Make sure you are not rushing while delivering your introduction. Take enough pauses in between to accentuate your words.
As we mentioned earlier, you must present yourself and your tone in the way you talk to people who are in your age group. Don't make it too formal, and don't forget to be pleasant while speaking.
Confident body language: Keep your body upright and speak directly, looking into the camera. Keeping your camera straight to your eye level will help you to avoid leaning.
Tip #3 – Set-up your recording space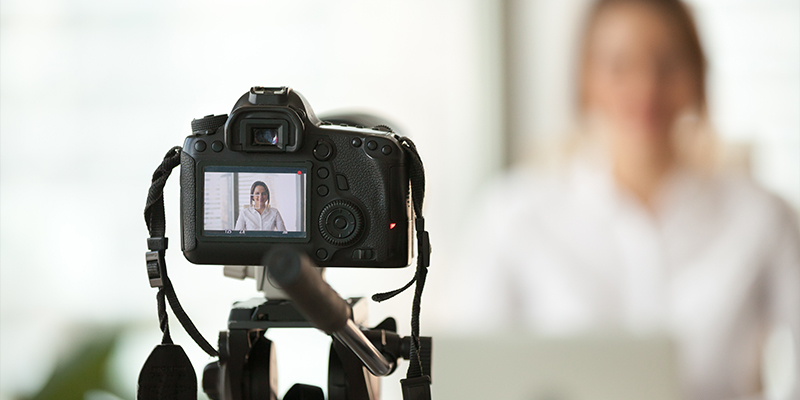 MIT Sloan doesn't expect you to be a cinematographer or hire a team for your video statement recording. MIT Sloan admissions committee recommends applicants to record video themselves using software like QuickTime, iMovie, etc.  You can follow the below tips to record a good video statement:
Choose a well-lit and quiet area: While recording, make sure your face is well lit, and there is no background noise.
Stand in front of plain background: Make sure you stand in front of a plain background to avoid visual distractions, which may take away the attention from you.
Use good quality mic and webcam: Use a good quality mic and camera, which can give good quality audio and video output.
Tip #4 – Practice Well
Unlike other MBA application video essays in which you get just 10-20 seconds to think before recording your video, for MIT Sloan video statement, you get ample time to think, script, and practice. If you are not naturally gifted in extemporary speaking, practice the script till your video statement look as natural as possible. Film your video while you are practicing. Review your practice videos and do a self-critique. You must practice looking straight into the camera and assume you are talking to an audience. Make sure you do not take eyes off from the camera while talking.
After recording your final video, review it to check whether you can understand all the words clearly. Send your final output to your friends and critics you trust to give productive feedback about the video.
Read how to make an impressive MBA Application Video Essay
Key Takeaways | How to Prepare for MIT Sloan MBA Application Video Statement
MIT Sloan admissions committee uses the video statement to know more about your presence, interests, and passions.
Highlight your personality, including the details not covered in the cover letter or resume, and connect your story to the values of MIT Sloan.
While recording the video speak clearly, make sure that your background is free of any other sounds or visual distractions.
Practice your stories until you feel comfortable and record your practice videos to do a self-critique.
Video statement is a part of MIT Sloan MBA application which usually put people under pressure. But you can make an impressive video statement without any trouble by creating a good script and practicing it to perfection. You must consider the video statement as an opportunity to demonstrate your fit with MIT Sloan's culture and convey to the admissions committee the type of person you will be on the campus. Keep in mind to have fun with the video and practice your delivery until you feel comfortable.