A
5
min read
Business Schools today are facing a paucity of quality candidates. Students who apply with a good GMAT score in Round 3/4 have a much higher chance of securing admits as well as scholarships. The hurdle is acing the 'GMAT Online' with no scratchpad and an unfamiliar online whiteboard. What you need right now is familiarity with the GMAT whiteboard by practicing on plenty of questions.
To help you do the above and more, we have added the Online whiteboard throughout the e-GMAT platform, enabling you to practice on more than 2,400 questions. Before you read this article, watch this video that highlights latest enhancements to GMAT Online exam: 
Earlier test takers were only allowed an online whiteboard for calculations and making notes, but today GMAC put out a statement that the test-takers will be allowed to use a physical whiteboard with some specifications. More details on the physical whiteboard here.
Here is what we're going to talk in this article:
Practice with Online GMAT Whiteboard on 2400+ questions
With test-center closures, the 'GMAT Online' is a great alternative to help you stand out. A good score will enable you to not only secure an admit from a top business school but also secure scholarships and fellowships, especially when business schools are facing such a paucity of quality candidates that they are recommending that you apply now and take the GMAT later.
Online Whiteboard is a feature available to candidates while taking the 'GMAT Online' exam. It gives candidates the option to work through items visually by entering notes or drawing shapes.
With no scratchpad and no break between the Quant and Verbal sections, acing the GMAT Online exam requires that you not only build ability in Quant and Verbal but also learn how to use the whiteboard to your advantage.
To enable each one of you to do the same, we have built the Whiteboard experience that (we think) is similar to that on the Online GMAT. (Kudos to our engineering team for that quick turnaround)
We have actually gone a step further – you can now experience this Whiteboard not only on our SIGma-X mocks but also in our Scholaranium platform.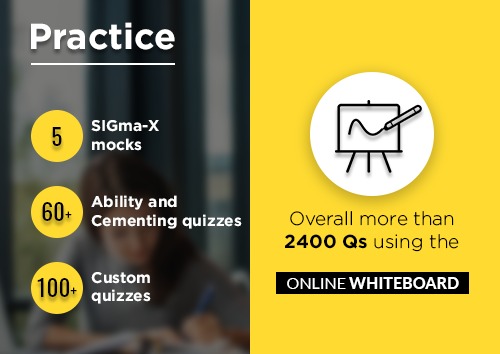 Hence, starting today, you can attempt more than 2400 questions – or questions equivalent to taking more than 36 mocks, with the Whiteboard experience.
Build your Whiteboard advantage – Start building skills in individual sub-sections
Using the Whiteboard with custom quizzes, cementing quizzes, and ability quizzes, you can now build skills that are optimized to certain sub-sections. Here is how you would do it:
Take a custom quiz involving inequalities and absolute value. Experiment with a couple of ways to express a modulus and quadratic inequalities.
Choose the way that suits your working style the most.
Take another custom quiz to confirm that those expressions are the most optimal.
Take an Algebra cementing quiz to ensure that you use those expressions efficiently while solving questions involving related topics such as exponents, linear equations, functions, etc.
Free Trial users get 300 Questions, 1 Mock test to hone their Whiteboard skills
The in-Place whiteboard is enabled not only for our paid students but also for our free trial students. Our free trial students can practice with the Whiteboard on ~100 Quant and 100+ Verbal questions. In addition, our free trial users can also get one full-length mock test with the Whiteboard.
How does the e-GMAT Online Whiteboard look like?
Below is an image of the online whiteboard supplied by GMAC and whiteboard developed by e-GMAT's technology team. As you can see that both are similar and therefore, practicing on our whiteboard help you gain familiarity with the 'GMAT Online' exam.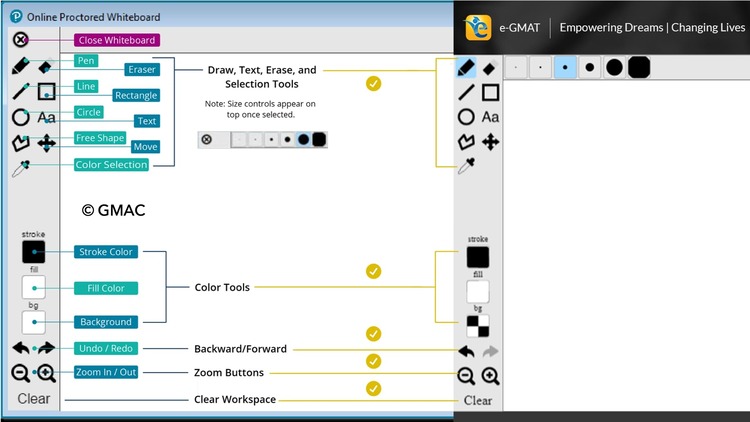 There are 15 tools available, but you won't be needing all of them during the exam. These tools will help you write, draw shapes, color, change the size of text, erase a figure or text, and clear the workspace.
We have divided these tools into four categories and have explained the use of each tool in the next section.
Different tools available on the Online whiteboard
Writing Tools

Pen – You can draw or write anything with this tool. You have the option to choose thickness. You can also change the color
Text – Use this tool to create notes. Will come in handy for Verbal section where typing would be faster than using the 'pen' to write
Drawing Tools

Line – You can use it to draw straight lines, dashed lines, and arrows. If you want to divide your workspace, this tool will be useful
Rectangle – Will come in handy for geometry problems or if you want to make a box
Circle – This shape will help you in solving Venn diagram problems
Free Shape – You can use it to create shapes other than circles or rectangles. Will help you in triangle/polygon questions
Color tools

Stroke color – This tool will help you change the color of any drawing or text. You can choose it to differentiate between shapes.
Fill color – You can fill a shape with any color.
Background – Change the background color of the whiteboard with this tool.
Other Tools

Eraser – Erase anything if you make a mistake. You can choose the thickness of the eraser too.
Move – The whiteboard is huge and you can pan to different areas of the whiteboard with this tool.
Color selection – The 'eyedropper' in the online whiteboard
Undo/Redo – If you accidentally make a mistake or delete something get it back with the undo option.
Zoom in/out – This tool will come in handy if you decide to divide the whiteboard into grids for better organization. You can just zoom out to see different grids and zoom in on the grid you want to work on.
Clear – This tool clears the entire online whiteboard
How to practice on the GMAT whiteboard effectively?
We know that you have questions such as
How do you take notes for RC using a whiteboard?
What are the best practices to do sentence structure?
Which tool to use to draw shapes?
.. and many more.
To answer these queries we have created a dedicated YouTube playlist to explain the best practices of using the GMAT whiteboard for Quant and Verbal questions. Scroll down to see the videos or take a look at the playlist.
How to use the GMAT online whiteboard to solve Quant questions?
Take a look at these videos to see how you should solve quant questions using the GMAT online whiteboard. Here are the topics covered:
Word Problems
Number Properties
Exponents (Algebra)
Inequalities
Word Problems
Number Properties Question
Algebra – Question on exponents
Inequalities
How to use the GMAT online whiteboard to solve Verbal question?
Sentence Correction Video 1
Sentence Correction Video 2
Critical Reasoning
We know that acing the GMAT is hard. We want to help you get there. Let's work together to make the Whiteboard work for you rather than against it. As a first step – start practicing the Online Whiteboard by clicking here for Quant and here for Verbal.
FAQ – GMAT Online Whiteboard
What is the GMAT online whiteboard?
Online GMAT Whiteboard is a feature available to candidates while taking the 'GMAT Online' exam. It gives candidates the option to work through items visually by entering notes or drawing shapes.
Where can I practice GMAT questions using the online whiteboard?
You can solve 2400+ questions on the e-GMAT platform using the online whiteboard feature. Click here to start practicing.
What are the different tools present on the online GMAT whiteboard?
There are 15 tools present on the online whiteboard. They are writing tools, drawing tools, color tools, and miscellaneous tools. More details here.